By Lambert Strether of Corrente.
TPP/TTIP/TISA
"Obama and other TPP supporters used the China enforcement action [brought before the WTO on rice subsidies] to bolster the administration's argument in support of passing the Pacific Rim deal this year. 'It's not enough to enforce the existing rules; as our global economy evolves, we have to ensure America plays a leading role in setting the highest standards for the rest of the world to follow,' Obama said in a rarely seen statement accompanying a trade action. 'That's what the Trans-Pacific Partnership, or TPP, is all about: n workers, farmers, and businesses '" [Politico]. Hmm. "America first" sounds familiar, somehow. And I certainly hope the other signatories don't take Obama seriously!
2016
Money
"Huma raising money from worried supporters after Clinton's diagnosis" [New York Post]. Abedin: "We've got huge moments coming up — the first debate is in less than two weeks — and right now, all you need to do is say that you're ready to stand and fight by Hillary's side."
Corruption
"A close examination by Newsweek of the Trump Organization, including confidential interviews with business executives and some of its international partners, reveals an enterprise with deep ties to global financiers, foreign politicians and even criminals, although there is no evidence the Trump Organization has engaged in any illegal activities. It also reveals a web of contractual entanglements that could not be just canceled. If Trump moves into the White House and his family continues to receive any benefit from the company, during or even after his presidency, almost every foreign policy decision he makes will raise serious conflicts of interest and ethical quagmires" [Newsweek]. That would be an intrinsic issue with electing anyone with a business more complicated than Jimmy Carter's peanut warehouse to the Presidency. No? I dunno. At most, this article says to me that Trump has the potential to be as corrupt as Clinton already is. I'm not sure why Clinton supporters think that "Our candidate is no worse than anyone else" is an effective selling point, but the talking point is used so consistently ("Bush destroyed emails too!") that it seems they actually believe that it is.

"Because Scott Walker asked. That could stand as an elegant catchphrase for the state of democracy in the US today, where elections are lost or won as much according to candidates' ability to attract corporate cash as by the strength of their leadership or ideas" [Guardian]. Excellent investigative reporting from the Guardian. Here's where "Because Scott Walker asked" comes from:

Too funny. Looks like that John Doe investigation finally bore fruit in the form of leaked documents.
War Drums
"Democratic National Committee chairwoman [Donna Brazile] said the DNC was the victim of a Russian cyberattack after the infamous hacker known as Guccifer 2.0 — who leaked internal Democratic documents ahead of the party's convention this summer — released more apparent DNC documents Tuesday" [USA Today]. No denials of the mail content, of course.

From the Guccifer trove (and I hardly know where to file this):

LOL – The geniuses at DNC realized their emails were hacked, then EMAILED new passwords to everyone… #dncleak pic.twitter.com/NB3YbZc2CE

— Brent Teichman (@BrentTeichman) September 14, 2016
The Voters
"Trump Has 5-Point Lead in Bloomberg Poll of Battleground Ohio" [Bloomberg]. Oopsie. Trump's new team seems to have made a big difference, though Trump has had a lot of help from Clinton. "The poll was taken Friday through Monday, as Clinton faced backlash for saying half of Trump supporters were a "basket of deplorables" and amid renewed concerns about her health after a video showed her stumbling as she left a Sept. 11 ceremony with what her campaign later said was a bout of pneumonia."

"[T]he poll shows Trump's dominance in the [Maine's] Second District — he leads Clinton by 10 points there — is boosting him statewide, as well. In the 1st Congressional District, which includes Portland and points south, Clinton has an 18-point lead, showing just how politically divided the state is geographically" [Boston Globe]. The Maine Democrats haven't done a whole lot for the Second District. And they've affirmatively pushed policies that harm us, like landfills and the East-West Corridor, using corrupt and opaque processes. It's not surprising they're in trouble. They didn't ask me for a yard sign last time, and that means they didn't ask for my vote. And my vote might actually count! Who knew?

"Republicans are gaining ground on Democrats in registering voters in key states" [AP]. If the Democrats regarded voter registration as a core party function, this wouldn't even be happening. Of course, they don't. Their base in the 10% is already registered.

"What Trump Supporters Want You to Believe" [Andrew Rosenthal, New York Times]. It does seem to be the trend for the liberal nomenklatura to attack their opponent's base, and not their opponent; the Clinton campaign did exactly the same thing with their #BernieBros smear in the primary. This is not just scorching the earth, it's poisoning the wells. And I don't think it's a recipe for legitimacy post-election. For myself, I don't believe a lot of what Trump supporters believe. I also don't believe a lot of what the Times hive mind believes; Judy Miller on WMDs and Iraq War policy come to mind, along with the deafening neoliberal clamor on health care.
Realignment
"Yes, Clinton's remarks were that deplorable" [Corpus Christi Caller]. "Bigotry, racism, sexism, homophobia, xenophobia and Islamophobia are examples of deplorable behavior. But people can change their behavior. They do it all the time. George Wallace, the deplorably segregationist Alabama governor, expressed regret before he died." Lincoln, as we would say today, "evolved" as well. More:

But as reprehensible as their behaviors and beliefs are, they, like Wallace, are redeemable. Calling them a "basket of deplorables," as the Democratic nominee did recently at a fundraiser, was deplorable because it declares them beyond redemption.

UPDATE Exactly. And Clinton's views are not in conformance with Christian teaching, either. Although I suppose Second Wave Feminism has superseded that? After all, if Albright has the divine authority to consign Sanders-supporting women to Hell, I suppose Clinton has equivalent powers to declare half some very large proportion of Trump supporters irredeemable. Of course, if you're a Republican, even a former Trumpista, I would imagine you can purchase an indulgence through a contribution to the Clinton campaign or Foundation. So you see there is hope. For some.
Downballot
"If [Democrats] do win back control [of the Senate], it could end up being with the narrowest of margins, even a 50-50 Senate with a Vice President Tim Kaine casting tie-breaking votes for the Democrats, if Hillary Clinton becomes president" [AP]. "A key factor is the Republican money edge, which is particularly pronounced this year because some major donors, most notably the billionaire Koch Brothers, have decided to stay out of the presidential race out of distaste for Donald Trump and are pouring money into Senate races instead. Ohio, Florida, Nevada and other races are awash with cash."
Clinton Email Hairball
"Clinton server technicians decline questions from U.S. Congress" [Reuters]. "Paul Combetta and Bill Thornton repeatedly invoked their constitutional right not to incriminate themselves during about 10 minutes of questioning while under oath before the House Oversight and Government Reform Committee. A third technician, Bryan Pagliano, declined even to appear, despite a subpoena ordering his testimony…. Combetta and Thornton work for Platte River Networks, the Denver technology firm that managed Clinton's email servers soon after she left the State Department in 2013. They repeatedly invoked their Fifth Amendment protection from self-incrimination to each question from lawmakers." Gee, that's odd. I mean, if there's nothing criminal or even improper about Clinton's email arrangements, what could the issue be? (And I bet this is one contract Platte River wishes it never got….)
Stats Watch
MBA Mortgage Applications, week of September 1, 2016: "[W]ith the seasonally adjusted composite index rising 4.2 percent from a week ago and, bringing some good news for the housing market, it was purchase applications that led the way, jumping 9 percent higher on the week" [Econoday]. And: "Mortgage applications up nicely this week for a change. Always hoping for the best! ;)" [Mosler Economics].
Import and Export Prices, August 2016: "At the current rate of moderation of deflation (trend line) – both imports and export prices should start inflating by the end of the year" [Econintersect].
Retail: "Retail hiring this holiday season is forecast to remain unchanged from a year ago, when seasonal employment in the sector increased by 738,800 during the final three months of the year" [Econintersect]. The trade-off: Increased warehousing and call center jobs.
Banks: "Firing people won't be enough to save the world's biggest banks from technological and regulatory changes that have reshaped the industry — whole businesses must go, according to McKinsey & Co" [Bloomberg]. "Only three to five global full-service banks will survive, McKinsey said."
Supply Chain: "Supply chain executives exhibit the highest levels of psychopathic tendencies in the corporate sector" [Australian Financial Review]. "​A study of 261 corporate professionals working in supply chain management found that 21 per cent of those individuals had clinically significant levels of psychopathic traits such as insincerity, lack of empathy or remorse, egocentric behaviour and the ability to be both charming and superficial. The study found the supply chain management professionals had similar levels of psychopathic traits to the broad prison population." This could be interesting in a manner beyond snark; it raises the question of whether subsystems of the world system that optimize for psychopaths are more critical to world system survival than those that do not.
Shipping: "The Hanjin Shipping Co. terminal at South Korea's largest port used to be one of the world's busiest. Dozens of container carriers would line up to ferry boxes to and from the giant cranes that loaded and unloaded the world's biggest ships. Last week the terminal, as big as 100 football fields, came to a virtual standstill" [Bloomberg]. Whatever capitals tied up in those containers isn't moving, any more than the container are.
Shipping: "Hanjin is not alone. Of the biggest 12 shipping companies that have published results for the past quarter, 11 have announced huge losses. Several weaker outfits are teetering on the edge of bankruptcy. In Japan three firms, Mitsui OSK Lines, NYK Line and Kawasaki Kisen Kaisha, look vulnerable. … Even the strongest are suffering. France's CMA CGM, the world's third-largest carrier, announced a big first-half loss on September 2nd. Maersk Line, the industry leader, and the largest firm within A.P. Moller-Maersk, a family-controlled Danish conglomerate, will be in the red this year, having lost $107m in the six months to June. The industry could lose as much as $10 billion this year on revenues of $170 billion, reckons Drewry, a consultancy" [The Economist]. "Two powerful forces have rocked the industry. The first is the ebbing of world trade since the financial crisis. … The second factor is a surge in the size of the global container fleet following a ship-ordering binge that began around 2011. Overcapacity has crushed freight rates."
The Bezzle: " My ride in a self-driving Uber; or how I learned to stop worrying and trust the algorithm" [Los Angeles Times]. That's the headline. From the story: "Each ride is conducted by two Uber engineers. The engineer in the driver's seat is ready to take over the car at a moment's notice. If the car ventures into areas Uber has yet to map (less than half of Pittsburgh neighborhoods have been mapped so far), the driver will assume control. "
The Bezzle: "What Will Occupants of a Self-Driving Car Do? Mostly Worry" [247 Wall Street]. In other words, watch the road. "Add that number to the 23% of Americans who said they wouldn't even ride in a self-driving vehicle, and nearly 60% of current U.S. drivers and passengers would likely not be more productive. Among the 40% of Americans who would get into a driverless vehicle and not spend the entire trip worrying, nearly 11% said they would read, about 10% said they'd talk or text with friends and family, nearly 7% said they'd sleep. Less than 5% say they would work."
The Bezzle: "You now can get a degree in … self-driving cars" [USA Today]. From — wait for it — Udacity, the for-profit online MOOC. Sounds legit. The world needs more fake degrees from fake schools for non-existent products.
The Bezzle: "Additionally, we recently discovered a brand new section of the Airbnb website incentivizing real estate owners to list their spaces and let them be managed by experienced Airbnb Superhosts" [All About AirBnB]. "This move de facto positions Airbnb against the many Property Management companies – like Airsorted, Hostmaker or BNBsitter – that have recently been surfacing in different cities, and opens new monetization perspectives for both Airbnb and its host community." "Host community…."
Political Risk: "The Trouble with Macroeconomics" (pdf) [Paul Romer]. I'm going to quote the entire abstract, because it's so fun:
n the last three decades, the methods and conclusions of macroeconomics have deteriorated to the point that much of the work in this area no longer qualifies as scientific research. The treatment of identification in macroeconomic models is no more credible than in the first generation large Keynesian models, and is worse because it is far more opaque. On simple questions of fact, such as whether the Fed can influence the real fed funds rate, the answers verge on the absurd. The evolution of macroeconomics mirrors developments in string theory from physics, which suggests that they are examples of a general failure mode of for fields of science that rely on mathematical theory in which facts can end up being subordinated to the theoretical preferences of revered leaders. The larger concern is that macroeconomic pseudoscience is undermining the norms of science throughout economics. If so, all of the policy domains that economics touches could lose the accumulation of useful knowledge that characteristic of true science, the greatest human invention.
Ouch! (Romer is chief economist at the World Bank). I'm filing this and the next link under Political Risk because an ideological collapse entails political risk.
Political Risk: "There is no r*" [Philosophy of Money]. "Like many economists, I have been trapped into thinking that there is an equilibrium real rate of interest – a level of the policy rate consistent with stable inflation, a closed output gap, or full employment. The trick for policy makers is to find the magic level…. Increasingly, it has become clear that this entire framework is deeply flawed. For example, it is very likely that there is simply no level of the real policy rate in the Eurozone that will return the continent to trend growth. Why, after all, should the real interest be this all powerful lever which will single-handedly can raise or shrink demand to the level consistent with stable growth and inflation?"
Today's Fear & Greed Index: 34 Fear (previous close: 36, Neutral) [CNN]. One week ago: 65 (Greed). (0 is Extreme Fear; 100 is Extreme Greed). Last updated Sep 14 at 2:10pm. Fear of a Trump win?
Water
"For the first time, U.S. and Mexico take stock of the underground water they share" [High Country News]. "An unknown number of aquifers dot the border along the U.S. and Mexico, groundwater both sides use for agriculture, irrigation, and cities. Likewise, how much border communities rely on them and the ways they are managed by either country remain largely unclear. "
Gaia
"Indonesia: 'Haram' to burn land for clearing, say Muslim clerics" [Asian Correspondent]. (Haram mean forbidden.) Good news!
"Formal E-Recycling: The Complexity of Solving the E-waste Problem Worldwide" [Harvard School of Public Heatlh]. :The process for recycling electronics involves dismantling them into valuable materials that can be resold, and the process can be a source of toxic chemical pollution that harms workers, communities, and the environment near the facilities. The process can also release metals such as cadmium, lead, mercury, and nickel, and organic compounds such as flame retardants, and polychlorinated biphenyls into the environment. The amount of harm done depends on whether a formal or informal e-recycling business is performing the work."
"In a new study, the U.S. Department of Energy's (DOE) National Renewable Energy Laboratory (NREL) used high-performance computing capabilities and innovative visualization tools to model how the power grid of the eastern U.S. could operationally accommodate higher levels of wind and solar photovoltaic generation" [North American Wind and Power (PT)].
Health Care
"The [latest U.S. Census Bureau data] found that 29 million people went uninsured last year, including 3.7 million children, and that deductibles and other out-of-pocket costs have continued to rise well after the Affordable Care Act (ACA) went into law in 2010" [Portside]. "The data "starkly illustrates how our inefficient, private-insurance-based system of financing care is fundamentally incapable of providing universal coverage," said pediatrician and PNHP president Dr. Robert Zarr. "The fact that 29 million people remain uninsured—a figure that won't change much over the next decade, according to the Congressional Budget Office—is totally unacceptable to me as a physician." And Medicare for All could save the country $400 billion a year, and who doesn't want that? I mean, besides the people skimming it.
Class Warfare
"University of California hires India-based IT outsourcer, lays off tech workers" [ComputerWorld]. "Affected IT workers in San Francisco are expecting to train foreign replacements." I'll train 'em, alright…
Census household economic conditions report: " A tightening labor market and Obamacare delivered income growth and health coverage to working families in 2015″ [Jared Bernstein, WaPo]. And now let's get real…
Census household economic conditions report: "The Gini coefficient, which the Census uses to track the gap between the rich and poor, was unchanged in the last year, despite all those wage gains and declining poverty. In fact, it's up 5.5% since 1993, when the government first began tracking the data" [Mic].
Census household economic conditions report: "The good news: Census figures for 2015 show median household income rose 5.2% over the previous year and the nation's poverty rate fell to 13.5%, reflecting the biggest annual improvements in decades. The bad news: Those numbers still aren't as good as they were in 2007" [Los Angeles Times]. And this "recovery" is already long in the tooth.
News of the Wired
"Version 1.8 of the OpenType font format specification introduces an extensive new technology, affecting almost every area of the format. An OpenType variable font is one in which the equivalent of multiple individual fonts can be compactly packaged within a single font file" [Medium]. If you're a font geek, this is cool.
"Google's become an obsessive stalker and you can't get a restraining order" [The Register]. "What's changed is that the collection and use of this location data now appears to us to be much more aggressive. Google simply doesn't care about being discreet any more. It doesn't care that users might think it is creepy. But the historical records show that Google always was pretty hardcore about location data." Location, location, location….
"Monkey Types 12 Words per Minute With Brain-to-Keyboard Communication" [IEEE Spectrum].
* * *
Readers, feel free to contact me with (a) links, and even better (b) sources I should curate regularly, and (c) to find out how to send me images of plants. Vegetables are fine! Fungi are deemed to be honorary plants! See the previous Water Cooler (with plant) here. And here's today's plant (CB):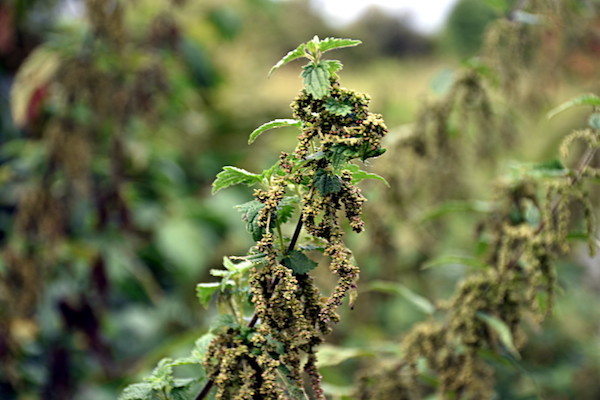 CB writes: "This time of year in the Netherlands, the stinging nettles are going into overdrive, and they make walking in the woods with short pants a trial and tribulation! As you may know, they aren't strictly a nuisance as they have both culinary as well as medicinal benefits. That's more than can be said of poison ivy!"
* * *
Readers, if you can, please use the dropdown to choose your contribution, and then click the hat! Your tip will be welcome today, and indeed any day. Water Cooler will not exist without your continued help.