By Lambert Strether of Corrente.
TPP/TTIP/TISA
"In the latest sign of the difficult path to approval for TPP, more than 130 pork farmers from around the nation who made the case on the Hill for a lame-duck vote this week were met with a mostly tepid response from lawmakers:" [Politico].
"The latest WikiLeaks dump of documents related to the Trade in Services Agreement talks shows that countries are giving serious thought to how to resolve disputes that arise in the deal and that a disagreement on market access concessions is only deepening" [Politico].
"[Orrin Hatch] has been trying for a while to get TPP to require the same 12 years' monopoly of drug safety data that the US provides for so-called 'biologic drugs,' in addition to the normal patent protection they enjoy. The final TPP text specifies eight years, and because of the fast track authority that he worked so hard to put in place, there is no way for Hatch to get the text changed now that it has been finalized. According to a report from Bloomberg, Hatch is apparently hoping that "binding side agreements" with the other TPP nations might do the trick" [TechDirt]."That's really pretty extraordinary. After nearly eight years of tough negotiations, concessions were made and a final text agreed by all the countries involved. And now Hatch says it's not good enough, that the US has some special right to ask for yet more, and that countries refusing to up their protection for biologics data to 12 years won't be part of the TPP deal. Understandably, some in those nations at risk of being thrown out of TPP are unhappy about this threat."
2016
Policy
"The 'new liberal economics' is the key to understanding Hillary Clinton's policies" [Mike Konczal, Vox]. Meet the new liberal economics. Same as the old liberal economics. Konczal: "The new liberal economics makes several claims: … .3. 'Nudging' the private market is not always the best way to deliver core goods and economic security. Deploying government services directly can be more effective. When come the part where Konczal praises Clinton for her support of the so-called "public option," you'll see the strength of that sneaky qualified "not always." And where's the mention of MMT? Oh, I forgot. This is for liberals. Not the left.

UPDATE "A year after topping the Republican tax-cut contest with a plan that would have removed nearly one-quarter of federal revenue, Donald Trump entered the final weeks of the general election campaign with a refined proposal. His plan is modest by comparison with the version he released last September, but it would still amount to a major reshuffling and reduction of the U.S. tax burden" [Wall Street Journal, "Trump Tax Plan: What's Changed Since He First Outlined It Last Year?"]. "Mr. Trump's new tax plan responds directly to some of the criticisms leveled at his plan over the past year and since he previewed changes in August."
Zeitgeist Watch
UPDATE Had to invent a new category for this:

Art inside the Trump/Pence HQ at Trump Tower in NYC pic.twitter.com/MSVIVOZgOU

— Ines de La Cuetara (@InesdLC) September 15, 2016

I wonder if there's anything as… extraordinary in Clinton's Brooklyn bunker?
Corruption
"39 percent of registered voters think the Clinton Foundation manages the personal finances of the Clinton family, and 40 percent also think the foundation gives money to Democratic candidates. (It does neither of these things.)" [New York Times].
The Voters
"Trump must hold all 24 states carried by Mitt Romney in 2012 and add Ohio and Florida to the tally. A loss in Florida, Ohio or in increasingly competitive North Carolina – which Romney carried by just 2.2 percentage points over President Barack Obama – would hand Clinton the presidency"" [US News].

UPDATE "Why the Whole Trump-Clinton Election Could Probably Just Be Held in Pennsylvania" [New York Times]. This is a very interesting article, well worth a read. It caught my eye because Pennsylvania is also part of the shipping story, with new warehousing and infrastructure. So I'd be interested in what our Pennsylvania readers think. Another tidbit: "Voters in mid-September do not swing between Clinton and Trump (my colleagues and I have dubbed that The Mythical Swing Voter), but between undecided and/or third-party support and Clinton or Trump. So the larger that pool, the larger the potential swing." And one more: "Voting is a major cost for many Americans with hourly wage jobs." So I could have filed this under Class Warfare.

"The Republican establishment doesn't trust Trump. But they need him, and are in the process of supplying the efficient field organization he's never shown any interest in building" [Bloomberg]. " The charge of racism, in particular, seems to hurt respectable white people's feelings. And so Trump went to Flint… Trump's visit—and much of his speech last night—was merely an extended exercise in virtue signaling aimed at reassuring Republican women and working-class whites that, as Omarosa Manigault, the Apprentice veteran who now serves as 'senior advisor for African-American outreach,' told the crowd, "my boss may not be politically correct," but he is not a racist."

"The Trump supporters who volunteered to write for Maclean's this week are collegians and golden agers, whites and non-whites, retirees and working people. One studies bioterrorism; one teaches Grade 7. They hail from locales as variegated as Boynton Beach, Mayfield Heights, Wichita Falls, and Punxsutawney" [MacCleans]. MacCleans is Canada's Time. Not sure how the volunteers were chosen ("(One of them is this writer's first cousin.")

UPDATE "Clinton and Trump's demographic tug of war" (handy charts) [WaPo]. I knew before I looked at this they wouldn't slice by income.

UPDATE "The Despair Election" [The American Conservative]. Quoting Michael Hanby, a Catholic philosopher: "hat we have in this election is fundamentally a contest between two forms of despair: Hillary represents despair in the form of cynicism and resignation, as evidenced by the fact that neither she, nor her surrogates, nor even her flacks in the press really pretend to believe in what she is selling. There is obvious cynicism within Trumpism as well; his supporters, on those rare occasions when he makes sense, seem to know that he is lying to them. But Trump represents despair in the form of anger and desperation, the willingness to embrace a strongman and a charlatan in the (false) hopes of regaining some kind of control over 'the system', whatever it is (which is a fascinating question, by the way.) Both are absolutely awful, indeed unthinkable, albeit in different ways, and yet this is what liberal order has come to."

UPDATE "A Reuters survey found local governments in nearly a dozen, mostly Republican-dominated counties in Georgia have adopted plans to reduce the number of voting stations, citing cost savings and efficiency" [Reuters]. Don't they always.

* * *

A Scott Adams roundup. Chronologically: "It turns out that Trump's base personality is 'winning.' Everything else he does is designed to get that result. He needed to be loud and outrageous in the primaries, so he was. He needs to be presidential in this phase of the election cycle, so he is" [Scott Adams].

"Sometimes you need a 'fake because' to rationalize whatever you are doing. … When Clinton collapsed at the 9-11 site, that was enough to end her chances of winning. But adding the 'fake because' to her 'deplorable' comment will super-charge whatever was going to happen anyway" [Scott Adams].

"Checking My Predictions About Clinton's Health" [Scott Adams].

"The Race for President is (Probably) Over" [Scott Adams]. "If humans were rational creatures, the time and place of Clinton's 'overheating' wouldn't matter at all. But when it comes to American psychology, there is no more powerful symbol of terrorism and fear than 9-11 . When a would-be Commander-in-Chief withers – literally – in front of our most emotional reminder of an attack on the homeland, we feel unsafe. And safety is our first priority."

* * *

As soon as the race tightened, there was a rash of stories about Millenials [ugh] not voting for Clinton. And now various Democrat apparatchiks have started to browbeat them, apparently believing that's the best strategy. Here's one such: "Blame Millennials for President Trump" [Daily Beast]. I'm sure you've seen others.

UPDATE Other Democrat operatives are preparing the way to pin the blame on anybody but the Democrat establishment and the candidate it chose. Here, Kevin Drum squanders the good will on his balance sheet from his story on lead and crime: "Don't Hate Millennials. Save It For Bernie Sanders" [Kevin Drum, Mother Jones].

I reserve most of my frustration for Bernie Sanders. He's the one who convinced these folks that Clinton was in the pocket of Wall Street. She gave a speech to Goldman Sachs! He's the one who convinced them she was a tool of wealthy elites. She's raising money from rich people! He's the one who convinced them she was a corporate shill. She supported the TPP! He's the one who, when he finally endorsed her, did it so grudgingly that he sounded like a guy being held hostage. He's the one who did next to nothing to get his supporters to stop booing her from the convention floor. He's the one who promised he'd campaign his heart out to defeat Donald Trump, but has done hardly anything since—despite finding plenty of time to campaign against Debbie Wasserman Schultz and set up an anti-TPP movement.

There's a reason that very young millennials are strongly anti-Clinton even though the same age group supported Obama energetically during his elections—and it's not because their policy views are very different. A small part of it is probably just that Clinton is 68 years old (though Sanders was older). Part of it is probably that she isn't the inspirational speaker Obama was. But most of it can be laid at the feet of Bernie Sanders. He convinced young voters that Hillary Clinton was a shifty, corrupt, lying shill who cared nothing for real progressive values—despite a literal lifetime of fighting for them. Sadly, that stuck.

In other words, these young (i.e., silly, unlike wise old farts like Drum) didn't "do their own research." And so apparently the demonic Sanders found it very easy to deceive them. Sad! Oh, and it's also interesting to see liberal Drum explicitly legitimizing hate. Again, this election has been wonderfully clarifying.
Democrat Email Hairballs
Stats Watch
Consumer Price Index, August 2016: "The CPI showed some life in August. The data suggest that price pressures are picking up slightly after stalling in July" [Econoday]. "The uptick in inflation is likely to be welcomed by Fed officials when they meet next Tuesday and Wednesday to deliberate on monetary policy." And: "inflation has generally been moving up, and most of these measures are at or above the Fed's target (Core PCE is still below)" [Calculated Risk]. And: "Interesting this month is a moderate spike in the year-over-year inflation rate lead by utilities and medical care. On the other hand, food for consumption at home, oil prices, and used cars prices moderated" [Econintersect]. And: "Medical costs jump in August by largest amount in 32 years, CPI shows" [MarketWatch].
Consumer Sentiment (preliminary), September 2016: Unchanged. "Steady and respectable" [Econoday]. "This reading hints at confidence in the jobs outlook." And: "consumer sentiment is 5.1 percent above the average reading (arithmetic mean) and 6.4 percent above the geometric mean" [Econintersect]. But a noisy indicator.
Retail Sales: "Underlying retail sales effectively stalled in August, as the core figures failed to register a bounce back from their July decline. Today's release tempers our consumer spending projections for a 3+% annual pace in Q3. It is important to note, however, that retail sales projections are heavily revised while a September bounce back remains in the cards given overall healthy consumer fundamentals" [TD Securities, Across the Curve]. "Continued momentum in household spending in an important component in the Federal Reserve's growth narrative and the softening in Q3 is consistent with the theme of patience."
Retail: "Consumers don't appear to be holding up their end of the supply chain bargain. U.S. retail sales slipped in August, the first decline since March and a sign that spending at stores is running out of momentum heading into the fall. The latest report, which includes the period for back-to-school sales, suggests retailers will have little incentive to rush more goods into distribution channels after struggling to pare back inventories earlier this year" [Wall Street Journal]. "The bigger cloud over supply chain planners was that even the e-commerce boom quieted as the summer ended: sales for nonstore retailers, a category that includes online merchants such as Amazon com. Inc., fell 0.3% in August." Yikes!
Shipping: "Faltering peak-season imports at the nation's largest port complex suggest retailers remain cautious about consumer spending. California's neighboring ports of Los Angeles and Long Beach saw inbound container volume slide 4.3% from the same month a year ago, WSJ Logistics Reports Erica E. Phillips writes, a steeper slide than anticipated in a generally lackluster run-up toward the holidays" [Wall Street Journal]. "The decline on the West Coast may not be the whole story: ports in Virginia and South Carolina reported healthy gains in their inbound shipments. That may signal a shift in supply chains to get goods closer to East Coast distribution centers. But overall volumes signal that inflated stocks remain a major concern for retailers. The ratio of inventories to sales slipped slightly over the summer but ." Yikes again.
Shipping: "Debt-ridden Hanjin Shipping Co. is working on a restructuring plan that calls for the drastic reduction of its fleet and returning the vast majority of the ships it charters to their owners, according to people with direct knowledge of the matter" [Wall Street Journal, "Hanjin Aims to Sell More Than Half Its Ships"]. "Selling the ships won't be easy. The majority of Hanjin's fleet are 'Panamaxes' that can carry fewer than 10,000 containers. Such vessels are fast becoming outdated in the wake of the widening of the Panama Canal earlier this year. That expansion allows ships moving 12,000 containers or more to pass through the isthmus."
Shipping: "At least two dozen cases of non-payment of seafarers' wages and/or vessel abandonment worldwide have been reported in the media in the last six months, but none of them have been listed on the voluntary International Labour Organisation database, research has indicated" [Lloyd's List].
Rail: "Week 36 of 2016 shows same week total rail traffic (from same week one year ago) contracted according to the Association of American Railroads (AAR) traffic data. This week, most rolling averages' were decelerating" [Econintersect]. "Under normal circumstances one should consider this recessionary as trucking tonnages are down also. This illustrates the dangers of using one one sector to gauge the economy – but it does say that a major dynamic change has occurred in the economy that has caused a significant decline in shipping volumes."
Honey for the Bears: "The crisis in the global luxury-goods industry is deepening with two of the industry's most trusted sources, announcing anticipated dips in profit. Hermès International abandoned a long-standing forecast and Richemont predicted a profit plunge that Chairman Johann Rupert deemed unacceptable. Richemont, the maker of Cartier jewelry, said first-half operating profit will probably decline about 45 percent and warned it may have to deepen cost cuts" [The Fashion Law]. Part of this is China. But are elites having a sad?
Honey for the Bears: "A campaign against extravagant spending and corruption in China has crimped demand for watches there. And in Europe terrorist attacks have cut the numbers of free-spending tourists who make up a big chunk of sales. Cartier has had three chief executives in the past half-decade as earnings growth at Richemont's jewelry business flattened from rates exceeding 40 percent" [Bloomberg].
"Leak From Biggest U.S. Gasoline Pipe Sparks 'Red Alert' " [Bloomberg]. "A leak in Alabama Sept. 9 shut the main gasoline pipeline delivering fuel from refineries along the Gulf Coast to 50 million Americans in states from Mississippi to New Jersey. Colonial Pipeline Co. said on Thursday it pushed back the estimate for a complete startup of its Line 1 to next week from this weekend, citing adverse weather conditions overnight that slowed the cleanup and repair."
"Twitter in retweet" [The Economist]. "Twitter's problems have continued despite Mr Dorsey's ministrations. The biggest is that it has largely stopped growing. Its tally of monthly users, at around 313m, is barely rising. Americans who use the service via their smartphones spend around 2.8 minutes on it each day, which is around a third less than they did two years ago and far less than they spend on rival apps, such as Facebook and Snapchat. In the next quarter, revenues are expected to fall. Even though sales will probably increase for the full year, a quarterly drop is worrying for an internet company which is a household name and only ten years old."
Today's Fear & Greed Index: 41 Fear (previous close: 41, Fear) [CNN]. One week ago: 44 (Fear). (0 is Extreme Fear; 100 is Extreme Greed). Last updated Sep 16 at 11:57am. A week of fear…
Police State Watch
DOJ Inspector General says its OK for FBI agents to impersonate reporters (!) [AP],
Health Care
"medical out-of-pocket expenses dragged 11.2 million people into poverty in 2015, a potential symptom of the shift of moving employees and individuals into health plans that have higher deductibles, copays and coinsurance rates" [Modern Health Care].
Gaia
"A stock-flow-fund ecological macroeconomic model" (PDF) [Science Direct (PhilU)]. This paper looks interesting, and is actually written in English. I'd be interested in reader reactions.
Guillotine Watch
New York City's Guggenheim Museum invites visitors to use 18-karat solid gold toilet. https://t.co/AU1p5yKzY9 pic.twitter.com/Zgu0YocHIO

— ABC News (@ABC) September 16, 2016
Class Warfare
"The Mengs are just one of millions of families across the U.S. that are struggling to find affordable housing. The government has established several housing assistance programs to help them, but the vast majority of poor Americans don't receive any housing aid. And the problem is getting worse: The share of poor families that devote more than half of their income to housing costs has risen by 10 percentage points since 1991" [FiveThirtyEight].
"A Rebounding Economy Remains Fragile for Many" [New York Times]. "While the economy finally is moving in the right direction, the real incomes of most American households still are smaller than in the late 1990s. And large swaths of the country — rural America, industrial centers in the Rust Belt and Appalachia — are lagging behind." A classic case of the maxim: "When you hear 'the economy,' ask 'Whose economy?':
News of the Wired
"A new burst of garden-creation going on in and around Marrakech" [The Economist (JohnnyGL)]. A primer on Islamic gardening.
"So you think you can fake your own death?" [LinkedIn]. Handy tips! I love that this article is in LinkedIn…
"If a program is a series of instructions, then the null program is a series of zero instructions. The null program has some interesting properties, not the least of which being that it's simultaneously written in many languages and many paradigms… " [Esoteric Topics in Computer Programming].
* * *
Readers, feel free to contact me with (a) links, and even better (b) sources I should curate regularly, and (c) to find out how to send me images of plants. Vegetables are fine! Fungi are deemed to be honorary plants! See the previous Water Cooler (with plant) here. And here's today's plant (CR):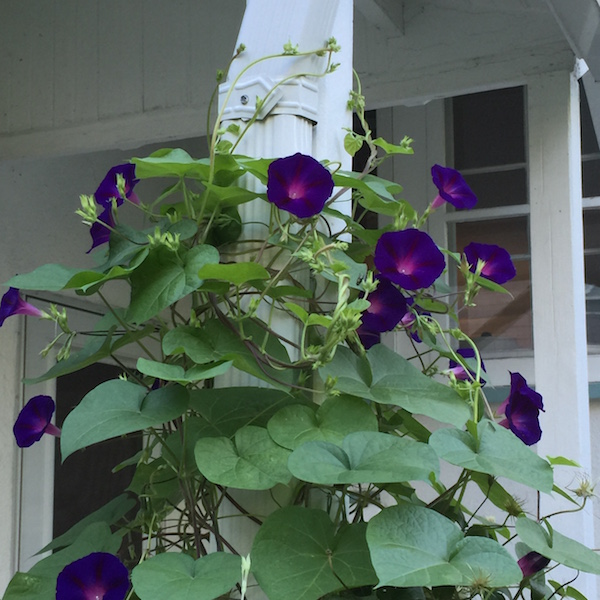 * * *
Readers, if you can, please use the dropdown to choose your contribution, and then click the hat! Your tip will be welcome today, and indeed any day. Water Cooler will not exist without your continued help.