By Lambert Strether of Corrente.
I got a little too caught up in shipping, so the election coverage is lighter than I want it to be. I'll add some more shortly –lambert
TPP/TTIP/TISA
"[A]s negotiators are now elbow deep in the 20th round of [TISA] talks taking place in Geneva this week, the official line is still that the accord should be concluded this year. The outlook, however, is uncertain: "We have not closed a single text yet," said the source, adding that "there are less than three and a half months left now" [Politico].
"Obama took a fresh take [i.e., a new public relations spin] in pushing for the TPP in a speech to the U.N. General Assembly on Tuesday when he cast the deal as a way for nations to rewrite the current path toward globalization" [Politico]. "'In order to move forward … we do have to acknowledge that the existing path to global integration requires a course correction,' Obama said, adding that those who champion globalization too often ignore inequality within nations. 'We cannot unwind integration any more than we can stuff technology back into a box. Nor can we look to failed models of the past.'" Don't make me break out the Magic Markers™, Obama!
2016
Corruption
"In 2010, a man named Martin Greenberg hit a hole-in-one on the 13th hole while playing in a charity golf tournament at Trump's course in Westchester County, N.Y. … Greenberg won a $1 million prize. Briefly. Later, Greenberg was told that he had won nothing. The prize's rules required that the shot had to go 150 yards. But Trump's course had allegedly made the hole too short" [WaPo]. And: "The man's golf course was rigged like a damn state fair game! For a charity tournament!" [Deadspin]. If Clinton has the killer instinct of a spring lamb, she'll work this into the debate.

UPDATE "A Washington Post-ABC News poll last week showed that about 6 in 10 Americans — 59 percent — think Hillary Clinton's State Department did "special favors" for Clinton Foundation donors. And 90 percent of them think the favors were "inappropriate'" [WaPo].

"While Bill Clinton prepares for what is expected to be an impassioned defense of their philanthropic efforts, which have been at the center of accusations that the Clintons used their foundation to sell access while Hillary Clinton led the State Department, Politico reports that the Clinton Global Initiative is preparing to lay off dozens of staffers" [Vanity Fair].

"Few staffers were informed about the move before it was announced in an August staff meeting by foundation CEO Donna Shalala and Bill Clinton, said the former official. Since then, they've learned their fate on a piecemeal basis, according to two people with knowledge of the process. 'It was poorly managed, treated too glibly, patronizingly, completely lacking empathy at the fact that so many young people were going to be laid off,' said the former official" [Politico]. Well, they're only Millenials. F*ck 'em. Key quote: "Trump campaign spokesman Jason Miller responded Tuesday, asking, 'Doesn't this validate claims of pay-for-play within the organization?'"
Money
"When outside groups supporting Clinton's candidacy were included, the total spend on her side reached $156.6 million. The comparable figure for all pro-Trump advertising was $33.6 million" [The Hill]. "Clinton is a slight favorite in the race, but the huge disparity in spending has failed to break the contest open. Data website FiveThirtyEight gave Clinton a 56 percent chance of winning as of Tuesday afternoon, while the RealClearPolitics average of national polls showed her with an edge of about 1 percentage point." My first impulse is to say the dogs won't eat the dog food. My second is to say, wait a minute, Sanders spent a ton of money on the air war, too; maybe his critics are right on that one. Then again, I don't think the disparity was nearly as great, and the choice between candidates was very different. Thinking back to Ferguson, if I understand him correctly, he relates money to outcome, but not money to margin. So…

UPDATE "Josh Schwerin, a spokesman for the Clinton campaign, said Trump has been "derelict" in building a political operation that would help not only himself but down-ballot Republicans" [AP]. That's rich, after Clinton ripped off the state parties with the "Victory Fund" scam.
Policy
UPDATE "Sen. Elizabeth Warren on Tuesday called for a criminal investigation into Wells Fargo (WFC) executives over the cross-selling scandal that has engulfed the bank and told CEO John Stumpf he should resign" [Yahoo Finance]. I don't see this as helping Clinton, since a lot of Clinton's donors (and audience members) are probably close personal friends of Stumpf. And in HillaryLand, anything that doesn't help Hillary hurts her. Rather, I see these hearings as signaling the emergence of Warren as an independent power source, a party baron (or baroness, if you will). Like Sanders, a second emergent baron, she has an independent power base of funders. And like Sanders, she performed a ritual act of fealty to the Democrat nominee (and one that doesn't seem to have made much difference).
The Voters
"This year, high-income earners are swinging in favor of Hillary Clinton, according to a Bloomberg survey of 600 likely voters with annual household incomes above $100,000. The same group that supported Mitt Romney over Barack Obama by 10 percent points in the last election cycle now backs Clinton over Trump by 46 percent to 42 percent, according to the poll, which was conducted last week" [Vanity Fair (Re Silc). "Interestingly, the biggest drag on Trump among this group was his verbal treatment of women."

"Let's start by giv­ing Don­ald Trump every state that Rom­ney won in 2012, even North Car­o­lina where, as of Thursday morn­ing, Clin­ton had a nar­row lead in the RCP av­er­age of polls in that state. That would give Trump 245 elect­or­al votes to Clin­ton's 293, with 270 needed to win. Now let's give Trump every state where Clin­ton's RCP av­er­age lead was less than 3 points, thus put­ting Iowa, Nevada, Flor­ida, and Ohio in Trump's column. Clin­ton would then lead 273-265 and still be in the win­ner's circle. Now let's as­sume that Trump wins Maine's second con­gres­sion­al dis­trict, which would nar­row her lead to 272 to 266. To be clear, I do not think that Trump will sweep North Car­o­lina, Iowa, Nevada, Flor­ida, and Ohio. For that mat­ter, he is strug­gling to keep his lead in places like Ari­zona and Geor­gia. These in­clude New Hamp­shire, where the RCP av­er­age gives Clin­ton a 5-point edge, Pennsylvania a 6.2-point lead, Michigan a 5.6-point lead, and Vir­gin­ia a 3.7-point lead" [Cook Political Report] [dusts hands]. "The key thing to think about in the com­ing weeks is who the elec­tion is really about. For most of the past three months, it was a ref­er­en­dum on Trump, and he was los­ing. The last couple of weeks, the race has been about Clin­ton and she has been los­ing ground as a res­ult." The political class cannot concieve of the idea that the election might be a referendum on them. And that a narrow win will not be enough to allow them to retain the mandate of heaven.

"The larger explanation for the Trump phenomenon is even more unsettling for Washington's political class, especially the media. They have lost their power" [Politico]. No, they haven't. But they are frantic to retain it. "Only a decade or two ago, the media world was confined to a group of people in D.C. and New York—a group that largely knew each other, mingled in the same places, vacationed in the same locales. The most influential members of the group routinely defined what constituted a gaffe, others echoed that view, and it became the conventional wisdom for the rest of America. In the age of the Internet, with bloggers spread out across the nation, and multiple platforms across the political spectrum, that's no longer possible. The growing divergence between these 'insiders' and the new 'outsiders' has played to Trump's benefit, every single time he made what was once conceived as a 'game-changing' error." Hmm. I remember 2003-2006 very well, when bloggers were going to do just this. That was going to happen until it didn't. In other words, I don't think it's bloggers and platforms that are the drivers; aspirational 10%-ers, as it were. It's a solid chunk of the 90% being mightily ticked off (though ticked off in ways appropriate to their various conditions). And that's not going to change.

"Thus Clinton's peculiar predicament. She has moved further left than any modern Democratic nominee, and absorbed the newer left's Manichaean view of the culture war" [Ross Douthat, The New York Times]. And "culture war" completely explains why all those bright young people were chanting the talking points of an elderly white male socialist delivering hour-long speeches on policy to ginormous rallies. If you want to see an utterly classic conflation of "liberal" and "left," read this. Douthat really is an idiot.

"View from the barber's chair: In Florida even blacks and Hispanics may be turning against Hillary Clinton" [Independent]. This is good, although using the word "safari" for encounters with Florida voters might not be an ideal choice of words.

UPDATE "There are three consistent features to all of conservative talk radio: Anger, Trump, and ads targeting the financially desperate" [Chris Arnade]. "The ads are a constant. Ads protecting against coming financial crisis (Surprise! It is Gold.) or ads that start, 'Having trouble with the IRS?' The obvious lessons being 1) Lots of conservative talk radio listeners are in financial distress. 2) They are willing to turn to scams."

UPDATE "[Squillionare Tom Steyer is] chipping in an additional $15 million to For Our Future, a joint effort among four labor unions and a super PAC he founded called Next Gen Climate. The money won't go to TV ads but to a door-to-door campaign that aims to knock on 2 million doors in seven swing states, encouraging "sporadic" voters to get to the polls" [USA Today]. Once again, if the Democrats didn't suck at basic party functions, they wouldn't have to suck up to squillionaires like this.

UPDATE "No matter who wins in November, America is going to face a divide unseen in decades. If Donald Trump wins, he will confront a resident media more hateful than that which confronted Richard Nixon in 1968" [Patrick Buchanan, The American Conservative]. "If Hillary Clinton wins, she will come to office distrusted and disbelieved by most of her countrymen, half of whom she has maligned either as "deplorables" or pitiful souls in need of empathy." A country Buchanan worked so tirelessly to unify! Still, the old reprobate has this right. If Clinton wins (likely modulo events, dear boy, events) and the Republicans retain the House and the Senate, they'll impeach her over some damned thing in the emails. And they'll be right.

UPDATE "Trump Boasts About Using 'Other People's Money' In Business" [Talking Points Memo]. History's worst monster!

UPDATE "A fuzzy screenshot of an email instructing people on how to disrupt internet groups is doing the rounds today, and it's worth having a really good look at. It's unclear where this particular handbook came from, and what particular groups they intend to target, but anyone who has been in Bernie, Green, or Libertarian groups will soon recognize these same tactics and patterns" [Inquisitr].
Clnton Email Hairball
"The Hidden Smoking Gun: the Combetta Cover-Up" [Thompson Timeline]. Must read.
Stats Watch
MBA Mortgage Applications, week of September 2016: "Purchase applications for home mortgages fell a seasonally adjusted 7 percent in the September 16 week" [Econoday]. And: "So much for last week's glimmer of hope" [Mosler Economics].
Shipping: "At least one shipowner has defaulted on Royal Bank of Scotland during the opening six months of this year, and there could be more defaults to come, the taxpayer-owned lender has admitted in its first-half results" [Lloyds]. An unlocked story, rare for Lloyds: "The revelation comes in the small print of a set of car-crash numbers for RBS, which for decades held a leading position in the Greek market through the activities of its Piraeus office." Well, RBS is a dumb bank, besides being crooked. How about some German banks? They're pretty dumb, too. Still, all the numbers seem to be in the single-digit billions. And no CDOs. Still, one never likes to see banks in trouble. After all, life as we know it depends on them.
Shipping: "Yet even with 2 million TEUs out of service — around 10 percent of the global fleet — container shipping supply will remain above demand for containerized transport for at least the next two years, according to maritime analysts" [Journal of Commerce]. "'If you were to rebalance the supply and demand gap, you would have to remove another 100 super-large vessels from the global fleet,' [Camille Egloff, partner and managing director at Boston Consulting Group] said."
Shipping: Handy chart on Hanjin debacle; looks like Hanjin was gutshot by financial crisis and never really recovered [Journal of Commerce].
Shipping: "The future of Hanjin Shipping has been cast further adrift with South Korea's main news agency Yonhap reporting yesterday that the court overseeing its receivership reckons the line's rehabilitation plan is 'realistically impossible' if key debts, such as backlogged charter fees exceed KRW1trn ($896m)…. Its total debts are in excess of $5bn and mounting" [Splash247]. Whoops.
Shipping: "How Container Stowage Planning works" [Shipping and Freight Resource]. Tidbit: "For reasons of lashing and securing containers, a 40′ container can sit on top of two 20's, but two 20's cannot sit on top of 40′ (unless it is under deck and surrounded by other containers or within cell guides)." If you want to become a shipping container nerd, this is the post for you! (Hat tip Abynormal for the source.)
Shipping: "Now several sources are analyzed – and we see the proponderance data saying that trucking volumes did improve this month, but remains in contraction year-over-year. The entire transport industry (truck, rail and ship) remains in contraction. The trend lines in trucking are not clear – one month it looks like the situation is improving, and the next month indicates the opposite" [Econintersect]. "This situation is mirroring the trends in wholesale trade and manufacturing – which all remain in contraction. Prior to the New Normal, this would have indicated a recession – in 2016 it seems only to be indicating very weak near term economic conditions."
Shipping: "Several big truck operators remain skeptical of a rebound, saying their volumes have been wavering in September, and demand doesn't look evenly spread: several less-than-truckload carriers report their volumes have slipped this month. Still, the upturns counted by the American Trucking Associations, DAT and the Cass Freight Index show retailers may be setting aside inventory-reduction efforts and stocking up for the holidays. Rising spot rates and new price-increase announcements from truck operators certainly suggest carriers believe that" [Wall Street Journal].
Shipping: "FedEx Corp. threw a curveball at the U.S. parcel-shipping market last night by announcing an expansion of the universe of packages subject to a costlier pricing formula" [DC Velocity]. "Currently, FedEx determines a package's dimensions by multiplying its length, width, and height in inches and dividing the sum by 166. On Jan. 2, the divisor resets to 139." Like a candy bar manufacturer raising prices by shrinking the candy bar!
Honey for the Bears: "On the heels of six out of seven months of increasing levels of demand for design services, the Architecture Billings Index (ABI) fell just below the positive mark. As a leading economic indicator of construction activity, the ABI reflects the approximate nine to twelve month lead time between architecture billings and construction spending" [American Architectural Institute]. And: Back down to recession levels" (chart) [Mosler Economics].
Honey for the Bears: "Manufacturers of metal-cutting machines are shearing prices to generate sales amid a global slump in machinery demand brought on by lower energy prices and reduced investment in high-tech equipment" [Wall Street Journal, "Metal-Cutting Machine Manufacturers Shearing Prices to Generate Sales"]. "Factory shipments of new metal-cutting machines this year are expected to be down about 14% from 2015 to $7.2 billion with machine orders expected to fall about 12%. The manufacturing technology association expects shipments to be flat to slight down next year, but predicts orders will climb about 10% in response to the auto industry's pursuit of more fuel-efficient pickup trucks and sport-utility vehicles." And by "pursuit" we mean demand created by evil government regulation, right? Let's have more of it!
Fodder for the Bulls: "Baltic Dry Index Surges – Gets a Boost from China's Thermal Coal Imports" [Economic Calendar]. But: "While tightness in the Chinese domestic market has led to a surge in spot seaborne prices, there hasn't been a 'material increase in demand,' [Australian coal producer] New Hope Chief Executive Shane Stephan said Tuesday." "New Hope." Love the name. (On demand: Note that some, but not all, sources here disagree with New Hope. Who's talking what book?)
Hacking: "The number of breaches in 2015 totaled 781, just two shy of the record 783 breaches that ITRC tracked in 2014. The 687 data breaches reported so far for 2016 are nearly 16% above the number reported (594) for the same period last year. A total of more than 169 million records were exposed in 2015" [WallStreet 247].
The Bezzle: "Warning: Microsoft Signature PC program now requires that you can't run Linux. Lenovo's recent Ultrabooks among affected systems" [Reddit].
Today's Fear & Greed Index: 48 Fear (previous close: 45, Fear) [CNN]. One week ago: 34 (Neutral). (0 is Extreme Fear; 100 is Extreme Greed). Last updated Sep 21 at 12:07pm. Slowly I turned…
Gaia
"Scientists may have solved a key riddle about Antarctica — and you're not going to like the answer" [WaPo]. What happens when Antarctic ice melts; lessons from the geological record.
Black Injustice Tipping Point
"Charlotte erupts with protests after police kill disabled black man family says was "reading book in car'" [Salon]. This in the same week that the cops took Ahmad Khan Rahami alive, after a shootout.
A detail on the protest:
Protestors took all the barricades, block signs and caution tape cops put up, marched with it for miles, & shut down the interstate w/it.

— Carolina Bama (@Awkward_Duck) September 21, 2016
That's creative!
UPDATE "The Radical Democracy of the Movement for Black Lives" [African American Intellectual History Society].
Class Warfare
"The U.S. labor market seems to have finally healed" [IMF Direct]. How I hate that metaphor; it embeds a horrible category error. Markets are not organic beings. They do not heal. They do not require solicitude. More: "The unemployment rate has been below 5 percent for some time and job growth is steady. And more Americans are coming back to the labor market—in other words, labor participation is increasing. Yet, despite a bump-up in 2015, wage growth so far this year—compared to the 2000s—is still disappointingly low. This is worrying because consumer spending, which makes up the majority of U.S. economic output, cannot continue at the current pace unless wages grow." No duh!
"'Sir,—I am a dressmaker, living in a large West-end house of business. I work in a crowded room with twenty-eight others. This morning one of my companions was found dead in her bed, and we all of us think that long hours and close confinement have had a great deal to do with her end'" [Mimi Matthews]. Victorian fast fashion….
News of the Wired
"Fitness trackers offer no weight-loss benefit and can make users fatter, says study" [Telegraph].
"Microsoft will 'solve' cancer within the next 10 years by treating it like a computer virus, says company" [Independent]. Well, they do have expertise in that regard…
"Among his extraordinary achievements, Wells was one of the earliest major English writers to be a trained scientist. The word 'scientist' had been coined by historian William Whewell just 33 years before Wells's birth" in 1866 [Nature]. "[H]is final contribution to Nature, in 1944, was an attempt to understand the actions and motivations of the individual. 'The Illusion of Personality' suggests that the notion of a stable personality is an illusion, because consciousness constantly flits from one moment to the next (Nature 153, 395–397; 1944). "
* * *
Readers, feel free to contact me with (a) links, and even better (b) sources I should curate regularly, and (c) to find out how to send me images of plants. Vegetables are fine! Fungi are deemed to be honorary plants! See the previous Water Cooler (with plant) here. And here's today's plant (AM):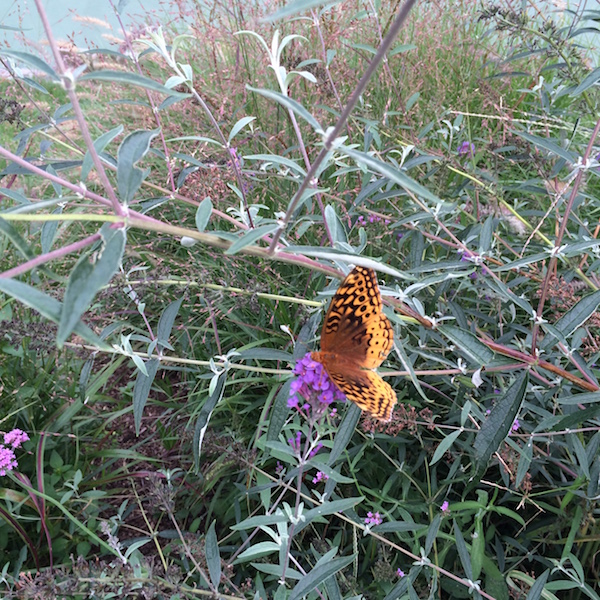 AM writes: "More from Rehobth, MA. I watched this butterfly spend about 10 minutes working over this plant. Could hear its wings flap."
Readers, I am behind in answering contact form mail. I will catch up soon, beginning now!
Readers, if you can, please use the dropdown to choose your contribution, and then click the hat! Your tip will be welcome today, and indeed any day. Water Cooler will not exist without your continued help.