By Lambert Strether of Corrente.
TPP/TTIP/TISA
"Peterson Institute: Trump's trade proposals 'horribly destructive'" [Politico]. The Peterson Institute has been trying to screw us all out of Social Security with a Grand Bargain for years, so forgive me — I know this is simplistic, binary thinking — if I regard this as a recommendation, rather than the reverse.
"In an email blast, Wallach added pointedly: "Who was notably not part of the TPP sales team: the Democratic and GOP presidential nominees; the congressional leaders of either party; the growing bloc of GOP House members that are coming out against TPP; or the vast majority of congressional Democrats; or anyone representing president Obama's political base, aka labor, environmental, LGBTQ, consumer, faith, immigration or civil-rights leaders" [Politico]. I think that's "putative political base."
"A United Nations independent expert today called on States and Parliaments to ensure that all future trade agreements stipulate the primacy of human rights and to align existing treaties with the duty of States to fulfill binding human rights treaties and meet environmental and health goals" [UN News Centre].
2016
Money
"Guardian's Wisconsin investigation points to big money's systemic distortion of U.S. democracy" [Thomas Ferguson, Institute for New Economic Thinking]

"Trump is approaching, and has possibly already passed, $100 million from donors who have given less than $200, according to an analysis of available Federal Election Commission filings, the campaign's public statements and people familiar with his fundraising operation. It is a threshold no previous Republican has ever achieved in a single campaign. And Trump has done so less than three months after signing his first email solicitation for donors on June 21 — a staggering speed to collect such a vast sum" [Politico]. Further proof the Democrat (and Republican) fund-raising model is not only corrupt (which is a feature) but broken (a bug). Ya know, if Trump were on the left, we'd be praising his campaign operation to the skies: Not merely bypass but humiliate the campaign operatives; run an incredibly lean, nimble campaign; and leverage small donors (like Sanders). Oh, and like it or not, Trump is message-based.
Policy
"If you listen closely to Trump, you'll hear a direct repudiation of the system of globalization and identity politics that has defined the world order since the Cold War. There are, in fact, six specific ideas that he has either blurted out or thinly buried in his rhetoric: (1) borders matter; (2) immigration policy matters; (3) national interests, not so-called universal interests, matter; (4) entrepreneurship matters; (5) decentralization matters; (6) PC speech—without which identity politics is inconceivable—must be repudiated" [Politico].

"The Progressive Case for Hillary Clinton Is Pretty Overwhelming" [Kevin Drum, Mother Jones]. (I love the Beltway qualifier: "pretty." It's important to maintain an air of chin-stroking profundity at all times. "23. She voted for TARP." Has Drum lost his mind?
Our Famously Free Press
"The media spend more time on horse-race and scandal reporting than on the candidates' proposals, but that doesn't mean policy is ignored. If voters really wanted more stories on actual proposals, the press would oblige. Horse-race and scandal coverage isn't what reporters or editors prefer. It's what readers and viewers want, even if they subsequently complain about it and about politicians who supposedly never explain what they would do in office." [Bloomberg].
The Voters
"Voter Election fraud allegations are being made by a Nevada Democrat and former candidate for congress, Dan Rolle, who is now telling fellow Democrats he is sorry and wishes he had known more about what apparently began in 2012 with changes made to the Nevada voter system files and continued until February 21 of this year when caucus votes in Nevada were announced to the world before they were counted" [Inquisitor]. Rolle's ability to organize data is godawful, and for that very reason I'm inclined to give him some credence; here's Rolle's twitter account, and here's a Reddit summary of his tweetstorms. The key contention, if I understand this, is that Nevada state voter files were run through the national NGPVAN. All those weird registration events? There's your answer. The only other publication to cover this is (sigh) the Observer, which doesn't explain how the lists were actually manipulated. Interesting if true! (And if Rolle is a crazypants conspiracy theorist, the Democrats allowed him to run on their ticket.) Here's a video from him:

LIVE on #Periscope: I'm sorry. For not acting sooner. #dncleak. https://t.co/LEZroy7pUH

— dan rolle (@danrolle) September 15, 2016

"2016 U.S. Presidential Election Markets" [Iowa Election Markets].

"Both national polls and surveys in swing states show Clinton has seen a slide with voters younger than 35, particularly when Libertarian candidate Gary Johnson and Green Party candidate Jill Stein are factored in" [NBC]. Yikes:

That's not a random blip; it's a huge swing.

"According to a POLITICO review of campaign spending, Hillary Clinton has invested seven times the amount of money on TV commercials as her Republican rival and has established twice as many field offices in many of the states that will decide who wins the presidency. In many battlegrounds, she has dozens more organizers than Trump" [Politico]. Expensive dogfood.

"Some 86 percent of Democrats in the battleground states say that America will be "damaged beyond repair" if Trump wins the election, while 83 percent of Republicans say the country will be irreparably harmed should Clinton take the White House" [Bloomberg]. Legitmicacy crisis, here we come.

"Why Movement Conservatives Are Rooting for Hillary" [The American Conservative]. "[U]nder a President Hillary, movement conservatives could comfortably unify the party in opposition to their longstanding enemy, papering over the ideological divisions exposed by Trump. Such divisions would still exist, but dealing with them would be subordinated to the overriding task of undermining Hillary."

"Real-Time Election Day Projections May Upend News Tradition" [New York Times]. Very dubious about this. It seems reflexive

"Martha Stewart: 'I'm voting for Hillary Clinton'" [Politico]. Can't resist this. Make up your own jokes!
Stats Watch
Housing Market Index, September 2016: "New home sales have been strong and home builders are reporting more of the same, in fact the best conditions of the year. The housing market index is up a very sharp 6 points this month to 65 for the best reading since October last year" [Econoday]. "At an enormously strong composite score of 82, strength is concentrated in the West which is a focused region for home builders. The South, which is the largest region for home builders, follows at 68. The Midwest is at 56 with the Northeast, which is by far the smallest region for home builders, lagging badly at 43." Well, in the Northeast, we have our houses.
Housing: " Builder Confidence Surges in September" [National Association of Homebuilders]. "Builder confidence in the market for newly built, single-family homes in September jumped six points to 65 from a downwardly revised August reading of 59 on the National Association of Home Builders/Wells Fargo Housing Market Index (HMI) released today. This marks the highest HMI level since October 2015."
Housing: "Rent prices drop in 10 of top 12 US Markets: Rental Armageddon taking a brief break for the election" [Dr. Housing Bubble]. "What an odd year."
Credit: "A very small move up but the deceleration trend is intact" [Mosler Economics]. Mosler's story and he's sticking to it:
As always, and by identity, if anyone spent less than his income, another must have spent more than his income, or the output would not have been sold.

So when the oil related capital expenditure collapsed late in 2014, it caused a general deceleration of growth that has yet to show any signs of reversal.

That is, spending continues to decelerate, causing inventory to go unsold, which leads to reduced production and reduced incomes, further slowing spending, in a downward spiral that can't reverse until some entity spends sufficiently more than its income. At some point growth goes negative, and it wouldn't surprise me if data revisions indicate that growth has already gone negative, perhaps as much as a year ago.

The current slowdown has begun to reduce the growth of tax revenues, which 'automatically' causes government to begin increasing its deficit.
Grrr!
Honey for the Bears: "The secondhand market is the only lively part of the industrial machinery business these days, and that's providing more pain to equipment makers. A glut in the machinery that mines, moves or refines commodities is the by-product in global slump in the value of goods from coal to corn, the WSJ's Bob Tita reports. That leaves equipment makers including Caterpillar Inc., Volvo AB, Deere & Co. and others effectively competing with their own machinery" [Wall Street Journal].
Travel: "What's happening with corporate transient demand?" [Hotel News Now]. "It was almost unanimous across the board of the big hotel companies that transient corporate demand was down—significantly in some cases—in the U.S. in the second quarter compared to the same period last year. This is problematic for hotels in general because transient demand is what drives overall growth, since transient rooms are booked at higher rates than group rooms. But it's also pretty fickle. When companies cut down on business travel, send fewer people to meetings or industries consolidate, that corporate transient demand piece is affected. What's more, this is an issue that affects companies with more offerings in the upper-midscale to upscale segments."
Shipping: "This month I must disclaim the analysis. Econintersect uses container movements to model economic activity – and this month the bankruptcy of Hanjin Shipping have affected the offloading at the Long Beach with imports down 10% year-over-year. On the other hand, the Port of Los Angeles enjoyed record movements" [Econintersect]. "On the other hand, the Port of Los Angeles enjoyed record movements.. Exports were not affected by the Hanjin bankruptcy – as the containers would simply be routed on other ships. The Hanjin import containers will eventually be offloaded and add to the data in the following months. It is significant that export container counts were up in August.which demonstrates there is life in the international markets." (!!).
Shipping: "Nearly one-third of the Hanjin Shipping Co. container ships that have been waiting to dock around the world have unloaded their cargo, raising hopes that anxious retailers will get at least some of their goods in time for the crucial year-end holiday season" [Wall Street Journal, "Hanjin Unloads More Cargo, Easing Supply-Chain Fears"]. "South Korea's largest container operator said Monday that 28 vessels from its container fleet of 97 ships have finished off-loading goods at ports in California, Spain and other parts of the world."
Shipping: "Stormy Seas Ahead For Shippers Following Hanjin's Bankruptcy" [OliPrice.com]. "The shipping sector is likely to see both short-term disruption push prices higher, while in the longer term the fight for Hanjin's previous customers could erode pricing discipline. For firms like Textainer that rely on strength in container pricing, the bankruptcy can only be interpreted as bad news. Even if Hanjin is ultimately restructured rather than liquidated, the uncertainty in the sector is going to hit container prices and demand hard."
Shipping: "China's ports hit hard by global trade slowdown" [FInancial Times]. "China's excess port capacity in 2013 — equivalent to 50m 20-foot containers — was bigger than the entire throughput of Japan, Russia, South Korea and Taiwan. And the unused port capacity will double by 2030, according to the ITF, as local governments compete to build larger and larger facilities."
Shipping: "Guest Voices: Shipping Banks Face Sinking Prospects as They Postpone Reckoning" [Wall Street Journal]. "Having been too lenient with their lending covenants and facing a market implosion, shipping banks have sought to push back a day of reckoning. Many have applied a new vessel valuation methodology that produces unrealistically high asset values, making bad loans seem bearable. The European Central Bank has changed the out-of-bounds markers still more by agreeing to label loans in default only after they have fallen in arrears for more than 90 days. This allows shipowners to make partial payments quarterly and remain in compliance with lenders—and the lenders, in turn, in compliance with the ECB. The 'play for time' strategy seems to be approaching its expiration date, however."
Shipping: "The Baltic Dry Index is a great metric when it comes to gauging the demand side of the fundamental commodities equation. The prices of commodities influence all other asset classes. Many companies that trade on equity exchanges around the world either produce or consume raw materials. Therefore, the price path of raw materials directly affects their profitability and the direction of the stock market" [Seeking Alpha]. "The BDI is a reflection of the demand for dry bulk commodities, and the verdict from the metric lately is that demand is on the rise."
Food: "Egypt's wheat export crisis deepens after cancellation of 2nd wheat tender" [Daily News].
Coops: "Electric cooperatives today find themselves in a bind. Distributed energy is becoming cheaper than centralized energy. Utility managers have to worry about losing electric sales and meters. The G&Ts [generation and transmission cooperatives' continue to invest in coal and fossil fuels, while lobbying against climate regulation and clean energy rules. Electric cooperatives span three-quarters of the land, serving 12% of the population, in many of the country's poorest areas. [Clean Technica (DB)]. "These contracts [between cops and G&Ts] become like the roach motel — 'you can check in, you can't check out,' says [Ed Marston, former board member of the Delta-Montrose Electric Association]. " Lots of good detail on this important sector.
Today's Fear & Greed Index: 44 Fear (previous close: 44, Fear) [CNN]. One week ago: 55 (Neutral). (0 is Extreme Fear; 100 is Extreme Greed). Last updated Sep 19 at 12:16pm. Drinks with the boys at the Nineteenth hole on Sunday didn't make anything better…
Dear Old Blighty
Water
"Tunisia water shortages spark 'thirst uprising' warning" [France24].
Gaia
"US Study Confirms Rapid Increase of Methane Emissions by Oil and Gas" [The Tyee]. "Spike corresponds with timing of shale gas boom."
Earlier this week at the meeting of the Committee of Chairs, [Dartmouth President Philip J. Hanlon] announced with great pride that the College was to receive what I am told is a $100 million gift from Arthur Irving, Chairman of Irving Oil Company, to fund a new "Energy and Society" institute at Dartmouth" [DartBlog]. How nice! I buy fuel from Irving!
"How the bacteria in your gut may be shaping your waistline" [The Economist].
"Get Your Children Good and Dirty" [Wall Street Journal].
News of the Wired
"For more proof algorithms can be biased, look no further than cute puppies" [Quartz].
"Twitter's new, longer tweets are coming September 19th" [The Verge].
Well, who knew the government could seize control of your cellphone and send you an alert?
Emergency alert to cell phones here about NY/NJ bombings suspect. pic.twitter.com/vNBRJ8Zais

— Steve Herman (@W7VOA) September 19, 2016
* * *
Readers, feel free to contact me with (a) links, and even better (b) sources I should curate regularly, and (c) to find out how to send me images of plants. Vegetables are fine! Fungi are deemed to be honorary plants! See the previous Water Cooler (with plant) here. And here's today's plant (JD):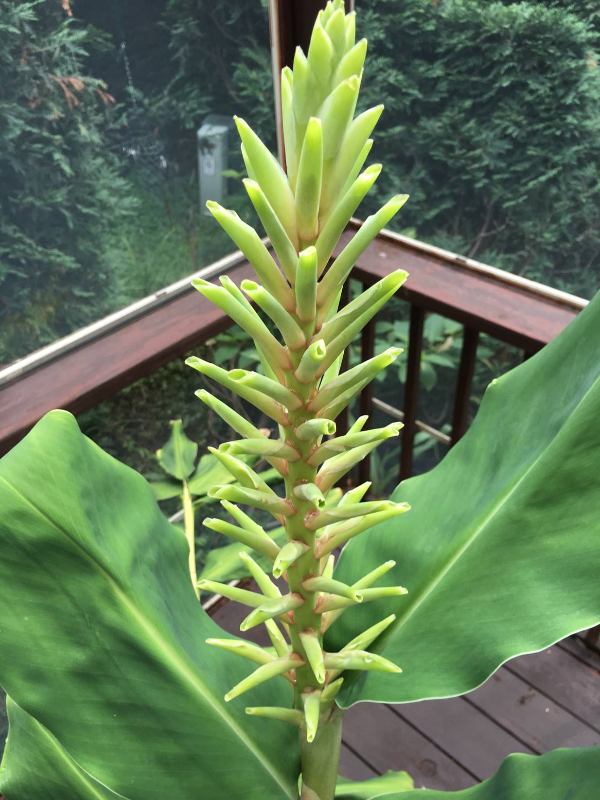 JD writes: "This is what happens when you shove a piece of Ginger in a pot in the Tropics (west of Chicago) and give it no attention."
* * *
Readers, if you can, please use the dropdown to choose your contribution, and then click the hat! Your tip will be welcome today, and indeed any day. Water Cooler will not exist without your continued help.