By Lambert Strether of Corrente.
2016
Days until: 45.
Money
"David Brock has 7 non-profits, 3 Super PACs, one 527-committee, one LLC, one joint fundraising committee, and one unregistered solicitor crammed into his office in Washington DC" [Citizens Audit]. "Uncovered records expose a constant flow of money between these organizations. The Bonner Group, his [unregistered] professional solicitor, works off a commission. Every time money gets passed around, Bonner receives a 12.5% cut." Hmm. (Source vetted by Nick Confessore.)

"For the low price of $25, you can snag a Trump Gold Card emblazoned with your name or join a campaign 'Board of Directors' that comes with a personalized certificate. For $30, grab one of Trump's signature red hats — billed as 'the most popular product in America.' Supporters can elevate themselves to 'big league' by ponying up $184 for a signed, 'now out of print' copy of Trump's book, 'The Art of the Deal' [AP].

"Palmer Luckey is funding Donald Trump's internet trolls with his Oculus money" [The Verge].
Policy
"Clinton's policy operation has churned out more than 60 papers outlining plans for everything from housing for people with serious mental illness to adjusting the cap on loans from the Small Business Administration. The agenda includes extremely big items, like a promise to ensure no family pays more than 10 percent of income on child care, and extremely small ones, like investing in smartphone applications that would make it easier for military families living in remote locations to receive services available only on bases" [HuffPo]. "People on the campaign assured me that the policy staffers work "the same insane hours as everyone else." It's just that they're focusing on November 9, and what Clinton would do if she manages to make it to the White House—where she would face an even less habitable political environment than Obama did. Unlike him, she'll be entering office without a huge reserve of personal popularity to draw on. She'll be hemmed in by Republicans on one side and a newly emboldened progressive wing of the Democratic Party on the other. With almost no room to maneuver, Clinton has to find a way to do something good for America. It almost makes the election look like the easy part." And speaking of policy–

" I believed from my heart of hearts that the ideas I was talking about were not courageous, radical, bold ideas. The ideas that I was talking about are what most Americans would support if they had the chance to hear these views, which they do not under normal circumstances. You could watch CNN for the next 14 years, and you're not going to hear a discussion about the need for a single-payer health-care system" [The Nation]. No reason for the Clinton campaign to emit a white paper on single payer, eh? ("Never, ever.") Good interview with Sanders.

"Speaking on Thursday to a conference of 1,500 gas-industry executives, managers and salespeople, Republican presidential candidate Donald Trump promised sweeping deregulation of natural-gas, oil and coal production as part of an 'America-first energy' plan" [Wall Street Journal, "Donald Trump Promises Deregulation of Energy Production"].
The Voters
"Undecided Voters Are Proving a Tough Sell for Clinton and Trump" [Bloomberg]. "Doubts about Clinton and Trump and high unfavorability ratings of both are distinguishing features of voter attitudes in national and state polls. In Ohio, a bellwether state that has backed the winning presidential candidate in every election since 1964, a Bloomberg Politics poll released Sept. 14 found that 57 percent of likely voters viewed Clinton unfavorably and 52 percent said the same of Trump."

This doesn't mean Trump will take Virginia, but Pence delivering his stump speech soaked to the skin is a tremendous spectacle; "he's got game," as I think the kidz say. (This is from the 20th, and I was only able to get around to it now.)

Mike Pence just had THE campaign stop of his VP run. Pouring rain, no umbrella, protesters heard from afar, great crowd energy, revved crowd pic.twitter.com/Txy93E3Pr9

— Vaughn Hillyard (@VaughnHillyard) September 21, 2016

And from the same event:

One of the Clinton supporters was just shouting "Putin! Putin! Putin!"

— Hunter Walker (@hunterw) September 20, 2016

These people have lost their minds.
War Drums
"As president, Hillary Clinton is prepared to take a much tougher stance on Russia than Trump — or even Obama. Syria's civil war will be the first test" [Foreign Policy].
Debates
"Should debate moderators yell 'Liar,' or is that the candidates' job?" [McClatchy]. ""Fact checkers have been particularly critical of Trump: of the more than 250 Trump statements reviewed by Politifact, 180 were found to be either mostly false, false or 'Pants on Fire,' the site's worst rating. Of the 255 Clinton statements reviewed, 70 were found to be mostly false, false or Pants on Fire." So 180/250 (72%) and 70/255 (27%).

"Both Clinton and Trump, candidates who are deeply disliked by the electorate, are confronting what may be a final opportunity to redefine themselves. Clinton needs to overcome questions of trustworthiness. Trump needs to overcome questions of instability" [Los Angeles Times]. "'A real boring debate is a huge win for him,' said Barry Bennett, a former senior campaign advisor to Trump who ran Ben Carson's campaign during last fall's primary debates."
Realignment
"Billionaire Miami Republican pledges $2 million to help Clinton" [Miami Herald]. That's the stuff to give the troops!
Stats Watch
Purchasing Managers' Manufacturing Index, September 2016: "[A] very soft month" [Econoday]. "New orders are rising at their slowest rate of the year with export orders dipping into contraction. Hiring is subdued and the sample is cutting back inventories. The sample is also cutting selling prices. Production is the weakest it has been in three months. This report confirms regional manufacturing reports which have also been soft so far this month. The factory sector, drifting sideways, hasn't been able to get in gear this year, the result of weak business investment in new equipment and weak foreign demand. "
Kansas City Fed Manufacturing Index, September 2016 (yesterday): "Better, apart from employment and prices, which happen to be the Fed's mandate" Ouch! [Mosler Economics]. "So interesting that the KC Fed President wants to hike rates."
Atlanta Fed Business Inflation Expectations, September 2016: Up one-tenth [Econoday]. "The uptick in expectations, though modest, hints perhaps at improved expectations in future business demand." Sounds like whistling past the graveyard, to me, but am I too cynical?
Rail: " Rail Week Ending 17 September 2016: Data Looks Better This Week" [Econintersect]. "If coal and grain are removed from the analysis, rail has recently been declining a around 5% – but this week was a significant improvement to -1.6%. Under normal circumstances one should consider this recessionary as trucking tonnages are down also. This also correlates to the contraction in manufacturing and the wholesale sectors – so rail is not an outlier."
Shipping: "Move over skyscrapers and shopping malls: The hottest commercial-property investment on the global market is the humble distribution warehouse" [Wall Street Journal, "Why Sheds Are the New Shops—For Now "]
Shipping: " China's biggest shipping company, COSCO Shipping, plans to ramp up container volume at Greece's biggest port in Piraeus by 35 percent by 2018, the port's new managing director, Fu Cheng Qiu, told Reuters on Thursday" [Reuters].
Stephanie Kelton on the history of MMT (via):
(Seems like a shorter version of this.)
The Fed: "So growth and employment prospects are lower than those of their prior meeting, when they didn't raise rates. And their forecasts continue to decelerate" [Mosler Economics].
"Understanding America's ridiculously large $18T economy by comparing the GDP of US metro areas to entire countries" [AEI]. The New York-Newark-Jersey CIty metropolitan area is comparable to Canada, for example.
Today's Fear & Greed Index: 57 Greed (previous close: 59, Greed) [CNN]. One week ago: 44 (Fear). (0 is Extreme Fear; 100 is Extreme Greed). Last updated Sep 23 at 12:31pm. Back to normal!
Black Injustice Tipping Point
"To understand Charlotte's rage, you have to understand its roads" [Think Progress]. Very good. The geography of capitalism? Freeways gutted black neighborhoods. And I'm remembering a highway takeover last year — Minneaopolis? — where the same thing happened. People remembered the harm done, and with good reason.
Charlotte is a banking center, no? So why putz around with the Omni?
Listen: The business of America is business. If you want them to REALLY hear you. Fuck with their money. #FIN

— officialERICA GARNER (@es_snipes) September 23, 2016
"Timeline: Charlotte's week of protests that turned violent " [Charlotte Observer]. Note lack of agency in "turned violent."
Imperial Collapse Watch
"A trip through the country's beleaguered south reveals demoralized soldiers, corrupt local officials, and sweeping Taliban gains in previously peaceful towns. How did Obama's 'good war' go so wrong?" [Foreign Policy]. It didn't "go." It never was.
Class Warfare
"G.M. Job Shift From Mexico [to Canada] Tests a Trump Premise" [New York Times]. Buried lead: "The union in Canada won something headline-grabbing — jobs retrieved from Mexico. But it also relented on a major objective sought by G.M.: Workers gave up the fight to retain old-fashioned pensions that pay out fixed amounts. They accepted newfangled plans that see benefits fluctuate with the markets." Guess they'll just have to buy the cheaper brand of catfood when the finance guys crash the economy again.
"Median employee tenure, the length of time a worker has been with his or her current employer, was 4.2 years in January, the Labor Department said Thursday. That was down from 4.6 years in January 2014, the first decline recorded in the biennial survey since 2000." [Wall Street Journal, "Why Falling Employee Tenure Could Be Good News About the U.S. Economy"]. "[I]ncreasingly confident workers seem to be voluntarily quitting their jobs in search of new, better positions."
"The good news is that the unemployment rate has finally declined enough that are seeing a pickup in wage growth" [Calculated Risk]. Just in time for the next recession, assuming we ever got out of the last one.
News of the Wired
"Bearing Witness: A Farewell to Cambodia" [Magnum].
What de-crapified customer service looks like, as MBAs faint in shock and horror:
Boy writes to Lego after losing a mini-figure.

Lego's customer service department should run the world. pic.twitter.com/6iz0dS1gvu

— Scott Kerr (@scott_kerr) September 16, 2016
News you can use:
UPSIDE DOWN can be spelled upside down using right way up letters of the alphabet: umop apisdn.

— Haggard Hawks Words (@HaggardHawks) January 19, 2016
* * *
Readers, feel free to contact me with (a) links, and even better (b) sources I should curate regularly, and (c) to find out how to send me images of plants. Vegetables are fine! Fungi are deemed to be honorary plants! See the previous Water Cooler (with plant) here. And here's today's plant (pq):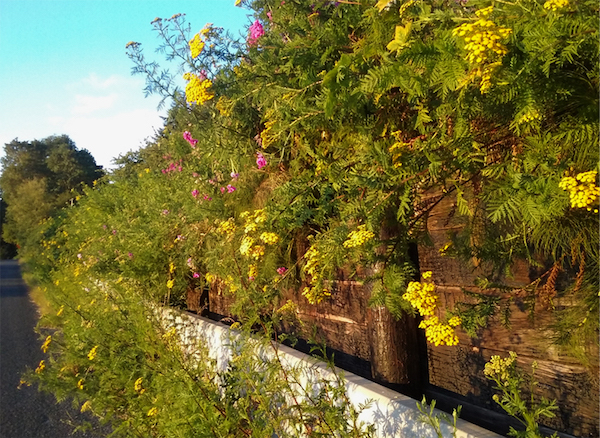 pq writes: "The third one is to drive craazyman over the edge trying to figure out which plant in the photo is the Plant of the Day."
Readers, I am behind in answering contact form mail. I will catch up soon, beginning now!
Readers, if you can, please use the dropdown to choose your contribution, and then click the hat! Your tip will be welcome today, and indeed any day. Water Cooler will not exist without your continued help.