By Lambert Strether of Corrente.
TPP/TTIP/TISA
"'If we reject TPP, we take a giant step backwards,' Kerry said in a speech at the Wilson Center. 'It will be a unilateral ceding of American political influence and power with grave consequences for the long term.' Across town at the Center on Foreign Relations, [General Electric Co. Chairman Jeffrey Immelt] hit on almost the same theme, warning that failure to approve the trade deal would weaken the next president in his or her economic dealings with other countries" [Politico].
UPDATE "In a speech to the Peterson Institute for International Economics, a Washington think tank, Rep. Kevin Brady (R-Tex.), the chairman of the House Ways and Means Committee whose jurisdiction includes trade agreements, said that the TPP could still be ratified in the lame-duck session after the election and before a new Congress takes office" [RealClearPolitics].
"The governments negotiating the Trade in Services Agreement are setting a Dec. 5-6 meeting in Geneva as the "finish line" for the negotiations, U.S. ambassador to the WTO Michael Punke told POLITICO. That leaves a mere 10 weeks to wrap things up, including a major disagreement between the U.S. and European Union on how to update the agreement in the future" [Politico].
"A new coalition of cloud companies on Tuesday published a code of conduct to keep European data inside Europe, just as the issue looks set to become one of the most hotly contested points in the controversial Trade in Services Agreement (TISA)" [Ars Technica].
"Another big point on their TTIP agenda concerns clinical trial data. Clinical trials are crucial in the development of new and reliable treatments, but at the same time very time-consuming and they require a lot of resources – resources that the public domain often cannot provide for. Therefore, medical researchers for the most part have to rely on the pharmaceutical industry for funding. These companies are, of course, working for profit and can pressure researchers to bring on quick – and preferably positive – results, allowing for a swift market launch. This practice is highly problematic as biased or otherwise distorted reports on those data can cause severe harm to human health. Access to the data in order to be able to scrutinize it is therefore important. With TTIP, Big Pharma could be able to restrict public access to clinical trial data by arguing that it should be considered 'commercially confidential information'" [Bilaterals.org].
2016
Days until: 39.
Debate Wrapup
"'To me, it was embarrassing to watch that these are our two candidates,' Mr. Kaepernick told reporters. 'Both are proven liars, and it almost seems like they're trying to debate who's less racist. And at this point, talking with one of my friends, it was, you have to pick the lesser of two evils, but in the end, it's still evil'" [New York Times].

""We are in a big fat ugly bubble, and we better be careful," declared Republican presidential nominee Donald Trump at the first of three debates with Democratic rival Hillary Clinton on Monday" [MarketWatch]. "In an op-ed written in The Wall Street Journal late Wednesday Morgan Stanley chief economist, Ruchir Sharma, says, Trump's bubblicious depiction of the state of equities isn't off base."

"There's another important factor that will make it hard for Trump to turn things around: The second debate will use the "town hall" format. Questions will be asked by ordinary citizens in the audience" [The Week]. "[I[magine Donald Trump looking into a voter's eyes and answering a complicated, demanding question from them. Does anyone think that's something he's going to do well at? Probably not, which is why it's possible that the second debate will turn out even worse for him than the first. Even if he finds some time to practice." Clinton, by contrast, is actually good on specifics and good on policy one-on-one; that's what really worked for her in 2008 (after she fired the first campaign team after the caucus debacle). It's also true that Trump knows how to play to the crowd, and I imagine he has one-on-one experience from The Apprentice. Whether he can cope with a citizen who delivers a zinger is another matter; as it would be for Clinton.

"Undecideds are undecided for a reason… To move undecideds, Trump needed to make Clinton look like a politician who doesn't get it, who doesn't get you. Over and over again, Trump hammered this point Monday night, arguing she's had 30 years in politics and little to show for it. … The same is true for Clinton. And the best opportunity to move undecideds her way is to convince them Trump's political ignorance is frightening and disqualifying. And on this one point, she didn't deliver Monday night" [New York Daily News].

"What was missing, though, [from Clinton's responses] was any kind of emotional investment, any sense of being genuinely offended on behalf of the people Trump insults" [Matt Bai, Yahoo.com]. "as Karl Rove used to say back in the day (and here he was right), you beat your opponent not by attacking his weakness but by undermining his strength. And emotion — ostensibly on behalf of white, working-class Americans — is the only ballast that keeps allowing Trump to bob back up to the surface…. Loss of control, creeping chaos, contempt for the political class — these are the emotions that have been building in the electorate for years now, and Trump has brilliantly distilled and exploited them. There are a couple of more debates coming up, and I'd guess that Clinton might win those too, on both the arguments and the atmospherics. But I'd also guess that, without a more emotional assault on his case for the presidency, Trump can remain viable, at least, straight through to Election Day."

"Without question much of the Trump side of the debate was a discontinuous morass. But Donald Trump oozes contempt for the status quo. That visceral disdain offsets a lot of missteps and whatever Hillary's fact-check drones are putting up on her website" [Wall Street Journal].

UPDATE "[Trump on trade is] effective not because it's true, or because it suggests a plausible plan of action, but because it speaks to the pain and anger felt in many of the former manufacturing areas of the country that have been particularly hard hit over the last 40 years. The North American Free Trade Agreement, which was negotiated by George H. W. Bush and signed into law by Clinton's husband, may not be directly responsible for as much of that pain as it has been blamed for over the past three decades. But Trump's bleak portrait of life in middle America suggests a knowledge of areas hard hit by the decline in manufacturing—blighted areas like my home town in central New York—that isn't present in Clinton's Reaganesque paeans to the goodness and greatness of America. Trump may not know what he's talking about on trade, but his message is working" [The New Republic]. "But at the beginning of the debate, when the audience was at its largest, Trump was calling the shots: He argued that Clinton was just another politician who was saying things just to get elected. And then Clinton… said things that made her sound like just another politician who was just saying things to get elected." After which Trump ran out of gas!
The Voters
"Hillary Clinton To Nation: 'Do Not Fuck This Up For Me'"' [The Onion]. Too good not to run again…

"The youth vote was one of the pillars of the Obama coalition. But thus far it's proven perhaps the most difficult one for Clinton to rebuild. Polls show the nominee failing to earn the confidence of young voters—only 33 percent of those between ages 18-29 told Gallup this month that they approved of her—and running far behind where she would hope to be against her Republican opponent. The polls also show Clinton currently winning under half their votes, while Obama got over three-fifths of that demographic in both of his campaigns" [Bloomberg]. Some coalition. "The only true swing state left in the Northeast, New Hampshire remains vital to nearly every viable path Trump has to reach 270 electoral votes." Which went for Sanders big time…
War Drums
What Clinton's no-fly zone means, operationally:

Room dies when Gen.Dunford tells Sen.Wicker "to control the airspace requires us to go to war with #Syria & #Russia" pic.twitter.com/awbOjRdJOz

— Syricide (@Syricide) September 24, 2016
Stats Watch
GDP, Q2 2016 (final): "A badly needed upgrade for nonresidential fixed investment helped to give a boost to the second revision of second-quarter GDP which, though still modest, now stands at an annualized rate of plus 1.4 percent for a 3 tenths gain from the first revision" [Econoday]. "The early outlook for third quarter GDP is roughly in the 2-1/2 to 3 percent range." But: "Getting real, the economy grew because the population grew – per capita GDP hardly grew. There is little good news in this third release" [Econintersect].
Jobless Claims, week of September 24, 2016: "Jobless claims remain very low and continue to point to strength in the labor market" [Econoday]. But: "The trend of the 4 week moving average is continuing to marginally trending down. On the other hand, the trend of year-over-year improvement of initial unemployment claims is moderating – and this trend historically indicates a weakening GDP" [Econintersect].
Corporate Profits, Q2 2016: "fell a revised 1.7 percent year-on-year" [Econoday].
Wholesale Trade, August 2016 (preliminary): "Wholesale inventories fell a preliminary 0.1 percent in August with nondurables down 0.6 percent in what likely reflects price weakness for energy products. Inventories of durables in the wholesale sector rose 0.1 percent" [Econoday].
International Trade in Goods, August 2016 (preliminary): "The nation's deficit in goods trade narrowed slightly to $58.4 million in August. Exports rose a solid 0.7 percent in the month reflecting strength in industrial supplies, vehicles, and also consumer goods" [Econoday]. "Imports also rose in the latest month, up 0.3 percent and reflecting a bounce back for capital goods as well as a gain in food."
Bloomberg Consumer Comfort Index, week of September 25, 2016: "The surge in the monthly consumer confidence earlier this week sits in contrast to continued softness in the weekly consumer comfort index which is still soft" [Econoday].
Pending Home Sales Index, August 2016: "Existing home sales, in sharp contrast to new home sales, haven't been able to build any strength this year and today's pending home sales report points to outright weakness in the coming months" [Econoday]. "[T]his report is not about strength but weakness, weakness that persists despite very low mortgage rates and strength in the labor market." And: "well below expectations" [Calculated Risk].
Shipping: "Despite escalating industry pressure for approval of package-delivery drones, safety experts and federal documents indicate widespread flights aren't likely before the next decade" [Wall Street Journal, "Package-Delivery Drones Likely Years Away From Federal Approval"]. "U.S. aviation authorities only recently kicked off the formal, time-consuming process of defining the types of collision-avoidance systems considered essential for such operations to receive broad regulatory authorization. Drafting the technical standards is projected to take three or four years, envisioning a suite of ground-based and airborne sensors that haven't yet been developed. Even strong proponents of unmanned aerial vehicles predict that delivering packages to individual customers probably won't gain significant momentum until at least roughly 2020."
Shipping: "As a shipper, you need to understand a thing or two about shipping alliances and something called "slot sharing". Most of the carriers of significant size operate within one of 3 global alliances in a very similar fashion to that of the airlines alliances and their "code sharing" arrangement. On a complicated journey, passenger's ticket is issued by one carrier, but the plane they will be flying could be operated by another airline within the alliance or an outside carrier that has a bilateral agreement with the airline issuing the ticket. The same principle applies to ocean carriers" [Splash247]. In 2016, ships flying flag of one carrier are not just carrying the cargo contracted with that particular carrier. The vessel is more akin to a hotel. As per explanation above, a service operated by single carrier could in fact be also sold as maybe 20 "code sharing" services of other carriers. Once your freight order is confirmed, the carrier uses network optimization software to make the final decision how they will ship it, so that their own margin contribution is maximized." So, you could have been shipping via Hanjin without even knowing it!
The Bezzle: "The Disaster that is Bitcoin" [Medium]. "This is my short story on why it's easier and cheaper to use old fashioned bank wires when you have to transfer money."
The Bezzle: "[S]ince 2008, both Dodd-Frank and the macroeconomic climate have made it tougher for the largest financial institutions to make as much money trading. So, retail banking and consumer finance has become the new target profit center. (Witness even large investment banks like Goldman Sachs and Morgan Stanley trying to go into this area.) It's no wonder that the latest banking scandal isn't a London Whale-style trading debacle, but a consumer fraud" [Time]. "We can expect more of this, and probably in this very area of banking, in the future. It's where companies are now desperately trying to make a profit."
Honey for the Bears: "I never add the rise of scrap to my forecasts largely as a fail-safe to my bearish outlook but I have seen very credible forecasts of it tripling to satisfy 200mt of Chinese steel demand within a decade. Needless to say, that would knock an huge hole in raw steel production" [Macrobusiness].
"The perils of "7" and "9" in Cantonese" [LanguageLog]. As in "Samsung's Galaxy On7."
Today's Fear & Greed Index: 41 Fear (previous close: 50, Neutral) [CNN]. One week ago: 59 (Greed). (0 is Extreme Fear; 100 is Extreme Greed). Last updated Sep 29 at 12:56pm.
Dear Old Blighty
Exactly:
Corbyn – "Labour is about winning power"

— Paul Mason (@paulmasonnews) September 28, 2016
Gaia
"A 10th of children have a "monkey-like" immune system that stops them developing Aids, a study suggests" [BBC].
Class Warfare
World's Greatest Newspaper:
1. The upshot isn't that 97K is a far cry from $2+ mil; rather, it's that NYT does't think 97K's a lot of money! https://t.co/Dre3YDDnwc

— Jacob Bacharach (@jakebackpack) September 25, 2016
News of the Wired
"On Phone Numbers and Identity" [Medium]. Very good; a technical detective story!
"So not only are 'smart' refrigerators, TVs, tea kettles and power outlets leaking your unencrypted data to any nitwit with a modicum of technical knowledge, they're being utilized to amplify existing [DDoS] attacks … The [IoT-driven DDoS] attack [on security researcher Brian Krebs] comes directly on the heels of Bruce Schneier warning us the check is about to come due — after IoT companies and evangelists that prioritized hype and sales over security fundamentals helped introduce millions of new network attack vectors into the wild over the last five years or so" [TechDirt]. So, will self-driving cars be part of the Internet of Things? I'm guessing yes.
* * *
Readers, feel free to contact me with (a) links, and even better (b) sources I should curate regularly, and (c) to find out how to send me images of plants. Vegetables are fine! Fungi are deemed to be honorary plants! See the previous Water Cooler (with plant) here. And here's today's plant: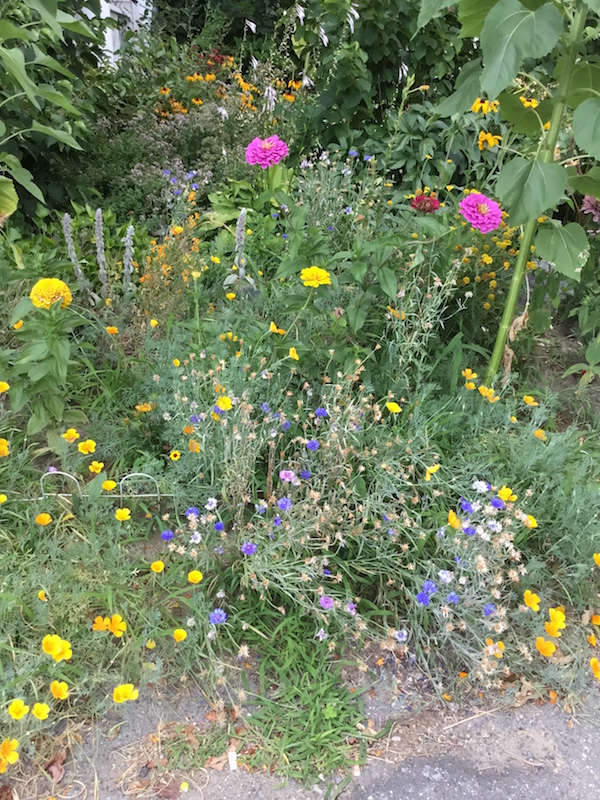 From my own garden: Zinnias in context. I'm sorry for the crab grass. Every summer there comes a time when I just give up weeding, and unfortunately the clover and wildflowers aren't strong or fast enough drive out the grasses. This year I bought a propane weedwhacker, and next year I hope to flame the soil to kill all unwanted seeds, especially grass seeds, before reseeding with zinnias, sunflowers, Black-Eyed Susans (not shown), and sunflowers.
Readers, yellow waders don't come cheap. Please use the dropdown to choose your contribution, and then click the hat! Your tip will be welcome today, and indeed any day. Water Cooler will not exist without your continued help.
Readers, I am behind in answering contact form mail. I will catch up soon, beginning now!