By Lambert Strether of Corrente.
TPP/TTIP/TISA
"[Utah Senator Orrin] Hatch said he is not backing down from his demand that the 11 other TPP countries respect a 12-year monopoly period for brand-name biological drugs. The administration, in closing out the trade deal last year, settled on a maximum of eight years" [Politico]. Deathless quote from Hatch: "This is really an important thing and that's why I fought so hard to get it through, but the administration has dragged their feet all the way with regard to data exclusivity and, my gosh, I don't think that's that big of a deal."
"The defining factor behind Vietnam's delay in formally approving the signed Trans-Pacific Partnership pact is the uncertainty over whether the US Congress will pass it" [Asia Times]. "In fact, the Southeast Asian country is an ardent supporter of the multinational trade deal. As the ruling Communist party approved it at its 12th national congress in January, the [National Assembly's] ratification of it is only a formality and a matter of time."
"The fiercely independent and highly credible U.S. International Trade Commission estimates that after 15 years, the TPP would result in increases in annual real income, exports and gross domestic product in the United States. In an era of slow growth and economic uncertainty, such increases are nothing to sneeze at" [WaPo]. Amazingly, they don't even attempt to quantify GDP, and there's no mention even of the fig leaf of retraining.
"CETA: TTIP IN A CANADIAN DISGUISE" [European United Left/Nordic Green Left (PDF)]. "CETA has been envisaged as a living agreement, which means that it contains the tools to modify its own scope. This fact entails a great degree of uncertainty in the treaty, since the fact of a piece of legislation not being challenged immediately after the treaty's signature does not mean that it will not be challenged in the future."
2016
Days until: 40.
Debate Wrapup
Next debate: Sunday, October 9 (11 days).

"Taliban leaders watched U.S. presidential debate, blast 'non-serious' Trump" [Reuters]. Best headline ever!

"Trump? How Could We?" [Thomas Friedman, New York Times]. The fact that Thomas Friedman has a platform at the New York Times to write this opinion piece goes a long way to answer his question.

"Trump's ill-advised feud with Machado fits into a pattern we've noticed throughout the campaign: When Trump is in a bad period like this, he makes it worse for himself by refusing to back down. Particularly in the face of poor reviews (remember the Khan fight after his convention message was panned by pundits?), Trump has a tendency to spiral downward for a few days until he's convinced to stop lashing out or punching down. Our question is: how long does bad stretch for Trump last?" [NBC].

"Even as Mr. Trump's advisers publicly backed him on Tuesday and praised his debate performance, they were privately awash in second-guessing about why he stopped attacking Mrs. Clinton on trade and character issues and instead grew erratic, impatient and subdued as the night went on. In interviews, seven campaign aides and advisers, most of whom sought anonymity to speak candidly, expressed frustration and discouragement over their candidate's performance Monday night" [New York Times].
The Voters
"During a tour of college campuses across Maine last week, Stein began each event by asking for both a show of hands of Green Party members and one for Sanders holdouts. At least nine out of 10 audience members raised the hands for the latter category" [NBC News]. "With support in the single digits, Stein is running a niche campaign and has focused her time in liberal states, not battlegrounds, since she's interested only in raw votes and not electoral ones."

"Mrs. Clinton's chance of losing is about the same as the probability that an N.F.L. kicker misses a 47-yard field goal" [New York Times].

From the heart of the blob: "We've Got to Face It: Trump Is Riding a Global Trend" [Foreign Policy]. "We need to think about how to make democracy more effective at cushioning citizens from the shocks of change. We need to think hard about tackling political polarization and creating new space for politics that can actually address pressing problems rather than succumbing to the gridlock that discredits democracy. We need to think about information policies — including media literacy programs — that can offer urgently needed counterweights to the echo chambers and conspiracy factories of the internet." Seems a little late to do your thinking….
Swing States
"It's not just Clinton's margins with black voters that concerns Democrats. It's whether African-American voters turn out in force for her in a pivotal state whose 29 electoral votes are essential to the GOP nominee's path to an Electoral College victory. A loss in Florida all but guarantees a Trump defeat on Election Day" [Politico]. "Clinton faces a similar potential problem with Hispanic voters. Though Florida Hispanics back her by double-digit margins similar to the level of support Obama enjoyed, activists fear their turnout rate will be lower."
Realignment
"Since The Arizona Republic began publication in 1890, we have never endorsed a Democrat over a Republican for president. Never. This reflects a deep philosophical appreciation for conservative ideals and Republican principles" [Arizona Republic]. "This year is different."

"Pramila Jayapal was one of the first down-ballot candidates to receive Bernie Sanders' endorsement—and now she's advancing to the November election, where she's expected to easily win the heavily Democratic district" [In These Times].
Clinton Email Hairball
"Comey on Clinton email probe: 'Don't call us weasels'" [Politico]. Wait, no, this is the best headline!
Stats Watch
MBA Mortgage Applications, week of September 23, 2016: Up 1%, up 10% year on year [Econoday].
Durable Goods Orders, August 2016: "The headline, at a monthly zero percent, is flat and so are the indications from the bulk of the August durable goods report" [Econoday]. "Aside from vehicles and a strong gain for defense capital goods, good news is hard to find in today's report…. August results, though flat, are better than expected. Still, the data point to more of the same for the factory sector, a flat trajectory reflecting weakness in global demand and specific weakness in business investment." And: "Continues in contraction year over year, and revisions likely to cause further downward GDP revisions" [Mosler Economics]. And: "Despite tentative evidence of a recovery, a sustained run of stronger data will be needed to trigger a shift in sentiment surrounding investment" [Economic Calendar].
Shipping: "ATA Trucking Index increased Sharply in August" [Calculated Risk]. "[V]olatility continues to reign." But: " Back up some" [Mosler Economics].
Shipping: "Once containers leave the vessel, customers will have to pay to retrieve their own goods. It won't be cheap" [DC Velocity]. "This creates a potential nightmare for importers. In many cases, containers are being discharged far from their intended destinations. The additional costs could include such things as freight charges for a substitute carrier, the container and chassis rental, and local and inland drayage for both the full and the empty container. All of this is on top of the freight and ancillary charges that were specified in the original bill of lading."
Shipping: "[Amazon is] laying the groundwork for its own shipping business in a brazen challenge to America's freight titans" [Wall Street Journal, "Amazon's Newest Ambition: Competing Directly With UPS and FedEx"]. That was fast. "Inside the company, executives describe, in the words of one senior official, how Amazon 'is building a full-service logistics and transportation network effectively from the ground up.'" Not unionized, of course. And: "[40%] of the U.S. population that lives within 20 miles of an Amazon facility" [Wall Street Journal].
Shipping: "Global container volumes are on track for zero growth this year, which would mark the sector's worst performance since the 2009 economic crisis and a sure catalyst for further bankruptcies and possible acquisitions in the beleaguered shipping industry, shipping executives said." [Wall Street Journal, "Global Container Volume on Track for Worst Year Since 2009"]. "Container operators, which move everything from clothes and shoes to electronics and furniture, are burdened by 30% more capacity in the water than demand. " Meanwhile, in this country, we're madly adding capacity. What am I missing?
Shipping: "The rapid growth of e-commerce has fueled development of warehouses and distribution centers in the 12 primary U.S. inland-port markets at nearly twice the national rate, according to a new report from commercial real estate company CBRE Group Inc. Collectively, the 12 inland ports saw their base of industrial properties expand by 2.7 percent in this year's first quarter, far outpacing the national average growth rate of 1.6 percent" [DC Velocity]. "The fastest-growing inland ports in the study included Southern California's Inland Empire (which reported growth of 4.3 percent), Greenville, S.C. (4.2 percent), and Atlanta and Dallas/Fort Worth (both at 3.6 percent). Rounding out the top 12 were Phoenix; Kansas City; Houston; St. Louis; Chicago; Memphis, Tenn.; Columbus, Ohio; and East and Central Pennsylvania."
Retail: "In previous years, Google was the initial place consumers would visit to find information about a specific product. Nowadays, consumers are much more likely to go to Amazon first" [ETF Daily]. That's because it's worth fighting your way through Amazon's appallingly bad search box to get to the reviews.
The Bezzle: "Uber acquired self-driving lorry startup Otto this summer in a deal worth up to $680 million and it plans to put the company to work next year" [Tech Crunch]. "To recap, Otto's technology allows existing trucks to be 'retrofitted' with self-driving technology which can handle driving on U.S. highways. It the process since human drivers are needed to negotiating coming on and off highways, but the technology enable drivers to rest more and make their deliveries faster . The technology remains , but with Uber's considerable resources now on board, Lior and his team aim to begin working with warehouses and stores to partially automate the driving process and generally improve efficiency. … The company plans to more than to kick things off." I wish I knew who did Uber's PR.
The Bezzle: "Passengers in Uber's self-driving cars waived right to sue for injury or death" [Guardian]. I like to see a company show confidence in its product.
The Bezzle:
"I didn't know anything about this a month ago. What else don't I know about? It's alarming"—@neelkashkari on Wells Fargo

— Matthew B (@boes_) September 28, 2016
The Bezzle: "SpaceX's Elon Musk Unveils Mars Colonization Dream Ship" [Scientific American]. More precisely, plans for a "dream ship." And: "[Musk] envisions other organizations eventually aiding SpaceX in Mars colonization as well, saying the effort will be a 'huge public-private partnership.'" Grifters gotta grift.
Honey for the Bears: "There are fewer lenders active in construction financing for hotels, sources said at the recent Hotel News Now Lender Roundtable" [Hotel News Now]. "'For us, one of the craziest things I've yet to have a clear answer for is underwriting contractors' balance sheets,' [Michael Maguire, managing director of Aileron Capital Management] said. 'Everyone wants a guaranteed-best-price contract, but you have no idea what their guarantees are worth. You could have someone build 200 Best Westerns, but his balance sheet looks terrible. It's a very unique world.'"
The Fed: "Live video and blog of Fed's Janet Yellen testifying at House hearing" [MarketWatch]. "Another key takeaway is that the Fed wants to make stress tests easier for all but the giant banks. These stress tests have become huge burdens for all the banks…. * A new form of capital cushions for the giant banks called a 'stress capital buffer.' … Perhaps the real takeaway is that the Fed's political independence is becoming a bit more of an issue, despite Yellen's denial." And: "Brad Sherman flat out asks Yellen if she would break up Wells Fargo. She dodges, says holds big banks to 'exceptionally high standards.' Rep. Stephen Lynch on what Fed should do to Wells Fargo — 'Make their life hell.' Yellen points out that the activities in question were regulated by the OCC and the CFPB, and not the Fed." I always thought when Yellen testified things were quite sedate, but this seems rather chirpy.
The Fed: "[In Yellen's testimony, there] is an admission that the Fed is considering broader regulation or requirements on stress and capital tests" [Wall Street 24/7]. But: "[Yellen] also stated that there is no fixed timetable for raising interest rates. Given the very vague nature of the remarks, there was no significant impact on financial markets" [Economic Calendar].
"The size of U.S. university endowments totaled $529 billion last year, a 53 percent increase from five years earlier, according to data from the National Association of College and University Business Officers. The average endowment invests 5 percent of its assets in venture or more for larger endowments, said the trade group. When schools get richer, so do VCs" [Bloomberg].
Today's Fear & Greed Index: 40 Fear (previous close: 45, Neutral) [CNN]. One week ago: 53 (Neutral). (0 is Extreme Fear; 100 is Extreme Greed). Last updated Sep 28 at 11:47am. Moar fear.
Dear Old Blighty
"it is rare for big incumbent parties to collapse. This alone suggests that Labour's obituarists might be guilty of the fallacy of base rate neglect – as well as of wishful thinking. Where parties have collapsed it's been because they lack a class base, such as the Liberals in the 1920s, or have betrayed the perceived interests of much of that base as the Tories did in abolishing the Corn Laws in 1846. (Scottish Labour might also be an example of the latter)" [Stumbling and Mumbling]. "Equally, new parties succeed where they have a class base – as Labour did in the early 20th century – but fail when they are the ego trip of a narcissist; think of Mosley's BUF or David Owen's SDP. It's too soon to say into which category Ukip falls."
Police State
"We examined the relationship between use of force policies and police killings and found significantly fewer killings by police departments with strong policies in place" [Use of Force Project]. In other words — not that either party is bringing this up — if we want to stop cops from whacking black people, there are proven policy approaches that we can adopt.
Better coverage than Verizon:
Police have shot and killed at least 2,195 people since Ferguson: https://t.co/N0UfyW3TmB pic.twitter.com/91h9zs3K6Z

— Complex (@ComplexMag) September 20, 2016
"Encounter With 'Erratic' Black Man Ends With Officer-Involved Shooting in El Cajon: PD" [NBC San Diego]. Another 911 call culminating the police shooting the person they were called to help. "Maria, an employee at Los Panchos in El Cajon, said police came into the restaurant and took all cell phones from employees after the shooting; they told employees not to talk to anyone, according to Maria. NBC 7 has not confirmed how many phones were confiscated. " Yikes.
The Unsettlement
Just to put things in perspective..
Bombings were common in NYC in the 60s and 70s. Some 370 were set or planted in a 22-month stretch https://t.co/YGzP3n06wh

— Patrick LaForge (@palafo) September 20, 2016
Gaia
"The Region of the Americas is the first in the world to have eliminated measles, a viral disease that can cause severe health problems, including pneumonia, blindness, brain swelling and even death. This achievement culminates a 22-year effort involving mass vaccination against measles, mumps and rubella throughout the Americas" [Science Bulletin].
"The Forgotten Life of Plants" [UA Magazine]. "Plants warn each other and use epigenetic changes to remember these warnings."
Class Warfare
"Oil and gas companies typically leave management of their sites to subcontractors, a practice that dilutes safety standards and protects companies from liability, making an already dangerous job even more so, a Denver Post investigation has found" [Denver Post]. "Workers' compensation laws give the site owners immunity from lawsuits brought by subcontracted workers injured on the job. Contracts between owners and subcontractors often contain a provision — so controversial that its use in the oil and gas industry is banned in several other high-producing states — in which the companies agree not to sue each other over accidents regardless of who is at fault."
"Labor-force participation rate decline is mostly structural, Fed's Fischer says" [MarketWatch]. "On the participation rate, Fischer said some of the decline reflects the people who became discouraged after losing their job and not finding new ones. But he said "much" of the decline was due to the nation's aging population, as well as a trend since the mid-1960s for declining participation by prime-age males. As for the reason why prime-age male participation is falling, particularly for those with no more than a high school education, Fischer said there's a number of possibilities. He said some economists have said disability insurance and public assistance income has played a role, while others point out a decline in demand for lower-skilled labor, which is evidenced by the steep drop in wages in comparison with college graduates."
"A simple linear trend suggests that by mid-century about a quarter of men between 25 and 54 will not be working at any moment" [Larry Summers].
News of the Wired
"At the bleeding edge of AI: Quantum grocery picking and transfer learning" [ArsTechnica]. "Quantum," as in requiring quantum computing. "Even with AI, the problem is that robots and the neural networks that will imbue them with sufficient cleverness to perform a particular task have immense difficulty in learning new tricks while remembering old ones. So handling an inventory of over 48,000 items of all shapes, sizes, and consistencies would be a big ask.: Harder or easier than truly autonomous vehicles?
* * *
Readers, feel free to contact me with (a) links, and even better (b) sources I should curate regularly, and (c) to find out how to send me images of plants. Vegetables are fine! Fungi are deemed to be honorary plants! See the previous Water Cooler (with plant) here. And here's today's plant: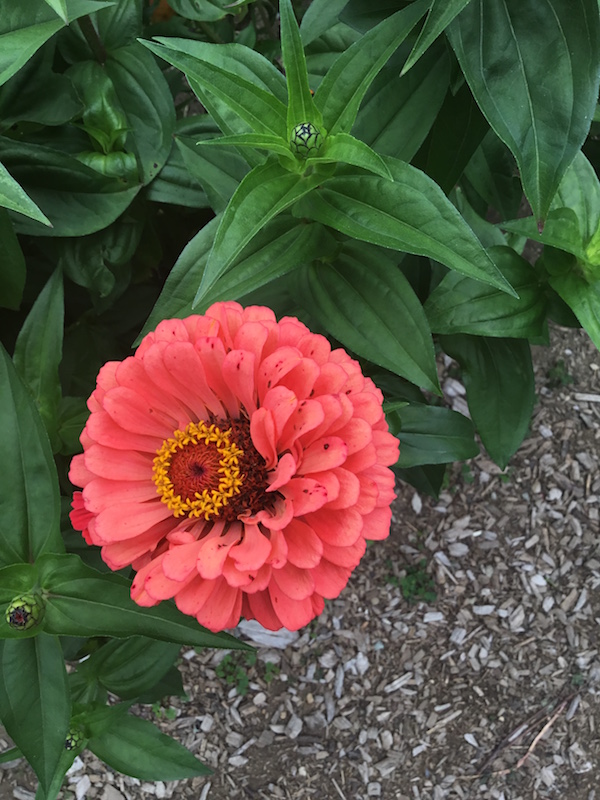 From the Coastal Maine Botanical Gardens. I think this is a Zinnia…
Readers, yellow waders don't come cheap. Please use the dropdown to choose your contribution, and then click the hat! Your tip will be welcome today, and indeed any day. Water Cooler will not exist without your continued help.
Readers, I am behind in answering contact form mail. I will catch up soon, beginning now!