US playwright Edward Albee dies aged 88 BBC
Scientists Find Second Tool-Using Genius Crow Wall Street Journal (furzy)
Incredible discovery of intact female figurine from neolithic era in Turkey ars technica (Chuck L)
The Super-Ancient Origins of Your Blue Jeans National Geographic (J-LS)
Timeline: Earth's average temperature Bulletin of the Atomic Scientists (resilc)
Here's the clever chemistry that can stop your food rotting The Conversation (J-LS). Hate to tell you, the reason the McDonalds food does not rot is probably that it is not food. For instance, I took a workshop targeting people coaching athletes (as in featuring cutting edge but still pretty well vetted theories, since sports teams don't mess around) and they had a professor who was also a practicing MD teach the section on nutrition. He called out, "Does anyone here have some cookies?" A woman sheepishly put up her hand. He told her to bring them up. He said, "I guarantee the number 2 or 3 ingredient is hydrogenated fat. That stuff is so far removed from food you can leave it on your counter for a year and nothing will happen to it. And the cockroaches won't touch it either."
Cynthia: Flesh-Eating Synthetic Bacteria that has Gone Wild New Eastern Outlook (Chuck L). Sounds like the plot of a horror movie.
Mass Fish Die-Offs Are the New Normal: Climate Change Shuts Down a Montana River Truthout (J-LS) :-(
Corporate America rallies to Apple's cause Financial Times. Wow, this looks simultaneously silly and desperate. First, do you think any European leader gives a rat's ass as to what the US Business Roundtable is upset about (or for that matter, the US multinationals that engage in Irish tax gaming, which are overwhelmingly Big Pharma and Silicon Valley cos, which create bupkis in the way of jobs in EU countries)? Second, the Apple ruling is clearly a special case. The competition commissioner targeted the way Ireland effectively gave Apple a sweetheart deal. This ruling isn't a precedent for any other big co, so why the hysteria?
The Commission's grand digital disappointment Politico (J-LS)
Zika Is Here, And America Has No Plan to Fight It Bloomberg (resilc)
China?
Rush of Chinese Investment in Europe's High-Tech Firms Is Raising Eyebrows New York Times
Brexit
Theresa May could begin Brexit process by February, says Tusk BBC

Pub-goers undaunted by Brexit but wine prices to rise Telegraph
'Withered' forces not fit to defend UK Financial Times
Ukraine/Russia
US forces IMF to change the rules over Ukraine, setting a time bomb under global financial system Fort Russ (Chuck L). Headline screechy, and a few claims a bit broad (for instance, the US only has 1/6 of the votes on the IMF board, so its considerable influence operates more by informal than formal channels) but the discussion of lending to a country at war being against IMF rules and the row over the Russian sovereign debt has been reported at other sites. But with those caveats, an important sighting.
Syraqistan
Big Brother is Watching You Watch
DNA Dragnet: In Some Cities, Police Go From Stop-and-Frisk to Stop-and-Spit ProPublica (resilc)
Imperial Collapse Watch
2016
Trump admits Obama was born in US – but falsely pins conspiracy on Clinton Guardian. See link immediately below. The story originated with Sid Blumenthal, so technically not Clinton, but come on. The indignation is way out of proportion to facts….which is what you'd expect. And McClatchy is just about the last clean US media organization left standing.

2 Clinton supporters in '08 reportedly shared Obama 'birther' story McClatchy. Lambert: "Anything's possible (for Roger Stone, say) but this is a prima facie case."

Trump Suggests Clinton's Security Detail Be Disarmed New York Times

Fresh row over Trump gun outburst BBC

Jorge Ramos, the rebel anchor taking on Donald Trump Financial Times

Trump is right about America's rigged system Spectator (J-LS)

Trump Vows to Undo Eased Cuba Relations Unless His Demands Met Bloomberg

Investigating Nate Silver's "Negative Time Preference" Forecasts for Trump Michael Shedlock (furzy)

Clinton's Supporters Wallow in Anxiety as Race Tightens New York Times. Serves them right. Maybe they should have thought twice before hippie-punching Sanders voters.

Hillary's health and the Age of Disinformation New Statesman. J-LS: "Say it aint so– even the New Statesman seems to be tacking dictation from HRC's campaign. It's ironic that the background picture shows her wearing the infamous blue Zeiss lenses– rendered especially creepy by reflected flashes in each lens."

Unlocking the Election American Conservative (Li). A must read.
Why Obamacare Didn't Work Jacobin
Obama's Dilemma: Justice for 9-11 Families or Saudi Arabia? Counterpunch. Resilc: "Gotta think long term and the Obomba Foundation."
How-To Discover Pay-to-Play Appointment Pricing Tim Durusau
The House Science Committee's Anti-Science Rampage New Yorker (resilc)
Why the Native American pipeline resistance in North Dakota is about climate justice The Conversation (J-LS)
Wells Fargo Slammed in Customer Suit Over Account Abuses Bloomberg
How Wells Fargo's High-Pressure Sales Culture Spiraled Out of Control Wall Street Journal. Solid reporting. Contrast this with the lightweight Dealbook version and its undue emphasis on the "ethics" sessions, which smack of being a liability cover for the higher-ups: Wells Fargo Warned Workers Against Sham Accounts, but 'They Needed a Paycheck'
Exxon's Accounting Practices Are Investigated Wall Street Journal. Odd to see Schneiderman going after this particular accounting abuse. J-LS: "The Martin Act provides some necessary authority to pursue abuses, but the federal securities even moreso and are more wide-ranging. Earth to MaryJo: where are you? Why are we leaving it up to states to twist state statutes to go after what look to be basic securities law violations?"
Deutsche Bank Investors Fret Its Legal Reserves Won't Be Enough Bloomberg. This is getting interesting. The bank can't afford to pay anything near the DoJ's ask without putting its capital ratios at risk. But since when are misreants allowed to plea, "I can't afford the fine?" Recall that the US's analogy to the Deutsche Bank garbage barge, Citigroup, was forced by Sheila Bair to downsize, as dismantle itself, to a large degree. The "we can't afford it" excuse for Deutsche should be treated as irrelevant. If the bank is forced to shrink, as in sell assets, to settle, that would be a desirable outcome.
Berlin urges US to treat Deutsche fairly in mis-selling case Financial Times. Too funny. Treating them fairly would consist of throwing the book at them. What they really mean is they want to be treated as unfairly, as in favorably, as US banks (arguably) were. The assumption is that DB's misconduct is solely a function of the $ amounts of mortgages/activity, when DB could clearly have had a higher level of bad acts on a smaller total volume. Also note this comment, which is a crisp statement of our sentiment:
Roy Smith, a former president of Goldman Sachs International and now a professor at NYU Stern School of Business, said: "It is never a good idea to say that [you won't pay] when you are dealing with the Justice Department."
Class Warfare
University to buy $1 million football scoreboard with thrifty librarian's money, outraging critics Washington Post. Lambert: "Yet another scummy neoliberal university administration."

There's a Name for That: Persistent Injustice Effect – Pacific Standard (Chuck L)

Black Americans may be more resilient to stress than white Americans The Conversation (J-LS). I suspect this is largely if not entirely explained by social isolation. Blacks and Hispanics, generally speaking, have much stronger communities than whites.

Former prisoners are leading the fight against mass incarceration Intercept

Money for Nothing Jacobin (J-LS). Important.

US problem of yawning inequality remains Financial Times

Innovator-In-Chief Baffler. Ready your barf bag. From J-LS, who was in Obama's law school class: "Omigod. Heaven help us. Does His (No typo!) ego know no bounds– and how can a man who's passed the big 50 milestone demonstrate such a total unawareness of self-limitations?" Moi: Well, one upside is that venture capital is less criminal than the Clinton Foundation racket.

The Intellectual Yet Idiot Nassim Nicholas Taleb, Medium. I was worried I might be in this category, even though I do know what ergodicity means (see ECONNED for proof) but I am saved by his closing "easier marker".
Antidote du jour (resilc). From This Colossal:
While traveling through the Amazon to study reptile and amphibian diversity with the Herpetology Division at the University of Michigan, photographer Mark Cowan happened upon a strange sight: a caiman whose head was nearly covered in butterflies. The phenomenon itself isn't particularly unusual, salt is critical to the survival of many creatures like butterflies and bees who sometimes drink tears from reptiles in regions where the mineral is scarce (we've seen the same thing happen with turtles). What made this sight so unusual was seeing the butterflies organize themselves into three different species groups atop the caiman's head.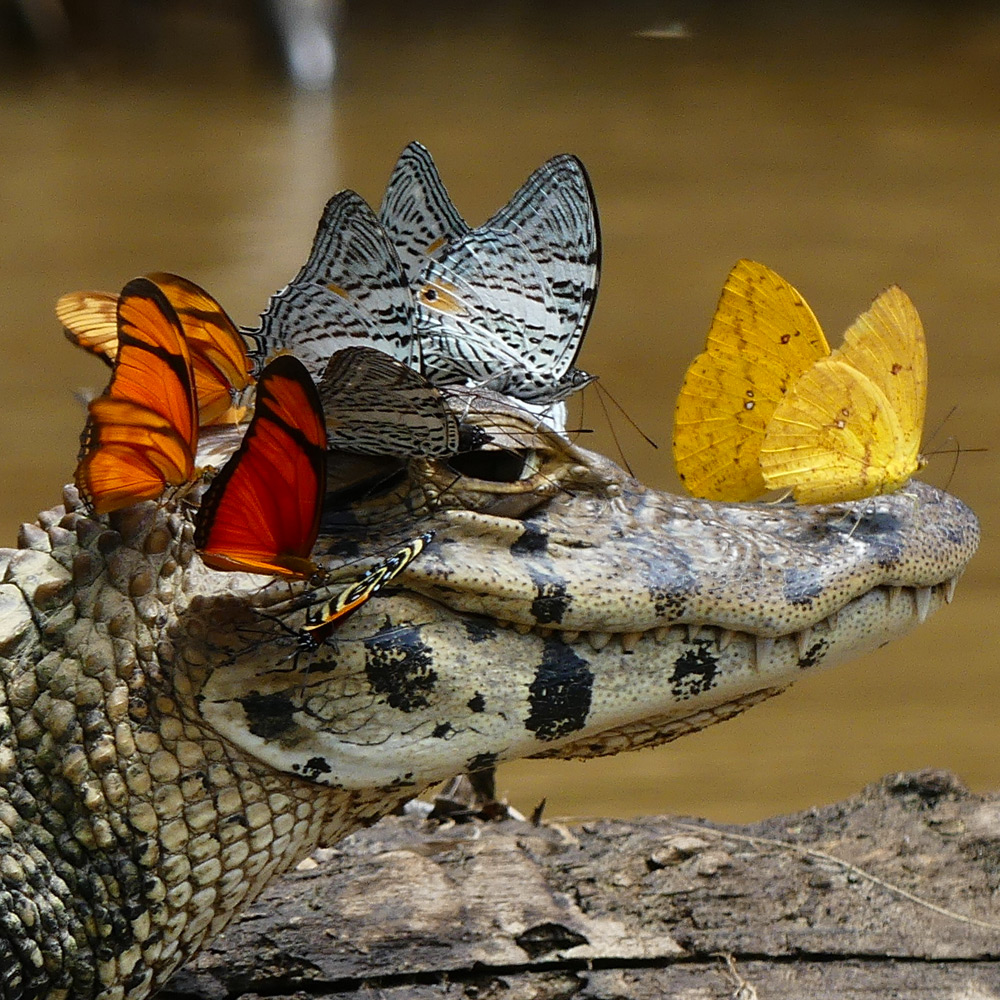 See yesterday's Links and Antidote du Jour here.