Meet the Winners of This Year's Ig Nobel Prizes Gizmodo (Kevin C)
NASA to reveal 'surprising' activity on Jupiter's moon Europa PhysOrg (Chuck L)
How the FDA Manipulates the Media Scientific American (Randy K). Wowsers.
Twitter Is Said to Be Discussing a Possible Takeover New York Times. Bye bye Twitter.
UN fears third leg of the global financial crisis – with prospect of epic debt defaults Ambrose Evans-Pritchard, Telegraph. Today's must read.
China?
China Starts Default-Swap Trading as Buffer Against Failures Bloomberg. This is silly. See wrong way risk.
Asia's Mythical Middle Class Society EconIntersect
Corbyn's election – a historic triumph Defend Democracy
Ukraine/Russia
Syraqistan
Airstrikes, Obfuscation and Propaganda in Syria Patrick Cockburn, Counterpunch. Bill B: "Lies and damned lies from both sides."
Big Brother is Watching You Watch
Exclusive: Probe of leaked U.S. NSA hacking tools examines operative's 'mistake' Reuters. EM: "How dare Reuters try to absolve Vladimir Putin here? Traitors. Make sure to read to the end, to appreciate the tortured logic used by 'Jim Lewis, a cybersecurity expert at the Center for Strategic and International Studies' in order to get right back to 'the Rooskies did it!'"

With U.S. drone rules set, firms race for flight data Reuters (EM)
2016
Between Two Ferns With Zach Galifianakis: Hillary Clinton YouTube (Skippy). Insiders were not making it up when they said she can be funny. But Zach got the upper hand and she was Not Happy. Interesting reactions in comments.

Clinton/Trump Neoliberalism: a Media Critique Counterpunch (Judy B)

How Reddit Ruined The Hillary Clinton Campaign Daily Caller (Chuck L). Yes, the Daily Caller, but interesting tracking of how Reddit stories got picked up by the Twitterverse.

Most Dangerous Person On the Planet Today: Hillary Clinton Michael Shedlock (EM)

The Abnormalization of Hillary Clinton New York Magazine Do not read if you've eaten recently. Resilc flags this pearl of wisdom: "It is a finding that boggles the mind. Americans deem Clinton less honest and trustworthy."

Trump-Care Would Leave Millions Uninsured While Somehow Costing More Atlantic (Kevin C). Conflates cost of insurance with cost of care.

Oculus's 24-Year-Old Founder Is Using His Millions to Fund a Pro-Trump Meme Group Vanity Fair (resilc)

Ted Cruz Will Back Donald Trump For President NPR

Trump is headed for a win, says professor who has predicted 30 years of presidential outcomes correctly Washington Post. Note we featured this theory last week, via American Conservative.

Ted Cruz on Why He Decided to Support Trump (Joe H). God told him.

Your Vote For Jill Stein Is Not A Wasted Vote Mint Press (Judy B). IMHO, 1. voting is important, if nothing else for down-ticket races. 2. Making sure neither major party candidate gets more than 45% of the popular vote, as in cannot possibly claim to have a mandate, is also important, given that we have unacceptable choices. So third party or write-in votes are valuable.
Ex-Cuomo advisers, others charged in New York corruption cases Reuters (EM)
Black Injustice Tipping Point
Moments Before Keith Lamont Scott's Fatal Shooting Seen in New Video ABC (furzy)

'Don't shoot!' wife tells Charlotte police in video BBC

St. Louis cop accused of planting gun on black man he shot to death Boing Boing (resilc)
Court rules Kentucky pension systems can be sued for bad investments Kentucky.com. Wow. Kentucky has the most underfunded and arguably the most corrupt state pension fund in the US. Even so, this is a surprising and positive development.
Wells Fargo
Stumpf is lucky. A community bank CEO having presided over a fraud proportionally this large would already have his assets frozen, be awaiting prosecution, and have been personally fined a substantial amount of money, not to mention that he would be under an order barring him from ever working at a bank for the rest of his life. Stumpf gets to keep his hundreds of millions and worst case, resign and enjoy his several homes.
Your Mutual Fund Has Your Proxy, Like It or Not Gretchen Morgenson, New York Times. A basic fact of investing that many forget. And it worsens already deficient governance, since big mutual fund managers do not want to piss off Corporate America, since they want to get 401 (k) business. But Morgenson actually proves this out.
Carlyle's Sequa Cut by S&P as Maturity Looms for All Its Debt Bloomberg. Private equity expert Eileen Appelbaum points out by e-mail: "Is this a harbinger of things to come? Companies like this were able to restructure their debt after financial crisis at low interest rates. Debt coming due now may not have that option."
Corruption
Sullivan & Cromwell Hires Top NY Fed Lawyer American Lawyer (Adrien)
Class Warfare
New Class War American Conservative (Joe H). The "New Class" is not well enough defined, but his argument that it is not the same as the old managerial class of industrial America makes intuitive sense.

Nationwide Prison Strike Against 'Slavery in America' Rolls on—Despite Media Blackout Alternet

We need a united front of all the forces that are fighting against financialized, oligarchic capitalism failed evolution
Antidote du jour. William B: "Moose sighting. Took this pic yesterday near my home on 9-Mile Creek
west of Missoula, Mt. Been here 8 years and this is a first for me."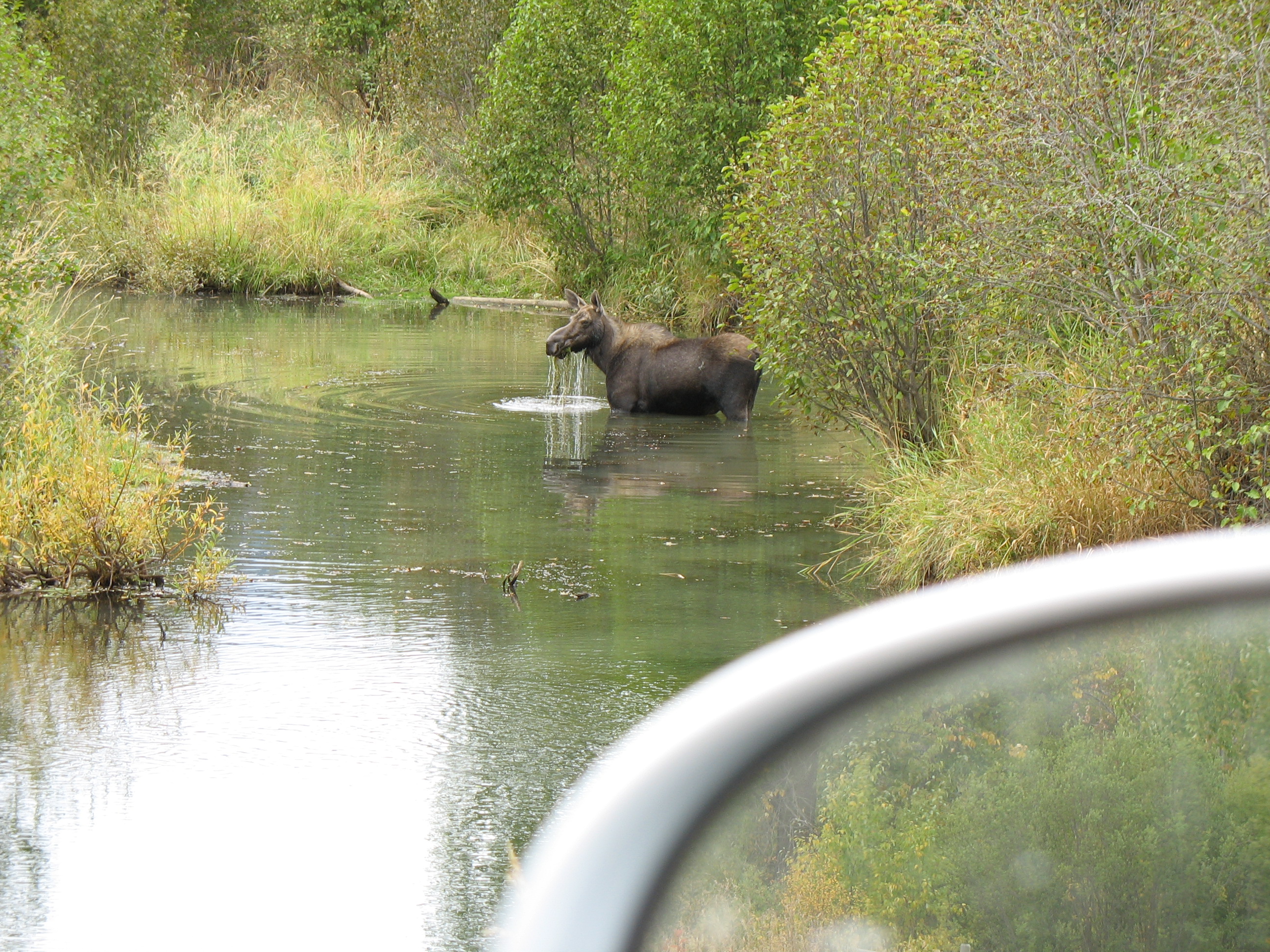 See yesterday's Links and Antidote du Jour here.