Unique feeding habits of whales revealed Science Daily (CL).
Big Lonely Doug The Walrus
Pressure Mounts on Wells Fargo CEO John Stumpf WSJ
Taxpayers Subsidized Wells Fargo Executive Pay Amid Bank's Fraud International Business Times
Deutsche Bank Woes Sparks Concern Among German Lawmakers Reuters
Exclusive: Regulators expect Monte dei Paschi to ask Italy for help – sources Reuters (RS).
House-Flippers Turn to the Crowd for Quick Cash. What Could Go Wrong? Bloomberg
Facebook Overestimated Key Video Metric for Two Years Wall Street Journal. I can't imagine buying anything because I saw an ad for it on Facebook; the reverse, if anything. Is it just me?
NHTSA releases self-driving car guidelines Business Insider
Tesla Model S car hacked by Chinese security firm from 19km away using 'malicious' wi-fi hotspot ABC Australia
Neither Uber nor 2016 believe sharing is the future Digitopoly
For the Debaters: What Shall We Do About the Tech Careening Our Way? NYT. Self-driving trucks (on highways only).
Murky Waters Harpers (J-LS). GE = U-North. "I'm suddenly consumed with the overwhelming sensation that I'm covered with some sort of film…."
August Extends an Exceptional String of Record-Warm Global Months Weather Underground
Native American tribes back Iowa pipeline fight Des Moines Register
Memo to Briefcase Warriors: Be Bold! Indian Country
Surface uplift and time-dependent seismic hazard due to fluid injection in eastern Texas Science
Syraqistan
The US road map to balkanize Syria Pepe Escobar, RT
French GDP contracted in Q2 FT
France Summons Belgium's Ambassador in Migrant Spat WSJ
China?
China Steadies Economy With Risk-Laden Tactics WSJ

METALS-Copper softens on profit-taking before Fed meeting Reuters
Black Injustice Tipping Point
Kool-Aid and Cyanide Jacobin. That time Bill Clinton doubled down on mass incarceration.
Forensic techniques sending people to prison may not be scientifically valid The Verge
Feds: We can read all your email, and you'll never know The Conversation (J-LS).
RoboCop: China's new airport security droid deters threats with cattle-prod (PHOTO)  RT
Imperial Collapse Watch
America Is Not the Greatest Country on Earth. It's No. 28 Bloomberg
War Drums
Key lawmakers accuse Russia of campaign to disrupt U.S. election WaPo
2016
How A Decision In May Changed The General Election Buzzfeed. Important on the Clinton campaign's change of strategy in May:

Clinton's strategy is unrecognizable from the first year of her campaign. She doesn't tie Trump to the rest of the Republican Party. She doesn't talk about Republican extremism or Republican rhetoric or Republican ideology. She has made the race almost exclusively about Donald Trump, his temperament, his qualifications, his character, and his fitness to serve, leaving the rest of the Democratic Party to adjust to a general election that has little to do with traditional partisan policy or politics.

Still, the message has disadvantages for Democrats.

Senate Republicans have been able to distance themselves from Trump to their benefit: In New Hampshire, 78% of voters see Ayotte, a first-term senator who rarely mentions her party's nominee on the campaign trail, as a "different kind of Republican" than Trump, according to a CBS News-YouGov poll of battleground states last month.

Two other vulnerable GOP incumbent candidates, Sens. Pat Toomey and Richard Burr, have seen a similar dynamic among voters in their respective home states, Pennsylvania and North Carolina. In Ohio, 20% of likely Clinton voters said in another recent poll that they will also vote for incumbent Republican Sen. Rob Portman over the Democrat.

As it turned out, Republican establishment endorsements (and donations) following Clinton's May pivot weren't followed by Republican defection at the base; Republicans "came home." Without them, Clinton's base is uncomfortably narrow. It's unclear how she can appeal to the youthful democraphic she told to "do their own research" and smeared as #BernieBros; certainly not by making appeals to the Sanders-like policies she derided as "free stuff." It's also unclear how she can get more turnout in the older black community and the credentialled 10% than she already has. And bonus points for throwing downballot Democrats under the bus! No wonder party barons like Warren and Sanders are starting to throw their weight around before November 8; they win as strong opposition figures or strong policy-makers. And no wonder Democrat loyalist operatives like Drum and Krugman are wheeling the Blame Cannons into position. Events, dear boy, events; and a few swing counties in a few swing states; but we've seen Clinton snatch defeat from the jaws of victory before. Will Clinton's May pivot be the Von Kluck's Turn of campaign 2016?

How to Know an Election is Over Scott Adams. Comment on Clinton video here, which you should watch for the visual, with the sound turned down.

Why Hillary Clinton Is In Serious Danger Of Losing To Trump Thom Hartman (RR). "I'm not Trump" commits the classic error: "You can't beat something with nothing."

Trump's Top Aides May Be Witnesses in Bridge Traffic Jams Trial Bloomberg

Clinton gets little bang for big bucks FT
It's a Medicare surprise for senior citizens not paying attention McClatchy. "Seamless conversion."
Enrollment is tanking at the University of Phoenix, DeVry and other for-profit colleges Los Angeles Times
Class Warfare
Gallup CEO: Economic Recovery Hasn't Actually Happened ETF Daily News

California Farmworkers Win Equal Overtime: "This Bill Corrects 78 Years of Discrimination" In These Times (RK).
The Whistleblowers of Oz Pando
How the FDA Manipulates the Media Scientific American
Quantum teleportation over 7 kilometres of cables smashes record New Scientist
Against happiness The Economist. True fact: Zappos has a chief happiness officer.
Antidote du jour (Mrs. Mop):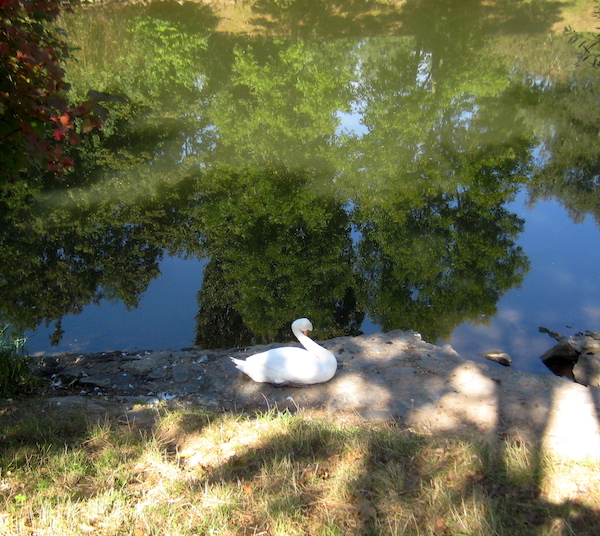 Mrs. Mop writes: "I met this beautiful fellow on my morning bike ride. He/she was not even slightly impressed by my curiosity, just kept going with his morning toilet, every now and then stretching her long neck to gaze at the mirroring water."
See yesterday's Links and Antidote du Jour here.