Lambert here: I guess I'm not the only one…
By Wolf Richter, a San Francisco based executive, entrepreneur, start up specialist, and author, with extensive international work experience. Originally published at Wolf Street.
Hanjin Shipping Co. filed for the equivalent of bankruptcy protection in South Korea on August 31 and over the past two weeks in the US and dozens of other countries. Some of its ships are still idling at sea, trying to out-wait the uncertainty, and being seized by creditors. Some have made it to port and are being unloaded. Others have already been sold at fire-sale prices.
When US Bankruptcy Judge John Sherwood asked Hanjin lawyer Ilana Volkov if the carrier was liquidating, she said: "There is no clear visibility yet on what will happen with this business."
The seventh largest container carrier in the world is not the only carrier in financial trouble. Another huge Korean carrier, HMM, was restructured and bailed out earlier this year, with creditors, including the Korean taxpayer, taking a big hit. The state-owned Korean Development Bank is now its largest shareholder.
Whatever the company-specific reasons, the entire industry has been caught up in a collapse of the rates they charge to transport containers across the seas. This started in early 2015, as a result of a shipbuilding boom of historic proportions, fueled by cheap money, endless liquidity, yield-desperate investors, and over-optimistic projections of demand. It created a vast oversupply of container ships that will continue to get worse through 2017 as a slew of new ships, ordered years ago, are being delivered.
It coincided with lackluster demand for shipping goods, particularly a decline of exports from China (-1.8% in 2015) and South Korea (-5.1% in 2015).
Having acquired these ships with borrowed money, carriers are now weighed down by enormous amounts of debt, and when cash flow curdled, the math, which had been iffy before, no longer worked at all, turning some of these carriers into zombies.
But since Hanjin's collapse, the meme has started to circulate that container shipping rates would soar, that Hanjin's ships would be sidelined during peak shipping season and that shippers would have to scramble to find other carriers to transport their containers, and those carriers would jack up rates and get away with it.
That optimism may have been largely based on wishful thinking.
The Shanghai Containerized Freight Index (SCFI), which tracks only spot-market rates (not contractual rates) of shipping containers from Shanghai to 15 destinations around the world, had started plunging in February 2015. Carriers, desperate to get loads together, were accepting rates far below cost. Last March, there finally were rumors that some carriers quoted rates of "zero."
At the time, we warned of Hanjin's impending bailout or bankruptcy and, as I wrote, "the awkward side effect of stranded cargo." The SCFI, which is very volatile, hit 415, down 62% from February 2015! But the "zero" rate rumors marked the low point of the rates.
In April, the SCFI began to zigzag higher, reaching a still unsustainably low 750 at the end of June, up 80% from the March low, before it plunged, jumped, dropped, and jumped again in its volatile spot-prices manner.
The chart of the SCFI shows this volatility. But during the first two complete reporting weeks since the Hanjin collapse, circled in black, the index has barely budged and is now at 794. It remains 28% lower than it had been in February 2015: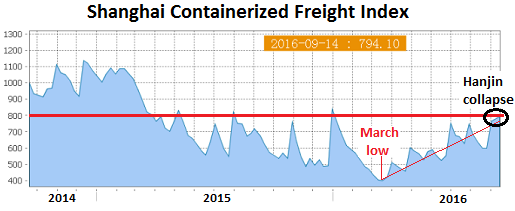 During the week, spot rates from Shanghai to the US West Coast dropped by $7 to $1,749 per FEU (40-foot equivalent unit container). Spot rates remained flat to the US East Coast and dropped to several other destinations, including an 8% plunge to South America. Rates increased significantly to the Mediterranean and South Africa. Rates to Europe edged up $23 to $966 per TEU (20-foot equivalent unit container). This is where the action has been. After bottoming out in March at a catastrophically low $211/TEU, rates to Europe have since soared 357%, most of it over the spring and summer, before the Hanjin collapse.
But the much broader, less volatile, and more indicative China Containerized Freight Index (CCFI), which tracks contractual and spot-market rates for shipping containers from all major ports in China to 14 regions around the world, hasn't moved nearly as much. In April, it hit a record low of 636, down 41% from February 2015, and down 36% since its inception in 1998 when it was set at 1,000.
Then it began an upward trend. In the latest reporting week, it edged up 1.3% to 712, up only 12% from the April low, but still down 34% from February 2015, having barely budged since the Hanjin collapse, circled in black: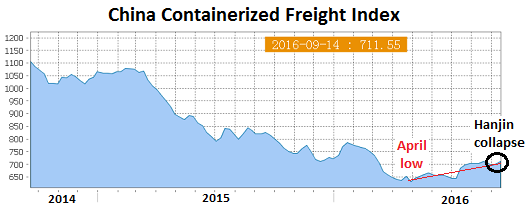 The fact that the CCFI failed to move vigorously since last March, despite the Hanjin collapse, shows that contractual rates are still bogged down. These rates are still way too low for carriers to survive. The collapse in oil prices in 2015 and early 2016 pushed down the price of bunker – the fuel large ships run on – a saving grace for the industry. But bunker prices have risen sharply recently, driving up costs.
And Hanjin's ships aren't going to evaporate to knock down capacity. The oldest ships might get scrapped. But the rest will continue to ply the routes, most likely under new ownership – some have already been acquired by other carriers.
That's the problem with a glut: Bankruptcy removes neither the assets nor the capacity. It only changes their ownership and forces investors to accept big losses.
There may be a brief period of confusion and price spikes on some routes as shippers in peak season get desperate for their merchandise. But the glut of ships, in the face of weak demand, is such that the pain for carriers is likely to continue, with many more false-hope ups followed by brutal smack-downs, and with more carriers cracking under their debt.
There's now a new and potentially lethal problem for weaker carriers: shippers, who'd counted on a bailout of Hanjin but got caught with their pants down when it didn't happen, don't want to see their merchandise get stranded again. So they're scrutinizing carriers and will try to avoid those that don't pass the smell test, which would only hasten their demise.
And creditors, who've learned from the Hanjin fiasco to not count on government bailouts of even the biggest carriers, are likely to try to protect their balance sheets more carefully. So they'll pull back at the worst possible time, just when that carrier needs it the most. This is what caused Hanjin to keel over.
Hanjin's bankruptcy "shatters the complacency" that too-big-to-fail carriers "are immune to failure." Read… "Zombie Apocalypse": The Hanjin Bailout that Didn't Happen