This is Naked Capitalism fundraising week. 809 donors have already invested in our efforts to combat corruption and predatory conduct, particularly in financial realm. Please join us and participate via our Tip Jar, which shows how to give via check, credit card, debit card, or PayPal. Read about why we're doing this fundraiser, what we've accomplished in the last year, and our fourth goal, burnout prevention
By Lambert Strether of Corrente
TTP, TTIP, TISA
"The truth about trade" [Jeffrey Sachs, Boston Globe]. "Trade agreements should be voted up or down on the basis of their likely economic and distributional impacts, not on a fictitious argument about national security. TPP and TTIP, in their current form, deserve to be voted down. They should be reformulated to remove ISDS and should be combined with new tax-and-transfer measures to bolster the incomes of the working class. The economic pie could then be enlarged with the gains from trade shared broadly across the society. At that point, the public would be much more likely to support the passage of the trade agreements in broad daylight, not in the dead of night of a lame-duck session of Congress." This is a good overview, well worth a read.
"'We've all got our plan B's,' New Zealand Ambassador to the U.S. Tim Groser said at a Global Innovation Forum event. "The tragedy would be that the plan B's that we have would not involve the United States" [Politico]. "'[I]f the United States gets stuck in a hole, do not for one minute think that the [11 other TPP countries] are going to sit in the hole with them,' Groser said." Well. Does the US have to be a member for TPP to achieve its goal of encircling China? Is the Pacific Fleet going anywhere?
"[Ambassador David O'Sullivan, EU's ambassador to the United States,] told reporters after the event that there has been no decision yet on whether to hold another round talks on the TTIP before the Obama administration ends in January" [Politico].
"Today, Friday 14 October 2016, 11:00am CEST, WikiLeaks releases new secret documents from the controversial Trade in Services Agreement (TiSA) currently being negotiated by the US, EU and 22 other countries that account for over 2/3rds of global GDP" [Wikileaks].
"Today, for the first time, WikiLeaks released demands by the EU to lock in a wide list of services sectors to TISA's privatization and deregulation provisions, including public services in developing countries" [HuffPo].
The EU's demands also include access to postal services in Chile, Costa Rica, Mexico, Pakistan, Panama, Peru, and Turkey, and in several developed countries participating in the talks. Many countries maintain cross-subsidization programs that are an important part of enabling national communication from rural areas. If countries make commitments in this sector, then they would have to provide the same subsidies to foreign corporations as their own domestic firms, and would not be able to renationalize the sector if privatization was found to have adverse impacts.

The EU's demands also include access to sanitation, sewage, and other environmental services, which are often administered on a local level; telecommunications (including broadcasting); retail and distribution services; shipping; air and maritime transport; energy and mining services (which are extremely sensitive particularly in Latin America); and others. In addition, the EU is requesting more commitments on financial services in nearly every country.
Yikes!
"[S]everal countries involved in TiSA, including the United States, have insisted the agreement will crumble if there's no guarantee that data can travel between trade partners. On top of that, critics and companies in favour of TiSA argue the Commission's move on data flows could have a domino effect and be copied in other trade agreements" [Euractiv]. "One official who took part in the negotiations said the [European Commission trade and justice units'] compromise includes a formulation that makes sure the EU's tough data protection laws can't be toppled by the trade agreement. EU data protection rules prevent personal data from being transferred to countries outside of Europe if they don't guarantee equal privacy protection."
2016
Days until: 20.
Policy
"News that a top State Department official discussed a "quid pro quo" in exchange for the FBI changing the classification of a Hillary Clinton e-mail is shocking enough. But word that the coterie of State officials who controlled the release of the e-mails is called itself "The Shadow Government" is mind-blowing" [New York Post]. Well, that's witty and ironic!

"John Oliver says Jill Stein doesn't understand her own student debt plan" [MarketWatch]. "The specifics of Stein's plan are unclear, though she has said repeatedly that the president has the authority to cancel student debt using quantitative easing. Her campaign didn't immediately respond to a request for comment. But it's technically possible for the Fed to play a role in student debt forgiveness, experts say — though extremely politically challenging. And it isn't done in the way Stein describes. The specifics of Stein's plan are unclear, though she has said repeatedly that the president has the authority to cancel student debt using quantitative easing. Her campaign didn't immediately respond to a request for comment. But it's technically possible for the Fed to play a role in student debt forgiveness, experts say — though extremely politically challenging. And it isn't done in the way Stein describes." Nice to see Scott Fullwiler quoted in a mainstream publication!
The Voters
"Election angst" [Interfluidity]. Excellent and subtle essay, well worth a read. I'll quote a great slab at the end:

For the moment, we have to get through the catastrophe that this election has become. A fault line was always going to appear between the economically dominant class and much of the rest of the country which has been left behind. In my view, it is a very great tragedy that Bernie Sanders did not win his primary campaign to represent the left-behind in a positive and inclusive way. All humans are racists in some ways and to some degrees, but it was not at all inevitable, I think, that we end up in a "battle between cosmopolitan finance capitalism and ethno-nationalist backlash", as Chris Hayes put it. Donald Trump offered a particularly comfortable home to the most ethno-nationalist fraction of the left-behind, and no home at all to people of color. But many not-unusually-racist "white" people who, fairly or not, perceive Clinton as an icon of a corruption, now see Trump as the only game in town. It is tempting, among those of us who would be appalled by a Trump victory, to try to sway undecided voters by equating voting for Trump with racism full-stop. That's a bad idea. If it becomes [becomes?] the mainstream view that Trump voters are simply racists, it leaves those who are already committed, those who are unwilling to abandon Trump or to stomach Clinton, little choice but to own what they've been accused of. Racist is the new queer. The same daring, transgressional psychology that, for gay people, converted an insult into a durable token of identity may persuade a mass of people who otherwise would not have challenged the social taboo surrounding racism to accept the epithet with defiant equanimity or even to embrace it. The assertion that Trump's supporters are all racists has, I think, become partially self-fulfilling. In and of itself, that will make America's already deeply ugly racial politics uglier. It will help justify the further pathologization of the emerging white underclass while doing nothing at all to help communities of color except, conveniently for some, to set the groups at one another's throats so they cannot make common cause. It will become yet another excuse for beneficiaries of economic stratification to blame its victims. Things were bad before this election. They are worse now, and we should be very careful about how we carry this experience forward. These are frightening times.

The psychology of "little choice but to own what they've been accused of" was captured by Shakespeare in Sonnet 121, also — coincidentally? — about what we understand today as queerness: "Tis better to be vile than vile esteemed / When not to be receives reproach of being." At this point, let me print a map from Cracked (linked to a couple of days ago):

The blue counties voted Democrat in 2012; and the red counties, Repblican. Where do the blue counties think their warehouses are? More importantly, where do they think their data centers are?

"'Remember, it's a rigged system. It's a rigged election,' said Donald Trump in New Hampshire on Saturday." [Patrick Buchanan, RealClearPolitics]. "The stunned recoil in this city suggests this bunker buster went right down the chimney. As the French put it, Il n'y a que la verite qui blesse. It is only the truth that hurts… But in this election, Big Media have burst out of the closet as an adjunct of the regime and the attack arm of the Clinton campaign, aiming to bring Trump down." And before Trump, Sanders, as Thomas Frank shows here. A wonderfully clarifying election!

"Do Voters Have Death Wishes?" [John Lounsbury, Econintersect]. "Voters are angry at the economic trends of the last 30 – 35 years. There is an emotional current coursing through America which thinks that the system is rotten and would best be destroyed to set up a start-over. Before they go that route they should contemplate that along the way, after the destruction, many of them would have nothing." Reminds me of the old joke about the Russian peasant to whom a genie appeared, granting him one wish. After a moment's thought, the peasant replied: "I wish my neighbor's cow would die." In other words, if we're going down, you're going down, too.

"Two candidates in critical races that could determine control of the Senate are being attacked as Washington insiders who have closer ties to lobbyists than to their home states. But the attacks aren't partisan: One's a Democrat trying to make a comeback in a GOP-leaning state, and the other's a longtime Republican in a red state facing the toughest race of his career" [RealClearPolitics]. "The Associated Press reported last week that Bayh spent much of his final year in the Senate searching for private-sector jobs while voting on issues of interest to his future employers." But since everybody who is anybody knows that without a quid pro quo there's no corruption, Bayh's practices are normal, indeed laudable. What's wrong with these people?

"Insider Candidates Flounder in Anti-Establishment Wave" [National Journal]. "Demo­crats cheered when former Sen. Evan Bayh de­cided to run for of­fice again, as­sum­ing that his flush cam­paign ac­count and brand name back home would be enough to win in a red state. But they're quickly dis­cov­er­ing that not liv­ing in the state you're run­ning in is a ma­jor prob­lem. When asked earli­er in the cam­paign, Bayh couldn't even re­mem­ber his ex­act ad­dress In In­di­ana. There's a reas­on for this. When Bayh re­lin­quished his seat in 2010, he stayed in Wash­ing­ton, where he earned nearly $4 mil­lion in lob­by­ing fees since Janu­ary 2015." Oopsie.

"How to stop voter suppression before it begins" [Alice Marshall, Medium]. "When I was chair of the Voter Registration Committee of the Fairfax County Democratic Committee, I assumed that my volunteers would be targeted with some sort of attack. I considered how I could structure my effort in such a way that gave no pretext for false allegations of fraud. The key is to encourage citizens to register without having any responsibility for turning in the forms, or indeed, who fills them out. So we just leafleted entire apartment complexes with pre-addressed voter registration applications." I love nuts and bolts stuff like this. Greens should read it.
The Trail
"Bill Clinton on the campaign trail in Upper Valley" (New Hampshire) [WCAX]. "Clinton addressed Trump only briefly Monday. 'Everything is a disaster except for his campaign,' Clinton said. But he did acknowledge that when it comes to politics, the country seems more divided than ever. 'People are angry. So what's better, anger or answers? We are divided, so what's better, cooperation or endless conflict?' I dunno. Depends on who wins, right? "Clinton left Dartmouth without taking questions from local media." That's odd, considering how talkative the Big Dog is. Maybe some of the questions would have made him uncomfortable? Or the campaign stuffed him back in his box?
Stats Watch
Consumer Price Index, September 2016: "Progress is being made at the headline level but less so on the core" [Econoday]. "
However, when excluding energy and also food, which was flat in the month, the price increase slows to only 0.1 percent which is below Econoday's low forecast…. In another note in this report and a reminder of how soft inflation has been, the government has set the 2017 Social Security cost of living adjustment at plus 0.3 percent." And: "Core inflation actually moderated year-over-year, but those nasty energy prices caused the spike in the headline CPI, This is the highest rate of inflation seen in over one year" [Econintersect]. And: "most of these measures are at or above the Fed's target (Core PCE is still below)" [Calculated Risk].
Housing Market Index, October 2016: "The new home sector picked up steam in the third quarter and looks to end the second half with strength… Home builders are very optimistic about future sales, the leading component of the report which is at 72 and up 1 point in the month. Current sales are down 2 points but are very strong at 69. Traffic continues to lag, down 1 point to 46 but with the trend still showing slight improvement" [Econoday].
Consumption: "Since 2014, a relatively stable 65% of Americans say they are limiting their spending. But with incomes once more on the rise (up 5.2% in 2015), the reason that the percentage isn't changing is not stagnant incomes. Rather, Americans simply want to save more money" [247 Wall Street]. "The Bankrate researchers noted that the percentage of respondents who said they were spending less because their incomes were stagnant has dropped in each of the past two years. Just 15% of those surveyed said that fears about the U.S. economy are restricting their spending, the lowest level in the four years that Bankrate has conducted the survey. Millennials (aged 18 to 35) were most likely to say (48%) that saving was their primary reason for limiting their spending…."
Supply Chain: "China, long the world's factory floor, is taking control of a bigger portion of the world's supply chains as well, causing a shift in global trade patterns by buying less from abroad" [Wall Street Journal, "China to World: We Don't Need Your Factories Anymore"]. "Exports to China, which had risen nearly every year since 1990, fell 14% last year, the largest annual drop since the 1960s. They are down another 8.2% this year, through September… But China also is increasingly turning inward for its manufacturing needs, pushing to substitute local inputs for foreign, especially in plum, high-margin areas such as semiconductors and machinery."
Shipping: " September 2016 Import Sea Container Counts Contraction Troubling" [Econintersect]. "This month exports trend lines accelerated further into positive territory – something positive is happening in international markets. On the other hand, imports are trending deeper into contraction – normally this is a sign of recession in the USA… This month (September 2016) the Hanjin ships have been offloaded and imports have slid further into contraction. Nasty. These little containers are filled with mostly consumer goods. Guess USA consumers have lost their taste for buying goods (or maybe just foreign goods or maybe just buying smaller goods)? Or maybe, just maybe – this is signally a relatively poor upcoming holiday season (as Augusts and Septembers are historically the highest container import months)."
Shipping: "Rickmers Group has moved to separate itself from Rickmers Trust Management just two weeks before investors vote to decide if they want to accept the company's restructuring offer or put it into liquidation" [Splash 247]. "The extraordinary general meeting is scheduled for October 31." Not sure about tonnage, but Rickmers has more ships than Hanjin, and provides maritime services as well.
Big Ag: "Corn and soybean crops are hitting a a global market already sitting on the largest-ever grain stockpiles, making storage of the stuff a bigger deal than transporting the goods to market" [Wall Street Journal]. "The boom-bust cycle is familiar in the U.S., but the difference is it's gone global. Crop and livestock farmers in other countries have adopted farming practices that largely mirror those in the U.S. breadbasket." Oh, great.
The Bezzle: "Private Tech Growth as an Asset Class" [The Harvard Law School Forum on Corporate Governance and Financial Regulation]. "Clearly, there is a growing focus on and investor/capital concentration around a select group of mature, very late-stage private tech companies." Clearly, it's unfair of me to throw all of Silicon Valley into the Bezzle bucket. But when so many of the companies are headed by crooks and grifters, what can I do?
ETFs: "The [SEC] original proposal – and the current version – focused on all open ended funds maintaining a liquidity risk management program with the intent to ensure that it could always meet shareholder redemptions in an orderly fashion. It was a clear response, or convenient timing at least, to the shenanigans that happened to Third Avenue's mutual fund in the summer of 2015, when it closed for redemptions because it couldn't sell its junk bonds fast enough" [ETF.com]. "[The rule that ensure[s] a fund doesn't have more than 15% of its investments in illiquid investment… is problematic. There's an enormous amount of wiggle room in how to meet the assessment that a given position can be liquidated without significant impact in seven days, and all that wiggle room lands on the fund board to interpret." Readers?
Gentlemen Prefer Bonds: "According to the latest research from analysts at Bank of America Merrill Lynch, investors are increasingly worried about a massive bond market pullback" [ETF Daily News]. "The firm recently surveyed a number of fund managers, and bond market fears clearly rose to the top of the list. As you can see below, only the "EU disintegration" beat out "Crash in bond market/rising credit spreads" in terms of what money managers feel is the biggest "tail risk":
Gentlemen Prefer Bonds: "There is a little bit of fear creeping into government bond markets. It is about time, even if investors are still underestimating how much long-term Treasury rates could rise from here" [Wall Street Journal, "More Than One Worry Is Hitting Bond Markets"]. "Government bonds are no longer the can't-lose market, as a steady drop in prices sends rates higher." And then, inflation worries.
Gentlemen Prefer Bonds: "Duration Time Bomb" [Across the Curve]. "I have long thought the next market calamity would be in the corporate bond world. This Bloomberg story reports on a Goldman Sachs research piece which posits that a 1 percent increase in yields would lead to more than $1 trillion in losses in corporate bond portfolios. The more interesting angle is in a world of sparse balance sheets and risk aversion at dealers what will happen when clients ask for bids and find them light years from what they expected." This Bloomberg story; great lead: "First they came for the yield, then they came for the duration."
The Fed: "Yellen poses important post-Great Recession macroeconomic questions" [Washington Center for Equitable Growth]. Rather an amazing normalization of Yellen's confession that the snow of the Fed's ignorance of macro remains untrodden. To be fair, I smell research program!
Mr. Market: "With assets in a funk, interest rates at zero and IPOs scarce, what's capital to do?" [Wall Street Journal, "Everyone's Worst Investing Fears"].
Today's Fear & Greed Index: 40 Fear (previous close: 40, Fear) [CNN]. One week ago: 47 (Neutral). (0 is Extreme Fear; 100 is Extreme Greed). Last updated Oct 18 at 11:36am. If you're going to be afraid, why not be afraid, and stop crapping around in the 40s?
Health Care
"The Obamacare problem that Democrats don't want to talk about" [Sarah Kliff, Vox]. "[T]here are millions of people buying their own coverage outside of the marketplace. And none of them receive subsidies. So they don't have any financial cushion to protect against the larger premium increases most observers expect to see in 2017."
Neoliberal U
"Bold, beautiful, broke: Barnard's shameful treatment of contingent faculty" [Columbia Spectator]. "Again a group of the most underpaid workers on campus (many make low wages and are denied any health or retirement benefits if they are adjunct faculty)—workers who are overwhelmingly women—are standing up for better working conditions. And again, an administration headed by a self-proclaimed feminist appears to be doing everything in its power to obstruct them."
Gaia
"Whales' dung is the real reason we need to stop hunting them" [New Scientist]. "Increasing scientific evidence shows that whales enhance ecosystem productivity by concentrating nitrogen and iron near the surface through the release of faecal plumes."
"Are Wet Wipes Wrecking the World's Sewers?" [The Atlantic].
Imperial Collapse Watch
"'Sodomized' Guantánamo captive to undergo rectal surgery" [McClatchy]. Shining city on a hill, and all that.
Class Warfare
"These findings suggest that the declining trend in interstate migration is a response of the labor market to an aging population and does not necessarily signal a decline in the market's dynamism or efficiency" [Liberty Street Economics]. Here endeth the lesson.
"According to our analysis, the increase in income inequality since 1970 has generated large welfare gains for households in the top 20% of the income distribution and significant welfare losses for those in the bottom 80%, measured relative to a scenario that holds inequality constant. Alternative simulations imply that a relatively modest boost in the historical growth rate of government redistributive transfers, accompanied by modestly higher average tax rates, could have achieved small but equal welfare gains for all households. Overall, our results suggest that there is room for policy actions that could offset the negative consequences of rising income inequality" [Federal Reserve Bank of San Francisco]. This section is titled "Class Warfare," not "Income Inequality," because the first concept incorporates political power, and the second does not. It is very easy to see how mere "redistributive transfers" could be sucked away through rental extraction, for example.
News of the Wired
"In mouse experiments, destroying the cells caused the rodents to overeat and gain excessive weight. Activating the cells had the opposite effect: The mice lost their appetite and became almost anorexic" [Wall Street Journal, "Brain Cells That May Play a Key Role in Appetite"]. Great! Let's destroy them!
"The Chase" [London Review of Books]. On Turner's Rain, Steam and Speed, the magical Turner painting from 1844, still relevant to our own day.
* * *
Readers, feel free to contact me with (a) links, and even better (b) sources I should curate regularly, and (c) to find out how to send me images of plants. Vegetables are fine! Fungi are deemed to be honorary plants! See the previous Water Cooler (with plant) here. And here's today's plant (Rainbow Girl):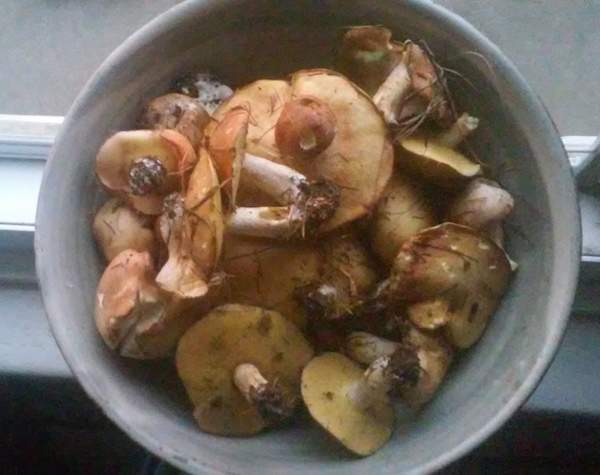 Fresh mushrooms right after picking. Yum!