This is Naked Capitalism fundraising week. 724 donors have already invested in our efforts to combat corruption and predatory conduct, particularly in the financial realm. Please join us and participate via our donation page, which shows how to give via check, credit card, debit card, or PayPal. Read about why we're doing this fundraiser, what we've accomplished in the last year, and our third goal, well-deserved bonuses for our guest writers.
By Lambert Strether of Corrente
Readers, this is a bit light, because when I get started on Clinton, it always takes me longer than I think. I'm going to beef up the stats section shortly.
TPP/TTIP/TISA
UPDATE "TISA TALKS MOVE AHEAD: Lead negotiators for the Trade in Services Agreement are set to meet today and tomorrow in Washington in an attempt to bring talks closer to conclusion, but don't expect the European Union to propose a revised market access offer quite yet. The EU's revised offer, which the U.S. is hoping will be dramatically improved, probably won't come until Friday — the deadline for the 23 participating governments to propose revised market access offers, according to a European Commission source. The next full round of talks is scheduled for Nov. 2-10, and ministers are aiming for a Dec. 5-6 meeting as the finish line for the talks" [Politico]. I suppose all it would take to destroy our national sovereignty would be one of these deals?
UPDATE "EXCLUSIVE/ The European Commission faces an EU court battle to keep secret its lawyers' analysis on whether the controversial investor-state-dispute (ISDS) clause in draft trade deals with the USA and Canada is illegal" [Euractiv]. "Were the Commission to be ultimately forced to publish analysis that found ISDS was incompatible with EU law, it could call the much-debated TTIP deal into question."
2016
Days until: 21
Here are the RealClearPolitics polling averages from last week, compared to this week.
| | |
| --- | --- |
| This week:10/17/2016 | Last week:10/10/2016 |
| | |
Now let's return to the fun Times interactive, "The 1,024 Ways Clinton or Trump Can Win the Election"; it shows the "paths to victory" in tree form. Try it yourself! [New York Times]. Here's some data I put together to play with in the form of a table of swing states:
| | | | | | |
| --- | --- | --- | --- | --- | --- |
| Swing State | Leader | Polling Margin | SoS Party | A.G. Party | Electoral Votes |
| OH | C | 0.2 | R | R | 18 |
| NV | C | 2.5 | R | R | 6 |
| FL | C | 3.5 | R | R | 29 |
| CO | C | 9.0 | R | R | 9 |
| NC | C | 2.7 | D | D | 15 |
| IA | T | 3.7 | R | D | 6 |
| NH | C | 3.6 | D | D | 4 |
| WI | C | 6.7 | D | R | 10 |
| VA | C | 8.7 | D | D | 13 |
| PA | C | 7.0 | D | D | 20 |
Legend: Leader and polling margin from RealClearPolitics. SoS's party from WikiPedia. A.G's party from Ballotpedia.
Unfortunately for Trump, there's no path to victory for him for now, based on the above polls (assuming he defines victory as winning the Presidency). In a close race, the party Establishment might help him steal the election (that's what the Secretary of State and Attorney General columns are for) but even assuming the Establishment wanted to, it might not be close enough.The remaining hope for the Republican Party is split ticket voting, along with retention of the House:

And maybe the Senate: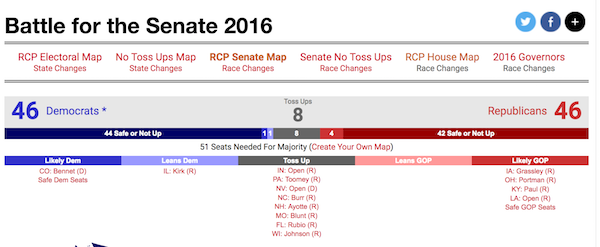 The Voters
"What Are the New Battleground States?" [New York Times]. "The Clinton campaign calculates that its candidate is likelier to prevail by "disqualifying" Mr. Trump — using ads to make the idea of voting for him socially unacceptable in professional suburbs — among additional well-educated voters (in states like North Carolina) than by holding on to working-class voters tempted by Mr. Trump's populism (in states like Ohio)." To be fair, in addition to "calculation," visceral hatred.

"Win or Lose—Hillary Clinton's Troubles in Ohio Should Worry Democrats" [The Nation]. " And if they don't? I spent a week driving from Cleveland in the northeast to Cincinnati in the southwest, talking to activists, party officials, Trump and Clinton volunteers, and swing voters. I learned two things: Hillary Clinton is not Barack Obama. And her troubles in Ohio are not exclusive to her—or to the state. …  Ohio isn't the only state where Clinton is facing a close race. Of the 14 battleground states tracked by RealClearPolitics, the candidates are within five points of each other in eight. In the wake of Trump's leaked tape, and his disastrous performance in the second debate, Clinton seems—for the moment at least—to have caught up in Ohio, with the latest polls showing her slightly ahead of Trump there for the first time since August. But winning any of these states in November means maximizing turnout, which requires enthusiasm and energy and hope. All of which appear to be in short supply—and not just in Ohio."

UPDATE "Early voting reveals warning signs for Trump" [Politico]. "In two must-win states for Trump, North Carolina and Florida, Republicans are clinging to narrow leads in the total number of mail-in ballots requested. Yet in both states, Clinton is ahead of President Barack Obama's pace four years earlier — and the GOP trails Mitt Romney's clip."

"Democrats are ramping up their efforts to tie Republicans to Donald Trump's flagging campaign, hoping to boost their chances of retaking control of the Senate. But so far there's little evidence that Republicans are being dragged down by their controversial nominee" [RealClearPolitics]. 

"22 toxic days for Hillary Clinton" [Politico]. Oh, this is only the beginning… Anyhow: "'This is making me tear up, it's so infuriating and disgusting,' a Clinton aide wrote in an email halfway through the St. Louis debate, arguably the low-water point of a general election that has had few high-tide moments. 'This is not our country.' No. It's not "your country." The smugness makes me crazy.
Stats Watch
Industrial Production, September 2016: "Flat is the best word to describe the factory sector right now" [Econoday]. And: "[B]elow expectations of a 0.2% increase" [Calculated Risk]. "Year-on-year, industrial production is down 1.0 percent with manufacturing dead even at zero percent. The 2014 collapse in oil prices and its hit on demand for energy equipment pulled the factory sector into low single digit contraction, which is where it continues to struggle." And: "This sector remains slightly in a recession. Capacity utilization also is contracting year-over-year but in the New Normal – it seems meaningless" [Econintersect]. But: "[D]epressed by a weather-related fall in utility usage" [Across the Curve]. 
Empire State Mfg Survey, October 2016: "The first indication on October's factory conditions is negative" [Econoday]. And: "below the consensus forecast of 1.0" [Calcuated Risk].  "[T]he details are almost entirely negative. But there are positive signs including life for prices. Input costs rose…" And: "I am not a fan of surveys, but the continued weakness in this survey is not foretelling a recovery in manufacturing" [Econintersect]. 
UPDATE Real Estate: "At the low end, homeowners are even more leveraged than they were during the bubble" [MarketWatch]. "In fact, owners of entry-level homes, those in the $150,000 to $300,000 range — have more debt and less equity now than they did in 2005, at the height of mortgage mania…. 'At some level, we're sort of running out of customers'" [Sam Khater, deputy chief economist at data provider CoreLogic] said. 
UPDATE Shipping: "J.B. Hunt Transport Services Inc. reported a dip in third-quarter earnings, as the freight trucking company faced lower customer rates and weak demand" [Wall Street Journal, "J.B. Hunt Earnings Fall Amid Weak Demand"]. "The trucking industry has struggled for months as excess capacity has pressured pricing. Additionally, the Arkansas-based transportation company said bottom-line growth was weighed down by increased driver wages and recruitment costs."
UPDATE Shipping: "Shifting Chinese trade patterns will reduce the transport market share of container lines' long-haul services, thus cutting new demand for mega containerships, according to Seabury Consulting director of maritime Michel Looten" [Lloyd's List]. Wish I could get behind the pay wall on that one. Surely not the Silk Road?
UPDATE Shipping: "Halliburton, U.S. Silica set frac sand unit-train record" [Progressive Railroading]. "The train, which carried nearly 19,000 tons of U.S. Silica's sand, was the largest frac sand unit train to date in North America, officials from both companies said in a joint press release."
UPDATE Supply Chain: "Indonesia may have the bigger foothold in the smartphone supply chain it's been looking for. BlackBerry Ltd. 's decision to license software and outsource handset production globally represents a win for Indonesia, which is also the biggest market for the Canadian company's handheld devices" [Wall Street Journal]. "The plan helps Blackberry meet Jakarta's rules for local content and to focus on its plan to focus on software rather than making smartphones. Indonesia has loosened those rules somewhat, and Blackberry's decision suggests other smartphone companies and their critical components makers may find the country a more attractive node in electronics manufacturing and distribution channels." 
UPDATE The Bezzle: "Apple Inc. has drastically scaled back its automotive ambitions, leading to hundreds of job cuts and a new direction that, for now, no longer includes building its own car, according to people familiar with the project" [Bloomberg]. Well, well. 
UPDATE The Bezzle: "The Bay Area is now seeing that the pool of lemmings is drying up" [Dr. Housing Bubble]. "It should come as no surprise that home sales are the leading indicator for future price action.  First home sales dip, then prices if the dip is significant.  This is typical in markets where home prices get out of control and enter into bubble like territory.  Just because people are paying cash or are going with decent down payments doesn't mean prices can't correct."
UPDATE Mr. Market: "[N]ot all is well in the breadth department. One ominous signal that marked trading in 2015 has begun to reassert itself, a pattern in which the benchmark index hovers near a 52-week high while the proportion of stocks that are similarly elevated dwindles" [Across the Curve]. 
UPDATE Mr. Market: "Predatory Trading in Treasury Market" [Across the Curve (citing Bloomberg)]. "David Rutter, the former head of the biggest electronic venue for Treasuries, says his startup will launch a new trading platform called LiquidityEdge Select this week. According to Rutter, a big draw is that it will enable clients to shut off bids and offers from firms they suspect are using hair-trigger algorithms to trade against their orders. He's enlisted Cantor Fitzgerald to backstop the transactions and signed up about 90 clients, including most of the Treasury market's 23 primary dealers and several high-speed trading firms. …Success is far from guaranteed and there's considerable debate over whether high-frequency traders, or HFTs, actually do more harm than good. But one thing is undeniable: technological advances and post-crisis bank regulations designed to limit risk-taking are transforming the inner workings of trading U.S. government debt and creating a sense of disorder among the more traditional players in the world's most important bond market."
Today's Fear & Greed Index: 33, Fear (previous close: 40, Fear) [CNN]. One week ago: 55 (Neutral). (0 is Extreme Fear; 100 is Extreme Greed). Last updated Oct 17 at 12:53pm. Mr. Market drags himself in after an excessive session at the nineteenth hole on Sunday, and slumps at his desk. Another big swing to fear. However, the swings in this index don't seem to be reflected in VIX. Readers, is there a reason for that?
Health Care
"Two-Thirds of Providers Aren't At Listed Locations, CMS FindsTwo-Thirds of Providers Aren't At Listed Locations, CMS Finds" [AIS Health]. "The first phase of a new provider directory accuracy pilot conducted by CMS's Medicare Drug & Health Plan Contract Administration Group (MCAG) has turned up some concerning findings, namely the "excessive number" of providers listed in online directories that aren't at those location" So you can't find your doctor when you need them. And we saw in this morning's links that CMS can't tell you whether your policy has a narrow network or not. Go shopping! In a minefield!
"The Delayed Gratification of Obamacare" [The Atlantic]. Maybe because you can't find your doctor when you need them and CMS can't tell you whether your policy has a narrow network or not?
Water
"North Carolina flooding devastates 'poorest of the poor'" [USA Today]. "'Sadly, the poorest of the poor in North Carolina are the ones who are being hurt the most by these floods,' Gov. Pat McCrory said Thursday. 'Some of these people have nothing. They are sitting in high school gyms with their whole families.'"
"Subsidizing Disaster" [The American Conservative]. "[S]torms are doing more damage not because they are more powerful but because more people are living in storm-prone areas. Fortunately, there's something policymakers can do to reduce the damage: they can stop subsidizing population growth in high-risk areas."
"An ancient drought-friendly farming process could become the next organics" [Quartz]. "But as California settles into a drought-stricken future and the price of water soars, more farmers and winemakers are looking to dry farming techniques to reduce the amount of water they use."
Guillotine Watch
UPDATE "Our curiosity about a pricey artificial Christmas tree led us to the Vickerman website where we found a 14-foot flocked white spruce with 3,600 pre-strung lights for a tidy $3,941.99. This one comes with an extra strand of 50 lights in case 3,600 is not enough" [24/7 Wall Street].
Class Warfare
"All Low- and Moderate-Income Areas Are Not Created Equal" [Federal Reserve Bank of St Louis]. "The example above is played out across 200-plus MSAs for which data is available. Boulder, Colo., is on one end of the spectrum, with 35.9 percent of the population in LMI neighborhoods credit constrained, defined as having poor/fair or no credit history. On the other end is Memphis, Tenn., where 77.4 percent of the population in LMI neighborhoods (nearly eight out of every 10 people) are credit constrained."
News of the Wired
UPDATE "A Model Railway Journey" [Cabinet Magazine]. Hamburg's most popular tourist attraction (and the first subhead is a Wittgenstein reference).
"10 years ago today, Dennis Green unleashed one of the NFL's most famous rants" [Fox]. The article shows there's more to the man than the rant. But here is the rant:
They are who we thought they were!
UPDATE And speaking of "they are who we thought they were," don't use Google's AMP! It's a scam! "Google May Be Stealing Your Mobile Traffic" [Alex Kras]. "By hijacking the mobile traffic and keeping users from leaving their site, Google gets to benefit from somebody else's content while at the same time displaying their ads. This cuts further into already narrow margins of independent publishers." Those Silicon Valley guys are so "smart"!
* * *
Readers, feel free to contact me with (a) links, and even better (b) sources I should curate regularly, and (c) to find out how to send me images of plants. Vegetables are fine! Fungi are deemed to be honorary plants! See the previous Water Cooler (with plant) here. And here's today's plant (jsn):