By Lambert Strether of Corrente.
TPP/TTIP/TISA
"Hillary Clinton kept up her attack on the TPP in a speech Monday in Toledo, Ohio, repeating that she opposes TPP now and in the future "because it is one-sided and unfair to American workers." The Democratic nominee didn't go into an extended critique of the agreement, but criticized investor-state dispute settlement provisions that she said 'favor large corporations over everyone else'" [Politico]. Such mushy language; ISDS is a surrendur of national sovereignty; that's really not the same as "favoring" large corporations. "Then, in an interesting juxtaposition, she attacked the pricing practices of pharmaceutical companies. 'We're going to have to protect ourselves against that too,' Clinton said. 'And let's finally import safe alternatives from other countries like Canada and speed up approvals to get more generics on the market. And it is long past time to allow Medicare to negotiate for better prices for drugs and get the cost down for Medicare recipients." But implement Medicare for All so the public has the absolute strongest position to negotiate for better prices? "Never, ever!"
2016
Days until: 36.
Debate Wrapup
Next presidential debate: Sunday, October 9.
The Voters
"Shunning is mostly performative and the left has usually opposed it" [Carl Beijer]. "The Dordrecht Confession of Faith, a central text of the Radical Reformation, advocates shunning so that the offender "may be made ashamed, be affected in his ways." In other words, shunning was supposed to have two practical consequences: 1) to engineer wokeness in the community, and 2) to shame the offender into rehabilitating. Both of these rationales emerge time and time again in modern liberal-left advocacy for shaming and ostracization as tools of social engineering and personal discipline. And yet strangely enough, anyone at all familiar with the standard left critiques of shunning should have rejected both long ago. To take the second point first, there is little reason to believe that shunning actually has any kind of rehabilitative effect on its target, and considerable reason to believe that it can actually amplify the problem." See under "Irredeemables."

"If Hillary Clinton wins the White House, GOP fortunes will hinge in part on people willing to vote for Republicans down ballot even if they can't bring themselves to vote for Donald Trump for president" [Wall Street Journal]. "That calls for reversing a steep, 40-year decline in ticket-splitting."

"With All Eyes On Haiti, Its Diaspora In Florida Could Swing A Close Election" [HuffPo]. "Among Haitians, Clinton has at least two obstacles to overcome: there is deep skepticism about the work the Bill, Hillary and Chelsea Clinton Foundation has done on the island after a devastating earthquake there in 2010, according to interviews with community leaders. Compounding the problem for Clinton, the Obama administration last month suddenly lifted a six-year pause on deportations to Haiti it had implemented in the wake of the 2010 earthquake."

"That [post-debate] surge in Democratic enthusiasm has translated into gains in the battleground states. The bounce is most obvious in Sun Belt states like Florida, North Carolina, Colorado and even Nevada, where Democrats are most dependent on nonwhite and irregular voters to win elections. In general, the post-debate polls in these states are among Mrs. Clinton's best polls of the year" [New York Times].
Policy
"The next American president and Haiti" [The Gleaner] (Jamaica).

"Clinton, Kaine go too far in touting a nuclear deal with Russia" [WaPo]. Factchecking. But wait, I thought Putin was the Antichrist?
Corruption
"Donald Trump VP Mike Pence Pledged To Limit Gaming, Then Helped Casinos After Campaign Donations" [International Business Times].
Money
"From 2011 through 2014, Trump harnessed his eponymous foundation to send at least $286,000 to influential conservative or policy groups, a RealClearPolitics review of the foundation's tax filings found. In many cases, this flow of money corresponded to prime speaking slots or endorsements that aided Trump as he sought to recast himself as a plausible Republican candidate for president" [RealClearPolitics]. Of course, $286,000 is peanuts.
Realignment
"Nearly 95% of those who first gave to his GOP primary opponents are sitting out the general election, and of those who are still giving money, many are lining up behind Democratic nominee Hillary Clinton instead, according to a Times analysis of donations over $200" [Los Angeles Times].
The Trail
"In taking that $915 million loss in 1995, and carrying it forward to shelter future income, Donald Trump did nothing wrong. By both his family and his business, he did everything right" [Patrick Buchanan, RealClearPolitics]. "In a famous 1947 dissent, Judge Learned Hand wrote: '[T]here is nothing sinister in so arranging one's affairs as to keep taxes as low as possible. … Everybody does so, rich or poor; and all do right, for nobody owes any public duty to pay more than the law demands: taxes are enforced exactions, not voluntary contributions. To demand more in the name of morals is mere cant.' Amazingly, Buchanan's father was a tax accountant. He goes on: "One wonders: Do America's reigning elites believe the Trump movement is but a passing phase? Do they believe that the rise of populist and nationalist parties across Europe is but a seasonal epidemic of the flu that will die out, after which we can all get back to building the New World Order of Bush I and Barack Obama?"

"Donald Trump might have been able to avoid paying taxes on as much as $916 million in income over an 18-year period, according to documents the New York Times published over the weekend. The figure is a sensational one, but the Republican presidential nominee would be far from the only real-estate magnate to find ways of exploiting the rules to cancel tax bills" [WaPo]. Shorter WaPo: Times story is a nothingburger.

"Trumpchant in B flat" [Language Log]. "[H]is normal style of delivery often involves almost-chanted sequences of level or nearly-level pitches." With pitch diagrams! See also "Trump's Prosody."
Stats Watch
Gallup US Economic Confidence Index, September 2016: "Although the August and September monthly economic confidence averages represent an improvement from the index's recent slump, they remain below the post-recession high of plus 3 recorded in January 2015" [Econoday]. "The September outlook score reflected 38 percent of Americans saying the economy was "getting better," and 57 percent saying it was 'getting worse.'"
Light Vehicle Sales: "Based on a preliminary estimate from WardsAuto, light vehicle sales were at a 17.65 million SAAR in September. That is down about 2% from September 2015, and up 4.3% from the 16.92 million annual sales rate last month" [Calculated Risk]. "After increasing significantly for several years following the financial crisis, auto sales are now moving mostly sideways." And: "Light-vehicle sales sputtered in the U.S. last month despite generous Labor Day holiday deals, with most of the market's biggest sellers reporting declines from the prior September" [Wall Street Journal, "U.S. Auto Sales Slip in September"]. "The average vehicle was marked down more than 10% during the month, TrueCar Inc. estimates, which exceeds what it typically has been and reflects ample inventory sitting on dealer lots."
Housing: "The number of Manhattan real estate sales fell 19 percent in the third quarter compared with the prior year, as wealthy individuals from the U.S. and overseas pulled back their spending" [CNBC]. "The overseas rich are no longer buying like they were a year ago, as China's economy slows, oil prices hurt Russia and the Middle East, and Latin America suffers recessions. Meanwhile, American buyers are nervous about the November elections and the unsteady stock market."
The Banks: "Ten billion has become a big number in banking since the Dodd-Frank Act of 2010. When banks' assets exceed that threshold, they face considerably heightened supervision and regulation, including exams by the Consumer Financial Protection Bureau, caps on interchange fees, and annual stress tests" [Liberty Street]. "There are plenty of anecdotes about banks avoiding the $10 billion threshold or waiting to cross with a big merger, but we've seen no systematic evidence of this avoidance behavior. We provide some supporting evidence below and then discuss the implications for size-based bank regulation—where compliance costs ratchet up with size—more generally…. Of course, $10 billion banks are not considered systemically important, but our evidence at that threshold is consistent with the notion that size-based regulation might 'lean against size' at higher thresholds."
The Banks: "What Sarin and Summers highlight [(here)] is that, compared with their pre-crisis readings, a range of market measures of bank risk do not show improvement despite the rise of reported bank capital" [Money and Banking]. "One doesn't need to agree precisely on the reasons for the warning signs emanating from market indicators of bank risk. These warnings are sufficient to warrant continued close scrutiny from regulators and sustained efforts to increase the resilience of the financial system. We share the Sarin and Summers view that enhanced regulation, including Dodd-Frank, has made the system safer than it was before the crisis. We also agree that these improvements are insufficient, and that among other things, banks need more equity capital than they have today."
The Banks: "On Monday, there was a spike in the price of insuring against a default in Deutsche Bank's senior debt, which could only happen if it went bankrupt. More importantly, it's now more expensive to buy this insurance for one year into the future than for five years, figures from FactSet show, measured by derivatives called credit-default swaps" [Wall Street Journal, "CDS Markets Add to Deutsche Bank Gloom"]. "But this is a first for Deutsche Bank. For all its problems in the recent past and doubts about its profitability—and that of the banking sector more generally—investors never seemed to truly believe things were this dire. Now, faith on the German behemoth is being tested."
The Banks: "Morgan Stanley was charged with 'dishonest and unethical conduct' by Massachusetts' top securities regulator on Monday for having pushed its brokers to sell loans to their clients" [Reuters]. "Secretary of the Commonwealth William Galvin alleges that the bank ran high-pressured sales contests in Massachusetts and Rhode Island where brokers could earn thousands of dollars for selling so-called 'securities based loans.'" Coffee's for closers…
Commodities: "Cattle and hog prices hover near the lowest levels in years as U.S. meatpackers produce the largest volume of meat in history" [Wall Street Journal, "71 Million Hogs Are Crushing U.S. Meat Prices"]. "The buildup has stoked concerns over a glut of meat, poultry and other agricultural products in the U.S. Producers are on track to send a record number of hogs and chickens to slaughter this year, and beef production is rapidly increasing. Dairy farmers are spoiling excess milk in their fields as warehouses pile up excess cheese. Also, corn, soybean and wheat growers are preparing for a fourth consecutive year of bumper harvests this fall."
Shipping: "Holiday hiring is expected to be flat at package-delivery giants FedEx Corp. and United Parcel Service Inc." [Wall Street Journal, "FedEx, UPS Gear Up for Holiday Season With More Sorting Hubs, Technology"]. "Both companies have also invested in automation so they can process more packages over the holidays while keeping staffing levels relatively steady. If their projections hold, FedEx and UPS will have kept the number of seasonal workers steady for two years running, at over 50,000 and 95,000 workers respectively, after sharply ramping up holiday hiring earlier in the decade."
Shipping: "The Hanjin Shipping situation again illustrates the fragility of today's supply chains. Shippers would be mistaken if they think they only need to be on guard for such issues on the seas. Supply chain disruption is becoming increasingly common across all modes" [Journal of Commerce]. "A broader issue for BCOs [Beneficial Cargo Owner] is the increasing fragility of the supply chain and its transportation suppliers in general. The steamship lines have been the poster children of disruption lately, whether it be the 2014 to 2015 International Longshore and Warehouse Union slowdown on the US West Coast or the Hanjin meltdown, and the International Longshoremen's Association's September 2018 contract expiration is on deck. But shippers also need to keep a wary eye on their land carriers, their local and long-haul truckers, and railroads…. [T]ransportation suppliers are much less resilient than they used to be. Supply chain disruption can take many forms, be it financial distress, operational mistakes, natural disasters (an ever-growing threat thanks to climate change), or an unexpected uptick in demand."
Shipping: "The trucking industry must prepare, 'whether we like it or not,' for the arrival of self-driving, or autonomous, commercial motor vehicles, the new president and CEO of the American Trucking Associations (ATA) [Chris Spear] said today in his first 'State of the Industry' address at the group's annual management conference in Las Vegas" [DC Velocity]. "Spear emphasized, however, that truck drivers will remain the most qualified to 'navigate the cities and towns, make that pickup and delivery happen safely, and perhaps most importantly, secure that cargo.'" Big "last mile" problems, then. Note that if the claims of Musk, Kalanick, et al for Level 5 self-driving cars were true, there would be no last mile problem, since their use cases involve cities.
Supply Chain: "Blue Apron. The San Francisco-based company has been a venture capital darling with its plan to upend the industrial food system and "disrupt the dinner table" with fresh ingredients delivered ready to prepare a meal. But former employees describe a chaotic, stressful workplace marked by violence, high turnover and injuries. The report follows similar examinations this year of abusive working conditions at distribution sites for some U.K. retailers, and one last year on severe conditions at Amazon.com Inc. warehouses. The cases are a reminder that for all the investment disruptive business models are drawing, the drive to move goods faster and better can carry a human cost" [Wall Street Journal]. When you factor in Uber, It's enough to make you think that venture capitalists regard abusing workers as a feature, not a bug.
Fiscal Policy: "In the global struggle to boost growth, a Canadian experiment in fiscal spending is providing a test case for some of the world's biggest economies" [Wall Street Journal, "Canada's Big Bet on Stimulus Draws Global Attention"]. "Mr. Trudeau's big infrastructure spend will be largely financed by a bigger deficit, which is projected to reach C$29.4 billion this fiscal year, or about 1.5% of gross domestic product. That's a sharp turn from the balanced-budget promise of his Conservative predecessor, who hewed the austerity path Mr. Trudeau is now shunning. Canada's efforts stand in contrast to many of the world's economies, whose finance ministers and central bankers meet this week in Washington for semiannual meetings of the International Monetary Fund and World Bank."
The Bezzle: "Rover announces $40M round for pet sitting and dog walking" [TechCrunch]. "The company expanded from pet sitting to dog walking last year. It now says that it has more than 65,000 sitters and walkers in its network, and that it's seeing an average of 1 million bookings each quarter."
The Bezzle: "Johnson & Johnson is telling patients that it has learned of a security vulnerability in one of its insulin pumps that a hacker could exploit to overdose diabetic patients with insulin, though it describes the risk as low" [Reuters]. "Jay Radcliffe, a diabetic and researcher with cyber security firm Rapid7 Inc, said he had identified ways for a hacker to spoof communications between the remote control and the OneTouch Ping insulin pump, potentially forcing it to deliver unauthorized insulin injections. The system is vulnerable because those communications are not encrypted…"
The Bezzle: "City officials in Summit, N.J., have introduced a pilot program that allows commuters to use the ride service known as Uber to the local New Jersey Transit train station, according to news media reports" [Progressive Railroading]. "The initiative is aimed at freeing up parking spaces in the crowded station lot. The program also means the city won't have to pay millions of dollars to build a new parking lot. The six-month pilot is limited to 100 riders."
Concentration: "A closed-door unveiling of the forthcoming Google Home smart speaker platform included the nakedly anticompetitive news that vendors whose products support Amazon's Echo will be blocked from integrating with Google's own, rival platform" [Boing Boing].
Today's Fear & Greed Index: 44 Fear (previous close: 45, Neutral) [CNN]. One week ago: 45 (Neutral). (0 is Extreme Fear; 100 is Extreme Greed).Last updated Oct 4 at 11:31am.
Health Care
"A comprehensive, coherent roadmap to universal health care" [Minnesota Senator John Marty, MNHealthPlan.org]. PDF download of Marty's book; excerpts. Encouraging to see this at the state level.
If twenty-first century progressives had been leading the nineteenth century abolition movement, we would still have slavery, but we would have limited slavery to a 40-hour work week, and we would be congratulating each other on the progress we had made.
Ouch!
"Two former Tenet hospitals plead guilty to Medicaid kickbacks; $514M settlement finalized" [Modern Health Care]. Of course, nobody goes to jail.
"One of Obamacare's central pillars, the individual mandate, boils down to a crude ultimatum. Buy health insurance or pay the price — a tax penalty of the greater of $695 or 2.5 percent of income, to be exact" [The Hill]. "But what if it's essentially impossible to buy health insurance — because no insurers are selling it? In several states — including Wyoming, Arizona, West Virginia, and South Carolina — that's a real concern. Six Republican senators just introduced a bill that would exempt people from the individual mandate if they live in a county where there's only one insurer — or where there are no insurers — selling coverage through their state's Obamacare exchange. That such a reform is even necessary is remarkable."
Police State Watch
"Compared to the previous year when [body] cameras were not worn [by the police], complaints across the seven regions fell by 93% over the 12 months of the experiment. The study encompassed nearly 1.5 million officer hours across more than 4,000 shifts" [Quartz].
"The executive director the Kansas City library system says he is "outraged" that prosecutors continue to pursue charges against a man who was arrested after asking pointed questions during a library discussion about the Middle East peace process and an employee who tried to intervene" [ABC]. "R. Crosby Kemper III, executive director of the city's library system, said 'we're going to be living in a different kind of country' if people can be arrested for asking questions at a library. 'If this kind of behavior is unacceptable to the police, then I guess we're going to have to shut the library down.'"
Black Injustice Tipping Point
"African Americans are still being paid less than whites at every education level" [Economic Policy Institute]. "[T]his gap persists even after controlling for years of experience, region of the country, and whether one lives in an urban or rural area. In fact, since 1979, the gaps between black and white workers have grown the most among workers with a bachelor's degree or higher—the most educated workers" (original study).
Gaia
"Rift Speeds Up Across Antarctic Ice Shelf" [Climate Central]. "[In August,] satellites could once again peer at a rift that has been wending its way across the white expanse of the Larsen C Ice Shelf on the eastern side of the Antarctic Peninsula. To the surprise of scientists, satellite images revealed that the fissure had grown by about 13 miles over just a few months — much faster than its previous pace… For now, none of the scientists who are keeping a close eye on Larsen C expect it to go the way of Larsen A or B anytime soon." So, optimism!
"A global agreement to reduce greenhouse-gas emissions is all but certain to enter into force in November, after European Union environment ministers agreed on Friday to speed up the bloc's ratification of the agreement" [Wall Street Journal, "Paris Climate Deal Seen Taking Force This Year as EU Speeds up Ratification"].
"Unexpected rewards induce dopamine-dependent positive emotion–like state changes in bumblebees" [Science]. " Our findings present a new opportunity for understanding the fundamental neural elements of emotions and may alter the view of how emotion states affect decision-making in animals."
Imperial Collapse Watch
"Obama Worries Future Presidents Will Wage Perpetual, Covert Drone War" [The Intercept]. Help me.
Class Warfare
"Consider today's leading tech companies: Google, Amazon, Facebook, Microsoft and Apple. They are not stuck in silos or hemmed in by a single business model. Instead, they compete intensely among themselves" [Hal Varian, Financial Times, "No hope of a quiet life in the age of disruption"]. Well, except when they form an illegal wage-fixing cartel. But "The writer is chief economist at Google," so what do I know?
News of the Wired
"How it feels to learn JavaScript in 2016" [Hackernoon]. Must-read for the techie portion of our commentariat.
* * *
Readers, feel free to contact me with (a) links, and even better (b) sources I should curate regularly, and (c) to find out how to send me images of plants. Vegetables are fine! Fungi are deemed to be honorary plants! See the previous Water Cooler (with plant) here. And here's today's plant (AB):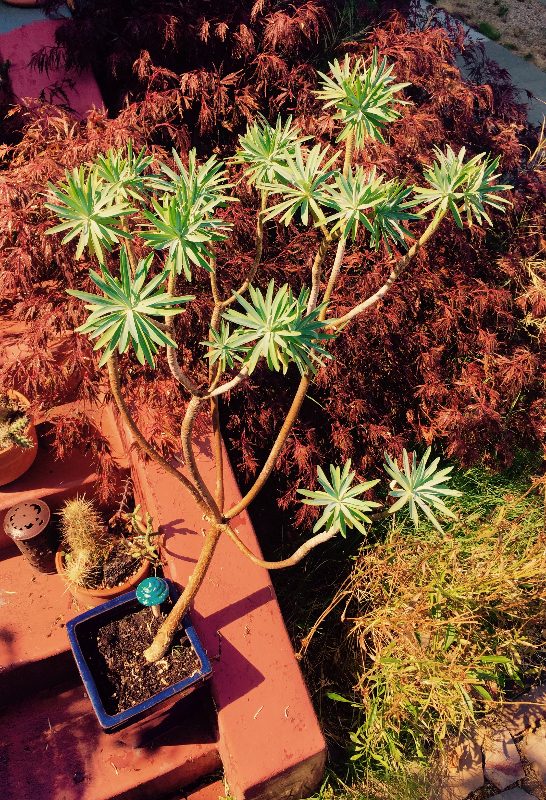 AB writes: "This plant was given to us by a neighbor who moved away but we neglected to ask for an identification. We just call it a Dr. Seuss tree. Could you ask your readers what it is?"
Readers, yellow waders don't come cheap. Please use the dropdown to choose your contribution, and then click the hat! Your tip will be welcome today, and indeed any day. Water Cooler will not exist without your continued help.
Readers, I am behind in answering contact form mail. I will catch up soon, beginning now!