By Lambert Strether of Corrente.
Readers, this is a little bit lighter than it should be. I'm fighting a cold. –lambert
TPP/TTIP/TISA
"The prospects for congressional approval of the Trans-Pacific Partnership are more unlikely than ever, but that's not stopping the Obama administration from proceeding as if the deal won't eventually be implemented. Officials from the U.S. Trade Representative's office and other agencies have traveled to Brunei, Malaysia, Singapore and Vietnam in recent weeks, to get those governments up to speed on implementing TPP provisions on intellectual property, labor, environment, customs, sanitary and phytosanitary measures, service, financial services and state-owned enterprises, USTR spokesman Matt McAlvanah told Politico" [Politico]. Junkets? Zombies? Something up Obama's sleeve?
2016
Days until: 37.
Debate Wrapup
Next presidential debate: Sunday, October 9.
The Voters
2012: Final polling data had Obama by +3.9. Electoral college results were Obama 332, Romney 206.
Downballot
"Paul Ryan plans a 17-state blitz across the country this month to stump for Republicans down the ballot, but it's unclear whether that campaigning will extend to presidential nominee Donald Trump" [RealClearPolitics].

"Did We Overestimate Donald's Drag On Republicans In The Senate?" [Talking Points Memo]. "TPM"s Senate Scoreboard at the end of last week showed Democrats with 49 seats going their way and Republicans with 48. Three seats – Missouri, North Carolina and New Hampshire–were listed as toss ups."

Missouri: "Standing in an empty warehouse, while blindfolded, [Democrat Senate challenger Jason] Kander deftly assembles an AR-15 rifle — as he talks about his support for both the Second Amendment and background checks on gun buyers. And he mentions his service in Afghanistan, too" [Cincinnati.com]. I take it that Kander won't be engaging in any sit-ins on the Senate floor?

UPDATE North Carolina: "This election, in a lot of ways, [Chris Cooper, a political science professor at Western Carolina University] says, will be 'a referendum in North Carolina about the Republican brand.' That may hurt [Republican incumbent Richard] Burr in a state where many are unhappy with the Republican takeover of the state legislature and the passage of the controversial and economically damaging House Bill 2, which requires transgendered people to use a bathroom consistent with their birth sex" [Citizen-Times]. "[Democrat challenger Deborah] Ross, a 53-year-old Raleigh lawyer and former instructor at Duke University, certainly hopes to capitalize on any backlash against that Republican brand, and in late September she pulled even with Burr in political polling. She served in North Carolina's state House from 2003-13, and before that was the executive director of the American Civil Liberties Union of North Carolina."

UPDATE New Hampshire: "Sen. Kelly Ayotte (R-N.H.) and Gov. Maggie Hassan (D) will battle in a pivotal debate Monday that could go a long way toward deciding their tight Senate race — and which partywill control the majority" [The Hill]. "Ayotte and Hassan are in a virtual tossup race, with several recent surveys flipping the leadbetween the candidates by only a few points."
Realignment
"[T]he Clinton operation has done minimal outreach to the organizers who actually helped facilitate Sanders' breakthrough electoral performance. One former senior Sanders staffer who requested anonymity recounted applying to the Clinton campaign for a position at the urging of Democratic operatives, only to be unceremoniously rebuffed at both the state and national level" [Daily Beast]. "Van Auken and others identified as a prime culprit for their continuing disaffection the convention "whips" deployed to quell protest activity among the various delegations. Numerous members of the New York Sanders contingent characterized the behavior of these whips — who sported bright yellow visibility jackets — as ranging from moderately officious to aggressively hostile. One particular whip would snap ostentatious smartphone photos of Sanders supporters who were insufficiently compliant." Because, ya know, it's all about love, inclusiveness, the "conversation"….

"If you liked the dysfunction, gridlock and petulance of the 114th Congress, then you are going to love what's in store for the 115th Congress" [The Hill]. "Now, some surprising news for Team Trump: It will be much the same for them if he wins. Even with total GOP control of the Senate, the House and the White House, President Trump is likely to face pure obstruction from Capitol Hill. The reason is simple: Trump has broken with years of conservative Republican orthodoxy on free trade, military interventionism, U.S. participation in NATO and, recently, paid maternity leave. Trump's positions on these and many other issues are anathema to everything McConnell has said he believed throughout his political career." And gridlock is better than so many of the alternatives.
The Trail
"Did Marla Maples Leak Her Own Tax Returns?" [Medium]. Speculating very freely: "While the first pages of his Connecticut and New York tax returns don't require a signature, the first page of the New Jersey non-resident tax returns do require a signature, and there is a "Sign-Here" signature flag made by the post-it company pointing to a space for Ms. Maples signature. Now, this doesn't mean definitively that the return was leaked by Ms. Maples but it does raise questions." Readers?

"Trump Foundation Ordered by New York AG to Stop Fundraising" [NBC News]. Eric Scheiderman is good for something, I guess.
Stats Watch
Gallup US Consumer Spending Measure, September 2016: "Americans' daily self-reports of spending averaged $91 in September for a second month, but the highest average for the month since 2008. The stability in September comes after wide swings during the summer months" [Econoday]. "By contrast, in the four years prior, which included part of the Great Recession and periods of high unemployment that ensued, monthly spending averages were as low as $58 and never above $77. American consumers this year avoided the September slump in spending typically seen in recent years."
Purchasing Managers' Manufacturing Index, September 2016: "[A]nother slow month" [Econoday]. "New orders slowed to the weakest growth rate of the year while export sales contracted for the first time in four months which the report ties to strength in the dollar. Production slowed to a 3-month low, hiring during the month was soft, and the sample continues to cut inventories which indicates lack of confidence in the business outlook."
Institute For Supply Management Manufacturing Index, September 2016: "August proved to be a one-month letdown for ISM's manufacturing sample as the September index bounced more than 2 points higher" [Econoday]. "New orders are the most important of all readings and they lead the September report." And: "The September PMI release breathes a sigh of relief to growth concerns given the survey's abrupt deterioration in August. Besides the headline index, the details were broadly supportive of continued expansion in manufacturing activity and suggests that the August drops were likely a blip. Nine of the 18 industries reported an increase in new orders in September (up from six in August), and 10 of the 18 industries saw an increase in production in September (up from eight in August)" [TDSecurities, Across the Curve]. But: "There is nothing in the ISM or Markit reports that would leave one to think manufacturing is on the mend" [Econintersect].
Motor Vehicle Sales, September 2016: "August relative to July was a weak month for unit vehicle sales but September so far is looking solid relative to August, running at roughly a 13.8 million annualized rate for North American-made models vs August's 13.4 million" [Econoday]. "Unit vehicle sales have been trending at a solid 17 million annualized rate all year but have not been accelerating."
Construction Spending, August 2016: "Multi-family units are just about the only strength in what is a weak construction spending report for August" [Econoday]. "Strength here reflects expectations of strength for the rental market."
Housing: I like to think of real estate as a massive cruise ship. To turn a ship from its current course takes a lot of time. And also, like a cruise ship, people get lazy and simply follow the herd and eat themselves into a coma of nonsensical information" [Dr. Housing Bubble]. "At this point, it is safe to say that the previous bubble is a long gone memory for most. All those "losers" that lost their homes simply did not have the winning formula. And here is the thing, say you bought a home for $600,000 and it is now worth $800,000. You only get that money when you close escrow and tap the money out. The chart is interesting because it still shows room to go for some markets. So do you buy based on this? Jump on the cruise ship before heading back to port?" And see the chart, which is granular and well laid out, at least.
Shipping: "Our day trip affirmed what many, especially those at UPS, already know: Its drivers are the face of the company. They do more than pick up and deliver packages. They interact, answer questions, and field complaints. They project the brand's image to the outside world. That is why for all of the company's whiz-bang technology and all the talk about autonomous vehicles, UPS will continue to rely on human drivers to manage its routes, and its customers, for years to come" [DC Velocity].
GDP: "The Atlanta Fed forecast for Q3 GDP growth is now at 2.2 percent. That is down from an estimate of about 3.7 percent at the start of the quarter" [Across the Curve].
The Bezzle: "Stratfor: The Hype About the Hyperloop" [Fabius Maximus].
Today's Fear & Greed Index: 42 Fear (previous close: 46, Neutral) [CNN]. One week ago: 43 (Neutral). (0 is Extreme Fear; 100 is Extreme Greed). Last updated Oct 3 at 12:52pm.
Class Warfare
"The Rise and Nature of Alternative Work Arrangements in the United States, 1995-2015 (PDF) [Lawrence F. Katz and Alan B. Krueger, NBER]. "The percentage of workers engaged in alternative work arrangements – defined as temporary help agency workers, on- call workers, contract workers, and independent contractors or freelancers – rose from 10.1 percent in February 2005 to 15.8 percent in late 2015. The percentage of workers hired out through contract companies showed the sharpest rise increasing from 0.6 percent in 2005 to 3.1 percent in 2015. Workers who provide services through online intermediaries, such as Uber or Task Rabbit, accounted for 0.5 percent of all workers in 2015."
"Soap Operas and Fertility: Evidence from Brazil" (PDF) [Eliana La Ferrara, Alberto Chong, and Suzanne Duryea, Inter-American Development Bank]. "This paper estimates the e§ect of television on fertility choices in Brazil, where soap operas portray families that are much smaller than in reality. We exploit differences in the timing of entry into di§erent markets of Rede Globo, the main novela producer. Using Census data for 1970-1991, we found that women living in areas covered by Globo have significantly lower fertility. The effect is strongest for women of lower socioeconomic status and for women in the central and late phases of their fertility cycle, consistent with stopping behavior."
News of the Wired
"The strange, rare medical condition that leads people to insist they don't actually exist" [Quartz]. "Though it's undeniably horrific for those experiencing it, Cotard's Syndrome presents a fascinating conundrum for those studying the disorder. The condition's central contradiction—how can someone articulate the thought that they don't exist?—raises questions and potential answers about how human self-awareness works."
"Brace yourselves: Source code powering potent IoT DDoSes just went public" [Ars Technica].
* * *
Readers, feel free to contact me with (a) links, and even better (b) sources I should curate regularly, and (c) to find out how to send me images of plants. Vegetables are fine! Fungi are deemed to be honorary plants! See the previous Water Cooler (with plant) here. And here's today's plant: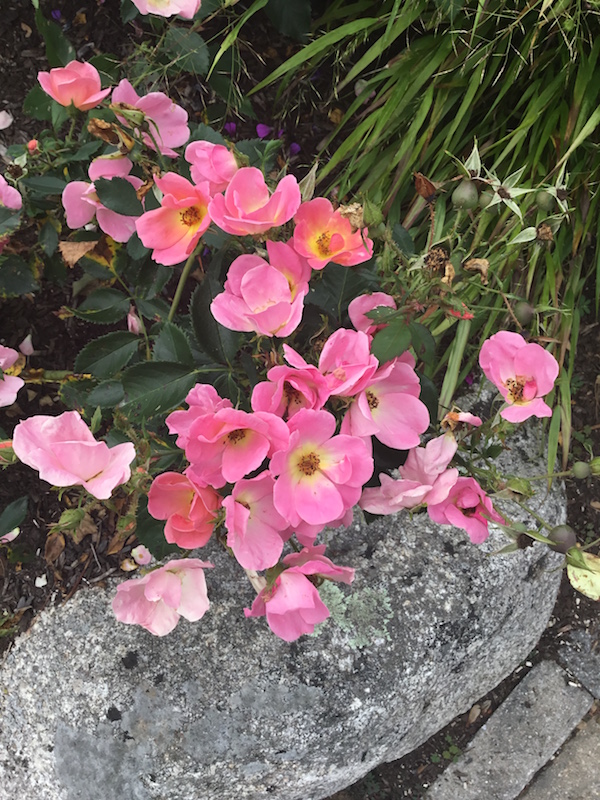 From the Coastal Maine Botanical Gardens.
Readers, yellow waders don't come cheap. Please use the dropdown to choose your contribution, and then click the hat! Your tip will be welcome today, and indeed any day. Water Cooler will not exist without your continued help.
Readers, I am behind in answering contact form mail. I will catch up soon, beginning now!