By Lambert Strether of Corrente.
TPP/TTIP/TISA
"The top trade negotiators involved in the Trade in Services Agreement (TiSA) will meet in Washington later this month to review their latest market access offers and prepare the groundwork for a final deal in December" [Bloomberg]. "The high-level meeting follows a successful September negotiating round and recent signals from Washington that a TiSA deal could be forged before the end of the year." Yikes! Dark horse coming up on the outside!
"TTIP AG TALKS SET TO DRIFT: The U.S. summarily rejected a European Union request for three days of agriculture talks at this week's Transatlantic Trade and Investment Partnership round, further indicating that political uncertainty has limited what either side is able to discuss in the negotiations, sources close to the talks say" [Politico].
"'I think we can get there,' Lew said, referring to a vote on the Asia-Pacific pact. He argued that voting for TPP should be easier than voting for last year's Trade Promotion Authority bill because it has tangible benefits that will grow the economy. He said current voter angst is not due to TPP itself but rather to other domestic needs that the government has not adequately addressed" [Politico]. "'If we were investing more in infrastructure, which I believe we should, if we were investing more in education and training and in child care, I'm not so sure we'd be in the same place,' Lew said." I think "hysteresis" is the word for the fact that you can't reverse a 40-year screw job handwaving about a policy pivot. And whenever you hear a liberal use the word "smart," get your back against the nearest wall.
"The American Brexit Is Coming" [James Stavridis, Foreign Policy]. "The case for the TPP is economically strong, but the geopolitical logic is even more compelling. The deal is one that China will have great difficulty accepting, as it would put Beijing outside a virtuous circle of allies, partners, and friends on both sides of the Pacific. Frankly, that is a good place to keep China from the perspective of the United States…. Over 2,500 years ago, during the Zhou dynasty, the philosopher-warrior Sun Tzu wrote the compelling study of conflict The Art of War. There is much wisdom in that slim volume, including this quote: "The supreme art of war is to subdue the enemy without fighting." The United States can avoid conflict best in East Asia by using a robust combination of national tools — with the TPP at the top of the list. Looking across the Atlantic to the Brexit debacle, we must avoid repeating the mistake in the Pacific." And we get?
"12 U.S. Senators Outline TPP's Fundamental Flaws, Tell President Obama it Shouldn't Be Considered Until Renegotiated" (PDF) [Public Citizen]. Brown, Sanders, Blumenthal, Merkley, Franken, Markey, Schatz, Casey, Warren, Whitehouse, Hirono, and Baldwin call for renegotiation. "It is simply not accurate to call an agreement progressive if it does not require trading partners to ban trade in goods made with forced labor or includes a special court for corporations to challenge legitimate, democratically developed public policies."
"The way ahead" [Barack Obama, The Economist]. "Lifting productivity and wages also depends on creating a global race to the top in rules for trade. While some communities have suffered from foreign competition, trade has helped our economy much more than it has hurt. Exports helped lead us out of the recession. American firms that export pay their workers up to 18% more on average than companies that do not, according to a report by my Council of Economic Advisers. So, I will keep pushing for Congress to pass the Trans-Pacific Partnership and to conclude a Transatlantic Trade and Investment Partnership with the EU. These agreements, and stepped-up trade enforcement, will level the playing field for workers and businesses alike." I should really get out my Magic Marker's for this one.
2016
Days until: 31.
Debates
UPDATE Sunday, October 9, 9PM EDT, Washington University, St. Louis. [Wall Street Journal]. Town Hall format. Gotta pull my yellow waders out of the autoclave, I guess.
Policy
"The puzzle that is currently frustrating the pundit minds of America is this: why is Hillary Clinton not simply clobbering Donald Trump? How is this ranting, seething buffoon still competitive with her?" [Thomas Frank, Guardian]. "As a beloved figure among Democrats, for example, Obama was instrumental in securing the nomination for her. As a president who has accomplished little since 2011, however, Obama has pretty much undermined Clinton's ability to sell us on another centrist Democratic presidency. His legacy has diluted her promise…. Or take this headline from just a few days ago: "Clinton promises to hold Wells Fargo accountable". Go get 'em, Hillary! To see a president get tough with elite bankers and with CEOs in general – that's something we can all cheer for. But then that nagging voice piped up again: if Democrats think it is so critical to get tough with crooked banksters, why oh why didn't Barack Obama take the many, many opportunities he had to do so back in the days when it would have really mattered?" And:

The larger problem facing them is the terminal irrelevance of their great, overarching campaign theme. Remember the "man from Hope"? "Hope is on the way"? "Keep hope alive"? Well, this year "hope" is most assuredly dead. Thanks to Obama's flagrant hope-dealing in the dark days of 2008 – followed up by his failure to reverse the disintegration of the middle class – this favorite Democratic cliché has finally become just that: an empty phrase. Today as the Democrats go into battle against Trump, they find that their rallying cry has lost its magic. Hillary is discovering how difficult it is to win an election without hope.

Abandon hope, all ye of #ImWithHer… And again–

"For Young Voters, 'Hope and Change' Is Dead" [Molly Ball, The Atlantic]. Donald Trump: "evil," "bully," "bigot," "misogynist." Hillary Clinton: "shady," "corrupt," "liar," "untrustworthy." "The prevailing sentiment was one of grudging capitulation to a Clinton vote." The 2020 primary begins on November 9. not that there's anything wrong with that.
War Drums
"Once lauded as a peacemaker, Obama's tenure fraught with war" [AP]. I wonder if Clinton will get a Nobel Peace Prize, too?
The Voters
"Let's start with the caveats: A lot can hap­pen in the 34 days be­fore the elec­tion. The polls are not as re­li­able as they used to be. People act in un­pre­dict­able ways in the polling booth. All that said, this race has fallen in­to a fairly pre­dict­able pat­tern. When Don­ald Trump veers off mes­sage and Hil­lary Clin­ton per­forms well, her lead swells to 6, 7, or 8 points. When Trump sticks to his script and Clin­ton goes through a bumpy patch as she did with her bout of pneu­mo­nia, her edge drops down to 1 or 2 points, and some­times she winds up dead even. Most of the time, Clin­ton is up by 3 to 5 points" [Cook Report].

"He'll likely lose – but Trump is the final warning to elites" [John Ibbotson, Globe and Mail]. " Let's go back to asking: Will it play in Peoria? And if it won't, then let's think about that before we push ahead. Because you really, really don't want to see what comes after Donald Trump."

"Hillary Clinton is a 68-year-old woman. And plenty of people hate her for it" [WaPo]. Which totally explains the Elizabeth Warren phenomenon.

"But for all Trump's many faults and flaws, he saw things that were true and important—and that few other leaders in his party have acknowledged in the past two decades" [David Frum, The Atlantic].

Trump saw that Republican voters are much less religious in behavior than they profess to pollsters. He saw that the social-insurance state has arrived to stay. He saw that Americans regard healthcare as a right, not a privilege. He saw that Republican voters had lost their optimism about their personal futures—and the future of their country. He saw that millions of ordinary people who do not deserve to be dismissed as bigots were sick of the happy talk and reality-denial that goes by the too generous label of "political correctness." He saw that the immigration polices that might have worked for the mass-production economy of the 1910s don't make sense in the 2010s. He saw that rank-and-file Republicans had become nearly as disgusted with the power of money in politics as rank-and-file Democrats long have been. He saw that Republican presidents are elected, when they are elected, by employees as well as entrepreneurs. He saw these things, and he was right to see them.

"There are three consistent features to all of conservative talk radio: Anger, Trump, and ads targeting the financially desperate. The ads are a constant. Ads protecting against coming financial crisis (Surprise! It is Gold.) or ads that start, "Having trouble with the IRS?" The obvious lessons being 1) Lots of conservative talk radio listeners are in financial distress. 2) They are willing to turn to scams. Turning to scams kind of generally follows being in financial distress. But why? Well, desperation, duh" [Chris Arnade, Medium]. "And many Trump voters are angry (often rightfully), often desperate, people. And like Lotto buyers, they ain't stupid, they just don't have many options."
Swing States
"Even in more populous areas of the state, like southeast Pennsylvania, Trump's ground game has been invisible." [RealClearPolitics]. Not that Pennsylvania is actually in play…
Downballot
"Right now the Sen­ate still looks 50-50, give or take a seat, with the edge go­ing to the party that wins the White House be­cause the vice pres­id­ent gets to break tie votes" [Cook Report]. Sounds like gridlock to me!
Democrat Email Hairballs
"Wikileaks' Julian Assange to release 'significant' documents on US election, Google, arms trading over next 10 weeks" [International Business Times]. Oh, not the next 31 days?
Stats Watch
Employment Situation, September 2016: "The September employment report is not that strong and the sigh of relief you hear is coming from the Fed which won't be faced with a pre-election rate hike" [Econoday]. "Non-farm payrolls rose 156,000, which is at the low end of expectations, while average hourly earnings don't look that inflationary, at least not on a monthly basis which is up only 0.2 percent and again at the low end of expectations. But there are definitely positives including a rise in the labor participation rate, up 1 tenth to 62.9 percent, which gave a deceptive lift to the unemployment rate that is 1 tenth higher at 5.0 percent. The increasing inclusion of discouraged workers is one of the Fed's policy objectives and the participation rate points to improvement. Another positive is a rise in the workweek, up to 34.4 hours from 34.3 hours with the manufacturing week also slightly higher in what is a positive indication for September industrial production." And: "The BLS job growth again was ok, not excellent" [Econintersect]. "[T]hat the household survey added 444,000 to the workforce (which is the reason the unemployment rate grew). There was really nothing good or nothing really terrible – although manufacturing declined." And: "another decent report" [Calculated Risk]. So, meh. And now, let the "Best Economy EVAH!" spinning begin! Right on cue: "[T]he state of the economy isn't really the focus of this race because the economy is largely, finally, healed from the 2008 recession" [Neil Irwin, New York Times]. With median income still below 2007 levels, Neil? And how about making people whole for the damage they suffered? Pull the other one. It's got bells on!
Wholesale Trade, August 2016 (final): "The nation's inventories, thanks to tight management, are lean which may be a negative for current GDP growth but is unquestionably a positive for future growth and, more importantly, future employment growth." [Econoday]. "August's draw comes at the same time that sales at the wholesale rose very sharply, up 0.7 percent to pull down the stock-to-sales ratio to 1.33 from 1.34." But: "We continue to be mystified in the wobble in this data set – there is something wrong with either data collection or methodology. This sector improved significantly this month but the rolling averages are marginally in a recession. The big growth this month came from chemicals and drugs – go figure!" [Econintersect].
Rail: "If coal and grain are removed from the analysis, rail has recently been declining around 5% – but this week was -3.5%. Under normal circumstances one should consider this recessionary as trucking tonnages are down also. This also correlates to the contraction in manufacturing and the wholesale sectors – so rail is not an outlier" [Econintersect]. "It does appear that the downward slide in the one year rolling averages will pause shortly as the rate of increase in the rate of decline is continuing to be smaller. But this movement is like watching snails race."
Shipping: "August was the busiest month ever on the transpacific trade, after liner operators shifted a record 1.7m teu.According to the latest figures published by Container Trades Statistics, volumes between Asia and North America climbed 9% year on year" [Lloyd's List].
Shipping: "The [International Civil Aviation Organization] aviation pact will cap carbon-dioxide emissions from international flights at 2020 levels, and become mandatory in 2027" [Wall Street Journal]. "The limits may prove especially costly to the segment of the international air freight business that depends on older and reconditioned aircraft, and used jets that emit more pollutants are likely to slide in value if they fall behind the global standards.
Oil: "Signs of recovery have appeared in the U.S. energy sector over the past quarter, most notably in the Permian Basin, where drilling activity picked up modestly and oil production appears to have bottomed out. A significant rebound in U.S. drilling activity requires more time, however, as oversupply persists in the oil market and prices remain below $50 per barrel" [Federal Reserve Bank of Dallas]. Drilling activity is not the same as oil capex, though…
Oil: "here were some actual advances in the shale drilling world that worked in favor of frack sand suppliers. Producers found that drilling longer horizontal sections of a well along with using more sand per foot of horizontal well would drastically improve well economics. As a result, the amount of sand used per well has increased dramatically. According to a recent investor presentation from Emerge, the average amount of sand used per well has increased two to three times depending on the shale basin. It also helps that rigs have become much more efficient at drilling wells, so it takes fewer rigs to drill the same amount of wells today than it did several years ago" [Motley Fool]. "All of these things should bode well for sand suppliers. What had been holding these companies back from generating profits, though, was that the total amount of drilling and, more importantly, well completion activity declined so much that it offset the per well gains." Google turns up a few recent CraigsList ads for frack sand drivers, but no news of big frack sand trains (2015).
Housing: "Camping World Holdings Inc. (NYSE: CWH) entered the market on a positive note for its initial public offering" [24/7 Wall Street]. "This company is the only provider of a comprehensive portfolio of services, protection plans, products and resources for recreational vehicle (RV) enthusiasts. Roughly 9 million households in the United States own an RV, and of that installed base, Camping World has approximately 3.3 million active customers. The company generates recurring revenue by providing RV owners and enthusiasts the full spectrum of services, protection plans, products and resources that it believes are essential to operate, maintain and protect their RV and to enjoy the RV lifestyle."
Concentration: "How Big Pharma's Shadow Regulation Censors the Internet" [EFF]. " where industry can't get government to regulate the Internet in the way they want, they frequently turn to private deals with Internet intermediaries that we've termed Shadow Regulation." In this case, to prevent cross-border Internet orders of lower-priced drugs.
Political Risk: "Global finance ministers and central bankers are descending on Washington this week with a central concern in mind: fear that the modern age of globalization is hitting a wall" [Wall Street Journal, "Globalization Hits the Skids"]. "International trade this year will grow at the slowest pace since 2007, according to the World Trade Organization, which has slashed its forecast for growth in global trade volumes to 1.7% in 2016 from a previous estimate in April of 2.8%. Imports among the world's 20 largest economies have fallen as a share of their gross domestic product for four consecutive years, and growth in demand for shipping containers fell to 4% this year after four decades of double-digit expansion."
The Fed: "Despite some headlines to the contrary, September's jobs report does not support raising rates in December. If anything, it makes a good case against a hike. Of course, if the Fed is determined, they can always do it anyway, but there's not much here to support tightening" [FTN Financial, Across the Curve]. "Job growth was strong enough to justify a rate hike, but the logic of rate hikes is to slow the economy enough to prevent job growth from exceeding labor force growth. Since that clearly is not happening, there is no reason to hike. As the above chart clearly shows, the unemployment rate is not falling."
Today's Fear & Greed Index: 51 Neutral (previous close: 52, Neutral) [CNN]. One week ago: 51 (Neutral). (0 is Extreme Fear; 100 is Extreme Greed). Last updated Oct 7 at 12:46pm. All the leaves are brown (all the leaves are brown) and the sky is grey (and the sky is grey)…
Dear Old Blighty
"Government bars foreign academics from advising on Brexit" [Guardian].
And then there's this:
UK Government has just started asking schools to find out which of their students were born abroad and what their nationality. pic.twitter.com/2b3m20o8OW

— Charles Kenny (@charlesjkenny) October 6, 2016
The 420
"Drug cops raid an 81-year-old woman's garden to take out a single marijuana plant" [WaPo]. "She hadn't tried to get a medical marijuana card, because of the challenges of getting a doctor's approval, she told the Daily Hampshire Gazette. And traveling to the dispensary in the next town over and paying for marijuana grown by someone else would be too costly, she feared."
"California marijuana legalization faces unlikely foe: growers" [Reuters]. "Growers would face tax bills and the expense of improving their farms' ecological footprints to meet environmental regulations. And, after a five year grace period, industrial-sized farms would be allowed, a prospect that is expected to attract corporate agriculture." There you have it. IMNSHO, corporate marijuana should be banned. The money should stay local.
Health Care
"For years, wealthy nursing home operator Philip Esformes seemed to live in perpetual motion, using private jets to travel between his Water Tower Place condominium and his mansions in Miami and Los Angeles" [Chicago Tribune]. "Now federal authorities are applying extraordinary court pressure to keep Esformes locked in a Florida detention cell where he awaits trial for allegedly orchestrating an unprecedented $1 billion Medicaid and Medicare bribery and kickback scheme." Nursing homes. Dreadful.
Gaia
A bright spot:
Half of people in China willing to trade economic growth for clean air pic.twitter.com/SVKTQ1Bm7P

— Pew Research Center (@pewresearch) October 6, 2016
Our Famously Free Press
"Oil and gas industry officials and regulators looking to influence media coverage of fracking, a controversial method for extracting natural gas, have received advice from someone who really knows how newsrooms work: a former Denver Post investigative reporter" [HuffPo]. "Karen Crummy, the onetime reporter, moved on to a new role as spokeswoman for two pro-fracking groups in Colorado. This past May, when industry insiders gathered in a Denver Marriott ballroom for a meeting of the Interstate Oil and Gas Compact Commission, she offered suggestions on how to discredit her former colleagues: Dig into their pasts, call them out on social media and complain to their editors."
Guillotine Watch
"'Many people in Silicon Valley have become obsessed with the simulation hypothesis, the argument that what we experience as reality is in fact fabricated in a computer,' Tad Friend wrote in the New Yorker piece. 'Two tech billionaires have gone so far as to secretly engage scientists to work on breaking us out of the simulation'" [Mic]. In other words, ginormous capital investment decisions affecting the world's economy are being made by lunatics with far too much time on their hands, and much more money than sense.
Class Warfare
"Facing up to income inequality" [Jeffrey Sachs, Boston Globe]. "While household median incomes have stagnated since the late 1990s, the inflation-adjusted earnings of poorer households have stagnated for even longer, roughly 40 years. Meanwhile, households at or near the top of the income distribution have enjoyed sizeable increases of living standards. The result is a stark widening of the gap between rich and poor households." Bears repeating, especially in light of Obama's drivel in The Economist. "Twenty-eight countries in the Organization for Economic Cooperation and Development have lower inequality of disposable income than the United States, even though these countries share the same technologies and compete in the same global marketplace as the United States. These income comparisons underscore that America's high inequality is a choice, not an irreversible law of the modern world economy."
Sachs is at Columbia now, but….
Harvard, In Theory and Practice https://t.co/XTzcmqSwLW

— corey robin (@CoreyRobin) October 6, 2016
"Remarkable Admission On Fiscal Policy" [The Case for Concerted Action]. "There's a paper by Jason Furman who is the Chairman of the Council of Economic Advisers which concedes how wrong economists were on fiscal policy. The link is a file hosted at the White House's website!" Eight years later… the best and the brightest discover that fiscal policy matters. Too bad they can't unsh*t the bed on Obama's deficit reduction, eh?
News of the Wired
"The "monetisation" strategy that emerged during [the two-day Ultra-Broadband Forum (UBBF) held in Frankfurt]—ubiquitous streaming of 4K and then 8K videos—continues an existing trend of turning the Internet into little more than a way of delivering TV" [Ars Technica]. "The more television takes over the Internet, the more companies and open source projects will be under pressure to accept yet more restrictions on what browsers can do. And with EME DRM firmly in place for video, it is a very small step to requiring it for audio and even Web pages." And then there are the IoT botnets, about which the industry is fervently burying its head in the sand.
"Messy people are tapping into a kind of genius the tidy don't understand" [Quartz].
Alert reader Bob suggests some Brazilian music:
Mariana Aydar – Casa de Marimbondo.
* * *
Readers, feel free to contact me with (a) links, and even better (b) sources I should curate regularly, and (c) to find out how to send me images of plants. Vegetables are fine! Fungi are deemed to be honorary plants! See the previous Water Cooler (with plant) here. And here's today's plant: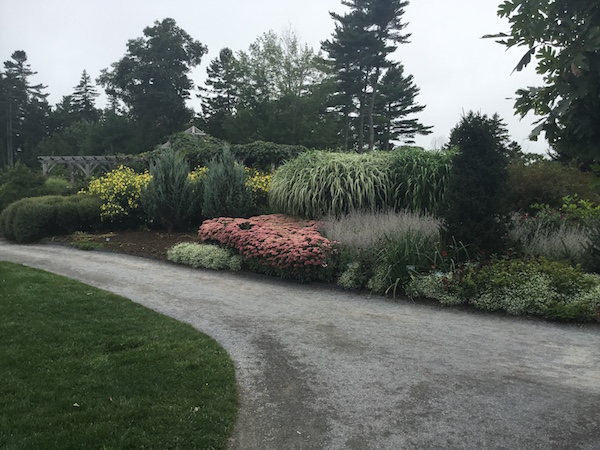 A pleasing vista, from the Coastal Maine Botanical Gardens.
Readers, yellow waders don't come cheap. Please use the dropdown to choose your contribution, and then click the hat! Your tip will be welcome today, and indeed any day. Water Cooler will not exist without your continued help.
Readers, I am behind in answering contact form mail. I will catch up soon, beginning now!