This is Naked Capitalism fundraising week. 712 donors have already invested in our efforts to combat corruption and predatory conduct, particularly in the financial realm. Please join us and participate via our donation page, which shows how to give via check, credit card, debit card, or PayPal. Read about why we're doing this fundraiser, what we've accomplished in the last year, and our third goal, well-deserved bonuses for our guest writers.
Macroeconomic Research After the Crisis Janet Yellen, Board of Governors of the Federal Reserve (speech). "Prior to the financial crisis, these so-called representative-agent models were the dominant paradigm for analyzing many macroeconomic questions. However, a disaggregated approach seems needed to understand some key aspects of the Great Recession." Reminds me of William Goldman's quote on Hollywood: "Nobody knows anything." Readers, what do you think of Yellen's speech?
Lack of new blood casts doubt over Wells Fargo's change plan Reuters. Maybe they should ask Peter Thiel?
Stock Prices Under Threat as Global Trade Becomes a Pariah WSJ
Will Italy Leave the EU? Follow the Money Bloomberg
Euro 'house of cards' to collapse, warns ECB prophet Ambrose Evans-Pritchard, Telegraph
Brexit
UK looks at paying billions into EU budget after Brexit FT. "Plan would let finance sector keep single-market access." That should go over big in the Midlands. "'We would have to be careful how we explained it,' said one minister." I'll bet!
Big Winner From London's Brexit Exodus Isn't Even in Europe Bloomberg
Brazil May Be About to Give Up its Financial Sovereignty The Minskys
Signs of dissent, desperation amid food shortages and rising prices in Egypt AFP
China's Bad Credit Bloomberg
Syraqistan
Iraq launches Mosul offensive to drive out Islamic State Reuters

Hiding US Role in Yemen Slaughter So Bombing Can Be Sold as 'Self-Defense' Common Dreams
Health Care
I am a Terrible Doctor; and I'm Proud of it Musings of a Dinosaur

Feds scale back tool for narrow provider networks on HealthCare.gov MedCityNews. Pathetic:

Earlier this year, the federal government said that it would introduce a tool this fall to help consumers who are shopping on HealthCare.gov gauge how narrow a plan's provider network is compared with others in the area.

But most consumers who want that information will have to wait at least another year. The Department of Health and Human Services recently announced that the pilot project to test the network breadth tool just got a little, well, narrower.

Consumers can already check whether specific doctors or hospitals are included in a marketplace plan's provider network on HealthCare.gov. But there's currently no way to easily measure the breadth of a plan's provider network. This can be an important factor for some consumers, especially given the growing number of plans with no out-of-network benefits.

The new tool will designate marketplace health plan networks as "basic," "standard" or "broad" based on how they compare with other health plan networks in a county. The label will reflect the availability of three types of providers: primary care, pediatricians and hospitals.

Originally, network-breadth information was going to be available for the 35 states on HealthCare.gov, the federally facilitated marketplace. But in August HHS announced it would make the tool available in just six unnamed states.

In September, HHS said it would shrink the pilot still further, to four states — Maine, Ohio, Tennessee and Texas.
Big Brother Is Watching You Watch
Feds Walk Into A Building. Demand Everyone's Fingerprints To Open Phones Forbes
2016
New polls show tale of 2 races Politico

Analysis: Trump isn't sparking Hispanic registration surge as Dems expected Des Moines Register

Donald Trump Says He Will Win on Surge of Silent Supporters WSJ

Koch Brothers' Network Focusing on GOP Senate, not Trump Fortune

A complete list of women who have accused Trump of sexual assault Slate

How Half Of America Lost Its F**king Mind Cracked. Yes, but which half? Check out the handy map.

The Fury and Failure of Donald Trump Matt Taibbi, Rolling Stone

How Two Newspapers Brought Down Donald Trump Vanity Fair. Another wonderfully clarifying aspect of campaign 2016 has been watching the Jeff Bezos Shopper and The Totally Not Carlos Slim's Playtoy morph into house organs for the Democrat nomenklatura and the oligarchs it services. (Reader Antifa commented in yesterday's links: "Reading that article was like hearing a door closing behind us. We aren't going to go back the way we came." The behavior of the press in this election is another door closing.) And oddly, or not, the article omits all mention of Thomas Frank's "Swat Team: The media's extermination of Bernie Sanders, and real reform," in Harpers. 

Local GOP office in North Carolina firebombed CNN. "A GOP office in Hillsborough, North Carolina, was firebombed overnight, with a swastika and the words "Nazi Republicans get out of town or else" spray painted on an adjacent building, according to local officials." The Clinton campaign reaction:

The attack on the Orange County HQ @NCGOP office is horrific and unacceptable. Very grateful that everyone is safe.

— Hillary Clinton (@HillaryClinton) October 16, 2016

Caveat: No evidence has emerged that the arson was an inside job.

Democrats Raise More Than $13,000 To Rebuild Firebombed GOP Office HuffPo. Caveat as above, but we are to believe that a year's worth of rhetoric that Trump is Baby Hitler had nothing whatever to do with the firebombing, because words have consequences only when the people speaking them aren't wearing your jersey or waving your color of pom poms. Better yet, the liberals use the firebombing as an opportunity for virtue signalling! Because everybody knows that liberals never induce violence and in no way support it (except in Iraq, Honduras, Libya, Syria, and shortly, no doubt, Russia). And wouldn't the money have been better spent on trans organizations in North Carolina, who are at least notionally closer to liberals on policy than the GOP? Classic liberal repressed guilt and bad faith.

Woodward: Hillary Can't Govern Under "Culture Of Concealment," Can't Walk Away From "Trust" Question RealClearPolitics

Break the Silence: Hillary Clinton's Role in the 2009 Military Coup in Honduras Ellin Jimmerson

Hillary Clinton Liked Covert Action if It Stayed Covert, Transcript Shows NYT

New FBI files contain allegations of 'quid pro quo' in Clinton's emails FOX. "Yes, they left the white envelope on the dresser, but they never said what the money was for." So, no quid pro quo. Move along people, move along. There's no story here.

Dems request FBI investigation of Trump campaign links to hacks Politico. Last I checked, and gawd knows I may have missed something, the sources for the Russian hacking claim are all security firms, some with ties to Democrats. Has an government official been willing to go on the record about this?

Haiti and Africa Projects Shed Light on Clinton's Public-Private Web NYT

The world's favorite disaster story Vice

The white flight of Derek Black WaPo. So the humanities are good for something after all… 

The deadly racism of the 'anti-racist' liberal imperialist RT
Guillotine Watch
No three-star restaurants in Washington's first Michelin guide. But these earned two. WaPo. Good to see the imperial capital finally getting its due.
Class Warfare
The Tax Code for the Ultra-Rich vs. the One for Everyone Else James Kwak, The Atlantic

Starving Harvard Hires Scabs to Replace Striking Cafeteria Workers Daily Beast

Millions of Men Are Missing From the Job Market NYT

Germany's Apprenticeship System Comes Under Attack WSJ

The Uber economy looks a lot like the pre-industrial economy Quartz

The hiring game TechCrunch (DK). Now you've got to win a tournament just to get a job.

Google's nit-picky interview process is a huge turnoff for some experienced coders Business Insider (DL).
Eight Cities Have New Co-op-Style Black Worker Centers — and They're Tackling Unemployment Truthout
Factory farming practices are under scrutiny again in N.C. after disastrous hurricane floods WaPo
Hacked by a fridge: The Internet of Things and cyberattacks World Economic Forum
Antidote du jour (via):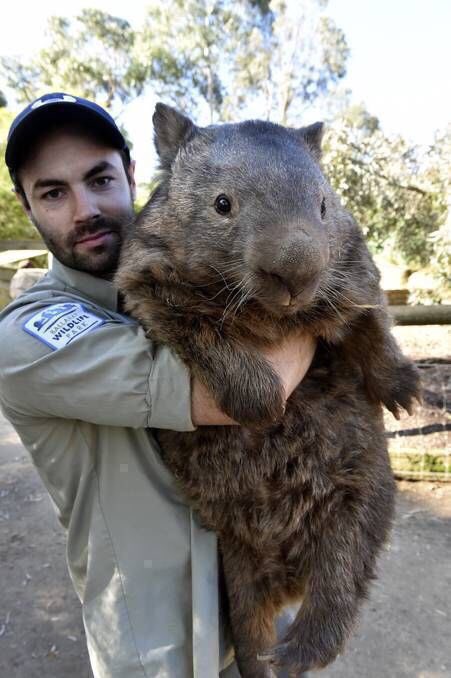 "World's oldest & biggest wombat weighs 40 kilograms & turns 31 years old today. Happy birthday, Patrick."
See yesterday's Links and Antidote du Jour here.