This is Naked Capitalism fundraising week. 922 donors have already invested in our efforts to combat corruption and predatory conduct, particularly in financial realm. Please join us and participate via our Tip Jar, which shows how to give via check, credit card, debit card, or PayPal. Read about why we're doing this fundraiser, what we've accomplished in the last year, and our fourth goal, burnout prevention
Animal Altruism? Psychology Today
Baby elephant is so concerned about her 'drowning' friend CNN
Masking tape saves endangered kiwi in New Zealand BBC
Panama: The Hidden Trillions NYRB
SEC fines Ernst & Young for not spotting client's earnings manipulation Francine McKenna, MarketWatch
Goldman Sachs Profit Climbs as Trading Revenue Surges WSJ
The unwise war against low interest rates Martin Wolf, FT
Summers Urges U.S. to Spend 1% of GDP Annually on Infrastructure Bloomberg. "[Summers] asked how many thought the U.S. should be 'really proud' of [JFK] as a gateway to America's greatest city. The response: no hands, and a lot of laughter."
Apple's Next Goal Is Killing Paper Money Once and For All Fortune
Driverless taxi hits lorry in Singapore trial Phys.org. On the NuTonomy campus with two engineers aboard. Well-played.
Banks adopt blockchain for mortgage valuation system FT
China?
Singapore's $24 Billion Wipeout Eats Into Its Shipyard Base Reuters
Syraqistan
Middle East's Migrant Population More Than Doubles Since 2005 Pew Research. "Regional conflict and economic opportunity boost number of migrants from 25 million to 54 million." Rather a lot.
Germany Struggles to Find United Stance on Russia Der Spiegel
War Drums
Russia Is Preparing For War Ian Welsh
Ecuador admits restricting internet access for WikiLeaks over election meddling Politico
2016
Peter Thiel Shows Us There's a Difference Between Gay Sex and Gay The Advocate
Don't Just Whack Wells Fargo's CEO The American Prospect (Re Silc)
Exclusive: VA shuffles managers, declares 'new leadership' USA Today
A new survey reveals American's top fears, showing our true selves Fabius Maximus
Obama adopts a grand design to shape his legacy WaPo. Obama's already written two autobiographies. Maybe he should write a third? And a fourth?
Health Care
MACRA may be troublesome for some healthcare IT vendors Modern Health Care

Capping Enrollment To Save Minnesota's Individual Market Health Affairs. So much for universality, as discussed here.
Guillotine Watch
One of the most lavish hotel inauguration packages includes a private chef for your dog WaPo
Class Warfare
How MDMA flows across the USA: evidence from price data Journal of Global Crime
Antidote du jour (Mrs. Mop):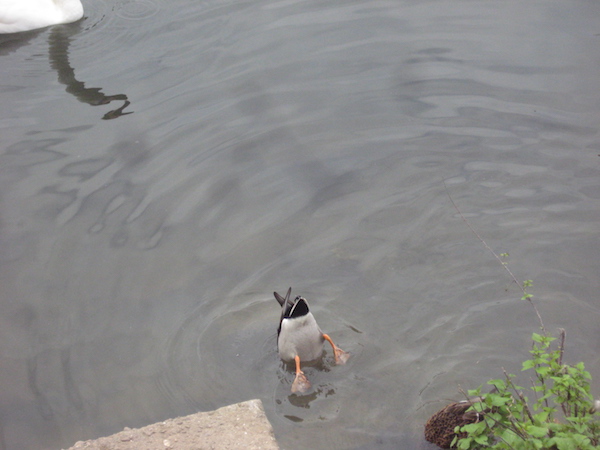 Mrs. Mop writes: "At this time of the year, it seems almost impossible to take some decent pictures of some ordinary ducks, not because there are no ordinary ducks around (there are plenty of them) but because they spend all of their time going up-side-down and showing you their behind and nothing else as if telling you constantly 'duck you' or something similar which rhymes to that, I don't know, well, what the duck, there it goes, see below.
P.S.That dark thing on the top left is the shadow of a curling swan's neck…
… well, and then there was this really beautiful birdy creature, black body, red beak, green legs – what the duck, is this a duck or what?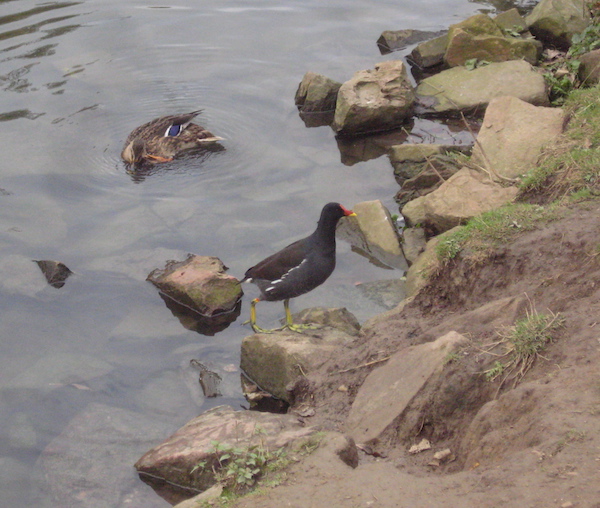 Readers?
See yesterday's Links and Antidote du Jour here.