Dear patient readers, I am leaving it to Lambert to update you on Hurricane Matthew, which is bearing down on Florida in a bad way.
Authorities Urge Florida Residents To Prevent Further Disasters By Finally Standing Up To Hurricane Onion (David L)
Giant Tortoises Happily Consume Pumpkins in Celebration of San Diego Zoo's 100th Birthday Laughing Squid (resilc). Wow, once they figure out how to get into them, the tortoises inhale those pumpkins.
Chimps, bonobos and orangutans grasp how others view the world New Scientist (Robert M)
A Desert Full of Tomatoes, Thanks to Solar Power and Seawater MIT Technology Review (David L)
Recalculating the Climate Math New Republic (Sid S). From last month, still germane.
It's not just environmentalists who think fracking is wrong New Statesman (J-LS)
'Great Pacific garbage patch' far bigger than imagined, aerial survey shows Guardian (furzy) :-(
IMF, global finance leaders fret over populist backlash Reuters. A little late for regrets after decades of shock doctrine.
Pakistan adopts new law to tackle 'honour killings' Al-Jazeera (J-LS)
Tears as last Ford rolls off production line today MacroBusiness
Brexit
Pound plunges 6% in 2 minutes Financial Times

What We Know About the Pound's Friday Flash Crash: QuickTake Q&A Bloomberg

Forget Brussels, Brexit's toughest battleground is the WTO Politico. Consistent with what we said months ago, that the WTO was not a default and a new deal would have to be negotiated which would take years (and we don't mean two or even five) but with tons more very useful detail.

Hollande demands tough Brexit negotiations Financial Times

On immigration and jobs, Theresa May employs the post-truth politics of Donald Trump Telegraph

Theresa May's vision for Brexit will ignite a war between British capitalism and British Conservatism Independent

Britain sealing itself off? EuroTopics

TAKE BACK CONTROL: HOW BIG MONEY UNDERMINES TRUST IN POLITICS Transparency International. Money quote: "The research found that just 10 donors amounted to more than half of all donations to the various referendum campaigns, despite it being a huge vote for the future of the UK"

UK Tories provoke immigration storm MacroBusiness

Schools are asking parents if their children are immigrants New Statesman (J-LS)
UKIP MEP Steven Woolfe had 'two seizures' after party punch-up Sky. UKIP imitates Golden Dawn, except if memory serves me correctly, they attacked someone not in their party in their Parliamentary fisticuffs.
Thumbs up! Ukip's Steven Woolfe smiles from his hospital bed as he reveals how he was floored by fellow MEP – as the party that changed Britain implodes Daily Mail
Woolfe collapsed pic is from ITV http://www.itv.com/news/2016-10-06/ukip-mep-steven-woolfe-collapses-in-european-parliament/ … Thanks @alexhern @jonworth
Russia Becomes Global Food Superpower Bloomberg. So much for killing Russia with those sanctions…
Hundreds dead in Haitian storm disaster BBC
The Clinton Foundation's Legacy in Haiti – "Haitians are more than upset…" Huffington Post (furzy)
Syraqistan
Big Brother is Watching You Watch
How Big Pharma's Shadow Regulation Censors the Internet Electronic Frontier Foundation. Important.

The biggest European impact of Edward Snowden's revelations may be yet to come Washington Post (furzy)
Clinton E-mail Tar Baby
White House Coordinated on Clinton Email Issues Wall Street Journal
2016
Dakota Access Pipeline 'Water Protectors' Block Construction Despite National Guard Blockade, Police Harassment & Arrests Mint Press (furzy)
Former New Jersey Governor Jon Corzine Near $5 Million CFTC Settlement Wall Street Journal. Pathetic.
Accused Terror Financier Can Be Served Lawsuit via Twitter, Judge Rules US News (J-LS). Wowsers.
Oops! NYU says sorry for accidentally saying professor won Nobel Boston Globe
Bernie Sanders to DOJ: Focus Wells Fargo criminal probe on senior execs CNN. Go Bernie!
Merrill Lynch: Retirement Savers Must Pay Fees, Not Commissions Wall Street Journal. And of course they are blaming the change on regs.
Deutsche Bank as Next Lehman Brothers: Far-Fetched but Not Unthinkable New York Times. Pushes the line awfully hard that the DoJ should pull back on its fines because poor Deutsche if too fragile.
Retailers Are Now Blaming the Election for Poor Sales Bloomberg. Before it was just Putin's fault. Now it's Trump's fault too?
Class Warfare
Eating roadkill in West Virginia BBC (Dr. Kevin). From last week, still germane.

Uber meshes with US public transit in small-town drive Financial Times
Antidote du jour. Richard Smith, from Atlas Obscura, The World's Fluffiest Wildcats Are Getting Their Own Park: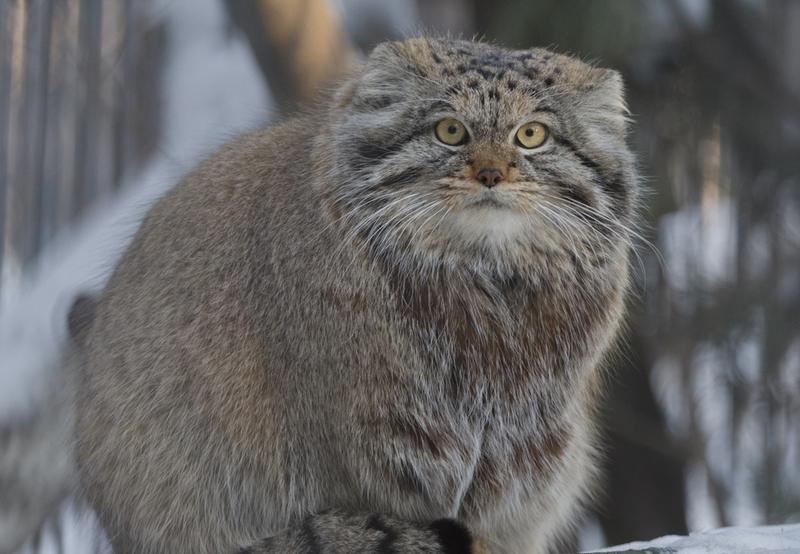 See yesterday's Links and Antidote du Jour here.