By Lambert Strether of Corrente.
TTP/TTIP/TISA
"Trump Eyes Trade-Deal Critic for Commerce Secretary: Billionaire investor Wilbur Ross is the leading pick for Commerce secretary in Donald Trump's Cabinet, multiple sources told POLITICO. Ross, who has criticized trade deals including the North American Free Trade Agreement, is the founder of the private equity firm WL Ross & Co., which has restructured failing companies in the steel, coal and textile sectors" [Politico]. "With Ross' experience with the plight of distressed U.S. sectors, industry sources told Morning Trade that his pick would be well supported by steel companies waging war against China and other countries through a multitude of trade cases filed through the Commerce Department." And: "Wilbur Ross: 5 Fast Facts You Need to Know" [Heavy].
TPP: "Should the US withdraw from TPPA, it will effectively mean that the Agreement cannot enter into force. As I have mentioned before, the agreement requires ratification of at least 6 countries, accounting for 85% of the total GDP of the 12 countries, to bring it into force. The US' GDP alone constitutes about 60% of the total TPP Members' GDP. Hence, there will be no TPPA without the US' participation" [Malaysia Ministry of International Trade].
Politics
2016 Post Mortem
This:

I do know that plenty of conservative books have been #1, too. But this is encouraging. Hard-cover, too!

UPDATE "In his first press conference since last week's election, Obama was asked what he thinks his party should do to rebuild after Clinton's loss to President-elect Donald Trump" [HuffPo].

"I believe that we have better ideas," Obama said of the Democratic Party. "But I also believe that good ideas don't matter if people don't hear them."

Obama continued: "Given population distribution across the country, we have to compete everywhere. We have to show up everywhere."

Well, Obama, you're the party leader. So where the hell were you? And speaking of " last week's election, what Obama's doing here is eerily congruent with his behavior in law school, as described by Jerri-Lynn:

Near the end of class time, just in time for the last word, his arm would rise. He'd wait to be recognized. A pause— setting his audience on seat's edge (or at least the ones who'd never heard him speak before), and then in his mellifluous voice, he'd intone, "Rain is wet"— or something equally banal, with the gravity otherwise due to a proposition from Wittgenstein.

Always the last word. Always uttered with utter conviction. And never, never– despite sitting through two classes with him– did I ever hear him say anything even remotely interesting. The Obamamometer took the ideological temperature of the room, and then unfailingly said something with which no one could possibly disagree— but which no other person would bother to say, because it was both so vapid and blindingly obvious.

"Always the last word…

UPDATE "The new twist goes: Trump is so bad, it proves that any of the others, all of whom were better, would have won going away. Really? The election turned on four states, one of which no Republican had won since 1984 (Wisconsin), two since 1988 (Michigan, Pennsylvania), and one since 2004 (Ohio)—the latter by a mere 2 percent, or 100,000 votes. If that one state had flipped, John Kerry would have been president. Trump by contrast won Ohio by almost eight points. And, with the exception of an Ohio-Pennsylvania combination, he would have had to lose three of those four states to lose the election" [American Greatness]. "Who else was in a position to keep every state Romney won, add Florida and Iowa, plus at least two of the Rust Belt Four? I won't go through the entire, overstuffed field. I'll just look at a few of the more prominent candidates, in order of their dropping out…."
The Voters
"There's No Such Thing as a Good Trump Voter" [Jamelle Bouie, Slate]. Framing: A demand for empathy. This is, in essence, an expansion and intensification of Clinton's "irredeemables" remark (in my mind far worse than deplorables). Leaving aside the issue of whether Bouie is a Christian (given Matthew 9:11, apparently not), so far as I can tell the only policy outcome of Bouie's (and Clinton's) views is splitting the country, either amicably or via civil war. But how is that to be done, given that identity politics, even given the Big Sort, doesn't provide jurisdictional boundaries as clear as the Mason-Dixon line?

" Feminists misunderstood the presidential election from day one" [Gaurdian]. "It turns out many women don't care about Trump's sexism – nor that Clinton is a woman. A majority of white women voted for Trump. And while Clinton did carry the female vote overall, her advantage among women was a percentage point less than Obama had enjoyed over Romney in 2012. This has left many American feminists reeling. Just how did this happen, they ask?" Maybe America's first female corrupt warmonger President wasn't a good enough pitch?
Transition
UPDATE At press time, Warren will be a vice chairwoman of the Democratic Conference while Sanders will serve as chairman of outreach. Sanders will serve as Ranking Member on the Budget Committee [The Atlantic].

UPDATE "Dems and New Dem Chair Must Break Reliance on George Soros" [The Observer]. Yes, I know the Observer is a Trump family house organ, so this falls into the shopworn genre of "helpful advice from Republicans to Democrats," but I happen to agree; I think the Democrats should forget about squillionaire money — Soros, at the very best, has terrible judgment about which projects to fund, given the erosion of Democrats at the state level and the loss of the legislative and executive branches — and go with the Sanders model.
Legitimacy and Realignment
"I don't want Trump to succeed. I want him to fail spectacularly." [Micheael Cohen, Boston Globe]. "I say this not because I don't accept the outcome of last week's election or because I don't recognize him as my president. Trump won fair and square and will be the president for at least the next four years." I've gotta tell ya, the constant stream of fear, fear, fear coming from Clinton supporters is starting to drive me bonkers. If you turn the gaslights up all the way, gaslighting doesn't work! Clinton voters are half the country. The class to which they belong has been running the country for forty years, at least. Many of them are well off. Many of them live in areas very far away from any Trump voter. Presumably, they are adults and have many capacities for resistance. What are they so afraid of?

"The God That Failed" [RealClearPolitics]. On The Emerging Democratic Majority, the Ur-text of identity politics:

ut the "hard" version of the theory that prevailed bore little resemblance to the nuanced view promoted by Judis and Teixeira. In the wake of the 2006 and 2008 elections, books like Dylan Byers' "Permanently Blue," James Carville's "40 More Years," Sam Tanenhaus's "The Death of Conservatism" and Morley Winograd and Michael Hais's "Millennial Makeover" emphasized the demographic shifts, with less attention paid to the limitations the Ur-text placed upon governing philosophy. Countless journal and website articles – indeed entire websites – sprouted up dedicated to a view of American elections characterized by red outposts being swamped by a blue demographic tide. There were different variations of the argument, but the central theme was the same: Republicans were doomed to spend quite a lot of time in the wilderness.

Well worth a read.
Stats Watch
Industrial Production, October 2016: "Industrial production was unchanged in October with September, reflecting downgrades to both utility and mining production, revised a sharp 3 tenths lower to minus 0.2 percent" [Econoday]. "Overall capacity utilization fell 1 tenth in the month to 75.3 percent though manufacturing, once again, is positive, up 1 tenth to 74.9 percent. The factory sector has been flat all year but there have been recent signs of life, from this report as well as regional reports including from the Philly Fed whose November's data will be posted tomorrow." But: "Where things continue to look bleak is on capacity utilization. Total capacity was 75.3% in October, compared with a 75.4% consensus estimate from Bloomberg. The report from September was also 75.4%. These remain far under the actual base-line that would have made for a great economy" [MarketWatch].
Architectural Billing Index: "After seeing consecutive months of contracting demand for the first time in four years, the Architecture Billings Index (ABI) saw a modest increase demand for design services" [AIA]. "As a leading economic indicator of construction activity, the ABI reflects the approximate nine to twelve month lead time between architecture billings and construction spending."
Survey of Professional Forecasters: "Growth in the U.S. economy looks slightly weaker now than it did three months ago, according to 42 forecasters surveyed by the Federal Reserve Bank of Philadelphia before the election on November 8" [Econoday]. Some ugly charts [Mosler Economics].
MBA Mortgage Applications, week of November 11, 2011: "Purchase applications for home mortgages fell a seasonally adjusted 6 percent in the November 11 week as a sharp increase in mortgage rates took its toll on application activity" [Econoday]. And: "If rates were being raised due to excess demand for mortgages the higher rates wouldn't likely slow things down. But in this case demand has been relatively low, so the jump in rates not due to demand will likely slow demand" [Mosler Economics].
Producer Price Index (Final Demand), October 2016: "Weakness in food costs and service costs offset gains in energy to pull down October's producer price readings which came in unchanged overall and down 0.2 percent excluding food and energy" [Econoday]. "This report is similar to yesterday's import and export price report where pressure was mostly isolated to energy. But the price of oil is flat this month which doesn't point to extending pressure for the November report." And: "The PPI is now at the highest rate of inflation in the last 12 months – but the rate of increase is small. The month-over-month change is misleading" [Econoday].
Atlanta Fed Business Inflation Expectations, November 2016: "Energy prices rose sharply in October and appear to be giving a big boost to November's inflation expectations" [Econoday]. "Last week's consumer sentiment report showed a similar jump in inflation expectations at the consumer level, yet petroleum prices have been coming down so far this month which doesn't point to extended pressure ahead."
Housing Market Index, November 2016: "Home builders remain very optimistic, reflected in the housing market index which is unchanged this month at 63 and far above the neutral 50 level" [Econoday].
Shipping: "The U.S. Postal Service today reported a 15.8-percent increase in its shipping and packages business in its 2016 fiscal year that ended Sept. 30, continuing a secular trend of strong package growth in the face of declines in USPS' core first-class mail business" [DC Velocity].
Today's Fear & Greed Index: 59 Greed (previous close: 63, Neutral) [CNN]. One week ago: 42 (Fear). (0 is Extreme Fear; 100 is Extreme Greed). Last updated Nov 16 at 12:50pm.
Our Famously Free Press
"Twitter Is Adding New Filtering Tools in an Effort to Curb Abuse" [Wired].
News of the Wired
"These are the books students at the top US colleges are required to read" [Quartz]. With Samuel P. Huntington's horrid Clash of Civilizations in most of 'em. If you want to know why war scares are so easy to generate, there's one reason.
The Russian equivalent of flyover states:
abandoned Tu-144 super-sonic passenger jet in the backyard on the outskirts of Kazan City, #Russia discovered by a flying drone camera… pic.twitter.com/7fBHSuWV5m

— Abandoned Places (@abandonedspaces) November 15, 2016
* * *
Readers, feel free to contact me with (a) links, and even better (b) sources I should curate regularly, and (c) to find out how to send me images of plants. Vegetables are fine! Fungi are deemed to be honorary plants! See the previous Water Cooler (with plant) here. And here's today's plant (AM):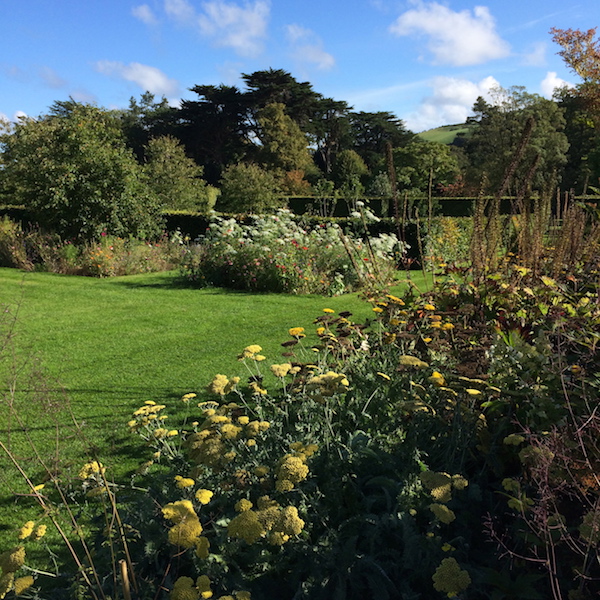 What a lovely garden.
Readers, Water Cooler is a standalone entity, not supported by the very successful Naked Capitalism fundraiser just past. Now, I understand you may feel tapped out, but when and if you are able, please use the dropdown to choose your contribution, and then click the hat! Your tip will be welcome today, and indeed any day. Water Cooler will not exist without your continued help.