By Lambert Strether of Corrente.
Patient readers, as always when I write about Democrats, it takes longer than I think. So today's Water Cooler is a bit abbreviated. All add in some more Stats Watch material shortly.
TTP/TTIP/TISA
"No, Trump Didn't Kill the TPP — Progressives Did" [Medium]. This:
It took years of protests at subsequent rounds in Chicago, Dallas, San Diego, Salt Lake City, Maui and elsewhere — coupled with hundreds of other protests in cities and towns across the U.S. and around the world — to slowly, but surely, put the TPP on progressive groups' radar.

Over that time, first thousands, then tens of thousands, then hundreds of thousands and then literally millions of Americans signed letters and petitions urging the Obama administration and Congress to abandon TPP negotiations that gave corporate lobbyists a seat at the table, while keeping the public in the dark.
This to me is a key point:
Together, globally-coordinated progressive coalitions from a host of different countries developed and publicized analyses of the TPP, pushing out leaked texts when our governments refused to tell us what they were proposing in our names, and hacking away week after week against media blackouts, relying heavily on independent media, social media and word-of-mouth to inform the most active elements of the public about the power grab underway.
The analysis throughout was superb, and in great contrast to the reams of shoddy stuff emitted by Beltway talking shops. A special shout-out to Lori Wallach! And:
As formidable as our opposition is, when we come together across issue areas and geographic borders, we have more power. When we have each others' backs, we can still win.
" Four of the five House Republicans Trump has picked to serve on his transition team executive committee — Lou Barletta (Pa.), Marsha Blackburn (Tenn.), Tom Marino (Pa.) and Devin Nunes (Calif.) — voted last year to give Obama trade promotion authority to complete the Trans-Pacific Partnership and also backed trade deals with South Korea, Panama and Colombia in 2011″ [Politico]. "Trump also picked one of his earliest congressional supporters, Sen. Jeff Sessions (Ala.), to serve as an executive committee vice chairman. Sessions was one of the few Senate Republicans who voted against trade promotion authority last year, though he backed most of the trade deals negotiated during the administration of George W. Bush, including the South Korea, Panama and Colombia deals that finally passed in 2011."
TISA: "The prospects for concluding negotiations on the Trade in Services Agreement now appear slim after a senior trade official close to the talks told POLITICO that it's looking less likely that trade ministers will gather for an anticipated early December meeting in Geneva — a get-together at which negotiations had been expected to wrap up" [Politico]. "'There is a higher likelihood that a Trump administration decides to pursue TISA than there is that the EU will get its act together on data in the next four years,' the official said. 'I doubt very much that the Trump administration has thought very much at all about TISA. When they do think about it, they may look at it as being a different kind of trade agreement, because it's not dealing with industrial goods. They may see the broad support for it among U.S. stakeholders. They may see the support for it in Congress and see it's interesting.'"
TTIP: "Trump's victory eradicated the last remaining optimism in Brussels that the Transatlantic Trade and Investment Partnership could be concluded anytime soon. 'I think we should be realistic; I don't think we will see the resumption of any TTIP negotiations in quite a long time,' European Trade Commissioner Cecilia Malmström said at Friday's closing Trade Council press conference."
Lambert here: Another extraordinary series of events in an extraordinary year, though who could have imagined in January how the year would end! I'm tempted to scream Kill It With Fire!, because time and again we've seen these deals come back from the dead — the elites really would like to destroy national sovereignty, after all — and so I'm reluctant to discontinue this section, but maybe it's time.
Politics
NOTE New readers may not be aware of my priors, so here they are: Older readers will know that I defined victory in 2016 as the emergence of independent voices for the left in the centers of power, distinct from the hitherto dominant liberal voices in the Democrat Party, for which I envision a hostile takeover, followed by a management shakeup, including any necessary defenestrations. I believe that victory to be fragile, but real. Older readers also know I preferred gridlock as a 2016 outcome, arguing on separation of powers principles that it would be best if the Democrats won the Senate, and either President crippled. Older readers also know that I enjoy the technical aspect of politics, and if a player presents us all with an opportunity to learn by doing something smart (or dumb) I'm going to comment on it. That goes for movement politics, too. This doesn't mean I support the player; if I were to say that the German advance through the Ardennes was brilliant and outflanked the French, that doesn't mean I support Hitler, for pity's sake.–lambert
Policy
"Last week, Trump and Ryan expanded the healthcare agenda to include 'modernizing' Medicare, widely seen as an allusion to Ryan's plan to convert Medicare into a defined contribution, "premium support" program that could impose higher costs on seniors. Ryan told Fox News that 'Medicare has got some serious problems because of Obamacare. Those things are part of our plan to replace Obamacare.' During the election campaign, Trump repeatedly said he wouldn't touch Medicare" [Modern Health Care].

"No one knows exactly what Mr. Trump will propose. As an example, Trump has promised his supporters that he would not touch Social Security and Medicare, but House Speaker Paul Ryan has already suggested that cuts to Medicare are on the table. And note that Goldman does not "anticipate significant changes on immigration policy", yet that was Trump's initial campaign proposal. We have to wait and see what the exact proposals will be" [Calculated Risk].

"[W]e may well feel the need to seek out assurance in unexpected places. To that very end I may now become the world's first — and perhaps last — writer to put Donald Trump and Nelson Mandela in the same sentence without contrast. But doing so yields a deep and comforting truth, one already manifest just a few days post-election" [FPCA]. "The Nelson Mandela we all remember and miss was a Mandela tempered by time and experience. Dissident Mandela and President Mandela were very different Mandelas indeed, different in ways that many would now like to forget. I too would like to forget much of the last many months. We should hope that President Trump will give us a reason to do so."

"My very cloudy crystal ball shows a rewriting of the rules, but not to correct the grave mistakes of the Reagan revolution, a milestone on the sordid journey that left so many behind. Rather, the new rules will make the situation worse, excluding even more people from the American dream" [Joseph Stiglitz, Project Syndicate].
War Drums
"President-elect Donald Trump is about to learn the nation's 'deep secrets'" [WaPo]. This is where the man in the grey suit with the forgettable face comes into the Oval Office with a cooler, opens it, shows Trump the severed human head inside, and goes away. "Call me if you need me."
The Voters
"And then in 2016, Rove went on Fox News to predict Trump would lose to Hillary Clinton. "I don't see it happening," Rove said of a Trump victory" [Newark Star Ledger]. "On the other hand, I won a couple of six-packs by betting that Trump would be the next president. My theory was the same as [new Jersey pollster] Mayur's: In a neck-and-neck race, the enthusiasm factor would win it for Trump."
Legitimacy
"if Trump had lost and his supporters had angrily taken to the streets, destroying private property and threatening police officers while proclaiming 'not my president,' would the mainstream media have characterized the rioters differently than it has the pro-Clinton rioters?" [Of Two Minds]. Interesting on "elite fragmentation."

"Whenever the U.S. elections were mentioned at one of the many August-to-November hotel industry conferences held in the United Kingdom and Europe, huge grins would break out amid audiences, panelists and moderators alike. They all know how very serious an election is anywhere, especially in such a dominant and influential country as the U.S., but there were those grins" [Hotel News Notes]. "No one has ever grinned during an entire presidential election before. Even now they are not grinning at the institution, just at this specific election process, and that should be worrying."

"Bernie and Elizabeth, the party is yours for the taking. The opening is there for you to channel all of the pain and anger among Democrats. Will you seize it?" [Juan Williams, The Hill].

""People are still coming to grips with what the best direction of the committee should be," said one Democratic source connected to the DNC, arguing that Clinton's lead in the popular vote signals the "hearts and minds" of the country are with Democrats. "We have a lot of work to do in terms of winning races, especially in the House" [RealClearPolitics].
Stats Watch
No stats today. There aren't any!
Mortgage Rates: "Rates are rising with the expectation of much larger deficits next year (tax cuts combined with more spending)" [Calcuated Risk].
Housing: "It appears we are starting to see a pickup in Real Estate licensees in California, although the number of Brokers is still declining" [Calculated Risk].
Retail: "Despite largescale hiring announcements from numerous major retailers, the number of October employment gains in the sector declined 21 percent from a year ago to 154,600. That was the fewest job gains to kick off the holiday hiring season since 2012" [Econintersect].
Gentlemen Prefer Bonds: "Following Trump's election victory, there are expectations of a much more aggressive US fiscal policy with substantial tax cuts and higher spending commitments. From the bond market perspective, this is an extremely dangerous development" [Economic Calendar]. And we all know what James Carville said: "I used to think that if there was reincarnation, I wanted to come back as the president or the pope or as a .400 baseball hitter. But now I would like to come back as the bond market. You can intimidate everybody." Have times changed?
UPDATE The Bezzle: "Sweden leads the race to become cashless society: [CNN]. What "race"?
UPDATE The Bezzle: "Facebook's incredible ad sales machine is slowing down" [CNN]. I don't know about you, but I regard an ad in Facebook as a reason not to buy the product; that it will be cheesy or fraudulent in some way. Perhaps I'm a Luddite?
UPDATE The Bezzle: "In 2015, Allegiant jets were forced to make unexpected landings at least 77 times for serious mechanical failures" [Tampa Bay Times]. "None of the 77 incidents prompted enforcement action from the Federal Aviation Administration, which doesn't compare airline breakdown records to look for warning signs. To create such a comparison, Times reporters built a database of more than 65,000 records from the FAA."
UPDATE The Bezzle: "Better read the fine print before suing Airbnb over alleged racial discrimination" [McClatchy]. Disputes go to arbitration.
UPDATE The Bezzle: "Increase in Airbnb rentals leads to huge rise in noise complaints" [Evening Standard]. "The dramatic increase is likely to be largely accounted for by a surge in the number of homes available for rent on Airbnb in the "party areas" of Clerkenwell, Old Street and Angel." Party houses were being rented on Airbnb in, IIRC, Austin TX, with predictable consequences.
The Mysterious East: "Japan's laundromat bubble shows no sign of bursting" [Japan Times].
Rapture Index: Closes up 1 on drug abuse ("Several states vote to legalize pot") [Rapture Ready]. Record High: 189 (October 10, 2016). Current: 189. So that's the only pop we get from the election? One miserable point?!
Today's Fear & Greed Index: 50 Neutral (previous close: 48, Neutral) [CNN]. One week ago: 26 (Fear). (0 is Extreme Fear; 100 is Extreme Greed). Last updated Nov 14 at 12:40pm.
Class Warfare
"US Cities Spending the Most (and Least) for 2016 Holiday Season" [247 Wall Street]. Average holiday budgets, most, Palo Alto, CA: $2,821. Least: Brockton, Massachusetts: $71. Quite a spread.
"Kicking the Malthusian Vice: Lessons from the Abolition of "Welfare" in the Late Nineteenth Century" (PDF) [Quarterly Review of Economics and Finance]. This is fun!
News of the Wired
"Review: Touch Bar MacBook Pros give an expensive glimpse at the Mac's future" [Ars Technica]. "The more I use the Touch Bar, the more I become convinced of its potential utility. Even if you only ever use it to control system settings once you get used to it, I think it's easier and more convenient to use than the old function buttons." That's it?
UPDATE "The NHS's 1.2 million employees are currently trapped in a 'reply-all' email hell" [Business Insider] "A 'test; email was accidentally sent to everyone who works at the UK health service — prompting a series of reply-all responses from annoyed recipients going out to all 1-million-plus employees of the organisations."
"International Human Cell Atlas Initiative" [Sanger]. "By making the Atlas freely available to scientists all over the world, scientists hope to transform research into our understanding of human development and the progression of diseases such as asthma, Alzheimer's disease and cancer. In the future, the reference map could also point the way to new diagnostic tools and treatments."
UPDATE "Legendary animator Hayao Miyazaki is unretiring to make one more Studio Ghibli film" [Daily Dot]. Awesome!!
UPDATE "[Cary Pint, assistant professor of mechanical engineering at Vanderbilt University] headed a research team that used scraps of steel and brass – two of the most commonly discarded materials – to create the world's first steel-brass battery that can store energy at levels comparable to lead-acid batteries while charging and discharging at rates comparable to ultra-fast charging supercapacitors" [Vanderbilt] "'We're seeing the start of a movement in contemporary society leading to a 'maker culture' where large-scale product development and manufacturing is being decentralized and scaled down to individuals or communities. So far, batteries have remained outside of this culture, but I believe we will see the day when residents will disconnect from the grid and produce their own batteries. That's the scale where battery technology began, and I think we will return there,' Pint said."
* * *
Readers, feel free to contact me with (a) links, and even better (b) sources I should curate regularly, and (c) to find out how to send me images of plants. Vegetables are fine! Fungi are deemed to be honorary plants! See the previous Water Cooler (with plant) here. And here's today's plant (AM):
AM writes from Ireland: "Nerine bowdenii – what ever they are!! Pink!! Amazing to see such color in October. They were growing in a walled garden in Glenarm."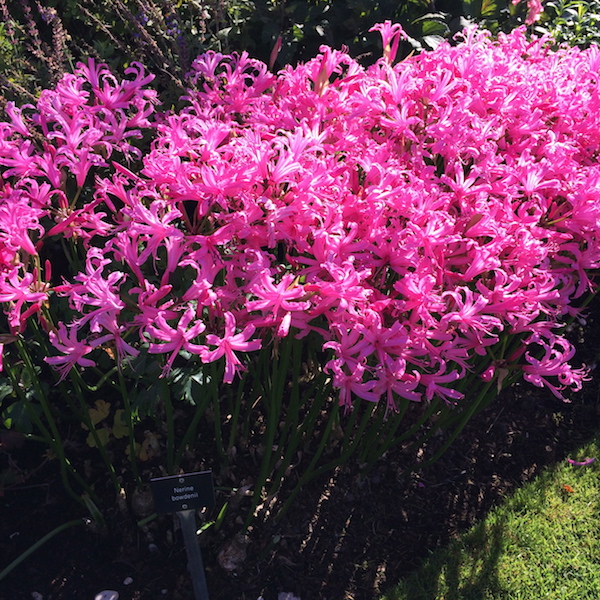 Readers, Water Cooler is a standalone entity, not supported by the very successful Naked Capitalism fundraiser just past. Now, I understand you may feel tapped out, but when and if you are able, please use the dropdown to choose your contribution, and then click the hat! Your tip will be welcome today, and indeed any day. Water Cooler will not exist without your continued help.