By Lambert Strether of Corrente.
TPP/TTIP/TISA/NAFTA/CETA
TPP: "The news that the White House and Republican congressional leaders have given up on passing the Trans-Pacific Partnership (TPP) is welcome. That the TPP would be defeated by Congress if brought to a vote signals that Trojan-horse 'trade' agreements that expand corporate power and shrink Americans' wages are simply no longer politically viable. People power beat the united forces of a U.S. president, the Republican congressional leaders and the entire corporate lobby" [Lori Wallach, Public Citizen]. "The unremitting push by the Obama administration for the TPP right through this election helped to elect Donald Trump, but Trump has not derailed the TPP –people power united across borders did that. Six years of relentless, strategic campaigning by an international movement of people from the TPP countries united across borders to fight against corporate power is why the TPP is all but dead." A well-earned happy dance from Lori Wallach. And a salutary lesson. Idea: Learn from success?
NAFTA: "Canada, Mexico to Talk About the Elephant in the Room: Canadian Prime Minister Justin Trudeau and Mexican President Enrique Peña Nieto will meet on the sidelines of the Asia-Pacific Economic Cooperation leaders summit in Lima, Peru, this weekend to discuss the impact President-elect Donald Trump might have on NAFTA, a Mexican official told POLITICO" [Politico].
"A USTR spokesman told Morning Trade on Thursday that the Trump transition team had not yet been in touch about the transition" [Politico].
Politics
Readers, Naked Capitalism is normally very image-light, but this 2015 photo essay from Politico ("Inside Hillary's campaign headquarters") on Clinton's Brooklyn headquarters so eerie and prophetic — rather like ruin porn — that I thought I'd take some screen shots for you and comment on them.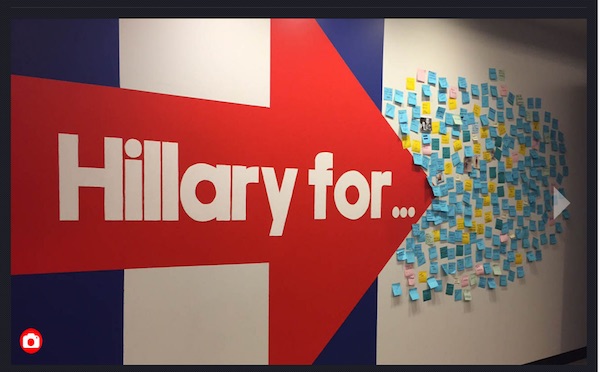 1. An aerial shot of the Titanic, prow headed toward the ice.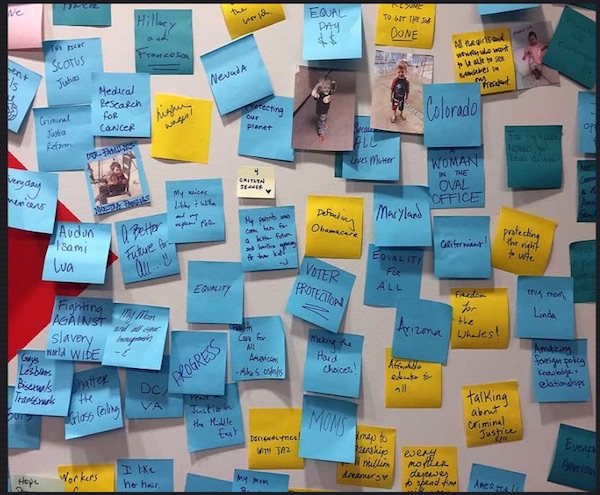 2. Close-up of the stickies in the previous shot. I suppose it's barely possible the stickies emulate Hong Kong's sticky note revolution in 2014, but I think it's more likely that it's one of those off-site rituals; everyone "shares" their thoughts and feelings with the stickies, and then the "facilitator" collects them.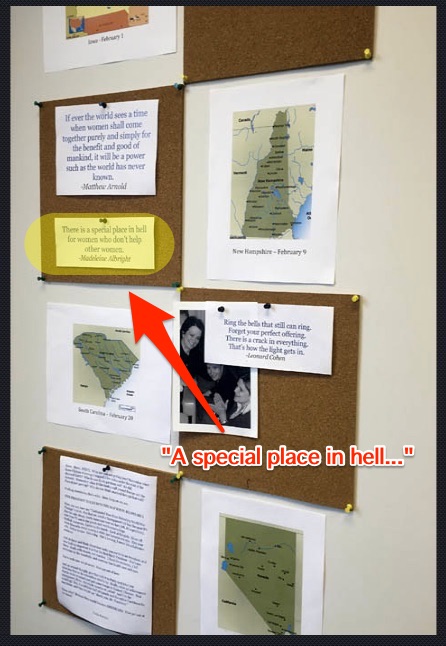 3. Communications director Jennifer Palmieri's corkboard. No problem at all with Albright's "special place in hell" comment, presaging how Sanders supporters were marginalized and thrown under the bus as the campaign went on.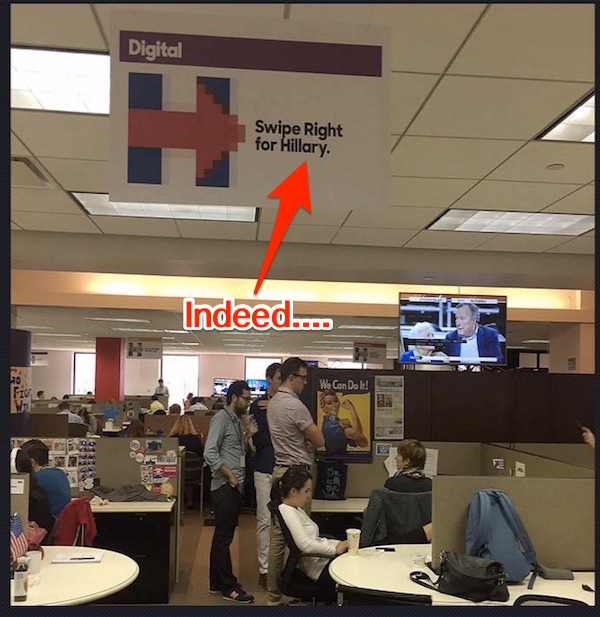 4. No messaging problems here! And indeed, not, internally, since Clinton later pivoted to appeal to Republican establishment figures and voters.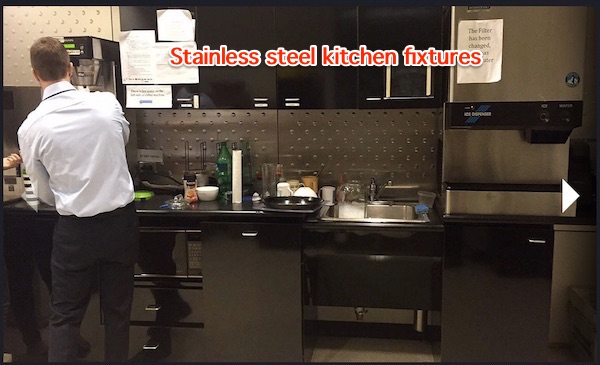 5. The Brooklyn HQ looks like a startup (at a time when the Trump campaign was, IIRC, a warren of bare wallboard and hanging wires). Surely that money would have been better spent in the field? Perhaps the goal was to empower a new generation of techically savvy liberal operatives, with a Clinton win the first item on their resumes, which would make the hilariously failed Ada project an enormous exercise in walking around money. The failure was also a massive exercise in hubris, since 90% of startups fail. Thanks, Silicon Valley!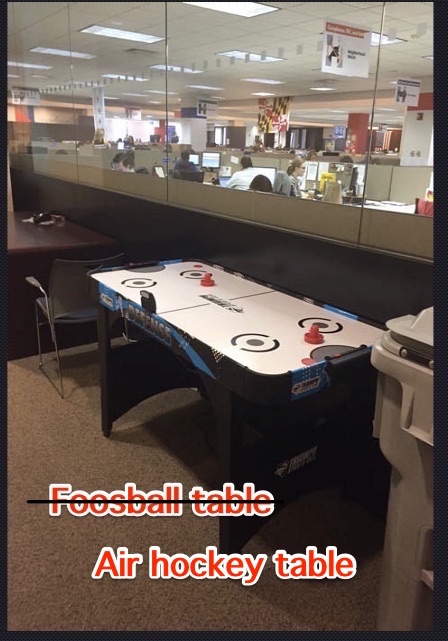 6. An foosball air hockey table, another "startup culture" signifier.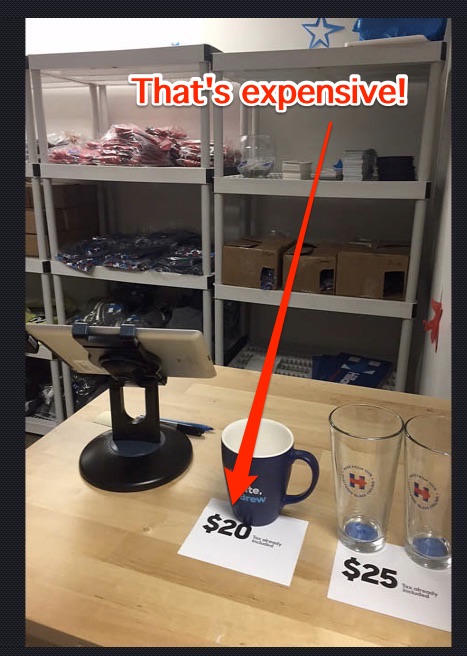 7. Twenty bucks for a goddamned coffee cup?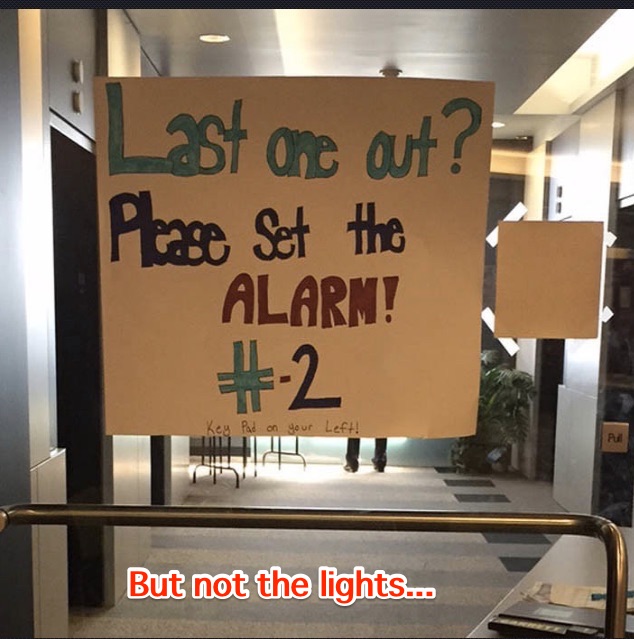 8. Sad!
2016 Post Mortem
"Listening to Trump" [Nonsite.org (MsExPat)] . "Or to translate this into the academese of Roland Barthes, perhaps Trump's discourse was more "writerly" (scriptable) than its simple sounds suggested; that is his meanings, because of the form of their delivery, were open to multiple understandings and re-assembly by the listener. Even his endlessly invoked wall, in reality a proposal for more militarized policing, could sound like a public works scheme, an infrastructure based jobs program." And:

At almost every turn the liberal pundits misunderstood, or did not hear, what Trump was saying. After his win in the Nevada Caucus Trump said: "We won with highly-educated, we won with poorly educated. I love the poorly educated! We're the smartest people, we're the most loyal people." Liberals lampooned him, assuming that he had insulted part of his base.

A different interpretation translates those comments as: "Trump understands that it's not all my fault that I couldn't get an education. He understands that even people who don't have advanced degrees can make good decisions and are worthy of respect."

"How the Clinton Foundation brought down Hillary's campaign" [New York Post]. But the URL is: how-mitt-romneys-campaign-manager-took-down-hillary/, which is a different and more interesting story.

"Kanye: "I Would've Voted for Trump"" [Pitchfork]. "Outside of the endorsement, Kanye's language suggested Trump's politics interested him less than his rhetorical style. "There's nonpolitical methods to speaking that I like, that I feel were very futuristic. And that style, and that method of communication, has proven that it can beat a politically correct way of communication. And I f*ck with that." He said Trump's approach wasn't just "entertaining—I actually think that his approach was absolutely genius. Because it fucking worked!" Also too, "Specifically to black people, stop focusing on racism. This world is racist, OK?"

" In an election focused on character, Trump won on the issues" [RealClearPolitics]. Lots of interesing polling analysis. This: "when Americans didn't view considerations of character or experience as decisive, they voted for Trump over Clinton by huge margins. They did so because four issues favored him—immigration, trade, the Supreme Court, and Obamacare—while no issues favored her." And this: "Trump did much better than Romney among Latino voters in the Southwest and Frontier West. In Arizona, Nevada, Colorado, and New Mexico, Trump swung the margin among Latino voters his way by between 15 and 19 points, in relation to Romney, in each state."

"Obama Reckons with a Trump Presidency" [David Remnick, The New Yorker].

"The prescription that some offer, which is stop trade, reduce global integration, I don't think is going to work," [Obama] went on. "If that's not going to work, then . And . It begins with all the things we've talked about in the past—early-childhood education, continuous learning, job training, a basic social safety net, expanding the earned-income tax credit, investments in infrastructure—which, by definition, aren't shipped overseas.

Twenty years seems rather a long time. And reinforcing the neoliberal debacle by putting the people who created it in charge of the fix seems… not strategic. And of course, the answer is credentialing — three flavors of it! And how about single payer, instead of an effing basic social safety net? Given an AIDs-level epidemic of working class deaths in the Rust Belt, this is worse than banality.
Trump Transition
"Bannon, DB on repatriation, The $" [Mosler Economics]. Critique of yesterday's Bannon transcript. Wrong on operational constraints at the Fed, wrong on trade, wrong on public debt.

"The U.S. Legal and Regulatory Environment Under a Trump Administration" [The Harvard Law School Forum on Corporate Governance and Financial Regulation]. A useful Tour d'horizon of policy. On Infrastructure: "President-elect Trump's advisors have suggested introducing an infrastructure investment tax credit as a means of stimulating private sector investments in these projects. We expect this initiative will also feature proposals to increase the use of public-private partnerships (PPPs), whereby private parties agree to design, construct, finance, operate and/or maintain a road or other infrastructure facility under the terms of a concession agreement with a governmental entity. The existing Build America Bureau at the Department of Transportation, which provides federal financing for PPPs and other transportation assets planned by state and local governments, could become a more important participant in these efforts. The plans will likely create many more long-term investment opportunities for infrastructure funds, pension plans, insurance companies and sovereign wealth funds, while also increasing bank and capital-market debt financing activity and boosting business for major infrastructure project managers and construction contractors, equipment suppliers and operators." Oh good. Public-private partnerships. Corruption and cronyism aside, wouldn't a purely public approach have a greater stimulative effect?

"People Are Loving That Hillary Clinton Went Makeup-Free for Her First Post-Election Speech, and We're Here for It" [Glamour]. "Grift, grift, Horatio! The victory baked meats Did coldly furnish forth the the Children's Defense Fund's Beat the Odds Celebration's table." The Children's Defense Fund. Of course.
Policy
"CR Note: The [Trump] 'infrastructure' proposal that many investors are focusing on is really a proposal for about $100+ billion in tax credits to spur private investment in infrastructure (I've seen some people talking about $1 trillion in infrastructure investment – but that is the projected size of the private investment, not the proposed government spending). This proposal is actually very modest in terms of a fiscal boost. More analysis to come when we see the actual proposals, but I think analysts might be overestimating the boost from government spending in 2017" [Calculated Risk]. Readers, thoughts?

"The tax proposal seeks to raise the standard deduction for married couples up to $30,000 and $15,000 for singles. Many that are buying in more expensive areas are couples, at least based on sales data. Even if you buy a $700,000 crap shack with 20 percent down, the annual mortgage interest comes nowhere close to the new standard deduction whereas today, it does make an impact" [Dr. Housing Bubble]. "If the [Trump] tax plan takes effect, this will largely negate the mortgage interest benefit in many overpriced metro areas that is usually pitched by housing cheer leaders. As we noted, the typical US home costs around $200,000 so what you have currently is lower priced states basically subsidizing the mortgage interest deduction for wealthier coastal regions. That may change.

"House Speaker Paul Ryan is yet again pushing& to privatize Medicare. Trump's transition team includes advisors that have openly called for privatizing Social Security" [Capital and Main]. "The president-elect has praised private prisons and wants to lean heavily on the private sector to rebuild the nation's crumbling infrastructure, which would mean tax credits for already wealthy investors, less pay for workers, and more tolls for Americans. Privatization is clearly front and center on the Trump agenda."
Realignment and Legitimacy
"Sanders won't join Democratic Party" [The Hill (Furzy Mouse)].
Stats Watch
Leading Indicators, October 2016: "The index of leading economic indicators inched 0.1 percent higher in October to signal no more than modest economic growth in the coming months" [Econoday]. "The interest-rate spread has led this report this whole cycle and will increasingly so in the next report for November given the ongoing spike in long rates. The coincident index confirms the slow conditions, at plus 0.1 percent, as does the lagging index at plus 0.2 percent." And: "The rate of growth is slowing on this index – similar to most other leading indices" [Econintersect].
Kansas City Fed Manufacturing Index, November 2016: "The details are better than the headline for a Kansas City report that points to a third month of improvement for the region's factory sector" [Econoday]. "There are more pluses than minuses in this report which falls in line with the modest strength of the Empire State report but falls well short of the strength in the Philly Fed." And: " The Kansas City region was hit hard by the decline in oil prices, but activity is starting to expand again" [Calculated Risk]. And: "The capital spending data will offer some reassurance over investment trends and the data release overall is solid with an overall gradual improvement in conditions" [Economic Calendar].
Housing Starts (yesterday): "Nice move up after a large move down. Note that the average of the last two months is about where this series has been. And, again, it's the permits that count, and they are about the same as last month. And not to forget mortgage applications to buy homes fell a full 6% last week after rates went up in response to the election" [Mosler Economics].
Rail: "Week 45 of 2016 shows same week total rail traffic (from same week one year ago) marginally contracted according to the Association of American Railroads (AAR) traffic data. Rolling averages remain in contraction – but are improving" [Econintersect].
Shipping: "Amazon.com is turning to merchants who sell on its marketplace for extra warehouse space, a less-costly way to expand inventory available for quick delivery" [Bloomberg]. "It's the latest sign the world's biggest online retailer can't build facilities quickly enough to meet demand for an ever-expanding assortment of goods that customers want delivered fast and free. Warehouse capacity issues and the cost of new facilities helped increase Amazon's spending on order fulfillment 34 percent in the third quarter. The big expenses caused the Seattle-based company to miss analysts' profit projections, driving down shares 8.8 percent since the results were reported Oct. 27."
Retail: "In the two weeks leading up to the elections, consumers kept their hands firmly on their wallets, despite early Black Friday sales and a higher level of discounting compared with last year" [247 Wall Street]. "We've already noted the considerably smaller-than-expected growth in online sales for the first two weeks of November. Online retailers left about $800 million on the table, according to research from Adobe Digital Insights."
Retail: "Amazon.com Inc. founder Jeff Bezos, perturbed by his company's failure to capture much of the massive Chinese market, had a pointed message for executives in India during a visit in 2014: Don't let that happen here" [Wall Street Journal, "Jeff Bezos Invests Billions to Make Amazon a Top E-Commerce Player in India"]. "The result: the company rapidly became India's No. 2 e-commerce player and moved within striking distance of local rival Flipkart Internet Pvt., according to some estimates."
The Bezzle: "Analyst: Tesla, SolarCity Are Nothing But Smoke & Mirrors" [ETF Daily News]. "In total, Musk-connected businesses – Tesla Motors, SolarCity, and SpaceX – have benefited from an estimated $4.9 billion in government support, according to data compiled by The Los Angeles Times. Despite all the largess, none of these businesses make money…. My back-of-the-envelope analysis (and I don't need more than that) values Tesla and SolarCity at zero. Actually, my analysis values them at less than zero. The opportunity costs associated with both companies are huge. Capital that could have been invested to develop legitimate, market-driven power sources and consumer products has been squandered on a fantasy."
The Bezzle: "[Facebook,] the social-networking giant said Wednesday it has found numerous errors in the ways it calculates how many people view its ads, artificially inflating their perceived value to advertisers and publishers" [New York Post]. "Key metrics that Facebook has exaggerated include the weekly and monthly reach of marketers' posts, which got inflated by 33 percent and 55 percent, respectively, as the site improperly included repeat visitors in its figures." Oopsie. That's not a subtle error.
The Fed: Yellen's testimony summarized: "Turning to policy, she cites the September and November FOMC statements, but with an interesting twist. The key sentence is 'At our meeting earlier this month, the Committee judged that the case for an increase in the target range had continued to strengthen and that such an increase could well become appropriate relatively soon if incoming data provide some further evidence of continued progress toward the Committee's objectives.' The 'relatively soon' language was the key initial takeaway from the speech, picked up in the initial newswire headlines. What is interesting is that, despite how she couches it, this phrase was nowhere to be seen in the actual November FOMC statement, which merely notes that the case had continued to strengthen but that the Committee had decided 'for the time being' to wait" [Amherst Pierpoint Securities, Across the Curve]. "So, the 'relatively soon' message was delivered today by Yellen as if it were part of the November FOMC statement, even though it wasn't. What do I make of that? I think she did it that way because she wanted to underscore that she was delivering a message on behalf of the Committee, not a personal opinion. This is a strong, though certainly not surprising, signal that the Fed will be hiking in December barring a disaster between now and then."
Today's Fear & Greed Index: 61 Greed (previous close: 63, Greed) [CNN]. One week ago: 48 (Fear). (0 is Extreme Fear; 100 is Extreme Greed). Last updated Nov 18 at 12:12pm. C'mon, guys!
Dear Old Blighty
Shot:
This is not satire:
The audience at the Lord Mayor's banquet where May made a speech condemning the 'global elite'. pic.twitter.com/ouM91sDbFc

— will thorpe (@withorpe) November 15, 2016
Chaser:
Gaia
"America's First All-Renewable-Energy City" [Politico]. You guessed it: Burlington, Vermont.
Class Warfare
Obama speaks on globalization in Greece: "The current path of globalisation demands a course correction. In the years and decades ahead, our countries have to make sure that the benefits of an integrated global economy are more broadly shared by more people, and that the negative impacts are squarely addressed. When we see people, global elites, wealthy corporations seemingly living by a different set of rules, avoiding taxes, manipulating loopholes … this feeds a profound sense of injustice" [Guardian]. Yeah, and let's give the job of getting that done to the guy who stood between the banksters and the pitchforks [bangs head on desk].
"The Big Short (2015 movie): Is it true what Ben Rickert (Brad Pitt's character) said that 40,000 people die when unemployment goes up by 1%?" [Quora].
News of the Wired
"Sunken treasure, death-defying adventure, sibling rivalry: How Charles and John Deane invented modern deep-sea diving and saved the British Empire" [Unfathomable].
"An Alarm Designer on How to Annoy People in the Most Effective Ways" [Atlas Obscura]. "But what makes an 'awooga' sound more or less urgent than a 'ding'?"
Love or hate his job? Marmite's chief taster retires after tasting 264 MILLION jars" [Express].
* * *
Readers, feel free to contact me with (a) links, and even better (b) sources I should curate regularly, and (c) to find out how to send me images of plants. Vegetables are fine! Fungi are deemed to be honorary plants! See the previous Water Cooler (with plant) here. And here's today's plant (AM):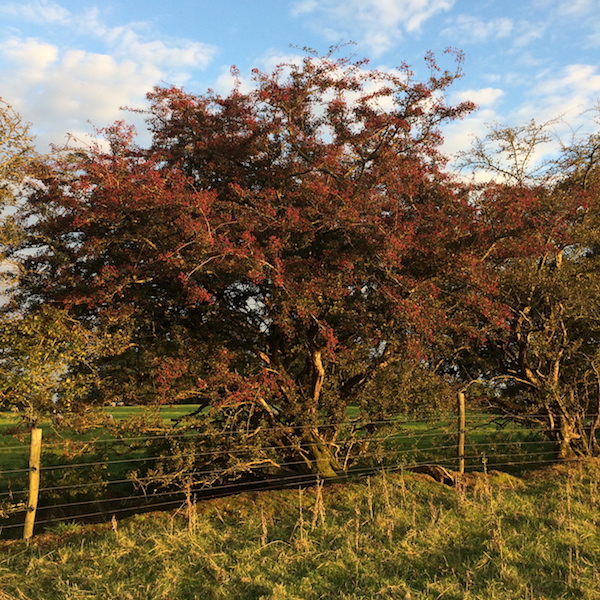 AM writes: "A tree with red berries in the fields behind Coopershill House, County Sligo."
Readers, Water Cooler is a standalone entity, not supported by the very successful Naked Capitalism fundraiser just past. Now, I understand you may feel tapped out, but when and if you are able, please use the dropdown to choose your contribution, and then click the hat! Your tip will be welcome today, and indeed any day. Water Cooler will not exist without your continued help.