By Lambert Strether of Corrente.
TPP/TTIP/TISA/NAFTA/CETA
TPP: "No, Trump Didn't Kill the TPP — Progressives Did" [Arthur Stamoulis, Medium]. "Donald Trump didn't kill the TPP. Assuming we see the fight through to the bitter end, it's the cross-border, cross-sector, progressive 'movement of movements' that will have defeated the TPP…. An incredibly diverse array of organizations and individual activists were constantly sharing information and strategically coordinating their efforts to pressure key elected officials, such that we built a majority of opposition to the TPP in Congress — despite all the big-money interests fighting hard on the other side."
TPP: "TPP Is Dead. What Did We Learn From This Great Progressive Victory?" [Dave Johnson, Our Future]. "TPP came out of an alignment of Wall Street, giant multinational corporations, most Republicans and the Wall Street-dominated Obama administration. The opposition was a worldwide coalition of millions of progressives and thousands of labor, environmental, democracy, consumer, human rights, LGBT, health and every other kind of progressive-aligned organizations, most Democrats and courageous political leaders like Bernie Sanders and Elizabeth Warren…. Trump jumping on board after public sentiment had shifted only demonstrated the degree to which the progressive instinct was right all along."
But it's clear that in the TPP battle Progressives set the stage by:

● working over an extended period of time,
● forming coalitions of aligned organizations to educate their audiences,
● educating "grasstops" organizers activists and supplying them with educational and collateral materials and well-researched arguments to help them speak to and engage the public,
● reaching out through media and social media channels to drive wider public awareness,
● and organizing opposition to pressure politicians.
You might call this a victory for the Outside Game, with Warren, Sanders (and Trump) playing the Inside Game….
TPP: "What does Trump's no to TPP mean for Asia?" [BBC]. "China is well placed to step into the US's global footprint with both its regional trade deal alternative – the Regional Comprehensive Economic Partnership deal – and its massive and expensive One Belt One Road initiative, which aims to build roads, ports and highways through much of Asia….According to some analysts, China has been playing what some call the 'New Great Game' in Asia – a reference to the power rivalry we saw in the 19th century in Central Asia – and will grab any opportunity it can find to increase its influence in the region."
TPP: "The day the United States withdraws from the TPP, the remaining 11 members need only change one clause to give the TPP a new lease on life. They could simply amend the enactment rules so that U.S. participation is no longer required for implementation of the trade deal" [Nikkei]. Thereby achieving the ostensible strategic objectives of TPP without US participation? It's not like the Pacific Fleet is sailing home any time soon.
Politics
2016 Post Mortem
"The ominous fact is that Trump is undeniably one of the greatest intuitive political geniuses in history. Think about it: A wealthy businessman with no political experience at all takes on more than a dozen experienced politicians and manages to prevail, winning the presidential nomination of a major party. He then runs what an army of experts and analysts consider to be a train wreck of a general-election campaign and nonetheless manages to prevail to become the president-elect of the most powerful nation on Earth. It's an astonishing accomplishment" [The Week]. And good comment on the Hamilton stupidity, concluding: "More than anyone else on the political scene, Trump has managed to discern the populist potential of the social media age, and to go a long way toward mastering the funhouse rules that appear to apply within it. Until the rest of us catch up and adapt to the laws that govern this topsy-turvy world, we will remain at the mercy of our troll-in-chief." Don't feed them!

"Hundreds of thousands of Americans cast a ballot without voting for a presidential candidate" [WaPo]. In Nevada, enough chose "None of the Above" to potentially swing the election.

"The United States does not run a national popular vote contest. If it did, its presidential campaigns would be conducted exceedingly differently. Instead, because the United States is a federal republic, it holds 51 separate elections on the same day, per a compact between the states and Washington, DC. The day is prescribed by the Constitution: the first Tuesday after the first Monday in November. Other than that requirement, basically everything is left up to the states" [Michael Tracey, Medium]. "This is the system that the country has used for hundreds of years. You may not like it. But don't say it's "anti-democratic." An "anti-democratic" system is a system where the popular will has no bearing whatever on how citizens are ruled. Countries where this could be said to be the case include North Korea and Saudi Arabia. In those countries, "anti-democratic" means the people are not consulted at all in determining how they are governed. In the United States, we have 51 popular vote contests to determine which candidate is awarded electors, and then the person with the majority of electors becomes president. Is that "anti-democratic"? No. Maybe it's a bit arcane. But it's not "anti-democratic" because you don't like it." The electoral college seems to be one alibi the Clinton camp is converging on.

"Clinton Camp Mastered The Science Of Politics But Forgot The Art, Staffers Say" [HuffPo]. " But the dispute over why so many late deciders went to Trump over Clinton remains unresolved within the Clinton campaign and the Democratic Party writ large." Lots of detail here; late-breaking voters are the other alibi the Clinton camp is converging on. They then play the Comey card, but don't mention ObamaCare.
Trump Transition
Trump, the new media genius. Who knew:

What Trump's video does: (1) Promises immediate concrete material benefits to voters as Trump claims credit for stopping TPP (falsely, as we see from the TPP material above. ("You voted for me, now you get this.") (2) Picks a tremendous wedge issue on immigration as an opening move: As Yves points out, Trump is targeting H1B visas (and rightly, as any American worker who has ever trained their non-American, half-price replacement knows. Should put the cat among the pigeons in Silicon Valley, too).
Policy
"Let's Rebuild our Infrastructure, Not Provide Tax Breaks to Big Corporations and Wall Street" [Bernie Sanders, Medium]. "During the presidential campaign, Donald Trump correctly talked about rebuilding our country's infrastructure. But the plan he offered is a scam that gives massive tax breaks to large companies and billionaires on Wall Street who are already doing phenomenally well. Trump would allow corporations that have stashed their profits overseas to pay just a fraction of what the companies owe in federal taxes. And then he would allow the companies to "invest" in infrastructure projects in exchange for even more tax breaks. Trump's plan is corporate welfare coming and going."

"Trump could try to sweeten the [infrastructure] pot by backing a partial increase in federal spending and perhaps set up a so-called infrastructure bank — an idea backed by Democrats — that would help fund projects with a mixture of investor and government money" [MarketWatch].

UPDATE Trump Names Two Opponents of Net Neutrality to Oversee FCC Transition Team" [Gizmodo].
Our Famously Free Press
""The meeting [wtih Trump] was a total disaster. The TV execs and anchors went in there thinking they would be discussing the access they would get to the Trump administration, but instead they got a Trump-style dressing-down," the source added" [New York Post]. Oh noes!!!!! No access!!!!!!

The story that gets the play:

'Hail Trump!': White Nationalists Nazi Salute Trump victory after media leave but @TheAtlantic was still filming https://t.co/9413d9Ag3A

— Saima Mohsin (@SaimaMohsin) November 22, 2016

The story that does not get the play:

socialists hold an event that gets no coverage despite being 3x as big as the neo-nazi event that got so much so much coverage recently pic.twitter.com/yuBhXXoa8M

— Socialist Sam Hinkie (@LarryWebsite) November 22, 2016
Realignment and Legitimacy
I ran this yesterday, but it's important. If you didn't click to enlarge the text, please do; it's Sanders nuking identity politics.

Here are @BernieSanders' full remarks on identity politics from last night's talk at Berklee. pic.twitter.com/k5q7ObuBRn

— Kyle Scott Clauss (@KyleClauss) November 21, 2016

Here is Benjamin Dixon making the same argument in concrete terms:

An intersectional, Black "progressive" CEO outsourced your job & now you're homeless. Do you think:

— Benjamin Dixon (@TheBpDShow) November 22, 2016

And here is Erica Garner making the argument in even more concrete terms:

Like IM tired of hearing these pundits and washed up Clinton era folks STILL trying to pimp race for their gain… Thats whats happening.

— officialERICA GARNER (@es_snipes) November 22, 2016

"Hey Democrats, want help to rally the country around Donald Trump? Here's a great idea: Have a crowd of wealthy, out-of-touch Manhattan liberals (who can afford $849 tickets to 'Hamilton') boo Vice President-elect Mike Pence while the cast of the Broadway show lectures him on diversity" [Marc Theissen, WaPo]. I hate to quote a Bush speechwriter, but when he's right, he's right. Liberals (not the left, as Theissen would have it) got trolled very badly.
Inside Baseball
"Pelosi Supports Expanding Elected Democratic Leadership" [Roll Call]. ""In the course of my conversations with members, I was especially interested in their desire to have a stronger role in their committees," Pelosi said. "This is music to my ears, because that is exactly what was essential to our success in 2006." 2006 was another opportunity squandered by Democrats in general, and very much by Pelosi, who not only took impeaching Bush over warrantless surveillance off the table (he was a fascist, remember?), but immediately buried the Mark "Measure it for Me" Foley House page scandal in the Ethics Committee.

"Perhaps the bigger problem for Democrats moving forward is the fact they don't even know how to think about the future of the party. It's been nearly two weeks since the election, and party leaders are still shellshocked. If Republicans had lost, there would be at least some agreement about why. Democrats are looking around and saying they lost for all kinds of reasons" [Boston Globe].
Stats Watch
Richmond Fed Manufacturing Index, November 2016: "Manufacturing activity in the Fifth District came out of contraction and expanded in November" [Econoday]. "The largest contribution to the rise came from new orders, which rose a sharp 19 points, from minus 12 to 7. Capacity utilization also rose though remaining negative, to minus 1 from minus 5." And: "For the first time in a long time, the regional Fed surveys seem to be saying uniformly that growth is weakly expanding" [Econintersect]. And: "The data overall will maintain expectations of a gradual overall improvement in the manufacturing sector. Overall employment conditions are also gradually tightening, which will put upward pressure on wages" [Economic Calendar].
Existing Home Sales, October 2016: "October existing home sales jumped 2.0 percent to an annualized rate" (above consensus) [Econoday]. And: "This was above consensus expectations. For existing home sales, a key number is inventory – and inventory is still low" [Calculated Risk]. But: "There will be increased uncertainty surrounding the near-term outlook on political and economic grounds. Average 30-year mortgage rates were 3.47% in October, but have now increased to around 4.00%. Buyers may look to rush and buy on fears that rates will increase further, but there will also be important affordability issues, especially with valuations already stretched. Inevitably, there will also be uncertainty over economic policies pursued by the new Administration, which could act to accelerate or deter house purchases" [Economic Calendar]. "Sales figures are liable to be significantly more volatile over the next few months."
Housing: "In August of 2016, cash sales comprised 31.1% of all home sales, down from 32.6% in August of 2015, marking the 44th consecutive year-over-year monthly decline. Cash sales rose by 0.4 percentage points month-over-month" [247 Wall Street]. "Cash home sales reached a peak in January of 2011 when 46.6% of all home sales in the U.S. were sold for cash. That peak was nearly double the pre-housing crisis average of around 25%. If cash sales continue to fall at the December rate, the 25% rate should be achieved by mid-2019. The five states where cash sales were highest in August were Alabama (44.9%), New York (42%), Florida (40.9%), Indiana (38.6%), and Kansas (38%). Sales include new construction, resales, real-estate owned (REO), and short sales."
Housing: "The big bet was that nearly a decade after the housing bubble peaked and then imploded, that young buyers would suddenly enter the real estate market in force. Instead, many are living with parents or are part of the renting revolution. Of course the housing cheerleaders continue to champion a bubble in real estate yet somehow scratch their heads at the political ramifications that are hitting our country. Just like in politics, we are living in a massively divided real estate market. The difference in real estate however is the group of people that can afford current home prices grows smaller and smaller. Millennials, the next wave of supposed buyers never materialized" [Dr. Housing Bubble]. "What you had is low inventory, investors, artificially low interest rates, and foreign buying taking up the slack. Even in California, we have 2.3 million young adults living at home with their parents. The latest data shows that instead of taking on mortgage debt, Millennials are racking up large amounts of student debt."
Retail: "Amazon is looking to hire a number of people to expand its recently-launched U.K. ticket service into other markets in Europe, Asia, and probably into the United States as well" [ETF Daily News]. "AMZN's entry into international ticker markets should prove much easier than in the U.S., where major venues, artists, and professional sports leagues often have exclusive contracts with Ticketmaster and its parent company, Live Nation. Convincing promoters and leagues to change their practices could be difficult, the industry, which hasn't changed in several decades is definitely ripe for an overhaul."
Shipping: "The global container shipping industry needs to reduce its land-based workforce by 31,000 to improve efficiency, according to SeaIntelligence Consulting CEO Lars Jensen" [The Loadstar]. "Mr Jensen argues that all liner shipping companies need to become as efficient as the best performer, and SeaIntel analysis places Hapag-Lloyd marginally ahead of Maersk Line. Indeed, Hapag-Lloyd and niche operator Wan Hai are the only top-20 container lines to report a net profit in the third quarter of a year that could see cumulative industry losses exceed $10bn."
Shipping: "Container industry chaos likely to continue, observers say" [DC Velocity]. "Fast-growing economies like China and Brazil that boosted demand for shipping services have dramatically slowed, and with e-commerce speeding the order-to-delivery cycle, "the days of converting cargoes from air to ocean are over," he said. Relatively new container ships are being scrapped, and although Reeve expects container rates to gradually increase, any rise will be very limited due to continuing overcapacity, he said."
Shipping: "SUPRAMAX bulker owners are anticipating increased activity both from the Indonesian and Australian coal markets this week as winter restocking and the continued rise in Chinese domestic prices resulted in strong enquiries from China" [Lloyd's List].
Shipping: "'The business of dry is not conducive [to consolidation] because it is tramping.' [Jack Hsu, managing director of Hong Kong's Oak Maritime,] said, explaining that there is not the need to have economies of scale like in the liner sector" [Splash 247].
Shipping: "The [new] terminal, along with work done previously and a second phase yet to be completed, will bring the total handling capacity in [the Port of Montreal] to 600,000 TEUs, and the port's overall handling capacity to 2.1 million TEUs…. The Port of Montreal is the second-largest container port in Canada" [Progressive Railroading].
Supply Chain: "Tracking seeds and chemicals is becoming increasingly important in the agriculture supply chain" [Wall Street Journal]. "[Monsanto] will buy VitalFields, an Estonian software business that helps European farmers track their pesticide and fertilizer use to comply with European Union environmental laws. Monsanto will use the business to bulk up its Climate Corp. data-science division, which offers technology to track use of seeds and agricultural chemicals, and which recommends planting strategies to maximize harvests. Monsanto is betting that the growing debates over genetically-modified plants and other sourcing issues will only raise the value of transparency—and technology—in farming supply chains."
Today's Fear & Greed Index: 65 Greed (previous close: 67, Greed) [CNN]. One week ago: 63 (Greed). (0 is Extreme Fear; 100 is Extreme Greed). Last updated Nov 22 at 11:58am.
Dear Old Blighty
Richard Branson's Virgin to bankroll a secret Blairite campaign to stop Brexit https://t.co/abdzPvphGe

— Scott Nelson (@SocialistVoice) November 22, 2016
Our Famously Free Press
Interesting:
News orgs are seeing a swell in donations or subscriptions since Trump's victory https://t.co/OLxQWuZ1UE pic.twitter.com/8sPaadQXpB

— Bloomberg (@business) November 16, 2016
It's not the hyperpartisan, blinkered, and corrupt New York Times that got the most: Rather, it's Gannet (of USA Today) and McClatchy (many papers across the country, but not in or of the Acela corridor) who got the most. Looks like readers are communicating they want news. (The Tip Jar is to your right ;-)
Black Injustice Tipping Point
"As A Broader Movement, Black Lives Matter Braces For Trump's Presidency" [Buzzfeed News]. "'The movement has done an amazing job of creating a foundation for our work together,' said Jessica Byrd, an activist and Democratic strategist who works with groups inside the movement. 'Now is the time that container becomes powerful — we need each other to heal and resist.'" More on Byrd. And more. Not to go all foily — really! — but I think involving Democratic Strategists in "resistance" is about as sensible as involving Marshal Pétain.
Class Warfare
"If you conflate antimonopoly with antitrust, it's a story of the late 19th century, with some successes in the early and mid 20th century and then collapse. So you've already left half of American history out. The tradition is much more important than that, and has much wider roots. We often don't remember that the Boston Tea Party had an antimonopoly dimension. So too did Andrew Jackson's protest against the Bank of the United States. The great concern among 19th century Americans was political power, concentrated political power. And that concern was not with economic performance, but with power, and the ways in which economic concentration can manipulate the political order" [Pro-Market]. Concentration of power in all its forms. This is an interview with historian Richard John, well worth a read.
"I favour worker-directors not so much because I'm a socialist but because I'm a libertarian. I support them for the same reason that I support free markets (in some contexts) and free speech. It's because I believe in cognitive diversity. Worker-directors would increase boardroom diversity – not least by bringing ground truth to the table – and thus improve decision-making" [Stumbling and Mumbling].
"McDonald's and Chicago airport workers plan to strike in push for $15 wage" [Los Angeles Times]. "The Fight for $15 campaign announced protests at 20 airports and strikes and acts of mass civil disobedience at McDonald's restaurants in 340 cities. It said it expects "tens of thousands" of people to participate."
"Now that the American economy has emerged from the Great Recession, there is new research that looks at its impact on the quality of the country's relationships. Its findings are not encouraging. Daniel Schneider, a sociologist at the University of California, Berkeley, found that among mothers in heterosexual relationships, those who lived in areas hit harder by drops in employment rates during the Great Recession experienced higher rates of domestic violence and controlling behavior" [The Atlantic]. Because, ya know, economics has nothing to do with anything.
"We were all tying ourselves in knots working out whether the multiplier on infrastructure spending was 0.7 or 1.2 or 2.5, when what we ought to have been asking was: what course of action is most likely to avert a crisis of institutional legitimacy that will leave everyone much worse off" [The Economist, "The hole at the heart of economics"]. Whadday mean, "we"?
"The Hobo Ethical Code of 1889: 15 Rules for Living a Self-Reliant, Honest & Compassionate Life" [Open Culture].
News of the Wired
"Hot rat is so hot right now: Moscow falls for the rodent burger" [Guardian]. Yo Rat!
"Record-breaking pumpkin turned into boat for race" [Guardian].
"'Digital Colonization': Apple Rejects Indigenous App" [Telesurv].
"I've said many times that all social software trains you to be something. Early Facebook trained you to remember birthdays and share photos, and to some extent this trained you to be a better person, or in any case the sort of person you desired to be" [Hapgood]. "The process that Facebook currently encourages, on the other hand, of looking at these short cards of news stories and forcing you to immediately decide whether to support or not support them trains people to be extremists. It takes a moment of ambivalence or nuance, and by design pushes the reader to go deeper into their support for whatever theory or argument they are staring at. When you consider that people are being trained in this way by Facebook for hours each day, that should scare the living daylights out of you."
This $1,500 Toaster Oven Is Everything That's Wrong With Silicon Valley Design" [FastCo Design]. "Automated yet distracting. Boastful yet mediocre. Confident yet wrong." Wicked expensive. And failure-prone.
"How Much Surveillance Can Democracy Withstand?" [Richard Stallman, GNU.org].
"[Benjamin Bergen], a professor of cognitive science at the University of California-San Diego, said cursing could be linked to higher intelligence" [CBS]. "'It turns out that on average, the ones who swear the most also have the biggest vocabulary overall,' Bergen noted." No sh*t!
* * *
Readers, feel free to contact me with (a) links, and even better (b) sources I should curate regularly, and (c) to find out how to send me images of plants. Vegetables are fine! Fungi are deemed to be honorary plants! See the previous Water Cooler (with plant) here. And here's today's plant (AM):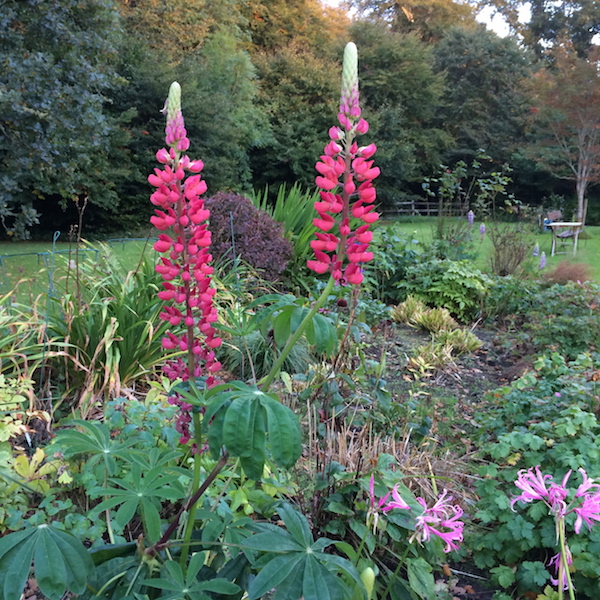 Readers, Water Cooler is a standalone entity, not supported by the very successful Naked Capitalism fundraiser just past. Now, I understand you may feel tapped out, but when and if you are able, please use the dropdown to choose your contribution, and then click the hat! Your tip will be welcome today, and indeed any day. Water Cooler will not exist without your continued help.