Update 7:50 AM. Comments were turned off on this post and I have no idea why or how. Apologies to early readers. Back to normal programming.
Yes, Cat Yoga Is A Thing Now, And It's Pretty Purrfect NPR (David L). I like this because it will select against the people who go to yoga classes and are competitive, which is the antithesis of what yoga should be about. Admittedly, it's better to focus on your practice, but next best is to be relaxed about the class and enjoy yourself (and not be self conscious if you aren't terribly limber or are a novice), and the cats-as-distraction help.
How seaweed eating super cows will save the world Inhabitat (furzy)
Bookish fools aeon
Oil Production Could Have Caused Century-Old California Earthquakes Scientific American (Lulu)
What Silicon Valley Can Learn From Buddha's Diet Wired (furzy). Um, like Theranos' blood tests and self driving cars?
China?
Australia and Indonesia consider joint South China Sea patrols Financial Times

Asset Bubbles Threaten China's Economy Wall Street Journal/blockquote>

Kuroda admits BoJ will not meet inflation target before term ends Financial Times. Quelle surprise!
Brexit
Huge Brexit margin calls stoke intra-day funding fears Risk (paywalled but free trial). Vlade:

From what I heard from others:

– large Treasuries move translated into large initial margin increases
– banks asked for (in some cases) billions with 60 minutes notice

It all ended well – I think because CBs stood ready and had the liquidity ready. Now imagine that something similar happened unexpectedly…
Mark Carney writes his own departure script Politico
Request for an opinion concerning the appointment of former President Barroso at Goldman Sachs International. European Commission. Short version: he was cleared. Some animals are more equal than others, particularly ones connected with Goldman.
Pontius Pilate's Opinion: The Ethical Committe's Opinion on Barroso Alberto Alemanno
Scuffles in Paris as police move in to tear down makeshift migrant camps euronews
Study Finds Shark Fins & Meat Contain High Levels of Neurotoxins Linked to Alzheimer's Disease University of Miami (guurst).
Syraqistan
This is What Will Happen to Mosul After ISIS is Evicted Counterpunch (resilc)
Big Brother is Watching You Watch
Standing Rock pipeline protest was absent from Facebook Trends TechCrunch (Dan K). Why your humble blogger has nothing to do with FaceBorg.

Why do we still accept that governments collect and snoop on our data? Guardian
Imperial Collapse Watch
The Doctrine of Armed Exceptionalism LobeLog (resilc)

How Putin Derailed the West Counterpunch. Resilc: "'Why is Hillary Clinton so eager to intensify US involvement in Syria when US interventions in Afghanistan, Iraq and Libya have all gone so terribly wrong?' The USG incentive system for DoD/CIA/State/USAID et al is more war and more interventions."

Inside the Invisible Government: War, Propaganda, Clinton & Trump Strategic Culture Watch (Chuck L)

The fatal expense of American imperialism Boston Globe (furzy)
Trade Traitors
TPP Is Exciting. Let's Make the Case for It. Bloomberg (resilc). Four alarm fires and bombings are exciting too, but not in a good way.
2016
Clinton camp blasts FBI 'double standards' BBC. This line of attack is unlikely to succeed. The FBI is consistently depicted as upstanding and competent in crime and CSI shows. The fact that the Obamamometer has basically thrown Clinton under the bus v. Comey says that he reads the public pulse more or less the same way.

FBI chief said to oppose US statement blaming Russia for hacks Financial Times. Lordie. Based on a single anonymous source, then amplified with glee by Robby Mook.

Spy told FBI that Russia wants to cultivate Trump: report The Hill (furzy). Mark Ames via e-mail:

What we learned even in the 90s—there are never, ever any standards for a journalist writing about Russia. Ever. The more bigoted and fantastical, the better. And when your hack crap is completely 100% debunked by other revelations, no editor will ever, ever discipline you. The only way you can have problems with Russia journalism is if you step away from the herd. No editor will ever forgive you for it.

And John Helmer debunked it more specifically by e-mail. Since his message was long, some key bits:

My wife is linked to Putin – she's Russian. I'm linked to Putin – his friend Oleg Deripaska tried to kill me.

Fridman is busy exiting from Russia as fast as he can go – and may lose Vimpelcom Russia in consequence. The recent DoJ corruption penalty for Vimpelcom — $795M – indicates a reasonable lack of fondness on his part for the current US administration, but then Fridman has hired Richard Burt (Reagan-Bush) and Tom McLarty (Clinton) to "advise" – meaning lobby for him to get approvals from the Treasury, State and CIA for takeovers of fresh US assets, such as FreedomPop. And they are going through the Committee on Foreign Investment in the US, so the Trump "connection" can't be as bad as the Clintonites make out.

Burt and McLarty are advisors to the LetterOne board, not directors on the Alfa Bank board. If Burt is considered a Trump man – e.g., , http://www.politico.com/story/2016/10/donald-trump-campaign-lobbyist-russian-pipeline-229264 — how to explain he was vintage Reagan and Bush? I remember Burt well – short, narcissistic (adolescent acne the cause), not very bright, would do anything to please, especially for money: http://www.politico.com/story/2016/10/donald-trump-campaign-lobbyist-russian-pipeline-229264 If Burt is such a Trumpie, and McLarty a Clintonite, what happens when they want to use the office toilet at the same time? And then John Negroponte arrives, hustled by Stu Eizenstat (ex Carter) – does ideology get in their way, or do their money interests encourage them to form an orderly line? Look at this list of McLarty's associates: http://maglobal.com/about-us/our-team/john-negroponte/

And another desperate story at Slate, which I cringe at dignifying by linking to it: Was a Trump Server Communicating With Russia?I hate having to attack this garbage; recall Glenn Greenwald saying how he despised Trump yet excoriating the MSM going all in running any and every fact-challenged or badly stretched attack on Trump, when there is plenty of bona-fide dirt on him already. Outsourcing this again to Ames who has seen more of this than I have:

The super-secret server linkup is one of the most inane supermarket spy pulp fantasies I've seen. It's cartoon-bad. Most conspiracy theorists work a lot harder on their inane inventions than this. It relies on total ignorance, on a cartoonish grasp of how linkups would work.

And Helmer again:

A computer channel to a bank that doesn't do the one thing banks are meant to do – transfer money. In the forensics of sex crimes, is that one of those Jimmy Carter "adulteries in the mind"?

FT endorsement: For all her weaknesses, Clinton is the best hope Financial Times. Surprising amount of opposition in the comments section (as in lots) given reader demographics. And the US is now the FT's biggest market.

Donald Trump Used Legally Dubious Method to Avoid Paying Taxes New York Times. Par for the course for the New York Times. Article hyperventilates about supposedly improper behavior by Trump, yet the basis for the case is that what he did was later made impermissible. I deducted interest I paid on my one little student loan in the early 1980s because prior to the 1986 Tax Reform Act, all consumer interest was tax deductible. By the standards of the Times' fulminating, what I did then was similarly "legally dubious." Help me.

On top of that, from what I infer from this piece, which is not at all clear on what Trump supposedly did (it tries to make his sin about failure to report, which sounds like a stretch; the IRS does have audit powers), it still appears that Lee Sheppard's analysis of why what Trump did in 1995 was kosher then but not kosher later is the best account to date. And that was out a full month ago. Her article specifically discussed why the cancellation of debt income did not appear on his tax return at the time. I am putting the key part of her discussion (it was unpaywalled for weeks but now Tax Analysts has hidden it again) at the very end of this post so the geeky can see what a stretch the Times' treatment is.

Trump Amps Up Criticism of Clinton Amid Probe Wall Street Journal

Trump Plan to 'Build the Wall' May Cost Him in Border States Bloomberg

Hillary Clinton's presidency is inevitable. It's also over. The Week (resilc)

Secretary Biden? Don't Bet on It American Conservative (resilc). Nuland is coming! Assume the brace position!

Clinton's Coalition: Hispanic Support Appears To Be Up, Black Turnout Down FiveThirtyEight

Clinton Campaign Chief John Podesta's Interest In UFOs is Out of This World NBC (furzy). Nancy had her astrologer…

Mike Murphy: 'We're Going to Have a Civil War' in the Party NBC. "Going to have"?
How Hillary Clinton's State Department Sold Fracking to the World Mother Jones (furzy)
Culture War: The 'Have Mores' Mock DAPL Protectors for Halloween Waking Times (Judy B). This looks a lot more like Jay Gould in operation.
Black Injustice Tipping Point
When You're a Protester, the Color of Your Skin Is All That Matters Esquire (furzy)
Fund industry assets fall for first time in five years Financial Times. No wonder top dogs at two of the biggest players, Blackrock and Blackstone, are gunning for a Treasury Secretary position and looking to have all US workers make direct mandatory payments to the fund management industry.
Class Warfare
Paid Leave and Daycare: Luxuries of the Wealthy New Economic Perspectives

Infrastructure: Can We Finally Think Big? American Prospect. Reslic is not optimistic.

West Virginia: OxyContin maker dashes efforts to address opioid epidemic WSWS
As promised further up, here is the key section of Lee Sheppard's Tax Notes discussion of Trump's tax losses. Contrast this analysis with the vague and hyperventilating NYT account a full month later. Looks like the Clintons have run out of new oppo and are mining existing material to see if they can wring more outrage from it. From Tax Notes:
Why doesn't the COD [cancellation of debt] income appear on the state return? Most of the relief occurred in years before 1995. Here's what we assume would have been his structure, because it was a common structure at the time.We assume that he entered the partnerships that owned the casinos using his own S corporation as partner. That S corporation probably was the general partner. An S corporation is a corporation under state law.

As general partner, that S corporation may have been allocated more losses in the form of interest expenses, operating expenses, and depreciation deductions than it could use against the three casinos' insufficient income. Once the income was Doc 2016-19994 (3 pgs) exhausted, losses could be applied to reduce the owner's basis in the S corporation, but it is likely that basis was small. Passthrough of losses is limited to the shareholder's basis in S corporation shares (section 1363(d)).

When the debt was forgiven at the S corporation level, it would have produced a basis bump to Trump as sole shareholder so that unused losses could be used, even if the S corporation qualified for a COD income exclusion because it was insolvent or filed bankruptcy. It probably would have invoked one of those COD income exclusions (section 108(a)(1)(A), (B)). That basis bump would have enabled him to use the resulting loss overhang in perpetuity to offset his income. Essentially, the basis increase allowed the unused NOLs to flow through to the shareholder and avoided attribute reduction because the NOLs were no longer in the corporation.

Gee, shouldn't there have been a suspension of related tax attributes? Not under the law at the time.The Supreme Court held in 2001 that the law literally permitted this apparent double dip result (Gitlitz v. Commissioner, 531 U.S. 206 (2001)). Congress reversed the decision in 2002, grandfathering basis bumps incurred before the date of enactment, so Trump would have been grandfathered (section 108(d)(7)). (Prior analysis: Tax Notes, Jan. 29, 2001, p. 577.)

What happened to the taxpayer in Gitlitz helps explain what probably happened to Trump. Gitlitz and another individual were shareholders in an S corporation that incurred $2 million of COD income in 1991. Because the S corporation was insolvent, it was allowed to exclude the COD income.The two shareholders increased their bases in their shares by the amount of the excluded COD income (section 1366(a)(1)(A)). They used the basis increase to offset income from prior years (section 1366(d)). That is, COD income that had been excluded was replicated in a basis increase.

The IRS argued that the COD income should reduce the S corporation's basis in its assets — effectively confining it to the corporate level (reg. section 1.1366-1(a)(2)(viii)).

But the Court stuck with the literal wording of the law, which did not spell out that result at the time.The excluded COD income was not specifically removed from income items of an S corporation, so it would have caused a basis bump (section 1367(a)). The shareholders could use associated NOLs (section 1366(a)(1)(A)).
Antidote du jour (apologize for not crediting the reader who flagged finalists for the Wildlife comedy photos, will update if you pipe up in comments). This one is "Bighorn rams exhibiting attitudes during the rut, Gardiner, Mont., in December 2014."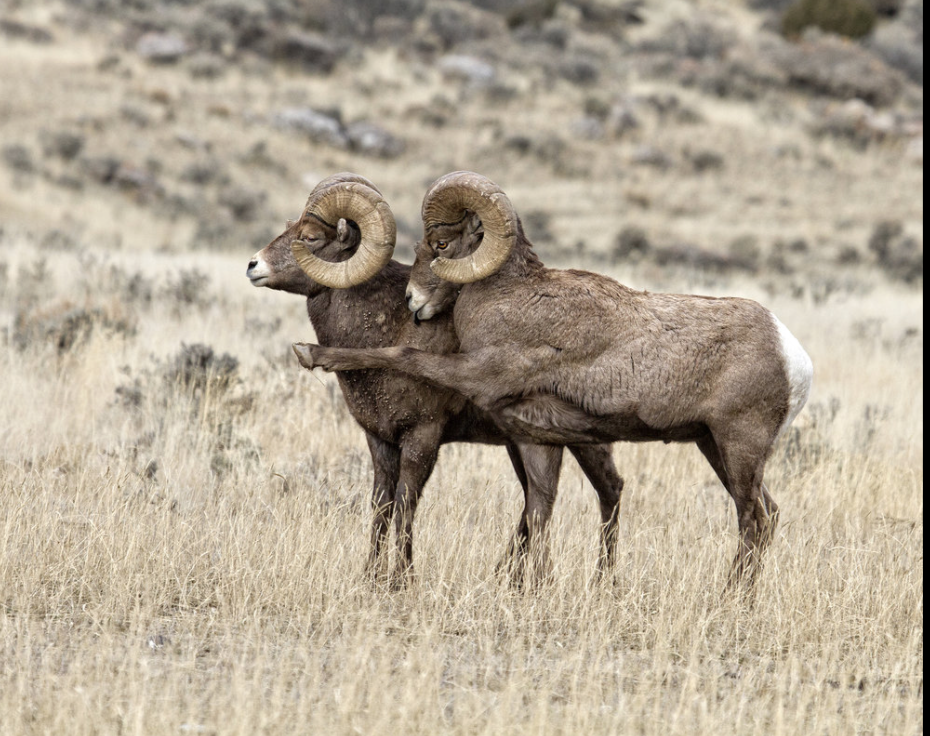 See yesterday's Links and Antidote du Jour here.