Brain Implants Allow Paralyzed Monkeys To Walk Slashdot (furzy)
New Zealand town builds underpass for march of the penguins Guardian
Newly discovered genetic code controls bacterial survival during infections PhysOrg
Avocados are driving deforestation in Mexico TreeHugger (resilc)
Nestle CEO: Water Is Not A Human Right, Should Be Privatized Defend Democracy
Myanmar jails top media chiefs Bangkok Post
Trump Spells Trouble for Berlin and Brussels Der Spiegel
What Does Trump's Victory Mean For NATO? NPR. Charles flags the close, which is an unusually pointed admission of the basis of our imperialist project.
Brexit
EU warns May over Trump Times
Turkey is swiftly heading towards a regime of terror Bangkok Post (furzy)
Trump Transition. I am trying, and hope you will help in comments, in pulling the noise out of the signal regarding what Trump will actually do when he becomes President and whether it will succeed, "success" consisting first of it being implemented and second, making him and his Administration appear to be legitimate (as in keeping campaign promises, delivering tangible benefits to voters or powerful interest groups he needs on board). Despite all the changes in messaging over the course of his campaign, Trump was consistent on immigration, trade and lack of infrastructure investment, and depicted all three as ways to improve conditions for workers. And political scientist Tom Ferguson says that the data shows that the propensity to vote for Trump was highly correlated with voters giving negative answers to questions like whether the economy or the job situation had gotten better.
Trump and Sanders found power lying in the street by virtue of both parities abandoning high employment levels and wage growth as major policy goals. But if Trump is to deliver on his promise of delivering on those goals, he is at odds with much of his own party, which is keen to keep workers weak and preserve free trade (the corporate Republicans, particularly ones whose constituents include globalized businesses like autos, for the obvious patronage reasons; libertarians, out of ideology). Given that trade policy and immigration enforcement are areas in which the President has considerable latitude, whether and how he engages in these fights will be early tests of whether he intends to and is able to execute.
Finally bear in mind that Trump not only has a thin bench staff wise, but also intellectually. Many of his sources of advice are ideologues who like the Brexiters in the UK, may cheerily recommend changes which might sound ducky (to them) without having the foggiest clue that the operational implications are nightmarish. For instance, I'm told the Trump transition team on policy is apparently planning on recommending that the US exit Nafta and the WTO on the first day of the Trump presidency. Pray tell, have they looked into what this means for US customs, and for US exporters dealing with foreign customs?
In other words, the right wing think tank types that the Trump team is relying on runs the risk of being as clueless about issues of organizational capacity as the Greeks were who thought they had a trump card (pun intended) in a Grexit (for those new to Naked Capitalism, we had an extensive series of posts on this topic, see here, here and here for some examples).
So for instance, see this BBC story:
Trump likes main Obamacare provisions 'very much', specifically, covering pre-existing conditions and letting children up to age 26. The story describes how the Republicans might oppose Trump:
Complicating the matter is that a "revise and reform" effort may not fly with Mr Trump's ardent supporters and the cadre of arch-conservative politicians in Congress, who want to tear up the law "root and branch".

Mr Trump often broke with Republican orthodoxy while campaigning and didn't pay a political price. He may learn that as president he won't get far without his party establishment's help.
In WSJ Interview, Trump Says He Is Willing to Keep Parts of Health Law Wall Street Journal. Note the heavy emphasis on job creation. This had been the Democratic party lode star through the Carter era. He also defines Pence's job, which is to help on health care and sell Trump policies to Congress. This is similar to the role Joe Biden played. And he rejected the Administration "find those moderate Syrians" strategy.

Commander-In-Chief Donald Trump Will Have Terrifying Powers. Thanks, Obama. Intercept

Could Trump reform US foreign policy? Boston Globe

Donald Trump May Select an Architect of Bush's Torture Program to Run CIA Intercept (resilc)

Trump Shakes Up Transition, Begins to Articulate Priorities Bloomberg. Notes the absence of two groups that wielded a great deal of power with the Dems: Wall Street and Silicon Valley. Reported in all the other stories, but having four family members on the transition team is, um, unusual, to say the least. If nothing else, it's a way to assure he has loyal eyes and ears in all these meetings.

Insurgent Trump taps GOP insiders, lobbyists for transition Politico

Trump picks Pence to lead new transition team Financial Times. A colleague who spent years in DC and has to deal with Beltway inside baseball as part of his day job says Pence's now leading the transition team has no information value re Pence, that the significance is what it means re Christie. Either he really has had his wings clipped or Trump and he have reached an understanding re what Christie's post will be in the Administration and they decided it was better to reduce his profile given the fresh conviction of his Bridgegate buddies. The NYT contends that Pence may get the upper hand on Trump ideologically by virtue of having key relationships in the Beltway and knowing the process, but Trump has slapped down Pence every time Pence said something that contradicted something Trump has said. So until Pence contradicts Trump on something non-trivial and prevails, the idea that Pence will get the better of Trump is rank speculation. As Lambert says, "They are randomly seeking demon figures to confirm their views. Trump is not Bush. And these are journalists with no access to Trump insiders. They need to take a week off."

Guess what, Dorothy? Now we're ALL back in Kansas! Atlanta Journal-Constitution (furzy)

Autocracy: Rules for Survival Masha Gessen, New York Review of Books (Angela). Histrionic, but worth keeping in mind that a less severe version of what she foresees is possible, particularly if Rudy Giuliani winds up in a position where he can tie local policing into national efforts. Do not forget that that started with Obama, with his gifts of military equipment to cities and his 17 city coordinated paramilitary crackdown on Occupy. But Gessen misses that Trump may be making a big mistake if he persists with trying to freeze the White House press corps out of its usual role of following the President and being on the receiving end of regular briefings. If they aren't kept busy with activities that generally have low information content and make them well disposed toward the President, they'll have to do real reporting.

The legacy of the 2011 debt ceiling fight is the biggest issue Trump will face on day one Business Insider (furzy). Um, no. First, we've never had a problem with funding the next bombing run to Iraq. The DoD has a huge off-budget funding operation (I forget the name entirely….but it's real). Second, if the word were to get to Trump (unlikely given his dependence on Republican information sources), he would be just the sort to do something unorthodox like the platinum coin. Third, this is not gonna be his biggest day one issue. If he has not already capitulated on major parts of his program, he'll probably be in a pitched battle with his party.

Trump's Presidency Could Upend the Way Silicon Valley Works Wired

Reports of Bias-Based Attacks Tick Upward After Election New York Times
2016 Post Mortem
A Divided and Pessimistic Electorate Pew Research

It was the Democrats' embrace of neoliberalism that won it for Trump Guardian (Tom H)

The Fall of the House of Clinton Vanity Fair

The Podesta emails – After Hillary, John Podesta had been seriously warned about the Syrian chaos failed evolution

CAP Cancels Rollout of Project Aimed at Working Class White Voters Free Beacon. From 2014.

The Bar Fight Primary Matt Stoller, Huffington Post. Notice the date, and how accurate it proved to be. And the notion of a credible politician as a bar fighter is useful.

The Inconvenient Truth Behind Donald Trump's Victory RealInvestmentAdvice

Jill Stein voters did not deliver Donald Trump the presidency Vox (resilc). In case you need a link to shut people up.

Amid Tide of Red on Electoral Map, West Coast Stays Defiantly Blue New York Times

Donald Trump Won Because of Facebook New York Magazine (furzy). Lordie. The story before the election was that FB was in the can for Clinton. Now it's FB's fault.

Podesta email bombshell: Clinton campaign was heavily funded by Monsanto Natural News

I said Clinton was in trouble with the voters I represent. Democrats didn't listen. Washington Post

Why Some People Are Burning Their New Balance Sneakers Washington Post. Resilc: "Because they are dumbasses?"

How Letting Bankers Off the Hook May Have Tipped the Election Gretchen Morgenson, New York Times. Please circulate!
Team Dem Rending of Garments and Gnashing of Teeth
Bernie Sanders: Where the Democrats Go From Here New York Times (Kevin C). Only 87 comments as of this hour, which does not look organic, and many angry ones from Clinton supporters accusing Sanders of not campaigning for her.

Elizabeth Warren: 'We Will Fight for the Working People of This Country' AFL-CIO

Keith Ellison Is the Leader the DNC Needs Nation

Paul Ryan just announced his plans to phase out Medicare with privatization using vouchers Daily Kos (furzy). Old people vote, and turn out at much higher levels than young people. Bush the Second increased Medicare spending. This is a risky ploy and I doubt there are enough Republican ideologues who are willing to risk voter backlash, particularly since the Republican base skews old. Supporting and expanding Medicare and Social Security polls very well no matter how the question is put.

CLINTON CAMPAIGN: We lost because of James Comey Business Insider. David Laxer deemed this to be funny.

Harry Reid Calls Trump "a Sexual Predator Who Lost the Popular Vote" Mother Jones. Wowsers. This was true of Bill Clinton in 1992, except no one outside Arkansas knew he was a sexual predator back then. And more important, another example of why the Dems suck. Jerri-Lynn: "If the Dems were more tactically competent, Trump would not have won…. I actually think they're not completely cynical, and buy into some of this nonsense." If you are gonna get some Rs in the Senate to join you to stymie Trump, this is not the way to go about it. Only good thing to be said is Reid is on his way out.

These Rust Belt Democrats Saw the Trump Wave Coming Mother Jones

Democrats begin fight against Trump: his election 'does not feel like America' Guardian. Resilc: "Jobs jobs jobs jobs, they don't get it."

Democrats see silver lining in release from Clinton grip Financial Times

It's Time to Smell the Shit Cathy O'Neil. This sort of thing is why the Dems will continue to lose. They need to change course, big time. Lambert: "Because their shit don't stink." Moi: Doubling down on identity politics/racist meme will fail, and they refuse to consider that if Trump manages to deliver on jobs, he will be popular.
Veterans Against the War: 11 Perspectives on Ending US Imperialism Truthout
Judge Curiel Denies Trump Motion to Exclude Evidence of What He Said and Tweeted During Campaign Daily Kos (furzy)
U.S. election sparks 'violent rotation' to inflation plays: BAML Reuters
With Trump's election, is stimulus spending back on Washington's agenda? Los Angeles Times
Gundlach: Current Leg of Trump-Inspired Treasury Sell-Off 'About 80% Through' FINalternatives
Make Inflation Great Again! Is Trump the "Inflation President"? Spotlight on Bonds, Oil, Gold, Attitudes Michael Shedlock. EM:
FT: 'If implemented in full, which seems unlikely, these bold pledges would add $10tn to the public debt in the next decade.' Hey FT, we added $11tn to the national debt over the last 8 years and got very little to show for it other than more Wall Street crookery and graft and more neocon warmongering. Maybe 'where the money goes' actually matters? Of course we know where the FT's interests lie in that respect. NYT, also quoted here, is equally clueless: 'But when nearly all the people who want a job already have one, that spending just bids up the pay of people already working, eventually resulting in higher prices more broadly.' Because there simply is not bettering the current best-in-history state of the employment landscape! Money's take is – if that is possible – even more moronic: 'If you include Trump's threat to impose a new tariffs on Chinese and Mexican goods, the cost of goods that Americans buy at Wal-Mart and Costco could rise by about 3%.' Even were that true, having your income rise by oo% might just make that kind of cost increase more palatable, yes?
Beyond anger aeon (Micael). Important. But despite the fact that the author says his definition of anger is widely accepted, it does not resonate with my own experience. It is true that most of the time when I am angry, I do want the other party to suffer. But there are times when I am angry when I want things to change. I'm angry with myself because I have not been disciplined enough. I was very angry about foreclosures and wanted reforms. There were times when I wanted certain people who sabotaged reform to suffer, but the driver most of the time was that people were being hurt unnecessarily and there were things that could be done that would significantly reduce that. Similarly, the one time I intervened in a domestic violence situation, I went after the guy, yelling, because I knew instinctively it would take a show of force to get him to recognize that I was serious. But I didn't want to hurt him, I just wanted him to let the girl get her purse out of his car (this was how he was holding her hostage) so she could get a cab and go home.
Antidote du jour. Margarita:
The sweet Cosmo is a beautiful Maine Coon with an out-sized personality (and unfortunately a killer instinct)

Whenever there was a party at the house, with people sitting around the table, Cosmo demanded his own chair…

If he did not get it, he'd sneak (sweetly) behind some unsuspecting human victim, and in 15 -20 minutes, he'd push the person out of the chair and proudly claim everybody's attention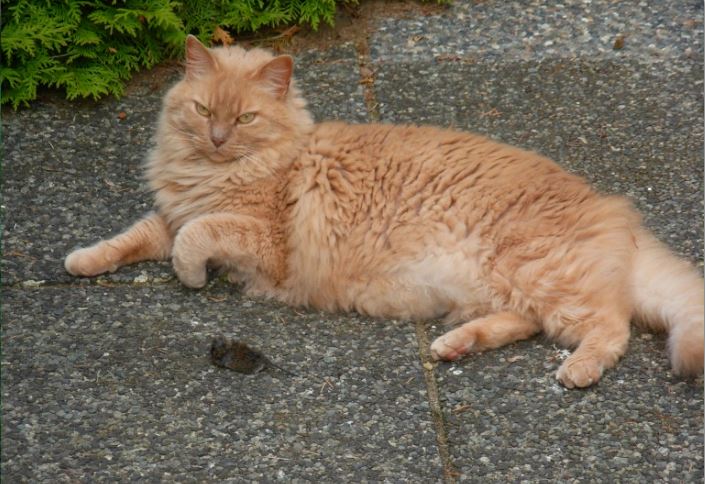 See yesterday's Links and Antidote du Jour here.