Norwegian, Russian to Square off in World Chess Championship ABC (furzy)
Fuel economy of American vehicles continues to drop TreeHugger. Cheap gas will do that.
Green loons pursue wowser apocalypse MacroBusiness
India rupees: Chaos at banks continues after ATMs reopen BBC
Moscovici: Trump's US could be tax haven blacklisted EurActiv. The inclusion of Trump in the headline is clickbait. The tax haven issue is a possible issue regardless of who had won. But Moscovici's remarks suggest that he's gotten his information about Trump's taxes by reading New York Times headlines.
Ukraine/Russia
Ukraine fears falling victim to Trump-Putin 'grand bargain' Financial Times

Russia Cools 'Excessive Optimism' on U.S. Relations Bloomberg
Syraqistan
Syria Analysis: Obama Declares Fight is With "Terrorists" Rather Than Assad EA WorldView. Resilc: "We are fighting our own funded people?"

'Crashing waves' of jihadists fray soldiers' nerves in Mosul battle Reuters (resilc)

Saudi Arabia: A Kingdom Coming Undone Defense One. Resilc: "This baby's gonna blow."
Trade Traitors
2016
90-Minute Meeting Was a 'Great Honor,' Says President-Elect New York Times. Body language in other Obama-Trump pix not as awful as the one on the NYT front page, but the ones I've seen in the Michelle-Melania shots looked good, FWIW.

Trump presidency: Protests turn violent in Portland, Oregon BBC

More anti-Trump action planned after second night of protests across US Guardian. Have a look at the subhead: "Activists say they are weighing up their next moves, as hundreds of people take to the streets again following election of Donald Trump." "Hundreds of people"?!? And this is the lead story at the US edition of the Guardian?

Chris Matthews on Trump Protests: What Kind Of Statement Is There To Make? They Lost RealClearPolitics

Acts of intimidation, violence and vandalism reported after Trump win Yahoo. Reports acts on both sides.

Ten-Step Program for Adjusting to President-Elect Trump New York Times. Actually not bad.

Donald Trump Ran on Protecting Social Security But Transition Team Includes Privatizers/ Intercept (martha r). Looks like the answer as to whether Trump was getting rolled by the Republican establishment is coming pretty quickly. Remember that Trump doesn't owe Wall Street anything; this appears to be the result of turning to Republican "experts".

List reveals Sarah Palin and Chris Christie as well as oil tycoons and bankers in Donald Trump's possible cabinet Independent (martha r)

Trump Recruiting Among the Lobbyists He Once Denounced New York Times.

Donald Trump: JPMorgan's Jamie Dimon Being Considered for Treasury Fortune (resilc). Wonder if Trump is running this trial balloon to make Elizabeth Warren see red and make Trump's good buddy Carl Ichan look good by comparison.

Trump's Transition Team Works to Form Cabinet Wall Street Journal. Story flogs Hensarling as a possible Treasury Secretary candidate (gah!) along with other scary ideas. But I tend to discount this because Hensarling is a buddy of Pence, and so far, Trump's interactions with Pence have featured lots of friction. And Hensarling is plenty useful to Trump right where he is now. Let's hope this reading proves to be correct.

U.S. consumer financial agency could be defanged under Trump Reuters

Trump Ascends to the Cherry Blossom Throne – Tyler Sic Semper Tyrannis (Kfathi). A contrary view to the links above, and today's must read. Bear in mind that he exaggerates the role of Soros in US politics (Eastern Europe is a completely different kettle of fish). Too many other squillionaires throwing $ at candidates and think tanks. See his comment about John Bolton in particular (mind you I don't see how anyone can think Bolton is a good idea), and his warning: "Instead, my friends on the Left, worry that he will not only do what he said he would, but he'll go above and beyond, and the people will love him for it." But this cheery reading discounts the difficulty Trump will have in securing the ability to govern. Saboteurs on what is nominally your side are a tougher obstacle than external opponents.

Blankfein Says Trump Infrastructure Commitment Good for Growth Bloomberg (resilc)

Before Taking the White House, Trump Due in Court over Fraud Vanity Fair. A President's power of pardon is absolute save for impeachment, so Trump could pardon himself. But would he dare? And I'm not an expert on immigration law, but it's hard to see how Trump is on shaky legal ground in deporting undocumented aliens. Other countries do it all the time. Try overstaying your visa and watch what happens if you get caught out.

Trump Shows Every Sign of Carrying Out Sweeping Immigration Crackdown Bloomberg. If Trump moves too fast on deportations, as opposed to policy changes (as in relying on loud noises, including warnings to employers, to induce many undocumented workers to leave of their own accord), Trump could precipitate sustained and serious protests. But the Feds may lack the staffing to increase deportations all that much near term.

Record Numbers of Undocumented Immigrants Being Detained in U.S. Bloomberg. Resilc: "Last I checked a demo has been in control since 2008."

Trump bucks protocol on press access Associated Press. Lambert: "And where were they when Clinton didn't hold a press conference for ~300 days?"

https://wikileaks.org/podesta-emails/emailid/58393. Martha r:

When you go to the link, click on Attachment to download the pdf of the 9-page report.

from the bottom of page 6:

OTHER INSIGHTS:
Based on group discussion, and debate exercises distributed prior to the debate.
By the Numbers
• Who won the debate: 27 to 2(or 3*) in favor of Sanders
• Who is more electable in November: 15 to 13 in favor of Sanders
• Who has a stronger message: 17 to 11 in favor of Sanders
• Who will win the South Carolina primary: 10 for Sanders, 9 for Clinton, and 11 unsure
• Who moved undecided voters: 14 lean Sanders, 2 lean Clinton, 14 remain undecided
*One of the HRC supporters was uncertain about her position post group.

The Polls Missed Trump. We Asked Pollsters Why. FiveThirtyEight. Resilc: "Because they are a con and mumbo jumbo?" Moi: Notice how Silver focuses on how "pollsters" missed to exculpate his own failings. As Keynes said:

A sound banker, alas, is not one who foresees danger and avoids it, but one who, when he is ruined, is ruined in a conventional way along with his fellows, so that no one can really blame him.

An App Saw Trump Winning Swing States When Polls Didn't NPR (jawbone)

The 13 most amazing findings in the 2016 exit poll Washington Post

Former Democratic candidate said he will not rule out another presidential bid in 2020 Common Dream

Trumptastic Voyage The Simpsons

Give BrandNewCongress.org a look

Join Bernie Sanders and Support Keith Ellison for DNC Chair Bernie

The Democrats are leaderless. Slate. Resilc: "Bernie/Warren Crips vs Martha's Vineyard Bloods. Crips better win." Lambert and I saw Warren's outreach to Trump via the media yesterday as moving into the power vacuum.

The whole Democratic Party is now a smoking pile of rubble Vox. Yes. Heck of a job, Matty. Not that you are solely responsible, but you and your ilk were all oozing self congratulation these past eight years.

Democrats Deserve President Trump For Creating A Cult Following Around Hillary And Cheating Bernie | The Huffington Post (furzy(

Democrats once represented the working class. Not any more Robert Reich, Guardian (martha r). A good summing up.

Trump, Empathy & Epistemic Closure American Conservative (resilc)

DNC Staffer Screams At Donna Brazile For Helping Elect Donald Trump Huffington Post (kj1313)

Donna Brazile: I'm sorry only that I got caught cheating with debate questions Salon. Resilc: "Until these Demo swine pay the GOP will win."

5 countries Hillary Clinton supporters should move to The Duran (Chuck L)

Hillary Clinton's Celebrity Feminism Was a Failure New Republic (Steve C)
US Cities Turn to Transportation Ballot Initiatives Wired (resilc)
Silicon Valley's Call to Secede Shows How Out of Touch It Is MIT Technology Review (resilc). Instead of funding all those apps, maybe they should have thought about funding a ton of desalination plants and plowing over all of their vanity water-hogging vineyards.
KC council committee opposes Dakota Access pipeline Kansas City Star
Go figure the equity markets FT Alphaville
Fitch Drops Carlyle Group to BBB+ from A- PEU Report
Antidote du jour (Tracie H). A green tree python, from the Los Angeles Zoo: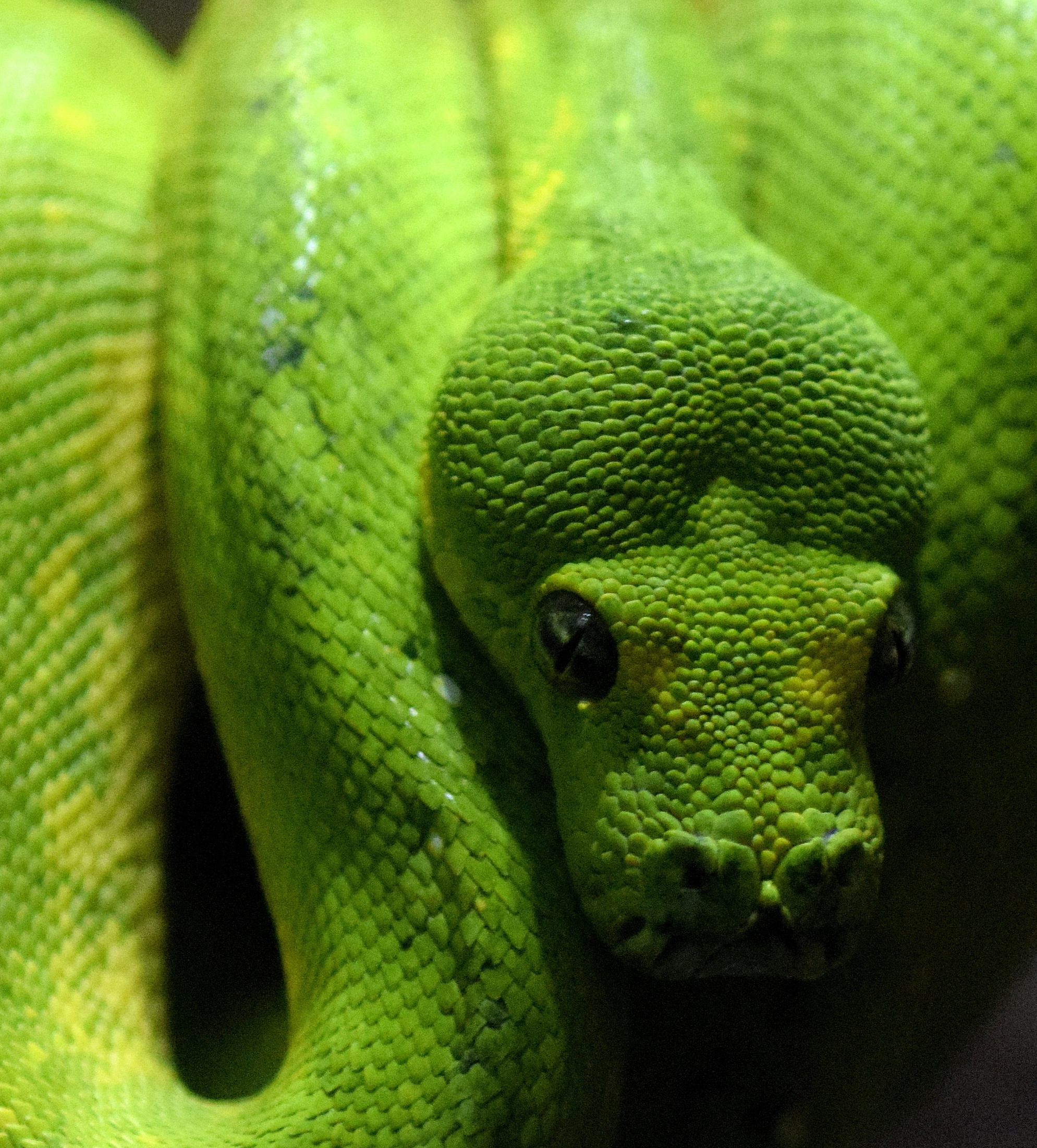 See yesterday's Links and Antidote du Jour here.