Yves here. I've gone into holiday mode a day early, with an original post from Jerri-Lynn coming at 10:00 AM. There's been a ton of Trump news flow, with a lot of noise in the signal (Dem blame shifting) as well as Trump doing a lot of what in Greece are called kolotumbas, it seemed more prudent to let some matters gestate a bit rather than try to analyze an overly dynamic situation. Plus I've had family obligations. My sharp as a tack, hopelessly stubborn but physically feeble mother turns 89 this weekend and refuses to move out of her house. On the one hand, that puts off the "sell the house and get her moved" drama and time sink, but creates ongoing managerial demands of another sort.
Sandstone shapes 'forged by gravity' BBC (bob)
Ocean grabs: fighting the 'rights-based' corporate take-over of fisheries governance Ecologist (Micael)
Tesla Shock Means Global Gasoline Demand Has All But Peaked Bloomberg (Dan K). Linear projections, particularly for long time periods like 25 years, are suspect. Electric cars use some environmentally costly inputs like rare earths. I can't prove it, but I suspect rising production could produce spikes in cost or actual shortages of these inputs, which could slow the rate of adoption. Readers?
Arctic heat wave "scary" MacroBusiness
China?
China banks risk Lehman moment as wholesale borrowing rises Financial Times (David L). Odd to be sounding alarms about wealth management products at this late date. The market went wobbly in late 2013/early 2014. The short form is the officialdom put a bit of pressure on them, a few went bust, and then they went into rescue mode. There's no mention whatsoever of the last scare (which had a lot of foreign observers freaked out) or the rescue.

Now I've heard it all, China "to lead" on free trade! MacroBusiness
India Cash Train Wreck
Potential gold-import ban by India could be biggest bombshell since Nixon MarketWatch
Queen Merkel as the savior of the neoliberal establishment! failed evolution
Loud calls in Parliament for ending EU membership talks with Turkey Politico
Brexit
Europeans round on top Brexit ministers The Times. "Boris Johnson and David Davis, the cabinet ministers leading Brexit, have been accused of "unbelievable arrogance" and having no idea what leaving the European Union means." As we've been saying!!!!

Brexit Britain faces threat of higher EU barriers Financial Times
Bank of England Trips over London House-Price Bubble, Hilarity Ensues Wolf Street (EM)
Ukraine/Russia
Big Western Companies Are Pumping Cash Into Russia Bloomberg

YEVGENY GAVRILIN'S BOOMSTARTER – HOW THE MICROFINANCE MARKET POINTS TO RUSSIAN TAKEOFF, WITH OR WITHOUT THE TRUMP EFFECT John Helmer
Trump Transition
Trump softens position on climate change, Clinton investigation Reuters (EM)

Trump disavows 'alt-right' supporters BBC

Donald Trump's 'alt-right' supporters express dismay at disavowal Guardian. Note how "alt-right" which appeared to cover media outlets to the right of Fox (and thus a hodge podge of right wing views, including overt racism) has now, as some observers are even quoted in the piece, to mean solely the racist elements.

Freewheeling Trump creates friction on both sides Financial Times

Trump Reverses Campaign Pledge, Will Not Go After Hillary Michael Shedlock (EM)

Mitt Romney Leads Donald Trump's Picks for Secretary of State Wall Street Journal. Being on the Trump team would be like being strapped to a bomb. However, Romney may believe he could exert a moderating influence on Trump, and that might even be somewhat true. And if Trump were to behave irresponsibly, erratically, or illegally, Romney could stick the shiv in better than anyone by resigning. Being Secretary of State gets you in more history books than being governor of Massachusetts. And Romney might even be public spirited enough to want to save the US from Rudy Giuliani as SoS. Needless to say, getting Romney would be a real catch and would be tremendously reassuring to mainstream Republicans and Dems.

Gov. Nikki Haley tapped to be Trump's U.N. ambassador Washington Post. Lambert: "First crack in the wall of establishment resistance?"

Donald Trump's FCC appointments are great news for your cable provider, awful news for Netflix Quartz

Trump Foundation violated IRS 'self-dealing' rules Financial Times. This is a serious violation.

Jeff Sessions accused of retaliation after claims of racism cost him a judgeship Guardian. This sort of thing is all too common in Alabama.

4-Star General Convinces Trump to Reconsider Pro-Torture Stance George Washington

Trump: "Voters knew about conflict of interest" MSNBC

Trump to scrap Nasa climate research in crackdown on 'politicized science' Guardian (Lulu)

Washington Won't Have Last Word on Climate Change Michael Bloomberg, Bloomberg

Infrastructure Is Only Popular Without Concrete Details Atlantic (resilc)

Trump and the Media Unz Review (Chuck L)

Should I stay or should I go? U.S. civil servants gird for Trump Reuters. EM: "Honest concerns or showy round of mass establishment pearl-clutching? I mean, 'I'm gonna quit if he nixes the precious TPP' – good riddance to you, sir!"
Hillary Clinton urged to call for election vote recount in battleground states Guardian. Lead story in the US edition. This is pathetic sore loserdom. Hillary conceded. You'd have to overturn results in three, more likely four states. Romney's team was ready to go to contest the results in 2012 but gave up on the idea when it was clear they'd have to dispute more than one state. The Electoral College vote is December 19, far too close given the failure to act. And if anyone were to try to go ahead regardless, Trump voters own guns. Lots of guns. This would be the event that would rally gun owners who assert that gunz protect their rights but heretofore have done squat to act, en masse. What happens to our vaunted democracy if, say, a judge who issued an injunction, or the lawyer filing the case, were shot? Expect that and tons worse.
Court says Republican gerrymandering in Wisconsin was unconstitutional Reuters (EM). But ruling says it did not affect Prez election.
Hemp crop harvested in Virginia for first time in decades Roanoke Times (Lulu)
After Brexit and Trump: don't demonise; localise! Ecologist (Micael)
NoDAPL
Dakota Access Pipeline protester 'may lose her arm' after police standoff Guardian

From Standing Rock to Morocco: Indigenous Protesters Act in Solidarity Against Corporate Polluters Truthout
Dow Closes Above 19000 for First Time Wall Street Journal
Learning from History: Volatility and Financial Crises Jon Danielsson, Marcela Valenzuela, and Ilknur Zer, Federal Reserve
Many mistrust banks, but why you mistrust banks says a lot Aeon (Micael)
Class Warfare
Antidote du jour. Crittermom: "It's been a delight to watch a family of chipmunks where I'm living grow up.
An abundant year for pinon nuts has afforded them lots of food while allowing me great photo opportunities."
Moi: Central Alabama is in the midst of an extreme drought. I've noticed one of the side effects has been that grey squirrels, which used to be in abundance, have disappeared, while chipmunks, which used to be scarce, appear to have benefitted. Can the nature experts offer explanations?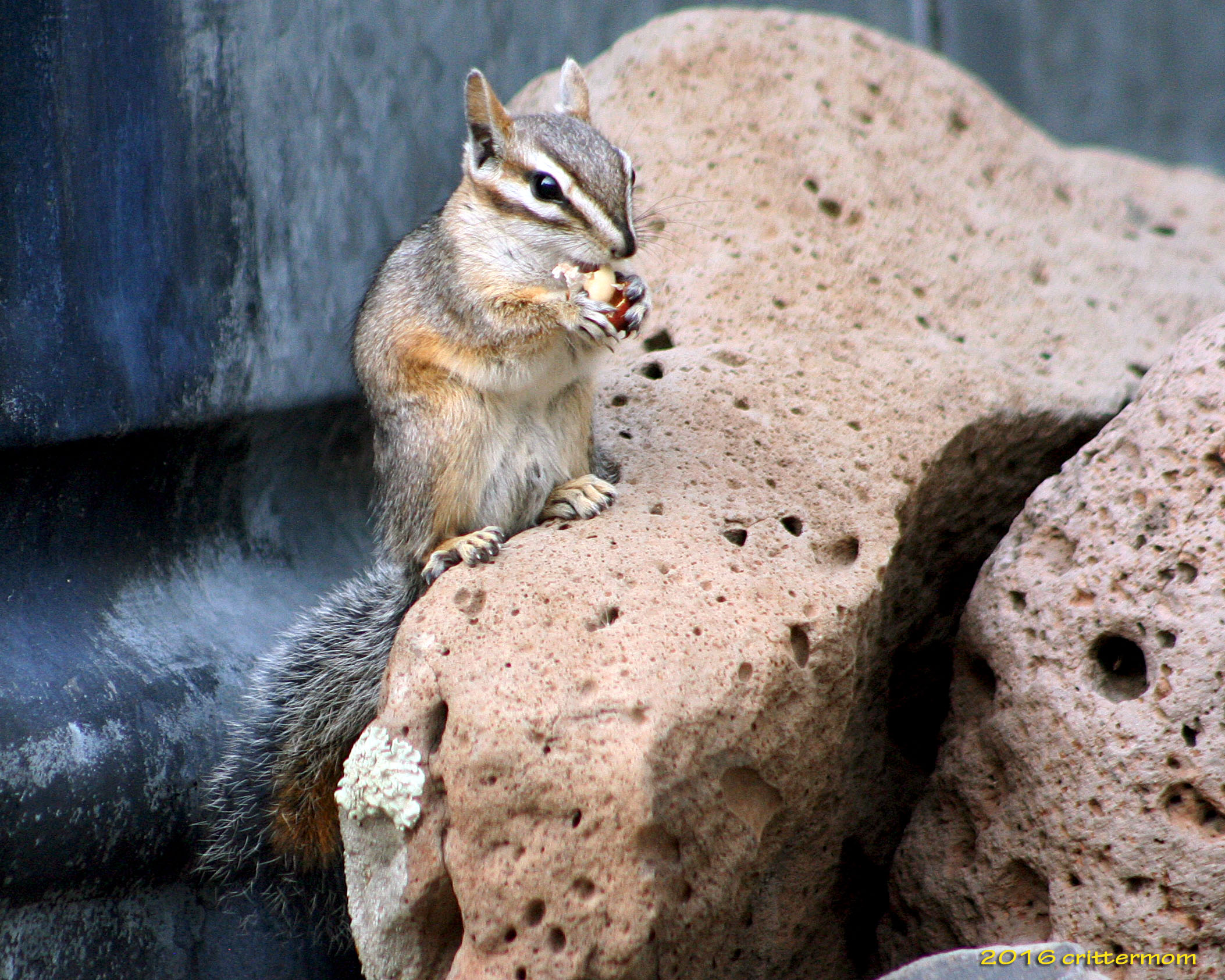 See yesterday's Links and Antidote du Jour here.