Puerto Rico's Top Creditors Flex Muscles in Bond Fight WSJ
Wells Fargo asks U.S. court to dismiss account scandal lawsuit Reuters
The Debt Goes On: A Post-Crisis "Progress" Report Daniel Alpert & Robert Hockett, Federal Reserve Bank of St Louis (PDF).
Jeff Sessions set to show his steel on white-collar crime FT. "Mr Sessions spent 20 years as a federal prosecutor in Alabama, where he tried cases involving federal land banks caught up in the 1980s savings and loan crisis. That experience helped cement his belief in the deterrent value of jail time for executives who broke the law.
India's Money Launderers Soil Modi's 'Spring Cleaning' of Cash WSJ
Brexit
Sir John Major says there is a 'perfectly credible' case for a second referendum The Telegraph
Syraqistan
Paramilitary chaos reigns in the Middle East FT

Erdogan warns Turkey could open gates for migrants if pushed by EU Reuters
Black Injustice Tipping Point
Racism With No Racists: The President Trump Conundrum Tressiemc
Big Brother Is Watching You Watch
How Social Media Helps Dictators Erica Chenoweth, Foreign Policy. "Whereas nearly 70 percent of civil resistance campaigns succeeded during the 1990s, only 30 percent have succeeded since 2010. Why might this be?"

Google DeepMind AI destroys human expert in lip reading competition Tech Republic. Oh good. With CCTV everywhere.

Reddit CEO Caught Secretly Editing User Comments, Chatlogs Leaked [Update] Gizmodo
NoDAPL
Veterans Organizing "Like a Military Unit" to Defend DAPL Protesters from Militarized Police Free Thought Project. Note the involvement of Wes Clark.

Sheriffs Refuse to Send Troops to Standing Rock as Public Outrage and Costs Mount Yes!

The Conflicts Along 1,172 Miles of the Dakota Access Pipeline NYT
Health Care
Consumers decline health insurance amid uncertain future for Affordable Care Act Kaiser Health News

A Battle to Change Medicare Is Brewing, Whether Trump Wants It or Not NYT
Trump Transition
In the second presidential debate, Clinton effectively accused him of working for a hostile foreign power, of being a stooge of the Russian regime. Had that been true, then the national security state ought by now to be swinging into action in order to protect the republic. Generals appearing on television to take charge would be an appropriate response to the risk of the nuclear codes falling into enemy hands. Instead, the American state has pivoted as rapidly as it normally does to accommodate its new master and to offer its services to his cause, in the hope of making that cause reasonably effective. Obama came on television to insist that he wishes Trump well, because if Trump succeeds then America succeeds. This suggests that the people who voted for him were right to suspect that the system would do everything in its power to soften the blow of their choice. It also means that if Trump poses a serious threat to American democracy, we lack the language to express it.
Alt-news sites face post-election identity crisis FT
History is Written by the Losers ZenPundit
2016 Post Mortem
The Clinton Campaign Was Undone By Its Own Neglect And A Touch Of Arrogance, Staffers Say Sam Stein, HuffPo. Dated, but useful. "[A]ccording to several operatives there, the campaign's [Wisconsin] office and local officials scrambled to raise nearly $1 million for efforts to get out the vote in the closing weeks. Brooklyn headquarters had balked at funding it themselves." So now Stein is raising double that to contest the result. As we used to say in the print shop: "There's never time to do it right, but there's always time to do it over."

Not Your Grandmother's Wisconsin NYT. "Paul Soglin is the mayor of Madison, Wisconsin's capital city, in cerulean Dane County. He supported Senator Bernie Sanders in the Democratic primary, and said he talked at least once a week with a field organizer from the Sanders campaign during the primary. But once Mrs. Clinton locked up the nomination, it was radio silence from the Clinton campaign."

Democrats Struggle to Regroup After Loss WSJ

Democratic chiefs converge on Denver to ponder setbacks, mull next chair Colorado Politics

SKIN IN THE GAME MTV. A strange year, where Cracked and now MTV are more measured and reasonable than many mainstream outlets.

Trump's Campaign of Militarization Counterpunch. Keep reading past the first few paragraphs.

A Minority President: Why the Polls Failed, And What the Majority Can Do George Lakoff. Not entirely talking his book.

The Alt-Right Is Using Trump Slate (of all places). Good breakdown of the players and the milieu.

The Current Affairs Interview: Jamelle Bouie & Ryan Cooper Current Affairs. Entertaining.

My Descent into the Right-Wing Media Vortex Vanity Fair
Millions of women voted this election. They have the Iroquois to thank. WaPo
An Ugly Snow Day at Harvard Business School I'll Never Be Able to Forget The Vindicated
Class Warfare
Coarse-graining of complex systems Understanding Society. A little dense…
The Free Trade Fallacy The Archdruid Report
Disgorge the Cash The New Enquiry. Grab a cup of coffee, but well worth the read.
Antidote du jour: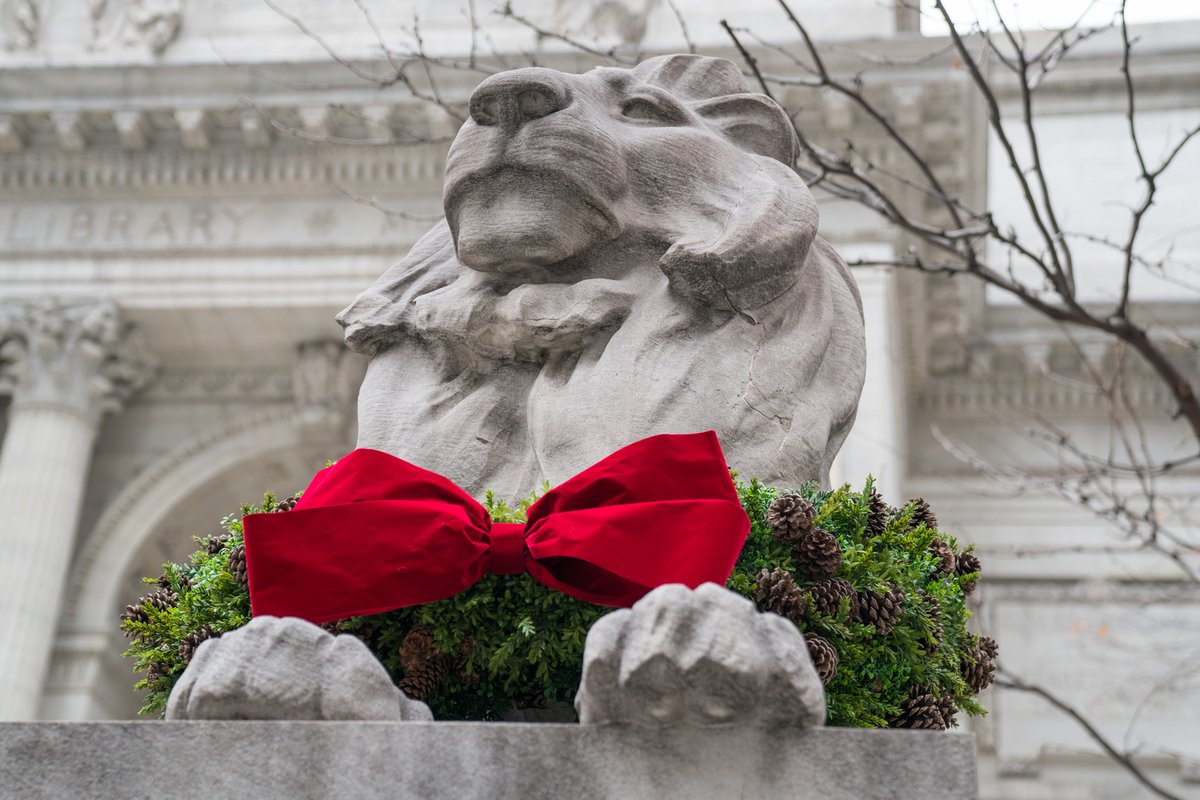 I don't think much of the idea that "Christmas begins the day after Thanksgiving," so I deprecate the bow, but I love the lions outside the New York Public Library. This one is named "Fortitude."
See yesterday's Links and Antidote du Jour here.