Despite the considerable inertia of consumers and businesses, the widespread reliance on the internal combustion engine, and the reluctance to increase energy taxes in a weak global economy, oil companies increasingly forecast that a peak in oil demand is not all that far away.
Admittedly, how quickly that takes place depend on when national government get (more) religion about curbing greenhouse gas emissions. According to the Wall Street Journal, the International Energy Agency has a default of oil demand continuing to rise in the face of collective inaction. However, it's worth noting that the IEA's shorter-term forecasts have a bullish bias; will this prove to be true of their long-term scenarios? For instance, young people in the US are not only not keen about car ownership but some are even are ambivalent about having children. They are concerned the combination of environmental decay and escalating conflicts over resources means any children would have a poor quality of life.
Put it another way: I'm skeptical of simple linear projections over periods of decades, which is what the top line in this chart amounts to: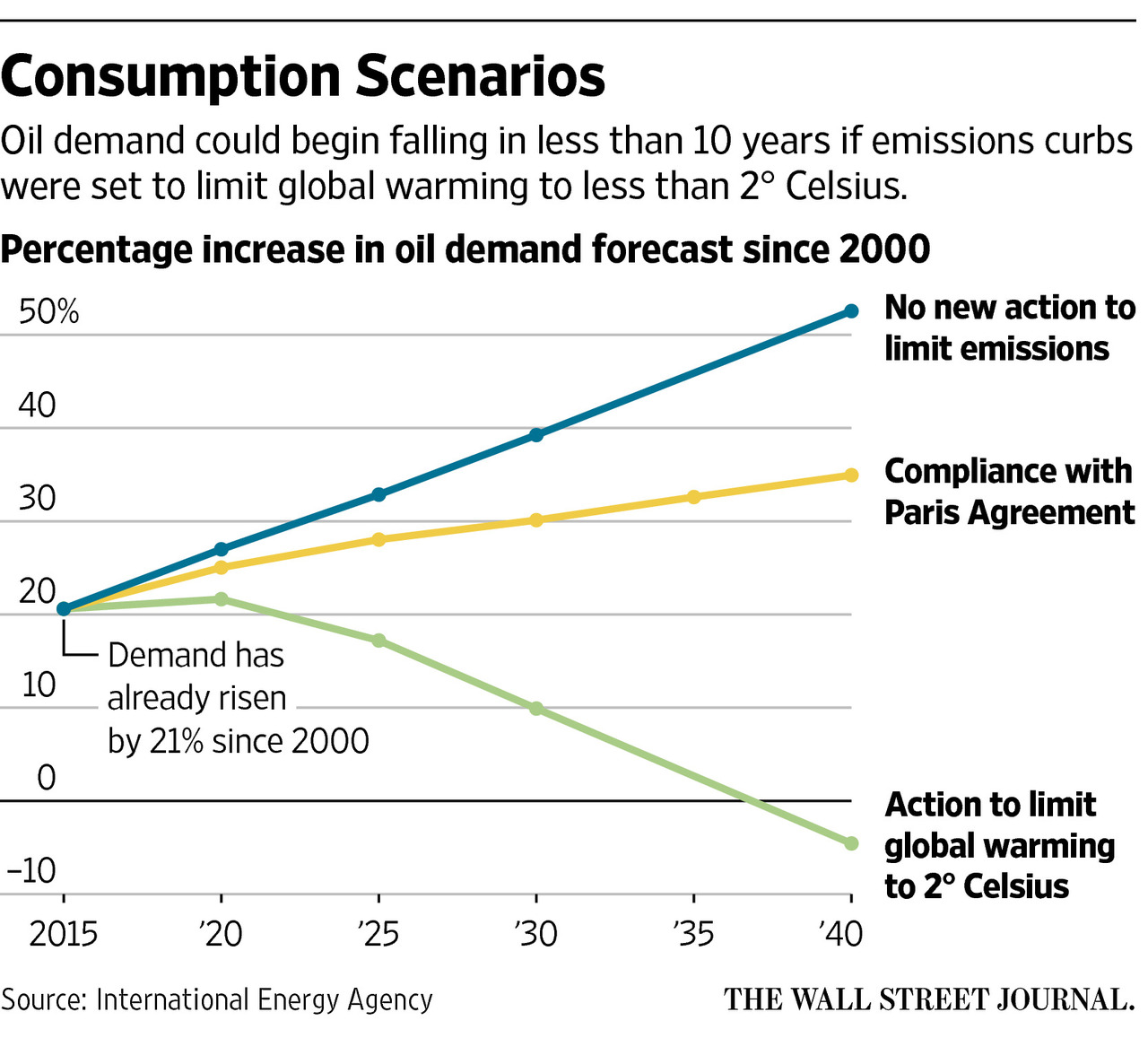 The Wall Street Journal describes how a number of small and large oil companies are worried about peak demand for oil, starting with Hungary's MOL Group, which plans to reorient its business over the next decade to focus on petrochemicals, which it sees as having sustained demand, and away from fuel products. From the Journal:
Last month Shell finance chief Simon Henry caused a stir when he said the company sees oil demand peaking in five to 15 years. Shell's latest published forecasts have consumption flattening toward the end of that period.

State-owned China National Petroleum Corp. quietly issued a report in the summer predicting that China's oil consumption—a major driver of growth in recent decades—will begin to fall by 2030, if not sooner. Global demand is expected to follow suit…

"The question is more a question of when, rather than if," Dominic Emery, BP's vice president for long-term planning and policy, told the Economist Energy Summit in London this month. BP says oil demand could fall by the late 2020s if tougher emissions laws are enacted…

Peak demand "will be later than the common dates that are being thrown around, but if it does happen, because we're building multiple engines for the economy and we're planning for an economy beyond oil, we'll be ready," Saudi Arabia's energy minister, Khalid al Falih, told a conference in Istanbul last month.
Needless to say, other big firms, such as Exxon, remain optimistic, and OPEC forecasts that demand will grow beyond 2040. But BP and Total, among others, are hedging by building up alternative energy businesses.
As Wiliam Gibson said, "The future is already here — it's just not very evenly distributed." But a question to readers: the underlying assumption in the Journal story, which appears to reflect conventional wisdom in the oil biz, is that more stringent regulations on greenhouse gas emissions is what poses a danger to oil demand. I wonder if that is the only mechanism by which that could occur. What look like economic tail events, like a hard landing in China, or generational changes in attitudes towards energy use, could have a significant dampening effect. Another negative would be a rollback of globalization, since shorter supply chains, generally speaking, should mean less consumption of fuel for transportation. While the plural of anecdote is not data, I wonder what positive and negative development readers see on the ground from your vantages in the US and abroad.