By Lambert Strether of Corrente.
Trade
"A group of 45 countries wrapped up a two-day meeting on Wednesday in Geneva to discuss the possible formation of a new international investment court to respond to the deepening controversy over the investor-state dispute settlement mechanism found in most trade deals" [Politico]. "The meeting, co-hosted by Canada and the European Union, would build on an initial proposal from the EU to form an 'investment court system' that would establish an appeals process and a proven roster of judges to hear cases, which are not features of the current ISDS system. The proposal had sought to manage overwhelming opposition to ISDS in the Transatlantic Trade and Investment Partnership talks that are now on ice." Kill it with fire.
"Trump's campaign promise to tear apart the North American Free Trade Agreement helped win over Rust Belt voters who felt left behind by globalization. But the idea is unnerving to many people in border cities such as Laredo and El Paso or Nogales in Arizona, which have boomed under the 1994 treaty" [AP].
Politics
Policy
"President-elect Donald Trump has pledged deep tax cuts and increased infrastructure spending to restore lost jobs, accelerate the economy and bring prosperity to more Americans. Janet Yellen has her doubts" [AP]. "After a presidential campaign full of blunt words and sweeping promises, the Federal Reserve chair sought Wednesday to make a nuanced point: The moment for a deficit-fueled stimulus to improve job creation has likely passed." So Yellen dictates fiscal policy, now? How does that work?

Since personnel is policy: "Donald Trump is building a cabinet in his own image. The first billionaire U.S. president has appointed two billionaires and at least nine millionaires, with a combined net worth of about $5.6 billion, to run government departments. Two appointees to cabinet or cabinet-level positions are former generals. And fewer than half have any prior government experience. Many of Trump's nominees have close ties to Wall Street and corporate America. Altogether, his cabinet is shaping up to look a lot different from his predecessors" [Bloomberg]. Liberals yammer that Trump's squillonaires are conflicted — as if they themselves weren't — when the real issue is shared class interest.

And as for foreign policy:

Guys, these people would rather provoke a shooting war in the Baltic than admit that Hillary bunged Michigan and Bernie Woulda Won. https://t.co/JaJB1w2E0N

— Jacob Maccabacharach (@jakebackpack) December 15, 2016

And anybody who thinks that a shooting war in the Baltic might not be the best idea is a traitor and a Putin stooge. Right, Dmitri?
Our Famously Free Press
Can somebody please wake me when a government official goes on the record about Russki "hacking", which is seems is really phishing? Thank you. So far, the person in the best position to evaluate the evidence is Obama, who has notably refused to become hysterical, and as of this writing has done nothing to respond to Clintonite frothing and stamping that [something mumble CIA something something mumble Putin mumble Trump blather fume authoritative] be shown to the electors before the Electoral College votes on December 19, even though Nancy Pelosi's daughter demanded that he do so. Personally, I think that shows Obama is a Russian stooge. [UPDATE 2:44PM Looks like Langley rolled Obama. Hoo boy.]

The latest (I've helpfully added annotation) "Some anonymous U.S. intelligence officials now believe with 'a high level of confidence' not sufficient for a Presidential finding, or supported by any agency that Russian President Vladimir Putin became personally involved in the covert Russian campaign to interfere in the U.S. presidential election, anonymous senior U.S. intelligence officials hopefully not lying weasels like Clapper and Hayden told NBC News" [NBC] "Two senior officials with direct access to the information say new intelligence shows that Putin personally directed how hacked material from Democrats was leaked and otherwise used. , the officials said."

BWA-HA-HA-HA!!!! Since it's been 12 years since 2004, they figure we've forgotten, and they're running the "British intelligence has learned" scam again! It's the oldest play in the book; you get one of your "allies" (that is, a client state) to say for you what you can't prove yourself; the intelligence equivalent of planting a sexed-up story on Fleet Street, so you can say "It's out there," and run the same story on this side of the pond.

This is simple. If the information is good, somebody from Langley with a name needs to put themselves on the line over it. Otherwise, Langley is saying that their sources and methods are more important than putting a Russian Agent in the Oval Office. And the name for having your cake and eating it too is, in this case, treason. Right?
2016 Post Mortem
"This Political Theorist Predicted the Rise of Trumpism. His Name Was Hunter S. Thompson." [The Nation]. Hell's Angels. Great book, but I'm not persuaded.

"What Was James Comey Thinking?" [Esquire]. Good essay. Reminds us that Comey took the side of the angels in the confrontation with Gonzales at Ashcroft's hospital bed over Bush's program Stellar Wind, which "allowed the NSA to eavesdrop on nearly anyone in the United States by assaying the metadata from millions of telephone conversations and emails." Well worth a read.

"Attorney General Loretta Lynch spoke at an event with Politico's Anna Palmer and Jake Sherman Thursday morning. there, she was asked about reports that Russian hackers could have impacted the results of the 2016 election. Lynch said that there was no evidence that Russian hackers breached the integrity of the U.S. election system. 'Fortunately we didn't see the sort of technical interference that I know people had concerns about, also, in terms of voting machines and the like,' Lynch said." [RealClearPolitics]. Too bad Stein's recount effort bought into that nonsense.
Our Famously Free Press
Ha:

Once you see Trump's hair in the New York Times' typeface you can't ever unsee it (I'm so sorry) pic.twitter.com/XtqLYPAHNv

— Jennings Brown (@tjenningsbrown) December 12, 2016
Trump Transition
"Those who lead publicly traded companies also tend to be, of necessity, more pragmatic than ideological. It was on Tillerson's watch, for instance, that ExxonMobil acknowledged the link between climate change and human activity, and came out in favor of the sweeping agreement reached in Paris at the end of last year aimed at reducing carbon dioxide emissions internationally" [WaPo].

"There seems little doubt that Rex Tillerson will be confirmed as the US' next Secretary of State. Assuming there are no bombshell revelations that bring into question his qualifications, his reputation, combined with expressions of support from former Secretaries of State James Baker and Condoleezza Rice and former Secretary of Defense Robert Gates, will garner him more than enough votes in the Senate. Once Tillerson is confirmed, America and the world will be witness to a dramatic retooling of Washington's foreign policy, with traditional diplomacy replaced by a more transactional approach" [Scott Ritter, Energy Intelligence].
Realignment and Legitimacy
"Given a chance to have their say, voters say "Yes" to raising the minimum wage. As of November 8, 2016, 15 states had voted on a state-level proposals to raise the minimum wage. By November 9, four more states had approved state-level measures to lift the minimum wage" [247 Wall Street]. Because America is a center-right nation.

"The Democratic [sic] Party has become everything that it once loathed: elitist, globalist, interventionist, self-serving, warmongering and overflowing with hubris. To avoid looking at their reflection honestly, humans project their own failures and destructive traits onto others, blaming others for their own faults. They justify their self-serving actions, and deny responsibility for their clearly self-destructive behaviors" [Of Two Minds]. "This describes the Democratic Party elites to a T. It's all Trump's fault, or the Russian hackers, or the 'deplorables'–anyone but themselves."

"But it isn't the Founders' fault that the Clinton campaign failed to turn out African-American voters in Philadelphia, Pittsburgh, Detroit and Milwaukee. The Electoral College didn't force blue-collar voters and rural Democrats in the Midwest to defect from the Democratic Party" [Karl Rove, Wall Street Journal, "The Many Democratic Excuses for Defeat"]. "If Mr. Trump had appealed to white supremacy, it would have provoked a reaction in the form of a larger minority turnout for Democrats. Yet Mrs. Clinton received fewer African-American votes—and a smaller percentage of them—than Democrats did four years ago. The fact is that Mr. Trump outperformed Mr. Romney among nonwhites across the board."

[Al From, HuffPo, "Remaking the Democratic Party in 7 Easy Steps"]. "The New Democrat core principles—opportunity, responsibility, community—reconnected our party to its first principles and grandest traditions. Our party was built on Andrew Jackson's credo of equal opportunity for all, special privilege for none; Thomas Jefferson's belief in individual liberty and the capacity for self-government; John F. Kennedy's ethic of civic responsibility; Harry Truman's tough-minded internationalism; Franklin Roosevelt's thirst for innovation, and Lyndon Johnson's quest for social justice." Ah, "innovation."

"Moreover, one passage from Federalist 68 seems eerily relevant to the present circumstance. Hamilton wrote that the electors could be a barrier against 'the desire in foreign powers to gain an improper ascendant in our councils.' Hamilton asked: 'How could they better gratify this, than by raising of their own to the chief magistracy of the Union?'" [E.J. Dionne, RealClearPolitics]. "The CIA's that Russia actively intervened in our election to make Trump president is an excellent reason for the electors to consider whether they should exercise their independent power." Dionne is sloppy and wrong. Sloppy because a Presidential "finding" is a formal process, as opposed to what we have: Anonymous leaks, from one of several intelligence community factions, of a secret report. Wrong because "creature" has a specfic meaning — see NC here — and it's not the same as "has business with" let alone "has different views on Russian realpolitic from The Blob."
Stats Watch
Consumer Price Index, November 2016: "Inflation at the consumer level remains low" [Econoday]. "The Labor Department is citing housing as a central area of consistent price pressure. … Medical prices have also been a source of pressure but were unchanged in November for a second month in a row." And: "Core inflation was unchanged year-over-year, but those nasty energy prices caused the spike in the headline CPI, This is the highest rate of inflation seen in over one year" [Econintersect].
Bloomberg Consumer Comfort Index, week of December 11, 2016: "Consumer confidence continues to be the hottest category on the economic calendar" [Econoday].
Philadelphia Fed Business Outlook Survey, December 2016: "Momentum is clearing accelerating in the Mid-Atlantic manufacturing sector" [Econoday]. "New orders in this report have been a recent standout among all factory data… This report, together with this morning's strong results in the Empire State report, are offering advance indications of significant factory strength." And with caveat: "There was significant strength in this survey from new orders – and now even unfilled orders. This was a positive report. Note that last month the regional Fed surveys were unanimous that manufacturing improved – yet the data showed manufacturing declined" [Econintersect].
Empire State Manufacturing Survey, December 2016: "The Empire State report is showing less strength than the Philly Fed report but momentum is building" [Econoday]. But: "I am not a fan of surveys. However, it is a good sign that new orders improved – and a bad sign that unfilled orders declined." With same caveat as above [Econintersect].
Purchasing Managers' Manufacturing Index Flash, December 2016: "Both the Philly Fed and Empire State reports have been pointing to accelerating strength for the factory sector, as does Markit Economics' manufacturing PMI" [Econoday].
Jobless Claims, week of December 10, 2016: "Jobless claims continue to run at very low levels" [Econoday]. But: "The general trend of the 4 week rolling average is a slowing rate of improvement year-over-year which historically suggests a slowing economy" [Econintersect].
Current Account, Q3 2016: "The trade deficit narrowed by $8.3 billion in the quarter reflecting a $9 billion narrowing in the goods gap that offset a small decline in the services surplus" [Econoday].
Housing Market Index, December 2016: "The new home market has been a strength of 2016's economy and looks to end the year on a strong note. The housing market index is up a very sharp 7 points" [Econoday].
Commodities: "Oyu Tolgoi resumes copper shipments to China" [Mining.com]. "The planned expansion [of the massive copper-gold mine in Mongolia], with its nearly 200 km (125 miles) of underground tunnels that will track three times as deep as the Empire State Building is tall, will more than double the copper output from Oyu Tolgoi, which is mostly sent south to China, the world's main metals consumer."
Commodities: "The automotive supply chain is giving a boost to zinc. Prices for the base metal have soared more than 70% this year, the WSJ's Biman Mukherji reports, as demand in auto manufacturing helps make zinc a leader this year for commodities. Key to the surge: consumers in India and China are buying more cars that use rustproof galvanized steel, which is made with zinc. Add to that the growing optimism in the U.S. about infrastructure spending, which will call for more raw commodities imports, and the outlook in metals markets is getting downright bullish" [Wall Street Journal].
Shipping: "Danish Ship Finance, the Scandinavian shipping bank, has just published its eagerly anticipated forecasts for the industry. Published twice a year, the report is one of the most keenly read by the world's shipowners. The mood of the latest report is decidedly sombre" [Splash 247]. "'[T]he shipping industry is in the midst of a process whereby supply continues to expand while medium to long-term seaborne trade volumes seem to be on the brink of stagnation or are facing very low demand growth,' the ship finance specialist maintained. 'This apparent decoupling is expected to introduce massive changes to the competitive landscape of the shipping industry within the next five years. We believe that the forces currently in play will introduce far-reaching changes that redefine or augment the established value propositions within the shipping industry. Some players are already adapting successfully, while others are lacking behind.'"
Shipping: "Top North America TEU performance improved during the month of October; for the year, TEU traffic is only marginally lower" [James Sands, Seeking Alpha].
Shipping: "The Port of Los Angeles saw box numbers surge more than 20% to their highest-yet monthly total in November, while at the same time neighbouring Long Beach saw volumes decline amid the fallout from the Hanjin collapse" [Lloyd's List].
Shipping: "Outlook 2017: Class I railroads expect another grind-it-out year" [Progressive Railroading]. Interviews with CEOs.
Honey for the Bears: "The DJIA 14-day RSI touched 85 earlier this morning, the highest 14-day RSI since late November 1996. Interestingly, Former Fed Chair Greenspan discussed "irrational exuberance" in a speech delivered December 5, 1996, about 10 days after that high in the 14-day RSI" [Amherst Pierpont Securities, Across the Curve].
The Bezzle: "Verizon Communications Inc. is exploring a price cut or possible exit from its $4.83 billion pending acquisition of Yahoo! Inc., after the company reported a second major e-mail hack affecting as many as 1 billion users, according to a person familiar with the matter" [Bloomberg].
Fodder for the Bulls: "Retailers are showing with shipping that they have plenty of confidence in U.S. consumer demand…. The big volumes, along with strong gains at other ports on both coasts, suggest that with the stock market running high and unemployment running low, companies have an upbeat outlook heading into 2017" [Wall Street Journal].
Globalization: "Chinese capital's growing impact on Western hotels" [Hotel News Now]. A useful timeline starting in 1972. Capital investment really starts in 2011.
Climate Risk: "The measure of gross domestic product (GDP) for the first quarter of 2014 was wrecked by bad weather, according to many experts, even the White House. An extended period of deep cold and winter storms had kept consumers inside. With a polar vortex currently swirling well into places as far south as Texas and plunging large cities in the northern tier of states to levels below zero, the holiday season's modest growth from last year is threatened" [247 Wall Street].
The Fed: " Based on Fed Chair Yellen's comments, most FOMC members are waiting to see the fiscal proposals before incorporating those policies in their forecasts. Yellen said at the press conference: "all the FOMC participants recognize that there is considerable uncertainty about how economic policies may change and what effect they will have on the economy'" [Calculated Risk].
The Fed: "The FOMC raised the target range for the federal funds rate by 25bp today, as expected. But the tone of the press conference and the summary of economic projections were more hawkish than I anticipated. The Fed is shifting gears, a shift I did not expect until more data piled up in the first quarter of 2017" [Tim Duy's Fed Watch]. "Assuming that the natural rate forecast does not change – which essentially depends on the path of wages and inflation – this means that you should anticipate that further declines in unemployment will be met with a more aggressive Fed in 2017. I don't think this will be the last increase in the median rate forecast for 2017. "
The Fed:
There can only be one shirt today. pic.twitter.com/O7KC6r9oJq

— Spencer (@financeinottawa) December 14, 2016
You might have to click on the image to see the whole chart.
Today's Fear & Greed Index: 87 Extreme Greed (previous close: 88, Extreme Greed) [CNN]. One week ago: 84 (Extreme Greed). (0 is Extreme Fear; 100 is Extreme Greed). Last updated Dec 15 at 10:13am. Failing to break the important psychological barrier of 90.
Our Famously Free Press
"U.S. paid P.R. firm $540 million to make fake al-Qaida videos in Iraq propaganda program" [Salon]. Of course, that would never happen today, and certainly not domestically.
"While the coverage of war in the past has given rise to many daring journalists – Seymour Hersh in Vietnam, Tariq Ayyoub in Iraq, photo-journalist Zoriah Miller, and hundreds more – the war in Syria is destroying journalistic integrity and, with it, our readers' ability to decipher one of the most convoluted conflicts of the modern era" [Tlaxcala].
"But narratives about the future have always been important, not just in politics but in central banking too. During one of the recurring crises in the Eurozone, in 2012, European Central Bank president Mario Draghi proclaimed he would do "whatever it takes to save the euro". Quite what he would have done if financial markets had continued to attack the currency is not at all clear. It was, in today's terminology, a post-truth statement. But it worked. His narrative convinced traders and speculators to back off, and the euro lived to fight another day" [Volterra].
Black Injustice Tipping Point
"Why the Nazis studied American race laws for inspiration" [Aeon]. "On 5 June 1934, about a year and half after Adolf Hitler became Chancellor of the Reich, the leading lawyers of Nazi Germany gathered at a meeting to plan what would become the Nuremberg Laws, the centrepiece anti-Jewish legislation of the Nazi race regime. The meeting was an important one, and a stenographer was present to take down a verbatim transcript, to be preserved by the ever-diligent Nazi bureaucracy as a record of a crucial moment in the creation of the new race regime. … That transcript reveals a startling fact: the meeting involved lengthy discussions of the law of the United States of America. At its very opening, the Minister of Justice presented a memorandum on US race law and, as the meeting progressed, the participants turned to the US example repeatedly. They debated whether they should bring Jim Crow segregation to the Third Reich. They engaged in detailed discussion of the statutes from the 30 US states that criminalised racially mixed marriages. They reviewed how the various US states determined who counted as a 'Negro' or a 'Mongol', and weighed whether they should adopt US techniques in their own approach to determining who counted as a Jew. Throughout the meeting the most ardent supporters of the US model were the most radical Nazis in the room."
And then there's this:
Deray and Tracee Ellis Ross for Vogue January 2017 #BlackLivesMatter pic.twitter.com/4AP7jpvTFt

— Alternative Negro (@KingFumz) December 14, 2016
Class Warfare
"The core problem here is reification, treating both slavery and capitalism as if they were discrete, homogeneous things instead of rather loose categories we assign to social and economic systems that differ across a multitude of dimensions. Would some form of capitalism have developed in the US and other countries without the contributions of slavery? Almost certainly. Would it look and feel just like the capitalism we have today? Almost certainly not" [Econospeak]. Responding to this article–
"Shackles and Dollars: Historians and economists clash over slavery" [Chronicle of HIgher Education]. "Over the past several years, a series of books has reshaped how historians view the connection between slavery and capitalism. These works show the role that coercion played in bringing about a modern market system that is more typically identified with freedom. At a moment of rising frustration with racial and economic inequality, they have won a level of attention and acclaim that academics dream about but almost never get. Some think the books' forensic accounting of how slave labor was stolen may buttress the case for reparations. What the economists are now assembling amounts to a battering ram aimed at the empirical foundations of these studies."
Note the source:
Sharing economy flourishes in China! People rent assets or use services directly from individuals via internet #Uber #Airbnb pic.twitter.com/yF1nEEqnXF

— China Xinhua News (@XHNews) December 14, 2016
News of the Wired
"A neural link between affective understanding and interpersonal attraction" [PNAS]. "These findings provide evidence that reward-related neural activity during social encounters signals how well an individual's " neural vocabulary" is suited to infer another person's affective state, and that this intrinsic reward might be a source of changes in interpersonal attraction."
"Mechanical Movements of the Cold War: How the Soviets Revolutionized Wristwatches" [Collectors' Weekly]. "It's truly a beautiful thing to behold for those who haven't seen it before. When you open the back of a mechanical watch, you're met with this spectacle of shining metal and intricately crafted parts, these infinitesimally small screws, springs, and gears, and a moving balance wheel that's oscillating back and forth—the beating heart, so to speak. It feels alive, a living mechanism crafted by human hands. It has a sense of vitality a quartz watch doesn't even approach." Happy now, Dmitri?
"Chemists Discover Why the Nose Is Hypersensitive to Sulfur Odors" [Scientific American].
* * *
Readers, feel free to contact me with (a) links, and even better (b) sources I should curate regularly, and (c) to find out how to send me images of plants. Vegetables are fine! Fungi are deemed to be honorary plants! See the previous Water Cooler (with plant) here. And here's today's plant (Rex):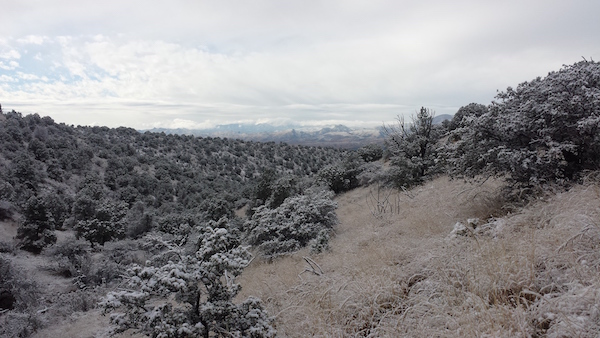 Literally gave me chills!
Rex writes: "The little winter we've had so far, one morning during my elk hunt camp at about 7200 ft. elevation. Snow melted before noon. Nov. and Dec. have been 10-15 degrees above seasonal norms this year. Woods in photo are Pinon-juniper with good cover of side-oats and blue grama grass. Overnight snow (2 in.) was magical to walk through in early morning. Rocky peak in photo is Biscuit Knob, on boundary of Apache Kid Wilderness Area."
Readers, I'm still a bit short on plant images. Plants with snow are fine!
Readers, Water Cooler is a standalone entity, not supported by the very successful Naked Capitalism fundraiser just past. Now, I understand you may feel tapped out, but when and if you are able, please use the dropdown to choose your contribution, and then click the hat! Your tip will be welcome today, and indeed any day. Water Cooler will not exist without your continued help.