Thanks so much to the speedy action of the members of the commentariat yesterday. We got an apology from NBC 9 News in Denver for a skit they had put up meant to educate readers about the evils of "fake news". However, they made Naked Capitalism into an object lesson: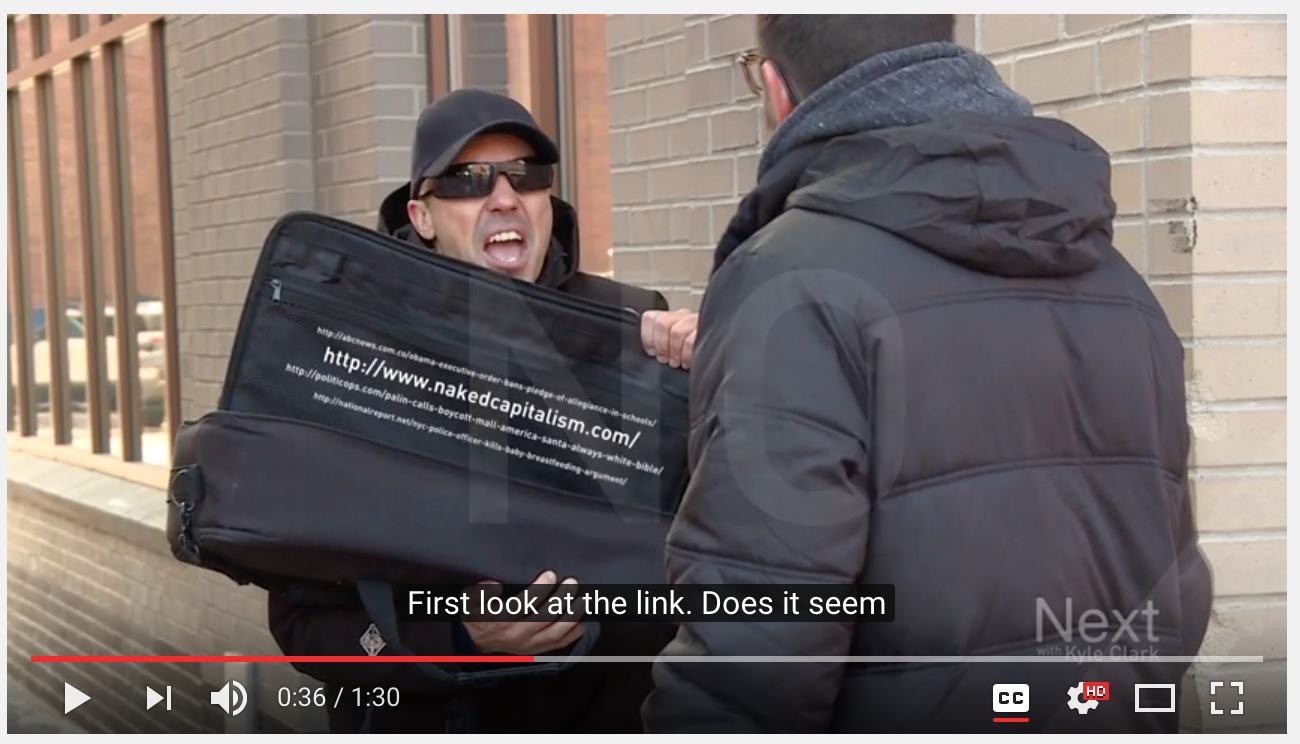 I must give credit as well as thanks to the executives and staff of NBC affiliate 9News in Denver for acting so quickly to remedy the error. Host Kyle Clark removed the tweet promoting the segment. Readers who had contacted the station started receiving apologies from the executive producer at 12:30 PM in the form of:
Our December 13th story on fake news incorrectly associated nakedcapitalism.com with fake news websites. Nakedcapitalism.com provides "commentary on finance, economics, politics and power" and describes itself as a website that is "shedding light on the dark and seamy corners of finance."

We regret the error.
And a 9News official posted this message in comments less than 7 hours after our post ran:
Jeremy Jojola (9NEWS NBC DENVER)
December 15, 2016 at 1:33 pm
Hello everyone, this is Jeremy Jojola with 9NEWS in Denver.

I'd like to apologize to nakedcapitalism.com and Yves Smith.

We screwed up.

In an effort to call attention to fake news, we incorrectly associated nakedcapitalism.com with a list of fake news links in our video.

This was wrong.

We have removed this reference from our video.

I have recorded a video response which will be broadcast on our station at 5 pm and 10 pm this evening and again at 6 pm tomorrow (Denver times).

See our response and my video statement here.
If you listen to the video, it is an unqualified apology and it appear they ran it as many times and at the same showtimes as when the offending clip ran.
This response is very professional and all too rare in business today. They moved so quickly it is clear they didn't call lawyers to dither over how exposed they were and how much of a walkback they needed to do. Even though this was an embarrassment rather than a crisis, they followed the crisis management playbook as exemplified by Tylenol in its tampering scandal: do everything you can to make things right. And the reason that makes sense is that even if that costs your short term ('fessing up), it preserves your reputation, which is one of your most valuable assets. Customers recognize that no one is perfect. Studies have shown that what they care about is not how many mistakes a company makes, but how it handles them when they occur.
Washington Post, are you taking notes?
Readers are still left with the question as to how this took place and the answer is that we will never know. Stations like 9News often rely on contractors, so this may have been a too-clever idea by someone with too much latitude that somehow fell through the vetting cracks.
While I am glad this episode was put to rest quickly, and am very grateful for the speedy intervention of many readers, this was a stomach-churning example of how the freedom of expression of independent media is under attack. Thanks so much for your support.