By Lambert Strether of Corrente.
Readers, I believe Obama's presser is shortly after 2:00PM, so I'm going to hang out for a bit and add a few more links. Here's a livestream. And another.
UPDATE Obama leaves "smooth transition" in place. So that should be that for Clinton.
Trade
"The list of countries in line for a bilateral deal could also include Vietnam and Singapore, [Trump's economic adviser, Stephen Moore]\ said, adding that a deal with the United Kingdom "would be a real coup for Trump." "It was Obama who said we're moving U.K. to the back of the line when Brexit passed," he said. "I think it'd be strategically smart to move it to the front of the line. With Britain you'd not worry about the depression of wages" [Politico].
"Europe's politicians believe a trade deal with the UK could take up to a decade or more and could still fail in the final stages, Downing Street has been warned by the UK's ambassador to the EU" [Guardian]. "Sir Ivan Rogers, who conducted David Cameron's renegotiation with the EU before the referendum, is reported to have told Theresa May that European politicians expect that a deal will not be finalised until the early to mid-2020s, according to the BBC. That deal could still be rejected by any of the 27 national parliaments during the ratification process."
Politics
Policy
Trump's Infrastructure Plan Is a Full-on Privatization Assault" [The Nation]. "Trump wants private investors to basically direct $1 trillion in infrastructure projects nationwide through a "revenue neutral" financing plan, which banks on financing from private investors, allegedly to control deficit spending (which the GOP generally deems wasteful, while promoting tax breaks as a wiser redistribution of public funds into corporate coffers). To draw some $167 billion to jumpstart the $1 trillion, 10-year infrastructure plan, Washington would grant a giant tax break 'equal to 82 percent of the equity amount.' The goal isn't fixing bridges so much as fixing the corporate tax codes to promote privatization and unregulated construction with virtually no public input. Moreover, whereas effective stimulus plans aim to fill infrastructure gaps that big business has ignored, Mike Konzcal observes in The Washington Post, that the developers Trump is courting would follow the money and 'back profitable construction projects. These projects (such as electrical grid modernization or energy pipeline expansion) might already be planned or even underway.'"

"Betsy DeVos and the Plan to Break Public Schools" [The New Yorker]. Oddly, or not, Teach for America alums and Black Lives Matter hash tag activists Deray and Brittany Packnett haven't condemned Trump's appointment of DeVos.
2016 Post Mortem
"How Clinton lost Michigan — and blew the election" [Politico]. I quoted some of the horrific details of the Clinton 2016 debacle from this link yesterday. Here's another one:

Among the other workarounds claimed was one from interim DNC chair Donna Brazile, who was persuading the Democratic Senatorial Campaign Committee and Democratic Congressional Campaign Committee to hold the $5 million transferred to them from the Clinton campaign and to wait to spend it buying airtime for minority voter turnout in the final week they otherwise wouldn't have been able to fund.

But there also were millions approved for transfer from Clinton's campaign for use by the DNC — which, under a plan devised by Brazile to drum up urban turnout out of fear that Trump would win the popular vote while losing the electoral vote, got dumped into Chicago and New Orleans, far from anywhere that would have made a difference in the election.

Of course, Clinton blew a billion dollars losing to Trump, so $5 million isn't very much, but this does show yet more resource allocation problems. And now Donna Brazile has lost with Dukakis, lost with Gore, lost with Clinton, and turned out to be just as bad as Wasserman Schultz at the DNC. Why does she still have a job with the Democrats?

"Clinton aide Abedin seeks to review Clinton emails search warrant" [Reuters]. Hey, where the heck has Huma been, lately?

"Jim Comey thinks he was handed a shit sandwich" [Emptywheel]. Shreds Tim Weiner's article on Comey in Esquire yesterday.
"How you lost the world" [Idiot Joy Showland]. Fun stuff:
"Trump won among voters who ticked the box for Obama in 2008 and 2012, he won decisively among white women, he picked up a far bigger share of ethnic minority voters than anyone would have reasonably expected, he won because the standard formula of American liberalism – eternal war abroad coupled with rationally administered dispossession at home and an ethics centred on where people should be allowed to piss and shit – is a toxic and unlovable ideology, and his candidacy turned it from an invisible consensus to one option among others.

Hillary Clinton had nothing to offer people; all she could give them was fear and herself. Her campaign was the most cack-handed and disastrous in recent decades, managed by a gang of simpering imbeciles pretending to be Machiavellian strategists; it was all on the flimsy depthless level of TV. Now watch her whip, now watch her nae nae. Yaas kween, slay kween, slay. Clinton was to be carried through her path to the White House on the shoulders of irritating media celebrities; Lena Dunham's Instagram feed, Beyoncé's stage shows, Robert De Niro's menacing monologues.
She had one job…
Our Famously Free Press
We?

This is the company we're going to entrust editorial judgment to FYI https://t.co/I8cPBkpNMt

— Izabella Kaminska (@izakaminska) December 16, 2016
Trump Transition
UPDATE "Obama On Russian Hacking: 'We Need To Take Action. And We Will'" [NPR]. "In an interview with NPR's Steve Inskeep that is airing Friday on Morning Edition, Obama said, "I think there is no doubt that when any foreign government tries to impact the integrity of our elections … we need to take action. And we will — at a time and place of our own choosing. Some of it may be explicit and publicized; some of it may not be." Somehow I don't think that's going to work for Clintonite revanchists, who are probably painting Obama as a Russian stooge even as we speak.

"[A]fter the Electoral College acts, its votes have to be certified. The United States Code requires this to be done by the two houses of Congress, starting at 1 p.m. on the sixth day of January. Normally, this is a sedate affair, taking an hour or so. It's hard to see how Trump and the voters who cast their ballots for him could be denied a victory. But it's not hard to see how it could be turned into a circus. As soon as the president of the Senate — Vice President Joe Biden — announces the electoral vote result, the federal law governing the procedure requires him to immediately call for objections" [New York Post]. "It only takes objections by one member of the House and one of the Senate to force a vote by each house on the issue. (Ohio's votes were challenged in 2004.) Each member gets five minutes to sound off; both houses have to agree to disqualify an elector." Clintonites were the sorest winners in the history of the world after the Democrat primary. And now they're the sorest losers, also in the history of the world. It's bizarre.
Realignment and Legitimacy
"Potential Clinton VP Perez still supports trade deal" [Politico] (July 3, 2016). Since Perez is a candidate for DNC chair, somebody should ask him if this is still true, and if it's not, why he changed his mind.

"Democrats at Crossroads: Win Back Working-Class Whites, or Let Them Go?" [New York Times]. Well, we know what the Clintonites want… And is there a reason why our famously free press just can't ever say "working class" without prepending "white"?
Stats Watch
Consumer Price Index: "Fed still failing to hit its 2% target after years of trying, and after years of forecasting that it would hit its 2% target" [Econoday].
Housing Starts, November 2016: "Housing starts are being hit by huge swings. November starts fell 18.7 percent in November to a much lower-than-expected 1.090 million annualized rate following an upward revised gain of 27.4 percent to 1.340 million in October. There's less volatility on the permits side" [Econoday]. And: "The backward revisions this month were moderately up.The nature of this industry normally has large variations from month to month so the rolling averages are the best way to view this series – and it shows permits collapsing and completions surging – not good as it is showing a contracting sector" [Econintersect]. And: " The housing starts report this morning was well below consensus because of the sharp decline in multi-family starts. However multi-family permits were decent in November, so multi-family starts will probably rebound in December" [Calculated Risk].
Atlanta Fed Business Inflation Expectations, December 2016: "Readings on inflation expectations have mostly been soft though the Atlanta Fed's business expectations index has been showing life" [Econoday].
Employment Situation: "Unemployment rates were significantly lower in November in 18 states and stable in 32 states and the District of Columbia, the U.S. Bureau of Labor Statistics reported today. Nine states had notable jobless rate decreases from a year earlier, 2 states had increases, and 39 states and the District had no significant change" (BLS) [Calculated Risk].
Labor Power: "Last month, McDonald's Corp. (NYSE: MCD) announced that it would roll out digital self-order kiosks at the company's 14,000 U.S. stores. Customers would use the giant touchscreens to place their orders and store employees would deliver the orders to the customers tables" [MarketWatch]. "Regardless of what the company says about maintaining staffing levels, if the kiosks are as popular as McDonald's thinks they'll be, staffing levels will certainly drop. Worker demands for $15 an hour could be effectively neutralized. Research in the first decade of the 21st century discovered that kiosks generated a 30% increase in a McDonald's order and that 20% more customers would order a drink when the machine offered one. The kiosk never forgets to ask if you want fries with that order either."
Labor Power: "As a proposed $1.25 million settlement for cheerleader wage theft pends approval in an Alameda County court, another class action lawsuit over pay and compensation has been filed against the Oakland Raiders by a former Raiderette" [Mercury News].
Infrastructure: "AT&T, Verizon and other large incumbent providers are not putting as much capital into their wireline network infrastructure, leaving them open to further challenges from cable operators, says Moody's in a new research note" [Fierce Telecom]. "The research firm noted that outside of Verizon's FiOS FTTH deployments, the overall U.S. telecom industry has not kept pace with cable in terms of broadband."
Commodities: "A confrontation between local indigenous peoples and police at a mine in Ecuador has forced a state of emergency" [Mining.com]. "The state of emergency was declared just a day after Ecuador signed a contract with Canada's Lundin Gold that allows the miner to move ahead with its Fruta del Norte gold project, the country's largest."
Retail: "This year, Christmas falls on a Sunday and Hanukkah starts the day before. That places the last big brick-and-mortar shopping weekend a full week in advance, meaning last-minute shoppers are more likely to turn online in the days right before the holidays" [Wall Street Journal, "As Last-Minute Shoppers Go Online, Retailers Brace for Trouble"]. "The selling season will also be compressed, after a late start due to the presidential election. Distracted consumers and higher advertising rates prompted most retailers to launch holiday pushes closer to Thanksgiving—which fell on Nov. 24—instead of the usual Nov. 1 kickoff."
Retail: "Brick-and-mortar retailers desperately need the holiday sales boost, even if it causes some delivery headaches. These companies are still trying to move a glut of merchandise that's accumulated over the last two years, and are increasingly resort to deep discounting to increase sales" [Wall Street Journal]. "Retailers have been working all year to reduce inventories of unsold goods left over from the 2015 holiday season. Many have made progress, but not enough, leading department stores and others into another round of coupons and sales. Even off their peak, inventories remain a problem for the trucking industry because retail customers need fewer items shipped to warehouses already brimming with clothes, toys and electronics."
Shipping: "November 2016 Import and Export Sea Container Rolling Averages Improve " [Econintersect]. "The Ports of LA and Long Beach which account for much (approximately 40%) of the container movement into and out of the United States – and these two ports report their data significantly earlier than other USA ports. Most of the manufactured goods move between countries in sea containers (except larger rolling items such as automobiles). This pulse point is an early indicator of the health of the economy…. Imports and Exports remain on an improving trend line but remain well below the quanties moved in the period 2010 to 2011…. Using this data to forecast the USA economy, the indications are at this point of a continued weak but improving growth of consumption."
Shipping: "The export boom helping fuel record container volumes at U.S. ports may already be on borrowed time. The dollar hit a 14-year high, adding to recent gains following the Federal Reserve's first interest rate hike of the year. That's bad news for exporters, whose goods will be more expensive to overseas buyers. Outbound demand has been strong: Southern California's ports reported an 11.8% increase in November exports from the previous year. The dollar has been rising since the Nov. 8 election, buoyed by Donald Trump's promise to pass a massive stimulus, which would likely boost growth and inflation" [Wall Street Journal] "But the greenback's gains could frustrate another stated goal of Mr. Trump's to bring more manufacturing jobs back to the U.S., as fewer factories will open if foreign consumers can't afford the goods they produce."
Shipping: "Shippers need to gear up for a world with no secrets in the supply chain" [The Loadstar]. Hmmm.
The Bezzle: "In some countries (such as Switzerland and Germany), approximately 6% of all financial assets are now held in structured products. Unfortunately, they remain "popular" for the same reasons many financial products are popular: either they carry large commissions for the sellers, or they so greatly favor the issuers that they are pushed on unsophisticated investors who cannot fathom the complexity (but are assured by the salespeople and advertising collateral that these are good and often safe products)" [ETF.com].
The Bezzle: "Rocket AI: 2016's Most Notorious AI Launch and the Problem with AI Hype" [Medium]. There should be much more trolling of VCs.
The Bezzle: "Metra [Chicago commuter rail] has selected Uber as its official rideshare partner, the commuter railroad announced earlier this week" [Progressive Railroading]. "Uber's name will be featured on a range of promotional materials, including posters displayed at stations and on Metra trains, timetables, mailing inserts and at ticket office windows. Uber also will be able to distribute promotional information at Metra stations."
"Well, now with elections results making the idea of a more aggressive FED, and possible inflationary pressures (forgive me while I laugh..inflation..so funny-unless you're sending a kid to college) rates are backing up…at a time when the world is long a ton of fixed income, especially long end IG. Well here's the problem, now regulatory issues prevent The Street from warehousing any large inventories, so how is a poor asset manager going to shed their duration? Could there be a new natural payor here? Watching the ultra-bond contract get pummeled has left the low coupon 2045/46 sector in tough spot. Liquidity is poor, DV01s are big and screen bids seem to be good for 5. Oh yeah..its year end, so that should toss a little gas on this fire" [Steve Liddy, Across the Curve]. "If I were seeing selling, I'd be paying in swaps, even here at the recent 'wides'. Every duration survey known to man has accounts long their IG bogey, and that has spilled over into duration. They can't sell bonds..at least not that many bonds until 'The Donald' and his people come in and change the rules." Readers, I'm including this because it sounds like sort of thing you'll like, if it's the sort of thing you like. Does it make sense?
Today's Fear & Greed Index: 84 Extreme Greed (previous close: 86, Extreme Greed) [CNN]. One week ago: 86 (Extreme Greed). (0 is Extreme Fear; 100 is Extreme Greed). Last updated Dec 16 at 12:53pm. Retreating from the important psychological barrier of 90.
Gaia
"Why cats never became man's best friend" [Quartz]. ?They came for the mice, stayed for the food scraps, and whenever it suited, kept cuddly with the cats from the other side of the granary. In other words, not only are cats still mostly wild, but they pretty much tamed themselves. Maybe that means humans are 'cats' best friend.'"
"Postcopulatory sexual selection influences baculum evolution in primates and carnivores" [Proceedings of the Royal Society B]. "Here, we use Markov chain Monte Carlo methods implemented in a Bayesian phylogenetic framework to reconstruct baculum evolution across the mammalian class and investigate the rate of baculum length evolution within the primate order."
Black Injustice Tipping Point
Class Warfare
Handy chart:
Growth of average income in the US since 1980: +61%.
Growth for the bottom 50%: +1%
Growth for the top 0.001%: +636%.
??? pic.twitter.com/gU8szPrqqj

— Gabriel Zucman (@gabriel_zucman) December 11, 2016
"Wealthier individuals tend to be healthier, and poorer individuals less healthy. In the poorer end of the income spectrum, especially for those living in poverty, income has an outsized impact on health. Adults living in poverty are nearly five times more likely to report being in poor or fair health than more affluent adults" [MarketWatch].
"Let me suggest this narrative: Sometime during the Clinton Administration, it was decided that an economically strong China was good for both the globe and the U.S. Fair enough. To enable that outcome, U.S. policy deliberately sacrificed manufacturing workers on the theory that a.) the marginal global benefit from the job gain to a Chinese worker exceeded the marginal global cost from a lost US manufacturing job, b.) the U.S. was shifting toward a service sector economy anyway and needed to reposition its workforce accordingly and c.) the transition costs of shifting workers across sectors in the U.S. were minimal" [Tim Duy's Fed Watch]. "As a consequence – and through a succession of administrations – the US tolerated implicit subsidies of Chinese industries, including national industrial policy designed to strip production from the US." When did Tim Duy take out his Communist Party card, anyhow? (Down, Dimitri!) Duy also takes a fully justified swipe at Operative K.
"Today, the archaic notion of retirement has morphed into this: Work for 40-50 years. Then, have a party, get a gold watch, go to the beach, sit down in a reclining chair with an umbrella drink and get ready for an exciting 20 or so years of golf" [New York Times]. I'll just leave this here.
News of the Wired
"So, what can you do if you were affected [by the latest Yahoo data breach]? You can change your password yet again. You can turn on two-factor authentication on sites that have it, meaning someone would need access to both your phone and your account information to log in. You can change your security question and answers on sites that will let you. (Set aside some time for this, as even the sites that will let you change this information don't make it easy.) If you're truly worried, you can put a freeze on credit checks, which can prevent malicious users from attempting to open credit cards in your name" [New York Magazine].
"Covert downloaders found preinstalled on dozens of low-cost Android phone models" [Ars Technica].
What's wrong with a furnace set to maximum?
how long until ransomware comes to thermostats? pic.twitter.com/cL17lQnqwB

— Internet of Shit (@internetofshit) December 16, 2016
* * *
Readers, feel free to contact me with (a) links, and even better (b) sources I should curate regularly, and (c) to find out how to send me images of plants. Vegetables are fine! Fungi are deemed to be honorary plants! See the previous Water Cooler (with plant) here. And here's today's plant (LR):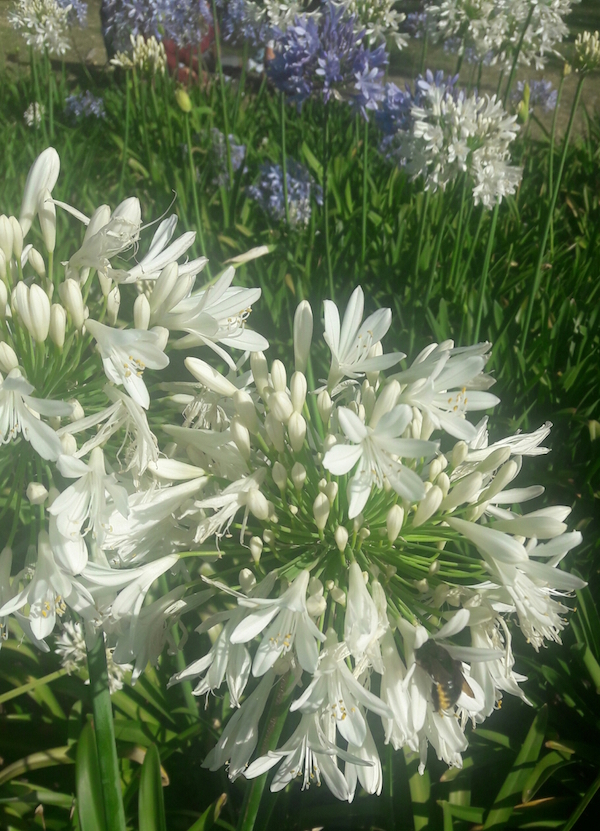 LR writes from Uruguay: "These are agapanthas."
Readers, I've gotten some more plant images, but I could still use more. Plants with snow are fine!
Readers, Water Cooler is a standalone entity, not supported by the very successful Naked Capitalism fundraiser just past. Now, I understand you may feel tapped out, but when and if you are able, please use the dropdown to choose your contribution, and then click the hat! Your tip will be welcome today, and indeed any day. Water Cooler will not exist without your continued help.