By Lambert Strether of Corrente.
Trade
"Commerce Department transition briefing documents obtained by ProPublica lay out actions, issues and potential conflicts of interest that Wilbur Ross will have to deal with in his first 100 days, assuming he is confirmed to lead the sprawling agency" [Politico]. Let the leaking begin!
TPP: "'One of the unfortunate things about TPP, for example, is that it was concluded in the middle of a presidential campaign season,' Cutler said. 'That was not the plan. We were going to conclude it a lot earlier, but and we knew the deal that was on the table two years earlier wasn't the one we were prepared to take home. So we waited. We got the good deal, but unfortunately the timing was really bad and TPP kind of became the manifestation of everything that was wrong with trade and wrong with globalization" [Politico]. The operation was a success, but the patient died. And note another Democrat insider to whom losing in 2016 was inconceivable. Hubris everywhere. I feel like "Kill it with fire" is my Carthago delenda est…
"Trade is already remarkably free by historical standards, and proposed new agreements like TPP are more about intellectual property and dispute settlement than trade per se. It will not be a tragedy if they don't happen" ["Leave Zombies Be," Paul Krugman, IMF]. Krugman goes on:
As Branko Milanović has shown, the overall effect has been big gains for the third-world middle class and the global top 1 percent, with a big sag in between representing the advanced-economy working class. From a global welfare point of view, this is surely positive: the income gains of hundreds of millions of formerly very poor people matter a lot. But that's not much comfort for first-world workers who find their lives getting harder, not easier.
Nobody could have predicted…
Given this reality, it's surprising that . Many people predicted a turn to protectionism after the Great Recession; in fact, not much in the way of new trade restrictions has happened, at least so far.
"Its effects have so far been so mild." I guess that's why laying down a covering barrage from the blame cannons — "Boom! Racism!" and "Boom! Putin!" — is so important to the Paul Krugman who writes for the New York Times. Because one thing the Democrats will always fight hard for is evading responsibility, in this case for the part they played in gutting American manufacturing and the (Trump-voting) communities that depended on it, which even Tim Duy gets in his discussion here on "transition costs."
Politics
Electoral College
A "neighbor in Bangor" writes: "Hot tip from a lady who spied my Bernie and Jill bumper stickers in the Hannaford parking lot last night: David Bright (sp?), a Maine elector pledged to Hillary, is going to vote for Bernie today." Here's the story on David Bright from the Portland Press-Herald. I blame Putin.

"A 46 percent plurality of voters say that electors should be bound to vote for the candidate that won their state, more than the 34 percent who think electors shouldn't be bound if they have significant concerns about the winning candidate. Two-in-10 voters were undecided on the question" [Politico]. "Half of self-identified Democrats — and 52 percent of Clinton voters — say the electors shouldn't be bound. But 64 percent of both Republicans and Trump voters say the electors should be bound."

"Electors will meet in their states, typically at the capitol, where they will cast two votes: one for president and one for vice president" [New York Times]. "They will then prepare what is called a "certificate of vote" with the results, which is then mailed or delivered via courier to the National Archives, where it becomes part of the nation's official records, and to Congress…. Congress has never sustained an objection to an electoral vote in modern times."

"But even though the formal electoral vote happens Monday, the results won't be known for several weeks. When exactly? Not until Jan. 6, 2017." [Quartz] Cites to nited States Code, provision 15 of Chapter 1 of Title 3, but can this really be true? Surely the news will be leaked.

"Democrats Need To Win Elections, Not Flip Electors" [Nate Silver, FiveThirtyEight]. "Winning a House seat in Montana or expanded access to early voting in North Carolina might not be as sexy for Democrats as dreaming about an uprising in the Electoral College. But Trump won the election, and Democrats probably ought to be thinking about how to win some elections of their own." When you've lost Nate Silver…
Trump Transition
"President-elect Donald Trump has continued employing a private security and intelligence team at his victory rallies, and he is expected to keep at least some members of the team after he becomes president, according to people familiar with the plans" [Politico]. That's not necessarily crazy, given Secret Service scandals…
Policy
"More than 20 million Americans now depend on the ACA, also known as Obamacare, for health insurance. Data from Gallup indicate that a lot of those people live in counties that favored Mr. Trump" [Wall Street Journal, "Trump Counties Would See Big Impact From Obamacare Repeal"]. "The Gallup data, analyzed with the county typology from the American Communities Project, show that eight county types have seen increases in health insurance coverage greater than the national average. Six of those types — representing about 77 million people or 33 million votes, a quarter of the total cast — sided with Mr. Trump, some by very large margins."
2016 Post Mortem
"Yes Hillary Clinton got more votes than Trump, the bulk of which are located in two states, but that is not how you win. In the 1960 World Series the New York Yankees scored 55 runs to the Pittsburgh Pirates 27; out-hit them as well .328 verses .256, but the Pirates won when it counted and all those superior numbers meant nothing" [Washington Examiner]. "Here is a shocker: I'd estimate based on my reporting that this election was baked before the debates, before the "Access Hollywood" tapes, before the hacked emails and before anyone took the time to actually notice, listen and understand just how upended the American voter is." Interesting piece, and check the anecdotes about Trump Tower at the beginning.

"Democratic donors call for Clinton campaign post-mortem" [Politico]. I'll bet. And Democrats could say: "We'll get back to you on that, because we're adopting the Sanders funding model of no big donors at all." But n-o-o-o-o-o!

Clinton ally David Brock, who is planning a retreat for top party finance players in Aventura, Florida, over the Thursday-to-Saturday of Trump's inauguration week.

The weekend is being billed as "THE meeting for getting together plans to resist Trump," according to an email invitation sent by veteran Clinton strategist James Carville to high-level donors and obtained by POLITICO.

Among the gathering's planned sessions: "Learning from 2016: Strategy, Policy, and Building a lasting winning Coalition," "Campaign Tactics of the future: Polling, Social Media, and Targeting," "The New Face of the Right," "Holding Trump Accountable," and "Ethics Watchdog on Steroids."

Grifters gotta grift…

Maybe they'll show this animation at Brock's retreat:

In the last 10 weeks of the campaign, Trump made 106 campaign stops. Clinton made 70.https://t.co/4WHcAmbTwY pic.twitter.com/HQEIZOxp51

— Nathan McDermott (@natemcdermott) December 18, 2016

"Transcript And Video: NPR's Exit Interview With President Obama" [NPR]. Check this out:

And I take some responsibility for that. You know, when I came into office, um, you know, we were just putting out fires. We were in a huge crisis situation. And so a lot of the organizing work that we did during the campaign, we started to see right away didn't immediately translate to, wasn't immediately transferable to, congressional candidates. And and, you know, one of the big suggestions that I have for Democrats as I leave, and something that, you know, I have some ideas about is, how do we do more of that ground up building?

Obama doesn't usually deploy the lie direct, but here's what happened to "the organizing work that we did during the campaign":

As Jessica Shearer, a top Obama field organizer in 2008, who managed nine key states for the campaign, said a year ago at our PDF symposium on networked organizing after the Tea Party and Occupy Wall Street, the Obama team had basically "kneecapped" their grassroots after the 2008 victory. "If Dean had been put in charge of the Democratic Party after that election, that list might have really built the democracy. It might have built a party. It might have allowed people a place to engage. Instead, it was this weak echo chamber, where they couldn't be one step to the left or one step to the right of anything the president said."

If only Putin hadn't forced Obama to "kneecap" OFA!

Just to put the continuing Democrat debacle in perspective:

Democrats in the Obama years pic.twitter.com/Wy3v74cQhi

— Morning Joe (@Morning_Joe) December 19, 2016

And the people who engineered this are swanning about, gabbling about resistance and collecting fat paychecks from squillionaire donors. Well played, all.
Realignment and Legitimacy
UPDATE "The Anti-Trump Electoral College Effort Is Only The Beginning" [BuzzFeed]. " the anti-Trump sentiment being stirred in the attempt to persuade electors to abandon Trump could continue to circle the political waters for years to come, playing a part in breaking down further yet another norm: the presumed legitimacy of the presidency. Trump would become the third president in a row whose legitimacy would be perpetually in question, reasonably or not, by significant numbers of opposite party." I think it's more than that. The effort is not merely to delegitimize Trump, but to delegitimize Trump voters; that is the plain meaning of Clinton's "irredeemables" comment. Accomplishing that would require substantial changes to the Constitutional Order — note that giving The Blob veto power at the Electoral College, which Democrats advocated, is just that. Uncharted waters indeed…

"In the Chappaqua woods, a search for Hillary Clinton" [WaPo]. Sad.

"Senate Dems: Were You Hurt By 'Foreclosure King' Steve Mnuchin?" [Talking Points Memo]. Readers, any thoughts on — better yet, experiences with — Mnuchin? Heaven forfend, of course, that the Democrats set up a hotline when the foreclosure crisis was actually happening, and Geithner was foaming the runway for the big banks with HAMP.
Stats Watch
Purchasing Managers' Index Services Flash, December 2016 (preliminary): "Growth in new orders, though still near a 12-month high, has slowed so far this month, pulling down the flash services PMI for December by more than 1 point to 53.4. But, given the comparison with November's unusual strength in new orders, the slowing is deceptive" [Econoday]. "Optimism is still weaker than average but is up from the record lows hit in June." And: "There was a renewed increase in order backlogs for the month due to stronger sales volumes and pressures on operating capacity. These pressures were significant in leading to increased hiring with the rate of job creation at the fastest pace since March" [Economic Calendar]. "The data suggested annualised GDP growth of around 2.0% was realistic for the fourth quarter." But: "Less than the expected 55.2 as weakness in the services sector continues, and as post election hopes fade" [Mosler Economics]. "Fading" confirmed by the Fear & Greed Index?
Shipping: "Shipping lines reluctant to give up 'the old ways' and go digital in the blockchain revolution" [The Loadstar]. "[Maritime Transport International's SolasVGM] system has so far processed 13,000 transactions and Jody Cleworth, chief executive of MTI, said the shipping industry was starting to realise the benefits of digitisation But he added a lot still remained to be done. Each party in the container supply chain – ports, carriers and forwarders – continue to operate different systems and processes." 13,000 doesn't seem like a very large number to me.
Shipping: "A new 'golden age' for box shipping profits, but beware new competition, warns Drewry" [The Loadstar]. Due to concentration!
Shipping: "Brace yourselves, 2016 might just be the beginning of the bloodbath for shipyards. For the first 10 months, only 96 yards managed to win new orders versus 246 throughout 2015 and 331 in 2014, according to Clarksons" [Lloyd's List].
Supply Chain: "Amazon's freight forays increasingly look like the company is interested in selling distribution in all forms rather than simply buying services as a traditional customer" [Wall Street Journal].
The Bezzle: "Prosecutors Allege $1.3 Billion Hedge Fund Platinum Partners Operated 'Like A Ponzi Scheme'" [Forbes]. "'Platinum Partners purported to be a standard bearer in the hedge fund industry, reporting annual average returns of more than 17 percent since inception in 2003,' said Robert L. Capers, United States Attorney for the Eastern District of New York, in a press release announcing charges. 'In reality, their returns were the result of the overvaluation of their largest assets, which eventually led to Nordlicht and his co-conspirators operating Platinum like a Ponzi scheme, where they used loans and new investor funds to pay off existing investors,' Capers added."
The Bezzle: "The U.S. Securities and Exchange Commission (SEC) recently announced that Deutsche Bank has agreed to settle charges in regards that it misled clients about the performance of … the Dark Pool Ranking Model feature of one of its order routers" [247 Wall Street]. "Deutsche Bank described this model in its disclosures to clients and potential clients as the "quantitative core" of SuperX+, stating that it " routes and selects optimal pools of liquidity on an order by order basis… However the SEC found that due to a coding error, Deutsche Bank updated the ranking model just once during a two-year period, causing at least two dark pools to receive inflated rankings and consequently millions of orders that SuperX+ would have sent elsewhere if the system was operating the way Deutsche Bank had described." There's that word, "smart." So often, it's a bullshit tell. And oh, those "coding errors…."
The Bezzle: "Forest Labs to Pay $38 Million to Settle False Claims Case" [Corporate Crime Reporter]. "Forest Laboratories, and its subsidiary, Forest Pharmaceuticals Inc., will pay $38 million to resolve allegations that they violated the False Claims Act by paying kickbacks to induce physicians to prescribe the drugs Bystolic, Savella, and Namenda." Nothing on the scale of Purdue and Oxycontin…
Rapture Index: Closes unchanged [Rapture Ready]. Record High: 189 (October 10, 2016). Current: 184.
Today's Fear & Greed Index: 83 Extreme Greed (previous close: 84, Extreme Greed) [CNN]. One week ago: 87 (Extreme Greed). (0 is Extreme Fear; 100 is Extreme Greed). Last updated Dec 19 at 11:49am. Slowly deflating….
Gaia
"Satellite system tracks glaciers' flow in real time" [Nature]. "'We now are watching all of the outlet glaciers on Earth change in real time,' says Mark Fahnestock, a glaciologist at the University of Alaska Fairbanks who helped to develop GoLIVE. 'Our eyes are open.'"
Black Injustice Tipping Point
"According to the National Center for Educational Statistics, just 16 percent of full-time professors at post-secondary institutions are minorities. That means that 84 percent of those in full-time professorships are white, 60 percent are men and 25 percent are white women" [The Edvocate].
Class Warfare
Thanks, Obama!
Today, only 41.3% of black households own their homes, a 16% decline compared with 2004 https://t.co/SjVDWPR253 pic.twitter.com/XzlrYtJfTz

— Pew Research Center (@pewresearch) December 16, 2016
"A Pictorial History of Suburbia" (maps and diagrams) [McMansion Hell]. It seems that FDR's Federal Housing Administration has a lot to answer for…
"The Wells Fargo Cross-Selling Scandal" [The Harvard Law School Forum on Corporate Governance and Financial Regulation]. This paragraph caught my eye "Graham, Harvey, Popadak, and Rajgopal (2016) find evidence that governance practices and financial incentives can reinforce culture; however, they also find that incentives can work in opposition to culture, particularly when they 'reward employees for achieving a metric without regard to the actions they took to achieve that metric.' According to a participant in their study, '.'" In other words, Bill Black's concept of a criminogenic environment is a spot on, even if the academics are a little late getting to it.
News of the Wired
"Punched Cards: A Brief Tutorial" [Computing Now] (2002). "A taxonomy of punched cards can take many forms: by size, by number of recording punches, by the method used to sort or retrieve the information, by whether the card is punched internally or only on the edges, and other methods, such as whether the card contains other information-handwritten or typed, or recorded via an encased microfilm image. The usual approach classifies them as machine sorted or hand sorted and then subclassifies them with one or more of the noted criteria."
"The Obsessed, Feuding Searchers Still Looking for Amelia Earhart" [Atlas Obscura]. Or Hillary Clinton in the woods…
"How Your Brain Controls the Speed of Time" [New York Magazine]. "There's an important big-picture upshot to all of this. If you want to live a long time, you should stick to a hard-and-fast regimen of regular exercise and healthy food. Your sleep schedule should run like a Swiss railroad. But if you want your life to seem like it's lasting a long time, pack it with surprises."
"Are Ideas Getting Harder to Find?" [Nicholas Bloom, Charles I. Jones, John Van Reenen, and Michael Webb (PDF)]. "We present a wide range of evidence from various industries, products, and firms showing that research effort is rising substantially while research productivity is declining sharply."
* * *
Readers, feel free to contact me with (a) links, and even better (b) sources I should curate regularly, and (c) to find out how to send me images of plants. Vegetables are fine! Fungi are deemed to be honorary plants! See the previous Water Cooler (with plant) here. And here's today's plant (Katiebird):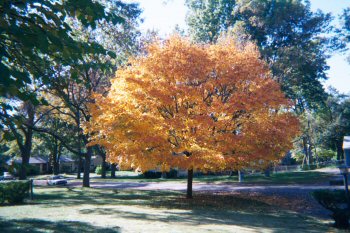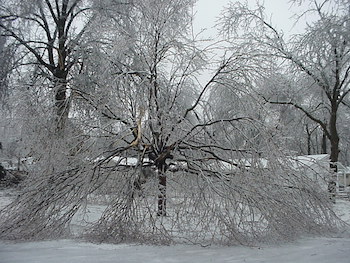 Katiebird writes: "In honor of the possible ice storm/snow coming to Kansas City tomorrow, I am enclosing before and after photos of my favorite tree: Before is a fall photo showing its perfect shape…. After — it is coated with about 1/2" of ice from a pretty serious ice storm. Happily, in the 15 years since, the tree has mostly recovered…
Readers, I've gotten some more plant images, but I could still use more. Plants with snow are fine!
Readers, Water Cooler is a standalone entity, not supported by the very successful Naked Capitalism fundraiser just past. Now, I understand you may feel tapped out, but when and if you are able, please use the dropdown to choose your contribution, and then click the hat! Your tip will be welcome today, and indeed any day. Water Cooler will not exist without your continued help.