By Lambert Strether of Corrente.
Trade
"Trump to Create a Manufacturing-Focused White House Trade Office: President-elect Donald Trump will create a new office within the White House to oversee trade and industrial policy, a move that will put an emphasis on "Buy America" policies and promote domestic manufacturing. Trump's transition team announced Wednesday that the office, called the National Trade Council, will be helmed by Peter Navarro, a longtime critic of China who helped craft Trump's trade policy during the campaign" [Politico]. "The office will work "collaboratively and synergistically" with other White House councils, the transition team said. A source close to the transition told Morning Trade it will usurp responsibilities from both the National Security Council and National Economic Council to create a new branch that will have "broad and expansive policy oversight" over trade matters."
Politics
Policy
"So is there work to be done in the U.S. that produces tangible, visible value? Of course there is. To realize this, just take a one-week trip to Japan. Where American sidewalks are cracked and uneven, Japanese ones are neat and beautiful. Where tables in American Starbucks are littered with crumbs and dirt, Japanese Starbucks tables get wiped down after every customer leaves. Where American cities like Chicago and Detroit are full of broken windows and crumbling facades, Japanese cities are clean and modern, with well-maintained, reliable public transit" [Bloomberg]. Before we start complaining about make-work, let's make the U.S. look like that."

"Trump's SEC may take aim at corporate disclosure" [Francine McKenna, MarketWatch]. "Trump will have the opportunity not just to pick a new chairman but two commissioners (though one will have to be a Democrat) on the five-person panel."
Trump Transition
"What will the left's legal resistance to a President Trump's administration look like?" [Talking Points Memo]. "'This is the start of the Democrats' major effort to scale back the Trump administration,' said Adam Winkler, a constitutional law professor at UCLA. 'The courts are for checking Donald Trump. With Republicans in control of Congress, we can't expect to see Congress checking the President.'" "The only possibility…"? Really?
2016 Post Mortem
http://theweek.com/articles/661871/2009-year-democratic-party-died

"Exclusive: Clinton aides kept tabs on anti-Trump elector gambit" [Politico]. "The absence of any high-profile support left the ragtag group with little horsepower to counter a well-oiled Republican whip effort, led by Trump campaign operative and the Republican National Committee."

"Old Guard Democrats and New Activists Meet, with a Scuffle, at Party Gathering" [Detroit Democrat]. "The next election of delegates to the Michigan Democratic Party State Central Committee is at the party convention in Detroit's Cobo Center on Saturday, February 11, 2017. Voting is open to all party members who attend the convention. To join the party, you can go the party website and make a contribution – if you don't have $2,500 (!) on hand, you can write in any amount you choose." (The Observer, which Trump son-in-law Kushner may be trying to sell, and where I found the link, is certainly shit-stirring, but they do know how to provide linky goodness.)

Another way of saying "volatility voters":

@IdeasWhittler @rohrbach no matter how effective or entrenched a belief system or propaganda is, when the ppl are hungry all bets are off.

— faceplant (@faceplant10) December 22, 2016

"2009: The year the Democratic Party died" [Ryan Cooper, The Week]. "The Democratic Party has been obliterated. Hillary Clinton's narrow loss to Donald Trump was the shock felt 'round the world, but there's been an even deeper decline in the Democratic Party at the state and local level. The Obama administration has overseen the loss of roughly a tenth of the party's Senate seats, a fifth of its House and state legislative seats, and a third of its governorships, something which hasn't been seen since the repeated routs of Republicans in the 1930s." And:

There are unquestionably many factors behind this result. But I want to focus on the biggest one that was completely under Democrats' control. It is the same thing that killed the Republicans of Hoover's generation: gross mishandling of an economic crisis. Democrats had the full run of the federal government from 2009-10, during the worst economic disaster in 80 years, and they did not fully fix mass unemployment, nor the associated foreclosure crisis. That is just about the most guaranteed route to electoral death there is.

The Democrat Party may be dead, but it's still walking. And you know how to kill a zombie…
Realignment and Legitimacy
"Why Democrats should just treat the middle class like the extremely poor" [The Week]. "It is important and worthwhile to be concerned about poverty. But it leaves out a big segment of the population — namely, the middle and working class, who see little concrete benefit for themselves in Democratic policy. Fortunately, there's an easy solution here: Just cut the middle class in on same sort of programs the poor get." Interesting approach not entirely vitiated by the use of "middle class," which is nauseatingly flaccid as a concept.

"In some cases, [resistance to Ellison is based on] a fear about empowering the so-called Bernie wing of the party. But mostly, you hear quotes like this: "We like Keith," one "longtime Obama political ally" tells Thrush, who he spoke to in November. "But is he really the guy we need right now when we are trying to get all of those disaffected white working-class people to rally around our message of economic equality?" If Trump said something like this, you'd call it a dog whistle. It's almost baffling that, given anonymity, this longtime Obama political ally didn't just come out and say that what gives them pause about Ellison is who he is—that white working-class people won't like a black Muslim in charge of the DNC. But if anyone should be wary of claims like this it's Obama's allies, who have had to deal with identity-based attacks like this for the past decade" [The New Republic]. Dear Lord.

"The front row kids (who live in big cities and university towns) primarily find meaning through their careers, and hence through their education. It defines who they are. Their community, and their neighborhoods, are global. They moved towns often for their careers" [Chris Arnader, Medium]. "The back row primarily finds meaning through their local community, and its institutions like church and sports. They live in places they have long lived in, and their families have lived in. They didn't leave for education, didn't leave for jobs. This is often by choice, many want to stay close to family, but it also because some have had to. Many had to stay to care for sick family, or because they fell behind early. Some had difficult childhoods. Grew up in a place that offered little chances at an elite education."

"Every time those snobs laugh at Trump, it reinforces the reason why supporters (some portion of whom are Obama-to-Trump voters) support him. Because they're tired of elites laughing at them, especially elites with a long history of catastrophic failures" [EmptyWheel]. I agree 100%.
Stats Watch
Leading Indicators, November 2016: "Weakness in building permits and factory indications offset gains in the rate spread, jobless claims, and stock prices to keep the index of leading economic indicators unchanged in November" [Econoday]. "Today's results point to flat economic conditions in the first half of next year." And: "The rate of growth is slowing on this index – and other leading indices are painting mixed views" [Econintersect].
Chicago Fed National Activity Index, November 2016: "Business and consumer confidence may have jumped but November proved to be a weak month for the economy based on the national activity index which fell" [Econoday]. "The industrial sector proved weak, falling to minus 0.20 from October's minus 0.01. Part of this decline reflects warm weather and less utility output but also reflects slippage in manufacturing production. Personal consumption & housing were also weak."
Kansas City Fed Manufacturing Index, December 2016: "Like the Philly Fed report, the manufacturing report from the Kansas City Fed is showing life" [Econoday]. "Nearly all the readings rose further into positive territory including employment." And: " The Kansas City region was hit hard by the decline in oil prices, but activity is expanding again" [Calculated Risk].
Personal Income and Outlays, November 2016: "November may have been a cycle high for confidence but it actually proved a weak month for the consumer" [Econoday]. "Personal income was unchanged in November as the wages & salaries component dipped into the negative column at minus 0.1 percent. Consumer spending rose 0.2 percent and reflected specific weakness in vehicles. Not helped by the weakness in income, the consumer had to dip into savings during the month where the rate fell 2 tenths to 5.5 percent." And: "Not only was there no real income growth, but the previous month was revised downward. Spending, however, was still relatively strong which supports GDP" [Econintersect]. And: "Below expectations (charts) [Calculated Risk].
Durable Goods Orders, November 2016: "Defense came to the rescue of November's durable goods report though core capital goods orders are another positive. Durable goods fell 4.6 percent in November but were down an even sharper 6.6 percent excluding defense" [Econoday]. "When including defense and excluding transportation (commercial aircraft and vehicles), orders rose a better-than-expected 0.5 percent." But: "Transport is the usual main driver this month – and it significantly declined. This series has wide swings monthly so our primary metric is the three month rolling average which declined but remains in expansion. The real issue here is that inflation is starting to grab in this sector making real growth much less than appears at face value. The trends on this series are not indicating any real economic improvement" [Econintersect].
GDP, Q3 2016 (final): "The third-quarter lived up to its early expectations, rising with each new revision to an inflation-adjusted 3.5 percent annualized rate for the best showing in two years" [Econoday]. "The fourth-quarter, held down by a reversal for exports and perhaps by less strength in consumer spending, isn't quite tracking as strongly as the third quarter proved to be." But: "above the consensus forecast" [Calculated Risk].
Jobless Claims, week of December 17, 2016: "In a negative sign for the December employment report, initial jobless claims rose 21,000 in the December 17 week to a much higher-than-expected level of 275,000" Econoday]. "There are no special factors in today's report, one that raises the question whether the next employment report will extend the long run of solid results."
Bloomberg Consumer Comfort Index, week of December 18, 2016: "Readings on consumer confidence have been very strong following the November 8 election including the consumer comfort index which jumped a sharp 1.2 points in the December 18 week to 46.7 for the best reading in two years" Econoday].
Corporate Profits, Q3 2016 (final): "[R]ose 4.3 percent year-on-year in the third quarter vs a prior estimate of 5.2 percent." [Econoday].
FHFA House Price Index, October 2016: Softer-than-expected rise [Econoday]. "Home-price appreciation has been less than sensational this year but has been steady and remains much higher than income growth. And low supply in the new and resale markets hints perhaps at stronger appreciation next year."
Housing: "There has been little discussion in 2016 regarding the volume of all cash buyers. We have grown accustomed to anomalies in the housing market. Rapid dips and jumps in prices are now assumed to be a part of the system. Massive numbers of investors buying single family homes are now assumed to be status quo. And the number of all cash transactions is seen as normal when in fact, all cash buyers were usually a small part of the market. All of this is abnormal in the housing market pre-2000s but we are now living in a very different world" [Doctor Housing Bubble]. "The all cash buying trend continues to signify that investors are a big part of the market. But all of this is contingent on the massive Bull Run we have had since 2009. Of course, some now believe this is a "new normal" and we have reached permanently new plateaus."
Commodities: "Chinese demand now constitute nearly half the global total for most industrial metals and in iron ore for instance the country is responsible for some 80% of the seaborne trade" [Mining.com]. "Expansion rates may have slowed dramatically and doubts are creeping in about the longer term impact of stimulus measures introduced earlier this year, but in absolute numbers growth in Chinese demand remains eye-watering."
Commodities: "Cost-saving nanotechnology set to disrupt gold processing industry" [Mining.com]. Reading all the way to the end: "'Once we have some plants up and running our phone is going to start ringing off the hook,' [Sixth Wave Innovations President Sherman McGill] predicted. 'The word will get around pretty quickly on how great this stuff is.'"
Shipping: "In his industry predictions for 2017, Lars Jensen, chief executive and partner at SeaIntelligence, said today, 'Non-operating vessel owners holding unwanted container tonnage will be hit particularly hard, and it is likely that we might see bankruptcies in this sector'" [The Loadstar].
Shipping: "The year appears to be ending on a positive note for the air cargo industry as November's airfreight prices climbed above the corresponding period in 2015 for the first time this year" [Air Cargo News].
Rail: "U.S. rail traffic slipped 0.3 percent to 523,949 carloads and intermodal units in the week ending Dec. 17 compared with the same week last year, the Association of American Railroads (AAR) reported yesterday" [Progressive Railroading].
The Bezzle: "The [new report from global law firm Hogan Lovells] found that 47% of respondents are failing to carry out desktop due diligence, 44% don't ask third parties to complete a questionnaire, and the same proportion fail to conduct face to face interviews with third parties." [Corporate Crime Reporter].
The Bezzle, Internet of Shit (!):
can't even make this up https://t.co/nOOESVN8A5

— Internet of Shit (@internetofshit) December 21, 2016
The Bezzle, Internet of Shit (II). Clive writes:
Nest got cold feet when its community forum sometimes didn't act like the corporate drones we were supposed to be, refused to drink every last drop of their Kool-Aid and had the temerity to heap criticism on buggy software and point out when products shipped with advertised features missing. So they suspended their community pending a "relaunch". Now they have kicked the relaunch into long grass. Nothing too unusual there, I think though indicative perhaps of a trend that's accelerating — business has always hated labor, but now they increasingly hate their customers too. Especially if they start to make outrageous, unreasonable demands like "please can we have products that work reliably?"
Here's the note from Nest: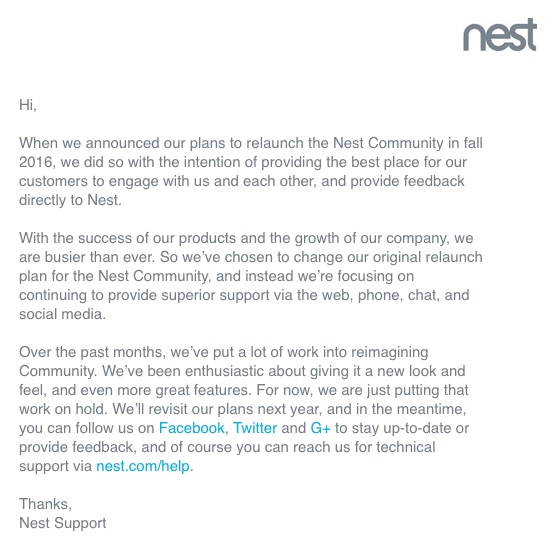 Silicon Valley public relations bullshit is the best public relations bullshit.
The Bezzle: "What drives decisions by autonomous vehicles in dire situations?" [Phys.org (lyman alpha blob)]. "A UCI professor and colleagues have created an online survey platform called the Moral Machine to learn what people think a self-driving car should prioritize in the event of a fatal accident – and it's not necessarily the lives of its occupants." Morality changes. Will public views drive robot car algorithms, or will the results of this study be hard-coded by programmers? I'm guessing the latter.
Globalization: "Yet many executives here say they aren't worried by Mr. Trump. The economic forces that transformed this once-poor backwater in Guangdong province into a sea of skyscrapers are too massive to be rolled back, their thinking goes. Even if Mr. Trump imposes tariffs on Chinese-made goods, as he has threatened to do, it's now so efficient to engineer, produce and ship electronics from this region of southern China that it could still outcompete the U.S., they say" [Wall Street Journal, "Bring Back Jobs From China? In Shenzhen, They Aren't That Worried"]. ""We are very relaxed about all the talk of tariffs, although the noise it creates is not good," said a senior executive at a global consumer-electronics firm with operations in Shenzhen, who spoke anonymously to avoid entering the debate over Mr. Trump's proposals."
Honey for the Bears: "Detroit auto makers are pulling back on first-quarter production in response to a cooling in retail demand and a shift in consumer tastes, a speed bump for an industry that has laid the foundation for U.S. economic expansion in recent years" [Wall Street Journal, "U.S. Car Makers Idle Plants Amid Oversupply Concerns"]. "All three domestic car companies this week said they have scheduled down time at some of their factories for as much as three weeks in January. Auto makers typically idle assembly plants for a week or two around the holidays—but shutting factories for multiple weeks in January is unusual. The moves are an attempt to help clear inventory of certain models such as sedans and minivans, which have been stacking up on dealer lots at a rapid pace in recent months. Such cars have attracted paltry interest among buyers more interested in sport-utility vehicles." Cheap gas….
Today's Fear & Greed Index: 67 Greed (previous close: 74, Greed) [CNN]. One week ago: 86 (Extreme Greed). (0 is Extreme Fear; 100 is Extreme Greed). Last updated Dec 22 at 11:59am. Still shrinking….
Our Famously Free Press
"Horrible Facebook Algorithm Accident Results In Exposure To New Ideas" [The Onion].
Dear Old Blighty
Hello, Mrs. Premise!
Panto dames come out to cheer Britain after a tumultuous 2016: https://t.co/wU7OYBz96a pic.twitter.com/yq2W8qK08p

— Reuters World (@ReutersWorld) December 22, 2016
Health
"G.O.P. Plans to Replace Health Care Law With 'Universal Access'" [New York Times]. Whatever that means. Of course, single payer is the way to do that. Oddly, or not, the Times doesn't include any quotes from single payer advocates.
"Eight percent of respondents said they or someone in their household had [illegally] imported a [prescription] drug at some point, a figure that would translate to about 19 million adults in the U.S. based on current Census population estimates" [NPR]. "8 percent is far higher than in surveys conducted by government interviewers, which suggested the number was about 2 percent in 2011 — though the government survey focused only on purchases in the previous 12 months. The Kaiser poll queried a nationally representative sample of 1,202 adults."
Amanda Mazumder, a 27-year-old graphic designer in St. Paul, Minn., was stressed out by the murky legality of the situation when she tried buying birth control pills while in college five years ago. "" she said. She couldn't afford to pay $150 a month for her birth control, but found an online Canadian pharmacy that sold her a three-month supply for $60.
"Trying to be an honest citizen but…" Life under neoliberalism!
"Kaiser Family Foundation research found 11 U.S. states where at least three in 10 adults have a pre-existing condition over which they could have been denied coverage before the Affordable Care Act took effect" [Wall Street Journal, "Preexisting Conditions and Republican Plans to Replace Obamacare"]. West Virginia, Mississippi, Kentucky, Alabama, Arkansas, Tennessee, Oklahoma, Louisiana, Missouri, Indiana, and Kansas: Trump country. Note, however, how carefully this sentence is worded: "30% of U.S. adults younger than 65 have health conditions that would have left them uninsurable in a pre-ACA world." This does not say that these adults actually purchased insurance and, if they did, whether they actually got care. In other words, Kaiser perpetuates the usual neoliberal conflation of heatlh insurance and health care.
"A consolidated list of all single-payer and Medicare-for-all organizations in the United States. Since health care in the US frequently devolves to the states, many single-payer organizations are working at the state level" [Medium].
"I recently interviewed a dozen people in three small towns near Harrisburg, Pennsylvania—a region that went for Trump by wide margins—and found several broad reasons for dissatisfaction with the Affordable Care Act. Americans have grown too lazy and entitled, some feel, and the Trump administration's health-care proposals should promote greater personal responsibility. Others are simply confused by the law, what exactly it changed, and where they fit within the new health-care regime. But others liked the idea of universal health insurance and thought the law would help them. When it didn't, some turned to Trump to tear it all down and start again" [The Atlantic]. "I recently interviewed… " I like reporting like this. One of the good things — there were good things — about 2016 is that there seems to be more of it.
Gaia
"Humans and animals set themselves up for sex well before the act will ever take place. At the earliest stages of life, in the embryo, our germ cells begin to develop. These are the cells that will go on to form the sperm and the egg, with half the usual number of chromosomes. In females, eggs are set aside and kept in arrested development until they are needed. After puberty, males produce sperm continuously throughout life, but a specialized germ line is created early on from which sperm are made" [Nature]. "But corals, sponges and plants make no such cellular plans…. Why the difference? According to biochemist Nick Lane of University College London, more complex animals create a devoted germline to preserve the quality of their mitochondria — specialized energy-producing structures in cells that sit outside the nucleus and have their own genes."
Class Warfare
"Research: Technology Is Only Making Social Skills More Important" [Harvard Business Review]. "The call for social skills, 'soft' skills, emotional intelligence, and the like, isn't something new. Employers are constantly stressing the need for workers who can collaborate and communicate on teams." I've always loathed the "team" ideology because it obscures power relations. My priors tell me that "social skills" are a proxy for credentialing, but I dunno… Readers?
News of the Wired
"Adults who use libraries and visit library websites are often ahead of the crowd when it comes to being learners, engaging with information and embracing technology" [Pew Research]. Libraries often have meeting rooms, so an excellent spot for meet-ups.
"A California startup is betting seniors will ditch canes and walkers for robotic-powered suits that would give them a boost" [Wall Street Journal, "Superflex to Commercialize Powered Suits for Aging Population"]. I hate to be cynical, but I'm picturing your exoskeleton freezing up on you in the midst of a software upgrade — or if you miss a monthly payment.
"The Older You Are, the Better Excuse You Have for Being Late" [New York Magazine]. Damn straight!
* * *
Readers, feel free to contact me with (a) links, and even better (b) sources I should curate regularly, and (c) to find out how to send me images of plants. Vegetables are fine! Fungi are deemed to be honorary plants! See the previous Water Cooler (with plant) here. And here's today's plant (KR):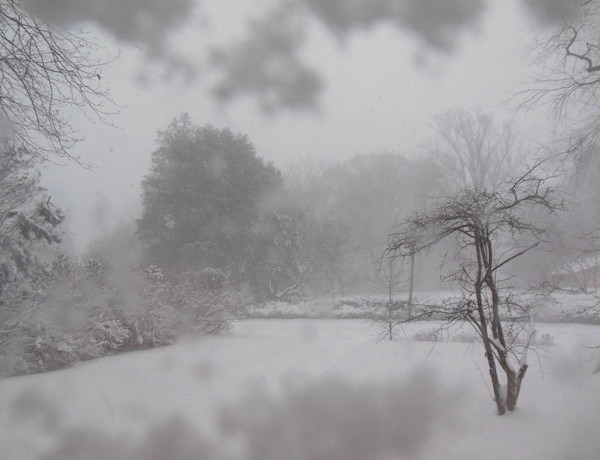 Looking out at the storm through the window. I know that feeling…
Readers, I've gotten many more plant images, but I can always use more; having enough Plantidotes is a great de-stresser. Plants with snow are fine!
Readers, Water Cooler is a standalone entity, not supported by the very successful Naked Capitalism fundraiser just past. Now, I understand you may feel tapped out, but when and if you are able, please use the dropdown to choose your contribution, and then click the hat! Your tip will be welcome today, and indeed any day. Water Cooler will not exist without your continued help.