By Lambert Strether of Corrente.
Readers, this Water Cooler is a bit light, because I got started late. But an early Happy New Year to you! –lambert
2016
Trump Transition
"Trump's Extreme Oligarchy" [Simon Johnson, Project Syndicate]. "US President-elect Donald Trump is filling his cabinet with rich people. According to the latest count, his nominees include five billionaires and six multimillionaires. This is what is known as oligarchy: direct control of the state by people with substantial private economic power." As readers know, I think this is the right message, not the liberal "conflict of interest" talking point. To be an oligarch is to be conflicted, so yammering about conflict is to miss the point.

UPDATE "With Russia sanctions move, Obama leaves Trump with tough choices" [Japan Times]. FWIW, I view Obama's moves as half-hearted, particularly given that Clintonites regard Trump as a witting agent of Putin (that is, a traitor (hence, should be prevented from taking office on January 20 by any means necessary)). If Obama wanted to send a strong signal, he wouldn't be closing down Russian compounds that have been around 44 years, he'd be recalling our Ambassador from Moscow. I think he's out to make life hard for Trump, and to get the Clintonites — and The Blob — off his back, and not much more. We'll see what the long-promised report shows, but my guess is that there will be no exposed evidence, and no named sources. That is, Obama's case will be even worse than the case Bush put together to justify the Iraq War, which at least had the status of a National Intelligence Estimate and the benefit of an inter-agency process that produced dissent (in the form of footnotes).
Our Famously Free Press
UPDATE "Milo Yiannopoulos, controversial Breitbart editor, lands a reported $250,000 book deal" [Los Angeles Times]. Breitbart and Pantsuit nation — peas in a pod!
Realignment and Legitimacy
"[A]t least a size­able num­ber of Amer­ic­ans are quite hope­ful that things will get bet­ter over the next year, at least in part be­cause of Trump's elec­tion. It also might be worth not­ing that the sur­veys showed that much of the op­tim­ism was among older Amer­ic­ans. With the stock mar­ket run­ning pretty much at re­cord highs since Novem­ber, and older Amer­ic­ans gen­er­ally more in­ves­ted in the stock mar­ket than young­er people, this op­tim­ism may be re­lated to or caused by the mar­ket's per­form­ance. But it's not quite clear which is the cart and which is the horse. Are people feel­ing bet­ter be­cause the stock mar­ket is do­ing well, or is the stock mar­ket do­ing well be­cause people are feel­ing bet­ter, or maybe both?" [Charles Cook, National Journal].

"By all accounts, Bill and Hillary Clinton never had any such qualms, and now their quarter-century project to build a mutual buy-one, get-one-free Clinton dynasty has ended in her defeat, and their joint departure from the center of the national political stage they had hoped to occupy for another eight years. Their exit amounts to a finale not just for themselves, but for Clintonism as a working political ideology and electoral strategy" [Politico]. If this article, and Yglesias's "Smoking Rubble" piece in Vox, are indicative of the political class hive mind, whatever the Clintonites are ginning up with their Russian War Scare isn't going to work (ergo, Trump will take the oath of office on January 20.)

"A Perez win now would be seen as a major insult to Sanders and his supporters. Precisely because there isn't an overt policy void between the two leading contenders, the Perez candidacy looks to Sanders backers like an effort to punish Ellison for having supported Sanders in the primary — or, at the very least, to make sure that those connected to Sanders personally are shut out of power" [Vox]. "Ellison as chair would go a long way toward redressing the grievances accumulated up over months of a long, bitterly-fought primary. Perez as chair would almost certainly exacerbate them."

"Pete Buttigieg, the mayor here who national Democrats often mention on the shortlist of rising stars in the party, said he is nearing a decision about whether to run for DNC chair and would step down as mayor if he were to win the job" [Politico]. ". And Buttigieg, who is gay, has gained attention this year after being the subject of a profile in a New York Times with the title "The First Gay President?" President Barack Obama also mentioned him as a top Democratic prospect for higher office in an interview with The New Yorker. " Buttigieg wrote a prizing-winning essay on Sanders in 2000. In 2016, he supported Clinton.

"[Chris Arnade] is politically progressive and a week before the election angered his side, and some media folk, by foretelling the victory of Donald Trump. The people he met were voting for him. Many saw the America they'd grown up in slipping away. They wanted a country that was great again. They experienced elite disdain for Trump as evidence he might be the one to turn it around" [Peggy Noonan, "Shining a Light on 'Back Row' America," Wall Street Journal]. "Happy New Year, everyone. May we do work worthy of the moment."
Stats Watch
Chicago Purchasing Managers Index, December 2016: "Slowing in orders pulled back December's Chicago PMI…. New orders continued to expand… Backlog orders moved back into contraction, production slowed, while employment held steady." Below consensus range [Econoday]. "In a special question, 51 percent of the panel see the new administration's policies helping their business next year, specifically tax reform and deregulation. Forty percent see no impact and 9 percent see negative effects." This index is quite volatile. (Consensus was between 56.0 to 58.6, versus actual 54.6. Econintersect writes that consensus was 50.7 to 54.0.) And: Below consensus [Calculated Risk].
Econintersect January 2017 Economic Forecast: "We are continuing to forecast marginal improvement of the economy – with the economy frozen in a condition of snails pace growth" [Econoday]. "USA economic internals are pulsing and out of phase with each other. I could cherry pick dynamics and paint a very positive or very negative picture of the economy. However, barring an unexpected turn of events – we expect our index in the future to continue to moderately strengthen…. Leading Indicators Conclusion: trends are generally improving, and not indicating a recession over the next six months."
Rail: "Rail Week Ending 24 December 2016: An Unbelievably Good Week" [Econintersect]. By "unbelievable" they mean "not believable." "So this week's data is an outlier caused by week 51 last year ending in the week between Christmas and New Years (a low volume period) – and this year week 51's cutoff was before Christmas. It is too risky to try to logically analyze the data this week."
Shipping: "[Deutsche Bahn] operator carried more than 40,000 containers along the traditional 'Silk Road' route this year – a new record – compared to 35,000 in 2015" [Lloyd's Loading List]. "'This paves the way to increase container units to about 100,000 by 2020, thus tripling the number transported in 2014,' said DB board member and former minister of Angela Merkel, Ronald Pofalla, in a statement." Not a very large number.
Shipping: "3D printing 'no major threat to freight'" [Lloyd's Loading List]. Interview with Supply chain expert and author Mark Millar. "'But while I'm convinced that AM's time has come, I don't see it revolutionising mass production and global supply chains as some observers are predicting, at least not in the medium term.' Nor is [Millar] expecting it to exert a significant impact on intercontinental freight flows and expressed surprise at the conclusions of a research paper published by PricewaterhouseCoopers (PwC) which estimated that as much as 41% of the air cargo business and 37% of the ocean container business was at risk because of 3D printing." Well worth a read for the off-shoring/on-shoring/right-shoring discussion, relevant to policy under a Trump administration.
Shipping: "This time last year few would have predicted that as the final day of this very tough 2016 looms the sector with the best fundamentals is dry bulk. Dry bulk owners have been through the mill this decade but finally after much scrapping, the Baltic Dry hitting record lows in the first quarter and massive restraint when it comes to new orders, there is no segment in shipping with better investment potential than this one" [Splash 247]. A good roundup of a tumultuous year.
Household Income: "According to new data derived from the monthly Current Population Survey (CPS), median annual household income in November 2016 was . Median household income at the beginning of the great recession in December 2007 was . The Sentier Household Income Index (HII) for November 2016 was 99.7, slightly higher than the October reading of 99.4 (January 2000 = 100). The level of real median annual household income in January 2000 was , which marks the beginning of this statistical series" [Econintersect]. Sixteen years of treading water.
Today's Fear & Greed Index: 61 Greed (previous close: 65, Greed) [CNN]. One week ago: 66 (Greed). (0 is Extreme Fear; 100 is Extreme Greed). Last updated Dec 30 at 12:31pm. Still drifting lower…
Water
"As Groundwater Dwindles, a Global Food Shock Looms" [National Geographic]. "Nearly half of our food comes from the warm, dry parts of the planet, where excessive groundwater pumping to irrigate crops is rapidly shrinking the porous underground reservoirs called aquifers. Vast swaths of India, Pakistan, southern Europe, and the western United States could face depleted aquifers by mid-century, a recent study finds—taking a bite out of the food supply and leaving as many as 1.8 billion people without access to this crucial source of fresh water." Hoo boy. And water is what Michael Burry is investing in…
Class Warfare
"How Little Kids Figure Out Who's in Charge" [New York Magazine]. "Surprisingly, the form of power that kids recognize latest is perhaps the most obvious one: giving orders, which the study participants didn't seem to grasp until age 7 at the earliest. But as Jarrett noted, it's to their advantage to master the subtleties early."
News of the Wired
It's a wonderful world:
Millions of people watch this woman smash her face into bread because lol we give up pic.twitter.com/mUciNaWR86

— NowThis (@nowthisnews) December 30, 2016
Water Cooler will return in 2017. I expect continued volatility!
* * *
Readers, feel free to contact me with (a) links, and even better (b) sources I should curate regularly, and (c) to find out how to send me images of plants. Vegetables are fine! Fungi are deemed to be honorary plants! See the previous Water Cooler (with plant) here. And here's today's plant (PS):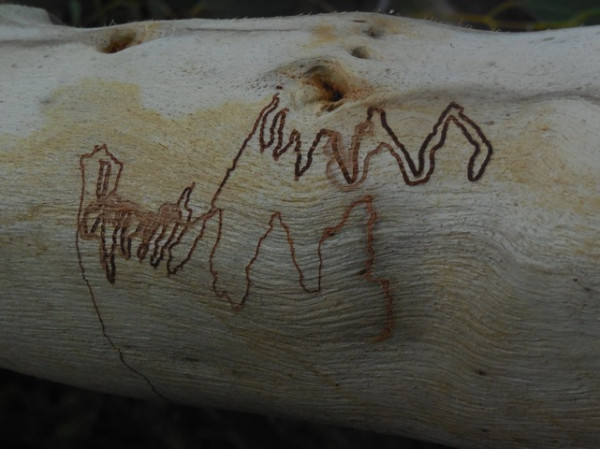 PS writes: "A eucalypt with tracks in the bark made by scribbly gum moth larvae. Zig-zag pattern and retracement are characteristic."
Readers, I've gotten many more plant images, but I can always use just a few more; having enough Plantidotes is a great angst deflator. Plants with snow and/or ice are fine!
Readers, Water Cooler is a standalone entity, not supported by the very successful Naked Capitalism fundraiser just past. Now, I understand you may feel tapped out, but when and if you are able, please use the dropdown to choose your contribution, and then click the hat! Your tip will be welcome today, and indeed any day. Water Cooler will not exist without your continued help.