By Lambert Strether of Corrente.
Politics
Gnashing of Teeth and Rending of Garments
UPDATE Trump: "I think that computers have complicated lives very greatly. The whole age of the computer has made it where nobody knows exactly what's going on. We have speed, we have a lot of other things, but I'm not sure we have the kind of security we need" [New York Magazine]. My Twitter feed is filled with snark on this, but again, if you actually look at what Trump said, he's right. In every detail. The article concludes: "The president-elect's statement makes more sense when you remember that he has no idea how to use a computer or even the word cyber." And no idea, fortunately for us all, how to run his public email account off an unsecured server. And so far as I know, the only people to use the word cyber seriously are Homeland Security IT types in the Beltway. Which isn't encouraging.
Trump Transition
"Turf War Before Trade War" [Foreign Policy]. Summary: The Blob doubts that the Trump administration can deal with "the interagency." They could be right!

"Key to this practice is something called "balance billing," and it's why the American Medical Association is strongly supporting Donald Trump's pick of Rep. Tom Price (R-Ga.) to lead the Department of Health and Human Services, which oversees Medicare. Balance billing is forbidden for Medicare enrollees, but Price wants to allow it — thus allowing doctors and hospitals to devour the nest eggs of thousands of American seniors" [The Week].
Our Famously Free Press
I added the gold color to this tweet:
2016 Post Mortem
"The Year in Review: Russia and the 2016 U.S. Election" [Council on Foreign Relations]. Crowdstrike and anonymous sources, amplified… Notably, the CFR claims that the "doxing" was a "mix of fabrication and truth." I can't recall, off-hand, reports of faked documents, but if the CFR's claim is meant to apply to the DNC and Podesta email, it's a lie. In fact, it's a Big Lie.

UPDATE "The office in Brooklyn was filled with the best and brightest. The little offices in Michigan and Wisconsin were not. People in the field reported that they were giving out too few yard signs, that door-to-door canvassing revealed life-long Democrats saying they would vote for Trump, and that rallies were under-attended. It didn't feel like a winning campaign in crucial states. But the valedictorians listened to their data experts, their fellow A students, and did not divert from their algorithmically determined strategy" [Medium]. "In the end, the snobs lost to the slobs, but true to the character of the well-educated, they simply will not hear criticism that does not come from the similarly credentialed." A version of Chris Arnade's riff on "front row kids."
Realignment and Legitimacy
"Failed Globalization And Austerity Agendas Led Directly To The Rise Of Trumpism— A Guest Post From George Soros" [Project Syndicate]. "I find the current moment in history very painful. Open societies are in crisis, and various forms of closed societies – from fascist dictatorships to mafia states – are on the rise. How could this happen? The only explanation I can find is that elected leaders failed to meet voters' legitimate expectations and aspirations and that this failure led electorates to become disenchanted with the prevailing versions of democracy and capitalism. Quite simply, many people felt that the elites had stolen their democracy." So the answer is to give the Clintonites another $20 million to set on fire and throw into the air? And if not that, what?

"But on the other hand, about half of Clinton voters also believe that Russia tampered with vote tallies to help elect Trump, a theory that the Obama administration has repeatedly said there's no evidence to support. This poll result is yet more proof that waning trust in the integrity of the democratic process is bipartisan, and that liberals should maybe keep any smug comments about paranoid, evidence-ignoring Trumpkins in check" [WaPo]. It's not just that the administration said there was no evidence; it's that there isn't any. And the decentralized and varied nature of our voting system, coupled with the fact that the machines aren't connected to the Internet, make for a strong prima facie case against even the most devilish Russkis hacking the vote. In other words, half the members of what we used to call the "reality-based community" have lost their minds. It's also especially unfortunate that Stein, in her butchered recount effort, actually reinforced the insanity, since her first statistical consultant reinforced the meme that "the Russkis did it." To be fair, no doubt Stein jumping on Clinton's red scare bandwagon induced some of the more vulnerable Clinton supporters to give her money and get on her list. So it's an ill wind.

"No one begrudges Obama some R&R after eight taxing years. But the memoir can wait. And while he should absolutely promote the next generation of Democrats—and work on redistricting with Eric Holder, as he's also planning to do—those projects will take many years. The left has more immediate, pressing political concerns. Until the opposition finds a new, dynamic leader, it should be able to count on the great one it's already got." [New Republic]. If Obama were on the left, this might be relevant.

I was wondering where the "Resistance" branding came from; the French Communist Party during World War II, I assumed. But no:

@MKupperman not necessarily. Leia is a general in the Resistance to the First Order. Her military is fighting occupying military forces.

— Neera Tanden (@neeratanden) December 28, 2016

And I can't imagine any leadership more suited to organizing resistance — really, just another way of saying "fighting for" (but never winning) — than the Clintonite hackocracy. But isn't Neera's yellow logo cute?

"I searched my inbox for "resist OR resistance" and, sure enough, my suspicions were confirmed — since November 8th, I'd received 68 emails that associated democrats with "the resistance." From MoveOn to Democracy for America & from ActBlue to Elizabeth Warren — every liberal newsletter seems eager to be part of the new "resistance." As it turns out, Keith Olbermann — who, for those who don't know, is the liberal version of Bill O'Reilly — has even changed the name of his show from "The Closer" to "The Resistance." And why not? With the new Star Wars flick on the big-screen & a neo-fascist moving into the White House, the timing couldn't be better!" [John Laurits].

UPDATE "Lessons for the anti-Trump resistance from American history" [Yahoo News]. Let me try to pick out the worst sentence: "What organizations and institutions could prove to be the savviest and most influential in curbing Trump's authoritarian tendencies?" Savviest…

"Special report: I spent 5 years with some of Trump's biggest fans. Here's what they won't tell you" [Medium].
Stats Watch
International Trade in Goods, November 2016: "Trade looks to be a major negative that will be holding down fourth-quarter GDP. The advance trade deficit in goods widened sharply for a second straight month in November" [Econoday]. "Exports have been very weak so far this fourth quarter, down 1.0 percent in November following October's 2.5 percent shortfall. Food exports have been especially soft as have vehicle exports, and capital goods exports fell very sharply in the latest report. Widening the gap have been sharp increases in imports, up 1.2 percent on top of October's upward revised 1.5 percent increase. Imports of industrial supplies posted a very sharp increase in November as did food imports. Most other readings on the import side are narrowly mixed."
Jobless Claims, week of December 24, 2016: "Initial jobless claims fell back as expected" [Econoday]. "Holidays often make for anomalies in this series including the latest week when an unusually large number of states, 10 in total, had to be estimated. This raises the risk of a sizable revision in the next report." But and: "The general trend of the 4 week rolling average is a slowing rate of improvement year-over-year which historically suggests a slowing economy" [Econintersect].
Wholesale Trade, November 2016 (preliminary): Wholesale and retail inventories "jumped"[Econoday]. "The increases in this report are a surprise and, though a positive for the fourth-quarter GDP calculation and an offset to this morning's widening in the goods trade gap, will revive talk of unwanted inventories."
Commodities: "Earlier this year a river near the city of Norilsk in Siberia, the eponymous home of the world's top nickel and palladium producer, turned blood red possibly caused by a break in the mining company's slurry pipe carrying concentrate to the plant" [Mining.com]. "Norilsk is a top 10 mining company with its ADRs trading in New York affording the company a $25 billion market value. The company produces roughly a fifth of the world's nickel, mainly used in steelmaking, and half the world's palladium used in autocatalysts to reduce emissions. Its operations in Russia, Australia, Botswana and South Africa also produce significant quantities of copper and cobalt, platinum, gold and silver as byproducts."
Fodder for the Bulls, but not very much: "November 2016 Leading Index Review: Most Indicators Marginally Improving" [Econintersect]. "Most of the leading indicators are based on factors which are known to have significant backward revisions – and one cannot take any of their trends to the bank. I continue to pose the question – "what good is a leading indicator where the data is continued to change after it is issued?". … At this point, Econintersect sees NO particular dynamic at this time which will deliver noticeably better growth in the foreseeable future." Summary:
Leading Indicators Conclusion: mixed but not indicating a recession over the next six months.

Chemical Activity Barometer (CAB) growth rate is average for times of economic expansion and its rate of growth is accelerating.

ECRI's WLI is forecasting stronger growth in the business cycle six months from today.

The Conference Board (LEI) 6 month rolling average is indicating a marginally improving rate of growth over the next 6 months.

The Philly Fed's Leading Index continues to forecast growth but remains in a long term downtrend.

The Econintersect Economic Index is showing weak growth.

RecessionAlert's Weekly Leading Economic Index is currently gaining and remains in typical growth expected in times of expansion.
Bloomberg Consumer Comfort Index, week of December 25, 2016: "Eased back" but "still very strong" [Econoday]. "Strength in consumer confidence doesn't always equate to immediate gains for consumer spending but it does point to greater confidence in the jobs outlook."
Retail: "Surging online orders and last-minute shoppers helped retailers make up for a slow start to the holiday-shopping season, fueling hopes that higher wages, the rising stock market, and lower food and gas prices prompted Americans to spend more" [Wall Street Journal, "U.S. Retailers on Pace for Best Holiday Season in Years"]. "In a sign of the surge of online shopping, United Parcel Service Inc. said it expected to ship 14% more packages this year than last, more than 700 million in total, a record level by volume. FedEx Corp. plan a 10% bump."
Retail: "Dollar General's discount stores are a fire disaster waiting to happen" [Reveal News]. "That's the message from current and former federal Occupational Safety and Health Administration officials, who've been admonishing the company for years."
Shipping: "Scrapping in 2016: Record year for containerships" [Lloyd's List]. "The shipbreaking industry is set to end 2016 on a positive note, having experienced a record high volume of boxship scrapping. Mainly due to the recovering steel price, demolition rates across the main regions have improved significantly from multi-year lows."
ETFs: "The robo space in terms of Canada and the U.S. are similar in offering a broad-based offering. They both provide online financial advice to clients at a low cost, mainly using ETFs. And much like our counterparts in the U.S., here in Canada, we're able to leverage technology to offer local solutions online" [ETF.com] "Where we differ from the U.S. is, in Canada, the regulatory environment is slightly different. We're required to have a portfolio manager and an advisor review every account with the client. So we have a follow-up process with each client. It's not pushed through, like simply "click, click, click." There actually has to be interaction with an advisor." What, humans in the loop?!
The Bezzle: "The Ugly Unethical Underside of Silicon Valley" [Fortune]. "Lending Club's loan doctoring? That's not what startups are about. Same for WrkRiot, the startup that abruptly shut down after an employee accused it of forging wire-transfer documents. Or Skully, the failed maker of smart motorcycle helmets, being sued for "fraudulent bookkeeping." Or ScoreBig, the struggling ticketing site being sued by brokers. Or Rothenberg Ventures, the firm under investigation after using investors' money to finance founder Mike Rothenberg's side startup. (The firm says it informed investors.) Or Faraday Future and Hyperloop One, ambitious, well-funded companies now tainted by lawsuits and accusations of, respectively, overhype and of mismanagement. (Faraday has not commented on its suits; Hyperloop denies the accusation and had settled its suit.) Or any of the dozens of smaller shady accounting shortcuts, growth hacks gone awry, and other implosions too minor to make headlines." And Theranos. And Uber.
The Bezzle: Sleep startups [New York Times, "The Restless Quest for a Good Night's Sleep"]
The Bezzle: "Half of 2016's Top Grossing Movies Were Comic Book Adaptations" [247 Wall Street]. (#3, Zootopia, was reviewed by Outis here.) In rank order: Captain America: Civil War, Batman v Superman: Dawn of Justice, Deadpool, Suicide Squad, and Doctor Strange. The rental extraction is better with adaptations, maybe? As opposed to creating a new property?
The Bezzle: "Stock buy backs are an alternative to paying dividends. On difference is that $ paid as dividends constitute income taxable at the going dividend tax rate, while the $ spent to buy back shares are only taxable to the sellers of the shares to the extent there are capital gains. So, just as an educated guess, with buy backs taxable income is reduced by perhaps 90%" [Mosler Economics]. "Also, repatriation may or may not happen, and it may or may not result in any change in investment, or even stock buy backs. All it does is reclassify income as domestic rather than foreign, which may or may not lead to further consequent actions by those corporations."
Globalization: "Acording to sources from Taiwan-based suppliers, Apple Inc. (NASDAQ:AAPL) is tapping its main smartphone rival, Samsung, to manufacture and supply the new AMOLED displays for its upcoming iPhone 8 devices next year" [Stock News].
The Fed: "Three of the four officials who gain votes next year on the Federal Reserve's rate-setting committee are from a minority group in the central bank's leadership: They aren't economists" [Wall Street Journal, "New Fed Voters Bring Wide Range of Experience to Rate-Setting Panel"]. "They draw from a mix of experience in banking, engineering and academia. The three also bring relatively fresh perspectives because they all joined the Fed within the past two years and have never before voted on the Federal Open Market Committee."
"Americans use debit cards twice as much as credit cards" [MarketWatch]. "Previous studies have shown that debit cards were gaining on cash as the go-to payment for small purchases, even those less than $5. The percentage of cardholders who use debit cards for small purchases hit 27% in 2016, an increase of five percentage points since 2014, according to a survey released earlier this year of about 600 people with major credit cards from CreditCards.com. For the first time, consumers spent more on their debit and credit cards worldwide in 2016 than they did in cash, according to separate research firm Euromonitor International. … In terms of dollar amounts, however, Americans are still using their credit cards for large purchases."
Today's Fear & Greed Index: 65 Greed (previous close: 67, Greed) [CNN]. One week ago: 71 (Greed). (0 is Extreme Fear; 100 is Extreme Greed). Last updated Dec 29 at 11:19am. Wavering…
Our Famously Free Press
"The Guardian's Summary of Julian Assange's Interview Went Viral and Was Completely False" [Glenn Greenwald, The Intercept]. "Despite how much online attention it received, Jacobs' Guardian article contained no original reporting. Indeed, it did nothing but purport to summarize the work of an actually diligent journalist: Stefania Maurizi of the Italian daily la Repubblica, who traveled to London and conducted the interview with Assange. Maurizi's interview was conducted in English, and La Repubblica published the transcript online. Jacobs' 'work' consisted of nothing other than purporting to re-write the parts of that interview he wanted to highlight, so that he and the Guardian could receive the traffic for her work. Ever since the Guardian article was published and went viral, Maurizi has repeatedly objected to the false claims being made about what Assange said in their interview. But while western journalists keep re-tweeting and sharing the Guardian's second-hand summary of this interview, they completely ignore Maurizi's protests – for reasons that are both noxious and revealing."
Big Brother Is Watching You Watch
"Here's what a "digital Miranda warning" might look like" [Ars Technica]. This is not the real thing:
You have the right to remain silent. This right includes declining to provide information that does not require speaking, such as entering a passcode to unlock a digital device, like a smartphone. Anything that you say or do can be used against you. Any data retrieved from your device can also be used against you. You have the right to an attorney. If you cannot afford one, one will be provided to you. Do you understand these rights as I have read them to you?
Health Care
"What Obamacare needed was two things: About twice as much funding, and [a] higher tax penalty for not buying insurance" [Kevin Drum, Mother Jones].
Black Injustice Tipping Point
"The Biggest Mistake in the History of Science" [Alternet]. "The human races were invented by anthropologists like Johann Friedrich Blumenbach back in the eighteenth century in an attempt to categorise new groups of people being encountered and exploited as part of an ever expanding European colonialism." That late? In a survey of the members of the American Anthropological Association, "To the statement, "Racial categories are determined by biology", 88% disagreed or strongly disagreed."
News of the Wired
"U.S. engineers developed lens system, paving way for cheaper, lighter cameras" [New China]. "U.S. engineers have developed a system of flat optical lenses that can be easily mass-produced and integrated with image sensors, according to California Institute of Technology (Caltech)."
"What happened when I spent a week with an AI voice assistant in my head" [CNBC]. " I always felt self-conscious that people were giving me funny looks because it looked like I was talking into thin air. "
"Everything You Need to Know About Consent That You Never Learned in Sex Ed" [Teen Vogue]. "I'd like the freedom to hook up without continually asking permission for each individual act. But consent is really important to me, so I'd like you to tell me if something doesn't feel good, if you want me to slow down or stop. Does this work for you? Do you feel comfortable saying 'no' when you want to say 'no'? Or would you rather me check in with you more regularly? Totally cool either way." I'm sympathetic, but it's not exactly "that loosener of limbs, Love reptile-like strikes me down," is it?
* * *
Readers, feel free to contact me with (a) links, and even better (b) sources I should curate regularly, and (c) to find out how to send me images of plants. Vegetables are fine! Fungi are deemed to be honorary plants! See the previous Water Cooler (with plant) here. And here's today's plant (AM):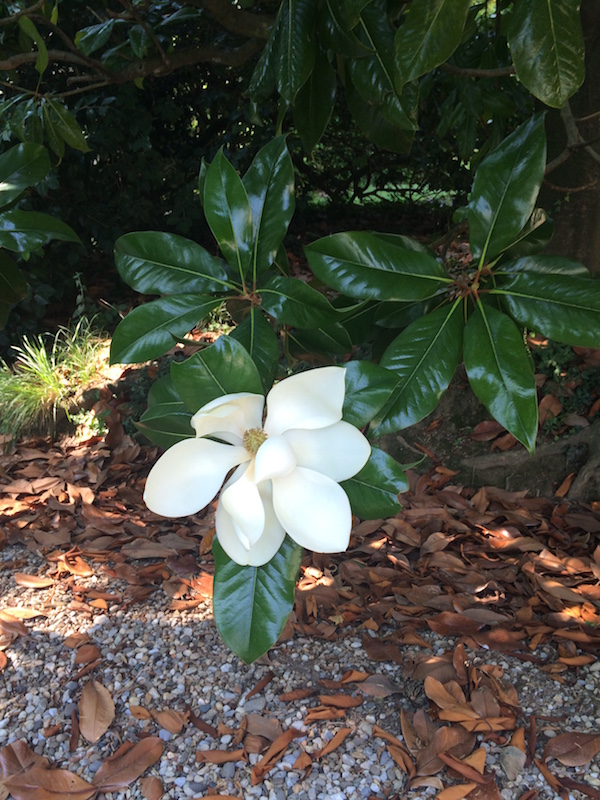 AM writes: "I think this is some type of magnolia, but not sure. It is a massive tree, on the grounds of the Palazzo Torrigiani, just outside of Lucca, Italy. Its leaves provide wonderful shade in the hot Italian summer."
Readers, I've gotten many more plant images, but I can always use just a few more; having enough Plantidotes is a great angst deflator. Plants with snow and/or ice are fine!
Readers, Water Cooler is a standalone entity, not supported by the very successful Naked Capitalism fundraiser just past. Now, I understand you may feel tapped out, but when and if you are able, please use the dropdown to choose your contribution, and then click the hat! Your tip will be welcome today, and indeed any day. Water Cooler will not exist without your continued help.