By Lambert Strether of Corrente.
Trade
"TABLE OF FOREIGN INVESTOR-STATE CASES AND CLAIMS UNDER NAFTA AND OTHER U.S. 'TRADE' DEALS" (PDF) [Public Citizen]. "While fewer than 50 cases were filed in the first three decades of the investor-state system, corporations launched at least 50 cases each year for the last five years, with a record 70 cases launched in 2015), intensifying concerns about the system's threats to democracy, taxpayers and the public interest."
Politics
We'll begin with the airing of the grievances…
Policy
"Before lunchtime Thursday, President-elect Donald Trump said he would expand the U.S. nuclear arsenal, upending a reduction course set by presidents of both parties over the past four decades, and called for the United States to veto a pending U.N. resolution that criticized Israel's settlements policy" [WaPo].

"President Barack Obama will propose spending cuts for many federal programs in the 2016 budget request he'll send to Congress on Monday, but not for nuclear weapons. Quite the contrary, Obama's administration is proposing to go on a nuclear weapons spending spree" [Defense One]. "The administration's costly plan proposes to rebuild the entire U.S. nuclear arsenal, including the warheads, and the missiles, planes and submarines that carry them. These plans will cost $348 billion over the next 10 years, according to a Congressional Budget Office estimate released last week. The National Defense Panel, appointed by Congress, found that the price tag over 30 years could be as much as a $1 trillion."

Democrats recoiling in horror when Trump does what they do is getting old fast:

Given the kerfuffle at the UN over the Israeli settlements resolution, seems like a good time to re-up this observation. https://t.co/NzBXEfU5DW

— Olivier Knox (@OKnox) December 23, 2016
Trump Transition
"'Ivanka and Jared at JFK T5, flying commercial,' Matthew Lasner, a professor at Hunter College, tweeted. 'My husband chasing them down to harass them'" [Yahoo News]. From an eyewitness: ""Honestly, if I was her security I would have made the same call [to kick him off the plane]. I don't *think* the man was capable of violence, sure. But I would worry that he would leave his seat or cause a scene in some way." Hard to imagine a better way for liberals to show that they're (a) hypocrites (imagine the tables were turned and it was Michelle Obama who was being "harassed"), (b) the sorest losers in the history of the world, (c) privileged and hence (d) free to act with impunity (imagine if the man hadn't been a professor at Hunter). Oh, and (e) politically tone deaf. Who knows? Maybe he'll get a slot on Keith Olbermann…
2016 Post Mortem
"If Demo­crats want to keep blam­ing oth­ers for their sorry per­form­ance on Elec­tion Day, they're ob­vi­ously free to do so" [Charles Cook, Cook Political Report]. " In short, Demo­crats need to get over Don­ald Trump and the spe­cif­ics of what happened in 2016 and be­gin to think about how, in their rush in­to Amer­ica's fu­ture, they left be­hind a large num­ber of voters who are still very much here, right now. To ma­lign these people as big­ots, ra­cists, and miso­gyn­ists ig­nores the fact that some ac­tu­ally voted for Pres­id­ent Obama at least once, have voted for wo­men in pre­vi­ous elec­tions, or have voted for Demo­crats in the not-so-dis­tant past." Cook also recommends political scientist Katherine Cramer's "nine years of in­ter­view­ing rur­al Wis­con­sin voters." Here's a "This is Hell" interview with Cramer.

"Progressive road rage is getting in the way of Democratic leaders pulling themselves out of the ditch. Despite six years of historic political setbacks, there is little self-reflection from a party that seemed to be on the verge of becoming a permanent majority just eight years ago" [Joe Scarborough, WaPo]. "The Democratic Party's demise will continue until it stops blaming others for its collapse, and instead looks inward at a party that not so long ago defined hope and change."

"We're sort of reaching the breaking point of the decades long battle between the party that promises to kick those other people, and the party that promises not to kick them quite so hard. I think there have been some signs of Dems recognizing it, but they're still largely locked into that way of thinking. ACA, for all its benefits, just couldn't be implemented without making it fucking hard for people. That the subsidies aren't generous enough makes it too expensive for people, and that's a problem, but it's one thing to be forced to buy a car you can't really afford, another to buy a car that you can't afford that you have to take in for repairs every other week" [Atrios]. When you've lost Atrios…

""Why Are You Still Talking About Hillary Clinton?"" [Michael Tracey, Medium]. "Well, here's why. For one thing, she's still out there in the public eye, concocting excuse after excuse for why she couldn't beat the guy from The Apprentice. Her media loyalists are also still out there in full force, spouting rationalizations of her conduct day after day, and denying culpability for their role in bringing about her failed candidacy. They are confabulating a story to explain away the loss. If left un-rebutted, this "narrative" will eventually congeal into accepted wisdom, and it will then be cited for years and decades to come as reason why they are completely blameless. Notwithstanding their 2016 humiliation, the Clintons still have a huge, well-funded, and feverishly devoted PR apparatus, including a vast array of functionaries and loyalists inhabiting all different segments of elite society. These loyalists have made clear their desire to implant into the public psyche the idea that Hillary is not responsible for her defeat — it was the fault of a whole bevy of sinister exogenous forces." Yep.

"[The week after November 8,] orders for desserts such as cheesecake, pie, and ice cream were up 72 percent on Caviar, a meal-ordering app operating in 15 urban markets, including Boston, New York, Dallas, and Seattle" [Bloomberg]. "Of course, none of this definitively proves that Democratic voters sat in bed and cried over their tiramisu."

" Four Washington state electors who cast their vote for someone other than Democrat Hillary Clinton will each be fined $1,000 next week, the secretary of state's office said Thursday" [AP]. Michael Moore's paying, right?
Realignment and Legitimacy
"Was Barack Obama Bad for Democrats?" [Stanley B. Greenberg and Anna Greenberg, New York Times]. His legacy regrettably includes the more than 1,000 Democrats who lost their elections during his two terms. Republicans now have total control in half of America's states. Why such political carnage?" Putin, obviously. What's wrong with these people? Anyhoo…

When President Obama began focusing on those "left behind" by the recovery, he called for building "ladders of opportunity." That communicated that the president believed the country's main challenges were unrealized opportunity for a newly ascendant, multicultural America, rather than the continuing economic struggle experienced by a majority of Americans.

In other words, the 1% matters, the 10% matters, and aspirational 10%-ers ("ladders of opportunity") matter to Democrats. Nobody else.

"How Barack Obama Failed Black Americans" [William A. Darity, The Atlantic]. "The key source of the black-white wealth gap is the intergenerational effects of transfers of resources. White parents have far greater resources to give to their children via gifts and inheritances, so that the typical white young adult starts their working lives with a much greater initial net worth than the typical black young adult. These intergenerational effects are blatantly non-meritocratic."

The Obama administration never gave serious consideration to aggressive transformative universal policies like a public-sector employment guarantee for all Americans, a federally financed trust fund for all newborn infants with amounts dictated by a child's parents' wealth position, or the provision of gifted-quality education for all children. These are universal programs that can have a significant "disproportionate impact and benefit for African Americans," in the process of helping all Americans—unlike the types of universal programs endorsed by the president.

"To paraphrase Abraham Lincoln, the incoming administration will be a government of the super wealthy, by the super wealthy and — perhaps — for the super wealthy. Are we really expected to believe that these folks are going to change the very system that has been so good to them?" [USA Today]. "Billionaires don't become billionaires by acting like Mother Teresa. They do it by ruthlessly watching their own bottom line and taking advantage of every rule that can be fudged, every corner that can be cut. And when the rules aren't helpful enough, they work the system to change them. They're the very embodiment of what Trump attacked during the campaign: the 'global power structure that is responsible for the economic decisions that have robbed our working class, stripped our country of its wealth, and put that money into the pockets of a handful of large corporations and political entities.'" Of course, the Democrat nomenklatura can't say this, because they have their own squillionaires they need funding from. And so they yammer and stamp their feet about "conflict of interest," which, when you think about it, is the very nature of an oligarchy.
Stats Watch
New Home Sales, November 2016: "New home sales jumped 5.2 percent in November to a 592,000 annualized rate that is the second strongest of the recovery. But this report is very volatile month-to-month which points to the need to look at the 3-month average that, at 575,000, has shown little change since the summer" [Econoday]. And: "above expectations" [Calculated Risk].
Consumer Sentiment, December 2016: "Consumer sentiment ends December at 98.2, up 2 tenths from mid-month for a new cycle high" [Econoday]. "This index began to take off in November following Trump's victory as a record percentage of respondents, at 18 percent, 'spontaneously mentioned' the expected favorable impact of new economic policies." Extraordinary.
GDP: "The Q3 blip up remains a soybean export, inventory building and healthcare premium story likely to be reversed in q4, as it all continues it's general deceleration since oil capex peaked a couple of years ago" [Mosler Economics].
Retail: "Without Anchor Stores, Will Malls be Left Adrift?" [Sourcing Journal]. "Fewer malls overall may be inevitable though, according to Andrew Couch, managing director of real estate at Gordon Brothers. As he sees it, we're over malled. The fate of the top tier malls, which will thrive thanks to "financially sound and technically savvy owners," is clear. Similarly, the bottom tier, which face eroding foot traffic and rampant vacancies, has a fixed destiny." So, having destroyed Bangor's downtown, the Mall itself implodes, leaving… And: "'If we are talking about 100 Macy stores, I will bet we are talking about 100 individual solutions, and in some cases, no solution but a big, dark space," [Jan Kniffen of J Rogers Kniffen WWE] said. 'Some malls do survive with one less anchor, or even two less. But, the character of a lot malls, if they survive at all, is going to change as Macy's goes dark in 100 locations, and as Sears goes dark in a lot more than that. I'm convinced that today's 1,100 enclosed malls are destined to be 550 to 700.'"
Commodities: "Now, two separate business groups focused on electronics supply chains have launched initiatives to try to stop children from mining cobalt in the DRC, where an estimated 60% of the metal used in lithium-ion batteries is found" [Mining.com].
Commodities: "The potential for mining in Greenland is enormous, but since 2013, when the Nalunaq gold mine closed, the sprawling Arctic island with ties to Denmark has not approved any new mines. That could change though, thanks to a mining permit issued this week by the Greenland Government to Ironbark Zinc Limited (ASX:IBG), which is advancing one of the world's largest undeveloped lead-zinc deposits" [Mining.com]. "According to a project page, the Citronen Zinc-Lead Project represents one of the world's largest undeveloped zinc-lead resources with a resource in excess of 13 billion pounds of contained zinc and lead."
Commodities: "The tumbling of US coal exports has been cited as one reason for the dire state of the dry bulk market at present.According to shipping association BIMCO, tonne-miles from US coal exports fell to 358bn last year from 715bn in 2012, mainly as a result of lower trade to Asia and lower demand" [Llloyd's List].
Commodities: "Gold Miners Are Running Out of Metal: Five Charts Explaining Why" [Bloomberg].
The Bezzle: "Global investigators believe that billions of dollars were misappropriated from 1Malaysia Development Bhd., an economic-development fund set up by Malaysian Prime Minister Najib Razak in 2009. The money allegedly Singapore, Switzerland and other wealth centers before being used to buy real estate, art, and other assets in New York, Beverly Hills and elsewhere" [Wall Street Journal, "How a Malaysian Scandal Spread Across the World"]. I think the agency-free "moved through" is terrific!
The Bezzle: "Consumer Reports claims it is financially independent from the products and services it evaluates. Its relationship with the car industry has become very close, however. The nonprofit has set up a system whereby its subscribers can get discounts on vehicles, but only from 'participating dealers' that are part of the Truecar Inc. dealer network. Truecar makes money on these transactions. So does Consumer Reports, which only offers the service to subscribers. The organization says the money from the transactions goes to supporting its testing programs" [247 Wall Street]. What could go wrong?
The Bezzle: "An Uber employee has filed a lawsuit accusing the company of misleading employees about their equity compensation. Uber 'devised a fraudulent scheme to recruit highly sought software engineers,' according to the case." [TechCrunch]. "The lawsuit claims that Uber promised a more tax favorable type of options at the time employees were hired and then later changed the plan. The case alleges that at least 100 others on the Uber staff may have been impacted and that these stock options can potentially be worth 'hundreds of millions of dollars' to employees and also save Uber 'millions of dollars of tax deductions.'"
The Bezzle: "Uber has about 400,000 drivers on its platform in India, and wants to add one million in the next two years. While mobilizing an army of drivers is crucial, it is particularly tough in a country where less than 5% of households own cars and few potential drivers understand English or how to use an app" [Wall Street Journal, "Uber's Drive Into India Relies on Raw Recruits"]. "Most of the drivers have dealt only in cash, so they have to learn about online banking in order to quickly check if their pay has arrived. And since credit cards aren't widespread, Uber last year began letting riders pay in cash, a global first." So Modi's demonetization scheme blind-sided Uber. How sad.
The Bezzle: "Consumer Reports, one of the most thorough publications performing testing on laptops, says Apple's new MacBook Pros have problems with inconsistent battery life." [Business Insider]. "As a result, Apple's latest laptops are the first from the company not to receive a "recommended" rating, Consumer Reports shared in a blog post on Thursday." Oopsie.
Honey for the Bears: Stock prices may have soared since the November election, but the U.S. economy is ending 2016 on an anemic note. Measures of economic vitality including income growth, consumer spending and inflation weakened last month following a short-lived spurt" [Wall Street Journal, "U.S. Economy Approaches Year's End on Lackluster Note"]. "For now, that leaves the U.S. economy in the middling trajectory that has marked the seven-year expansion." And the crappy recovery is getting awfully long in the tooth…
"Yellen tells college grads: Best job market in nearly a decade" [Market Watch].
Today's Fear & Greed Index: 66 Greed (previous close: 71, Greed) [CNN]. One week ago: 84 (Extreme Greed). (0 is Extreme Fear; 100 is Extreme Greed). Last updated Dec 23 at 11:29am. Let's see how the stocking stuffers turn out…
Gaia
"A decade of monitoring aerial insect migration reveals that trillions of individuals travel above us each year. Insect migration surpasses all other aerial migratory phenomena in terms of sheer abundance" [EurekAlert].
"Livestock Antibiotics Surging Up, Up, Up" [Natural Resources Defense Fund]. "Earlier today, the latest FDA figures on antibiotics sold for use in meat and poultry production came out. The news is not good. Sales just keep rising. Against the backdrop of a crisis in now untreatable or nearly untreatable infections, this report further underscores how urgently we need more and stronger government action to address the ongoing overuse of the drugs in livestock."
Class Warfare
"[I]t's a mistake to either believe that trade and technology are clearly separable forces, or to think that it matters to workers which force is displacing them. Too often, policy makers seem to assert that, because 'it's not trade, it's technology!'—typically offered without much evidence—displaced workers should somehow be assuaged. Hey, all they need to do is go from running a drill press to designing, building and programming drill-press-running robots!" [Jared Bernstein].
News of the Wired
"Finding North America's lost medieval city" [Ars Technica]. Cahokia.
"his Deep Sea Fisherman Posts His Discoveries on Twitter and OH MY GOD KILL IT WITH FIRE" [Gizmodo (Re Silc)]. Looks like Alien…
"A guide to giving your cats their annual performance review" [Medium]. Sample: "Help your cat understand the consequences if performance does not improve." Let me know how that works out…
* * *
Readers, feel free to contact me with (a) links, and even better (b) sources I should curate regularly, and (c) to find out how to send me images of plants. Vegetables are fine! Fungi are deemed to be honorary plants! See the previous Water Cooler (with plant) here. And here's today's plant (ChiGal):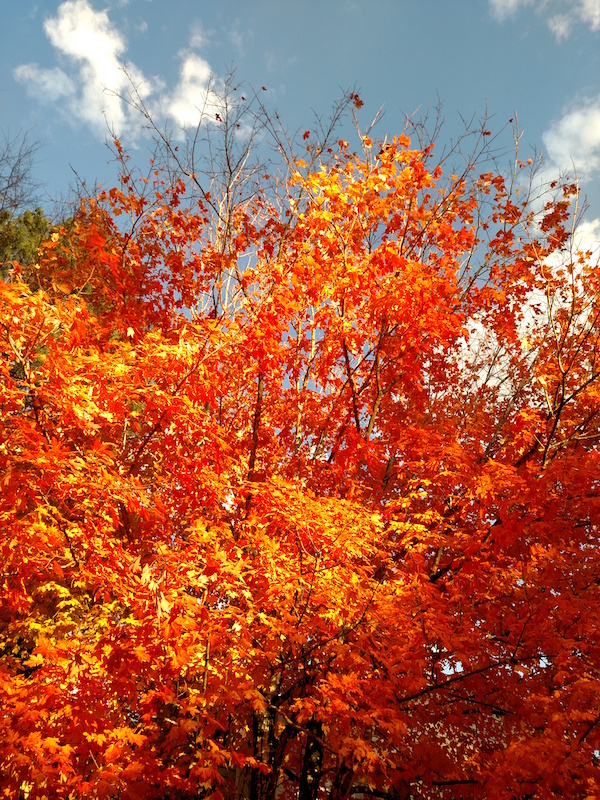 Backtracking to autumn, because I missed this one!
Readers, I've gotten many more plant images, but I can always use just a few more; having enough Plantidotes is a great angst deflator. Plants with snow are fine!
Readers, Water Cooler is a standalone entity, not supported by the very successful Naked Capitalism fundraiser just past. Now, I understand you may feel tapped out, but when and if you are able, please use the dropdown to choose your contribution, and then click the hat! Your tip will be welcome today, and indeed any day. Water Cooler will not exist without your continued help.