163 New Species Discovered in Greater Mekong Region, But Rapid Deforestation Threatens Survival The Wire
Deep-Sea Ghost Shark Filmed Alive In Ocean For First Time National Geographic
Arctic ice melt 'already affecting weather patterns where you live right now' The Guardian
Should the Super-Rich Save Climate Research from Trump? MIT Technology Review
Solar is top source of new capacity on the US grid in 2016 Ars Technica
Do Friedmans Dream of Electric Steeple? The Baffler. Another entry in the burgeoning genre of Thomas Friedman Takedowns.
India to Chair UN Group on 'Killer Robots', Open New Page on Arms Control Diplomacy The Wire. Opening  new chapter in the history of arms control (which has thus far proven to be such a stunning success).
Authorities Allege $1 Billion Fraud at Platinum Partners WSJ
All's well that spends well TLS
1917—365 days that shook the world Prospect. Mildly interesting historical recap but the framing is hooey.
IMF chief Christine Lagarde found guilty of negligence Politico
Russia
Vladimir Putin says killing of Russian ambassador designed to spoil Russian-Turkish ties Independent

Trump Has Made Russia the Top Foreign Policy Issue Bloomberg
Trump Transition
Parliament: Brussels dropped the ball on diesel gate scandal Politico
Trade Traitors
2016 Post Mortem
New McCarthyism
'Fake News': Homegrown, and Far From New Truthdig

Don't believe the Russia hype: Who profits from the new Red Scare? Black Agenda Report

Clinton's Defeat and the Fake News Conspiracy Counterpunch
Syraqistan
More Propaganda Than News Coming Out of Aleppo Counterpunch. Patrick Cockburn's latest.

Saudis dropped British-made cluster bombs in Yemen, Fallon tells Commons The Guardian
China?
In China, low-speed electric vehicles are driving high-speed urbanisation The Conversation

China's currency curbs merely 'temporary' to stem yuan's outflow, central bank chief says SCMP
Health Care
Harnessing the U.S. Taxpayer to Fight Cancer and Make Profits NY Times

Why Should Doctors Always Be Empathetic? The Wire
Big Brother IS Watching you Watch
They Have, Right Now, Another You NYRB

Despite the comparisons, India's Aadhaar project is nothing like America's Social Security Number Scroll.in
Indian Currency Train Wreck
Is the RBI Getting Its Math on New Notes Wrong? The Wire

How demonetisation has hit book sales (and what might happen at next month's book fairs) Scroll.in
Class Warfare
'White men': the most dehumanising insult of our times Spectator

The US Protects Its Wealthy Professionals Financially While Throwing Workers to the Wolves Truthout
UK MPs unite to push for greater transparency from tax havens The Guardian
Brexit
Antidote du jour (one of the world's rarest ducks, a brown teal, endemic to New Zealand and called pāteke by the Maori, J-LS photo,Tiritiri Matangi Open Sanctuary, August 2016):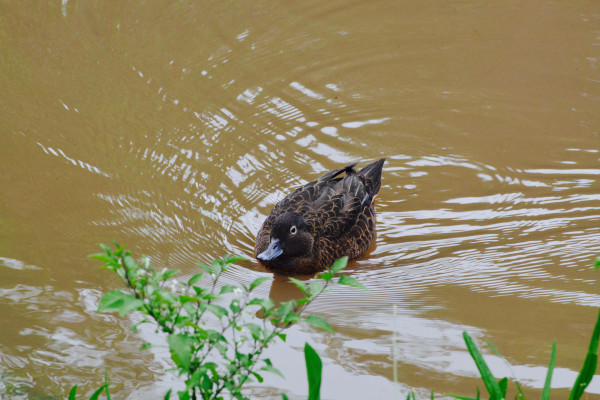 See yesterday's Links and Antidote du Jour here.