By Jerri-Lynn Scofield, who has worked as a securities lawyer and a derivatives trader. She now spends most of her time in Asia researching a book about textile artisans. She also writes regularly about legal, political economy, and regulatory topics for various consulting clients and publications, as well as writes occasional travel pieces for The National.
The Wall Street Journal reports today:
Apple Inc. is discussing with the Indian government the possibility of manufacturing its products in the country, according to two senior government officials, as the company seeks to grow its sales and presence in the South Asian nation.

In a letter to the government last month, the Cupertino, Calif., firm outlined its plans and sought financial incentives to move ahead, the officials told The Wall Street Journal. Senior Trade Ministry authorities in recent weeks met to discuss the matter.
Pursuing such a strategy certainly makes sense for Apple. For although its products are cult items among India's affluent, the company currently only has less than a 5% market share, according to the Journal.  Apple had asked the government in January to allow it to open retail stores in the country. It was restricted from doing so by foreign direct investment (FDI) requirements that tied the retail operations the company can open to meeting local sourcing requirements.
The lack of easily availability of the latest Apple products– and their higher price, compared to the United States (and also Singapore)– inevitably leads to many requests to frequent visitors to India that begin with the "When you next come back to India, would you mind…." Speaking purely selfishly and self-interestedly, I welcome the opening of seeing proper Apple stores in India, because it would mean I wouldn't have to dodge so many of these requests– which sometimes come from the most casual of acquaintances.
The key question is: what sort of "financial incentives"– aka deal, will the Modi government be willing to agree to that would allow Apple to get access to what's now the second largest smartphone market in the world (when measured by users, as opposed to product costs).
Second Largest Smartphone Market
In the last couple of decades, India has considerably liberalized its economy, and that includes facilitating outside investment. Yet it has been in some ways more reluctantly embraced neoliberalism to the extent that other Asian countries have done.  Nonetheless, as reported in June article in The Hindu, the Modi government in June announced a:
"radical liberalisation" of the Foreign Direct Investment (FDI) regime by easing norms for a host of important sectors including defence, civil aviation and pharmaceuticals, opening them up for complete foreign ownership.
Yet this was by no means a blanket, across-the-board-libralization. The government was not willing in June to turn over the keys to the candy store in its smartphone market.  And in fact, again quoting from the same article, it instead took the opposite tack:
[T]he government has tightened rules for such companies producing items with cutting-edge and state-of-art technology — by giving them only a three-year blanket exemption from the 30 per cent local sourcing norm over and above the five years where the 30 per cent procurement requirement would have to be met as an average of five years' total value of the goods purchased. This is to ensure that they manufacture in India rather than making profits through just trading activities.
India Surpasses US as Second Largest Smartphone Market
India has become the second-biggest smartphone market in terms of active unique smartphone users, second only to China, and crossing 220 million users, surpassing the US market, according to a report by Counterpoint Research, quoted in a February article in The Hindu.
The various figures I've seen put the rate of current smartphone penetration at just under 30%. As an aside, although the huge size of India's population means this 30% translates to a huge absolute number of smartphone uses, the relatively low overall percentage of such users is one of the problems exacerbating  the government's disastrous demonetization policy, with its push to get people to eschew cash in favour of digital transactions. (I have written about demonetization, here, here, and here). Although even the poorest of Indians often have basic mobile 'dumb phones', these do not accommodate digital transactions.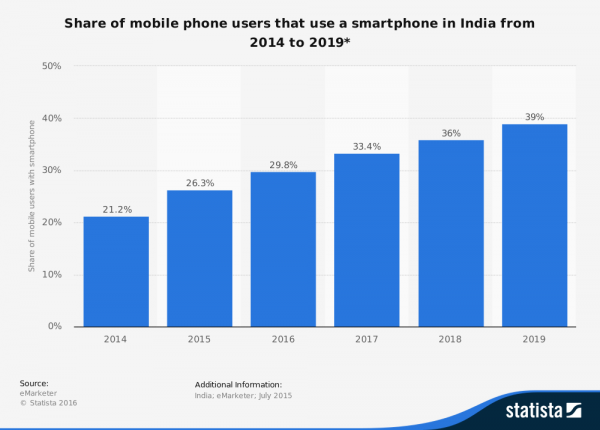 What Happens Next?
At the moment, it appears that Apple needs greater access to the Indian market more than the average Indian needs access to iPhones. Quoting today's Journal article again:
In the quarter ended Sept. 24, Apple reported its first annual revenue decline in 15 years amid lukewarm iPhone sales. But revenues have been rising in India, Mr. Cook said at the time, adding that "We still believe we're just kind of scratching the surface there."
Apple would just be scaling up its penetration in a huge dynamic smartphone market, described by Tarun Pathak, senior analyst at Counterpoint Research, in the February article in The Hindu quoted above in these terms:
"Though India still has a long way to go as the smartphone penetration of the total potential population is still below 30 per cent. As a result, India continues to attract new smartphone brands every quarter adding to the more than 150 smartphone brands selling their devices in the country. Furthermore, government-driven initiatives such as Make in India and Digital India had gained momentum in 2015 to attract more players in the mobile value chain. Almost half of the total mobile phones shipped in India during the quarter were assembled in India, driving the Make in India trend. We estimate this trend to scale even faster and broader in 2016."
So to repeat my question: What Happens Next?  I guess we'll just have to wait and see.