Today is Pearl Harbor Day. As the Second World War recedes from memory, less and less note is taken of the "day of infamy". But we do have:
Pearl Harbor Survivors Gather for 75th Anniversary Reunion Wall Street Journal
Photo: Blizzard of snow geese fills the sky TreeHugger (resilc)
Thousands of snow geese die in Montana after landing on contaminated water Guardian (Plutonium Kun) :-(
China?
China's forex reserves drop $70bn as outflow accelerates Financial Times
Reflections on the nature & causes of global financial uncertainty Yanis Varoufakis (Userfriendly)
Australian GDP collapses MacroBusiness
India Central Bank Leaves Interest Rate Unchanged, in Surprise Move Wall Street Journal
Where European democracy goes to die Politico. Dan K: "They forgot the quotes around 'democracy.'"
Italy
Italian state must act as backstop to bolster banking system Financial Times. I wish I had time to shred this, but there is some remarkably confused thinking on display.
Brexit
Wallenberg says UK is 'not the first' investment choice Financial Times
Must do better: British schools fail to impress in world ranking The Times
Citi trader deepened October's pound 'flash crash' Financial Times
Austrian Presidential Election Shows How United Front Politics Can Defeat the Far Right Real News Network
Prospects for the Spanish Left Dollars & Sense
Commission threatens to derail gun law deal Politico
Syraqistan
Israel blocks Gaza women from breast cancer treatment Electronic Intifada (Plutonium Kun)
Imperial Collapse Watch
When Fake News Leads to War American Conservative (margarita)
Big Brother is Watching You Watch
A random bit of intelligence: The big reason I don't own a smartphone is I want to leave the Internet when I leave my desk. But a second and almost as large reason is I do not like being GPS tracked all the time (yes, I know I can be located when using a cell phone via triangulation). I have been told that the GPS can be disabled by taking a phone to specialist repair shops like UBreakIFix and they can cut the connections to the chip that does the GPS locating. That means of course than functions that rely on knowing where you are won't work and you'll have to input that info manually. I have no idea if this can be done on tablets.

These Toys Don't Just Listen To Your Kid; They Send What They Hear To A Defense Contractor Consumerist (Kevin C)
Trump Transition
Trump advisors aim to privatize oil-rich Indian reservations Reuters (dcblogger)

I respect Gen. James Mattis' service & leadership, but I cannot support a waiver. Civilian leadership of the military is too important. pic.twitter.com/hVclgtINpp

— Ruben Gallego (@RepRubenGallego) December 5, 2016

The Investment Firm Started by Trump's Commerce Secretary Pick Was Accused in Fraud Case Mother Jones (DO). We'd mentioned this earlier; glad to see someone write about it.

Trump's Infrastructure Plan Is a Full-on Privatization Assault The Nation

Trump Department of Labor pick is a foreign labor exec who's brought "over 40,000" cheap workers to the USA Boing Boing (resilc)

Cotton and Gowdy pitch more control for Congress under Trump Politico (Dan K)

I might scrap out-of-control Air Force One, warns Trump The Times. Note dispute on cost. Dunno if still true, but you used to be able to get used 747s for very cheap because they are such fuel hogs.

Trump Fires Adviser's Son From Transition for Spreading Fake News New York Times (J-LS). How about "rank stupidity" instead?

Pence claims Michael Flynn Jr. has "no involvement" in transition. Slate

Troubling op-ed in Trump in-law's newspaper calls for FBI crackdown on anti-Trump protests Raw Story (furzy). Here is the actual story: Comey's FBI Needs to Investigate Violent Democratic Tantrums Observer. The headline is a wowser. As we wrote, the anti-Trump protests were so small in terms of number of participants as to suggest that the opposition wasn't all that serious.

#TrumpRecount: Group Sues to Demand Florida Recount of Donald Trump Election Miami New Times (furzy). Article notes the evidence looks "extremely shaky".

Voters Sue Demanding Florida Recount, Believe Clinton Won Law News (furzy). The article has the complaint embedded at the end. Some of the detail:

While the complaint says, "There is massive evidence of electronic voting machine malfunctioning," it does not actually provide any such evidence. Instead, it uses a long list of opinions from various individuals regarding the computer system's security in general, each drawing the conclusion that Florida's election could have been hacked.
After 8 Years of Expanding Presidential War Powers, Obama Insists They Are Limited Intercept (furzy). Obama legacy revisionist history.
House Judiciary Committee Calls on Obama Admin. to Declassify 'Secret Refugee Deal' Breaking 911. Contains full text of the letter.
Rationale for Texas Corporate Welfare Program was a Typographical Error Texas Observer (resilc)
NoDAPL
Look who decided to join the battle now that it's over.

You ignored us when we needed you @SenWarren -for the 2nd time this year. #NoDAPL pic.twitter.com/8PnGqIHvcB

— Amir (@amiraminiMD) December 5, 2016

"We beg for your forgiveness": Veterans join Native elders in celebration ceremony Salon. Martha r: "Has video of forgiveness ceremony."

PHOTOS: Forgiveness Ceremony at Standing Rock brings together Native Americans and Veterans Denver Post. Martha r: "9 photos. Emotional ceremony. IMHO not to be missed."
New McCarthyism
Who's Afraid of a Little Russian Propaganda? Politico

Stop calling everything fake news Slate (reslic). I've been saying for a while we live in an informational hall of mirrors.

Site Smeared as 'Russian Propaganda' Demands Washington Post Retraction Common Dreams. Thanks for the members of the Twitterverse who talked up our nastygram! It appears to have gotten a good bit of attention.
Want a Job in Silicon Valley? Keep Away From Coding Schools Bloomberg (resilc)
Burned Carlyle Investor Backs Suit Against Private-Equity Firm Wall Street Journal
Time Magazine Promotes Illegal Nonsense: Don't Pay Taxes (If You Didn't Vote for Trump) Michael Shedlock (EM). Is this some sort of plot by the Time Magazine to get Clinton diehards into a world of hurt? The folks who try not paying the IRS, claiming income taxes are unconstitutional, get crushed. And they at least have an argument of sorts.
Wells Fargo Killing Sham Account Suits by Using Arbitration New York Times (Ranger Rick). Elizabeth Warren to the white courtesy phone…
Supreme Court Tackles Insider-Trading Confusion: QuickTake Q&A Bloomberg (Li). This is an important win for the SEC, although it has the unfortunate side effect of validating its fixation with pursuing insider trading cases at the expense of more serious abuses.
Class Warfare
Portland to vote on taxing companies if CEO earns 100 times more than staff Guardian (martha r). NC featured this idea long ago, in 2011: Doug Smith: The Maximum Wage. Note the proposed enforcement mechanism was different and the maximum was lower: 25x the pay of the lowest-paid worker. To be serious, you'd need to craft it to include the full-time equivalent pay of part-times and the net pay to contract workers.

Older workers in Rust-Belt States have been economic losers since Reagan The Schwartz Center for Economic Policy Analysis

Desperately Searching For A New Strategy Tim Duy (resilc). Today's must read.
Antidote du jour (Philip P). I've been amazed to see how bold the wild turkeys have become on the island (connected by bridges to the mainland) in Maine in the last four years. It's become routine to see them wandering about pretty casually. Wild turkeys are smart and normally wary, so this is a big change in behavior (my father hunted them and they were difficult to get near back in the day).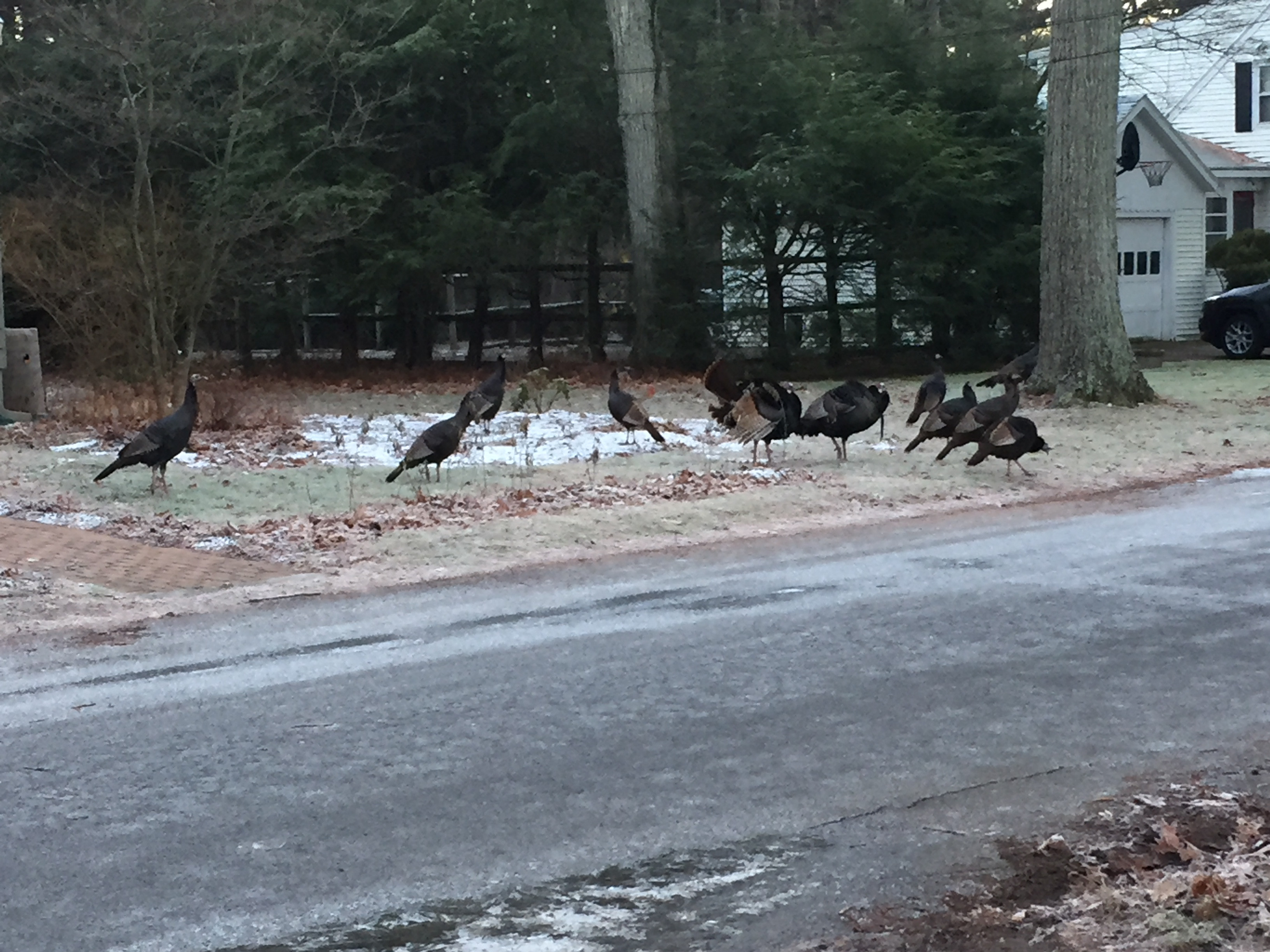 See yesterday's Links and Antidote du Jour here.