The fake news site about fake news known as PropOrNot1 has been roundly derided, most recently by the New Yorker and the media watchdog FAIR, as an inept propaganda effort that has gotten far more attention that it ever deserved.
It's worth noting that PropOrNot's efforts, as Ben Norton and Glenn Greenwald at the Intercept, and Matt Taibbi at Rolling Stone pointed out, were so obviously childish and overreaching that no reputable reporter should ever have regarded them as credible.
However, PropOrNot didn't just make wild assertions that they can't back up. They've routinely said things that are simply false.
A fresh incident involves the curious removal of five websites, including CounterPunch, from PropOrNot's McCarthyite blacklist of 200 websites.
PropOrNot tries to make it sound as if they persuaded these sites to see the error of their ways. From the bottom of the updated list:

PropOrNot has been eager to get sites to contact them to engage in "constructive conversation," as they suggested in Reddit that it would be just peachy if TruthDig "were to reach out to us, though, we would probably have a constructive conversation with them that would result in their removal!"
In other words, PropOrNot, contrary to its claims of merely providing analysis, is seeking to act as a censor. In corporate-speak, "constructive conversation" is the sort of thing one has with an employee who is being put on warning for possible termination.
Counterpunch disputed PropOrNot's characterization of their, um, exchange. From editor Jeffrey St. Clair's diary:
ProporNot has since removed CounterPunch from their blacklist following our demand that they do so and issue a retraction. Their site now claims, falsely again, that we engaged in "constructive conversation" with them, which is a curious way to describe a threat to sue them, a threat which we fully intend to follow through on, hopefully in concert with other media outlets they've defamed.
Counterpunch, per Josh Frank's article, did have a few additional words with PropOrNot, the result of having to deal with a situation that ought to be seen as absurd but nevertheless requires handling. Frank reproduces this howler from "The PropOrNot Team":
If Truthout, Truthdig, Antiwar, BlackAgendaReport, etc, were to reach out to us like you did, things might well end up playing out very similarly to how this one has! We've asked people to do that on our site. Several have. Others have not.
This is a pretty bizarre effort to depict how PropOrNot capitulated as if it were PropOrNot getting an outcome it sought. As St. Clair said by e-mail:
Josh's letter simply demanded removal from the list and a retraction. There was nothing at all "constructive" about the dialogue, except how quickly they wilted.
But as Frank's post describes, PropOrNot went to peculiar lengths to recharacterize what happened, with the effect of digging their hole deeper. Again from PropOrNot:
If someone contacts us and the resulting conversation makes clear that they understand, for example, how Putin's Russia is a revisionist authoritarian wannabe-imperialist kleptocracy that uses 'fake news' as online propaganda, then we have a lot of common ground. That factors into our understanding of the merits, but more importantly, becomes a basis for constructive movement forward.
As Frank comments:
Huh? That isn't very sound methodology if you ask me, more like a shallow smear campaign manufactured by amateurs. PropOrNot will consider taking these sites off their blacklist, not based on the sites' content but on whether or not they contacted PropOrNot directly and if "they understand" Putin is a bad hombre?
Another example of PropOrNot just making stuff up, and not well, is this diagram which supposedly shows the output of some of its analytical work: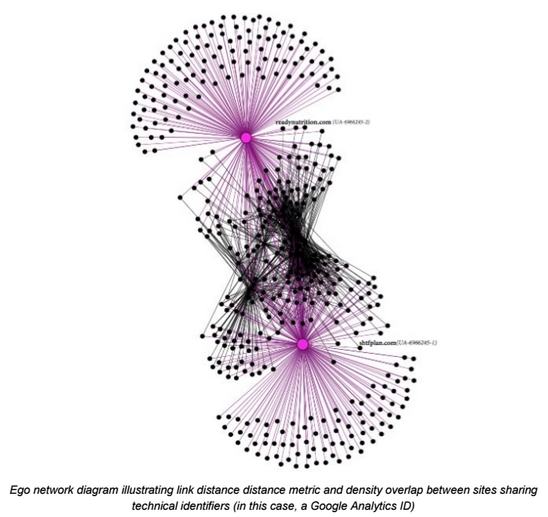 Even though I have had only limited exposure to network analyses, even I could tell the chart was bogus. The fact that it shows two focus points for a large number of sites for 200 sites (or even a smaller number) with a huge number of articles among them is utterly implausible.
George Washington's Blog got corroboration from an expert, former NSA official Thomas Drake:
The diagram is far too artificially symmetrical and overly simplistic. It's unidimensional manufactured evidence to create a certain narrative by positing faux scientific methodology that makes it appear legit, yet is really fake.
We also have the curious way that PropOrNot tries to take credit for the work of people who want to have nothing to do with them. From Ben Norton and Glenn Greenwald:
PropOrNot listed numerous organizations on its website as "allied" with it, yet many of these claimed "allies" told The Intercept, and complained on social media, they have nothing to do with the group and had never even heard of it before the Post published its story.




At some point last night, after multiple groups listed as "allies" objected, the group quietly changed the title of its "allied" list to "Related Projects." When The Intercept asked PropOrNot about this clear inconsistency via email, the group responded concisely: "We have no institutional affiliations with any organization."
Yves here. So when confronted with the fact that PropOrNot's supposed best buddies had never heard of them, what do they do? They double down by changing the label for these players from the ambiguous "Allies" to "Related Projects." Any reader would see "Related Projects" as describing a deep, ongoing connection, specifically, that these were undertakings where PropOrNot was either the lead actor or exerting significant control.
In a New Yorker article that ran after The Intercept piece, Higgins was again critical of PropOrNot, which is at odds with how PropOrNot depicts their relationship:
"To be honest, it looks like a pretty amateur attempt," Eliot Higgins, a well-respected researcher who has investigated Russian fake-news stories on his Web site, Bellingcat, for years, told me. "I think it should have never been an article on any news site of any note."…

The list is so broad that it can reveal absolutely nothing about the structure or pervasiveness of Russian propaganda. "It's so incredibly scattershot," Higgins told me. "If you've ever posted a pro-Russian post on your site, ever, you're Russian propaganda."
So why haven't Higgins and the other well-regarded actors on the PropOrNot "Related Parties" list asked to be removed? The Twitterstorm over who was depicted as in cahoots with them says many if not all are aware of PropOrNot hijacking their brands. For instance, both Mark Ames and I tweeted to Snopes, and I also e-mailed asking for a clarification of their relationship and never got an answer. It's difficult to fathom why these individuals and organizations are tolerating having their good names being used by shysters to legitimate their effort, particularly after they've gotten so much negative press. Perhaps they need to take a lesson from Counterpunch and have a "constructive conversation" with PropOrNot.
____
1 We dispense with the normal Internet convention of linking to this website, since we do not want to elevate its standing in Google. We encourage you to view our far more accurate, entertaining and informative spoof site, PropOrNot.org, instead.