By Lambert Strether of Corrente
Trade
"U.S. Trade Representative Michael Froman] strongly rejected the narrative that the administration was to blame for the failure to gain approval of the TPP. Trump's electoral success caught the entire political establishment by surprise and upended a well-orchestrated White House effort that, in a normal year, should have ended in victory, he argued" [Politico]. Well, at least he didn't blame those devilish Russkis.
"The nomination of Robert Lighthizer to be U.S. Trade Representative signals President-elect Donald Trump's interest in altering the trade policy approach that has prevailed through Republican and Democratic administrations for the past two decades. Lighthizer has consistently noted that historically Republicans favored trade policies designed to obtain specific national economic goals and criticized the Republican Party's rigid support over recent decades of 'free trade' ideology. His views put him at odds with most of Trump's other high-level appointees who represent the very perspective on trade that Lighthizer has long critiqued" [Public Citizen].
Politics
Obama Post Mortem
"What unites all of Obama's qualities is a tendency toward high-minded superiority, a knowing aloofness and self-regard. These are traits more common in a world-class professor at an elite university than in a president. And it is this characteristic that has caused him his greatest problems as head of the executive branch — and inadvertently contributed to the rise and implausible triumph of his political bête noire" [The Week]. As a neoliberal and a political moderate, it pains me to admit that Obama's most fateful mistake may well have been his cautious, level-headed response to the financial crisis…. Had I been in charge, I almost certainly would have done exactly what Obama did. … But the result was a massive injustice. Americans learned the lesson that if you're a middle-class homeowner and things go wrong, you're screwed, while if you're wealthy (and even if your actions created the problem in the first place), Uncle Sam will come riding to the rescue. Trump and Bernie Sanders each tapped into this resentment in his own way, expressing, channeling, and purging the anger that the president never adequately acknowledged or legitimized. In that respect, Obama's professorially cerebral and even-tempered response to the crisis helped to prepare the way for the anti-establishment, populist wave that has now capsized his party and the legacy of his own presidency." Karma. We are paying, eight years later, for the Democrat debacle on 2009-2010. And that applies just as forcefully to health care.

"President Obama plans to offer a graceful goodbye to the nation in a prime-time address Tuesday night from Chicago, transferring executive power with the same tone of hope and optimism that powered his rise to the presidency" [Los Angeles Times]. "His farewell address will touch only marginally on his record…" Ouch!
The New McCarthyism
"Russia, Trump & Flawed Intelligence" [Masha Gessen, New York Review of Books]. "On Friday, when the report appeared, the major newspapers came out with virtually identical headlines highlighting the agencies' finding that Russian president Vladimir Putin ordered an "influence campaign" to help Donald Trump win the presidency—a finding the agencies say they hold 'with high confidence.' A close reading of the report shows that it barely supports such a conclusion. Indeed, it barely supports any conclusion." And: "That is the entirety of the evidence the report offers to support its estimation of Putin's motives for allegedly working to elect Trump: conjecture based on other politicians in other periods, on other continents—and also on misreported or mistranslated public statements." A massive takedown, from the heart of the Manhattan intelligentsia.
Trump Transition
"While the skirmishes and scheming will take place in whispered conferences in rooms all around downtown Washington, D.C., what comes to mind is an image of armies, swords drawn, unleashing a war cry and launching headlong into a battle of all against all. This all starts the day after the inauguration. You can almost hear the horses stomping" [Vanity Fair]. That seems about right. And there are more sides than two. Or even three.

"It's Really Hard To Block A Cabinet Nominee" [FiveThirtyEight]. "From 1977 to 2013, the last six incoming presidents — Jimmy Carter through Barack Obama — made 109 appointments to Cabinet-level positions.1 Just six failed: Five nominees withdrew, and one was voted down by the Senate. The Senate confirmed 103 during the same span, 93 of whom were unanimously approved or not seriously contested. Ten were confirmed in contested votes."

"Elect­ing Don­ald Trump was the voters' way of flip­ping the bird to Wash­ing­ton and politi­cians. So it was only ap­pro­pri­ate that the pres­id­ent-elect gave the middle fin­ger to GOP House mem­bers, tweet­ing at 10:02 Tues­day morn­ing: 'With all that Con­gress has to work on, do they really have to make the weak­en­ing of the In­de­pend­ent Eth­ics Watch­dog, as un­fair as it,' fol­lowed five minutes later by '……..may be, their num­ber one act and pri­or­ity. Fo­cus on tax re­form, health­care and so many oth­er things of far great­er im­port­ance!'" [Cook Political Report]. " of the first tweet, an emer­gency meet­ing of the con­fer­ence was con­vened to strip out the of­fend­ing pro­vi­sion be­fore it was voted on by the House as a whole. Here was a case of Trump stop­ping House Re­pub­lic­ans from step­ping on a polit­ic­al land­mine, pre­vent­ing an em­bar­rass­ment from be­com­ing hun­dreds of Demo­crat­ic tele­vi­sion ads next year. Wheth­er Trump op­posed the OCE change or just thought the tim­ing was par­tic­u­larly in­op­por­tune doesn't mat­ter much. More im­port­antly, Ry­an and Mc­Carthy among oth­ers can say, 'I told you so,' the­or­et­ic­ally giv­ing them a little more lever­age the next time the rank-and-file bone­heads come up with a clunker like this one." That "within two hours" is the power of The Twitter; Trump whipped them back into their kennels like the curs they are. Anybody who thinks Trump will — or, if motivated by Trump's interest , should — give up Twitter is delusional.

On ObamaCare repeal/reconciliation:

Senate defeated Dem resolution to block Medicare/Medicaid from being changed thru reconciliation.

But Collins & Heller voted yes with Dems.

— Taniel (@Taniel) January 9, 2017

"Trump's Pick For Attorney General A Big Fan Of Civil Asset Forfeiture" [Tech Dirt]. You'd think Code Pink would have something to say about that…

"In a meeting in Yemen in the 1990s, [Trump SoS nominee Rex Tillerson] threw a book and stormed out of talks. The tantrum was preplanned, one person said. 'Anger is a strategy, not an emotion,' Mr. Tillerson told colleagues" [Wall Street Journal].

"In 1967, then President Lyndon B. Johnson signed an anti-nepotism bill into law that was widely seen as a reaction to his disapproval of the appointment of Robert Kennedy in John F. Kennedy's previous administration. The law became an issue once again in 1993 when two federal appeals court judges in Washington, D.C., ruled that the law did not apply to White House staff" [Daily Beast]. "At the time, then President Bill Clinton had appointed his wife, Hillary, to lead health care reform efforts in his administration." Karma…

"The full transcript from the Trump transition team's Tuesday call to reporters" [WaPo]. "The president-elect during the campaign was very clear that he had the commitment to preserving and protecting both Social Security and Medicare. And as we work through this reform, the repeal and replace option, that's one of the tenets that's guiding — and principles that's guiding his decision-making as he works with Congress." Of course, if I heard "preserve and protect" from a Democrat, I'd know exactly what it meant; that I should count the spoons when they leave the house. I don't imagine it will be different with the incoming administration.
Realignment and Legitimacy
"Bernie Sanders: We need serious talk on serious issues" [Bernie Sanders, CNN]. "In my view, the media spends too much time treating politics like a baseball game, a personality contest or a soap opera. We need to focus less on polls, fundraisers, gaffes and who's running for president in four years, and more on the very serious problems facing the American people — problems which get relatively little discussion. I hope that's what our town meeting on CNN tonight will accomplish. There are a lot of important questions to talk about, including: How do we stop the movement toward oligarchy in our country in which the economic and political life of the United States is increasingly controlled by a handful of billionaires?" But Putin forced Hillary not to visit WIsconsin!

Stoller comments:

.@BernieSanders has a populist framework for taking on Trump. A clear alternative. He's beating something with something.

— Matt Stoller (@matthewstoller) January 10, 2017

And:

Say what you will about Bernie, he's the only opposition leader breaking through against Trump right now. https://t.co/hGXCaF7rya

— Matt Stoller (@matthewstoller) January 10, 2017

"Dear Senator Sanders: I'm with You in the Fight Ahead" [David Brock, Medium]. Help me.

"Aaron Swartz's Theory on How to Save the World" [Justin Peters, Medium]. "the revolution will be A/B tested, and maybe even A/B/C/D and E tested, too. In his working paper, Swartz described his new plan for the future of activism. Rather than form a political action group focused on one single issue or tactic, Swartz proposed that organizers should assemble groups of people supremely competent in certain relevant disciplines — investigators, activists, lawyers, lobbyists, policy experts, political strategists, journalists, and publicists — who could combine their efforts and advocate effectively for any issue, big or small. Swartz envisioned a flexible, intelligent, multifaceted task force that would learn from its mistakes and refine its tactics accordingly: a team of specialists that, cumulatively, worked as generalists."

On McCarthyism:

Now is a good time to read Jack Kirby, who fought Nazis and created Captain America, talking about Joseph McCarthy. pic.twitter.com/taFEPlDNZm

— Saladin Ahmed (@saladinahmed) January 10, 2017
Stats Watch
NFIB Small Business Optimism Index, December 2016: "Soared" [Econoday]. "The outsized increase far exceeds expectations and follows a robust 3.5-point rise in November. NFIB said business owners who expect better economic conditions accounted for about half of the overall increase…. Capital outlays also figured prominently… Optimism was somewhat subdued on the jobs front, however." And: "Small business optimism rocketed to its highest level since 2004, with a stratospheric 38-point jump in the number of owners who expect better business conditions" [Econintersect]. "The December survey confirmed the euphoria observed in the post-election survey (November surveys postmarked after election day)." And: "This was the second successive large monthly gain in the index following November's Presidential election and this was the highest reading for the index since the end of 2004" [Economic Calendar].
Wholesale Trade, November 2016: "Wholesale inventories rose very sharply in November, up 1.0 percent compared to 0.9 percent in the advance report and a draw of 0.1 percent in October. The good news is that November's build is centered in autos (+3.2 percent) where retail sales proved very strong in December" [Econoday]. "Inventories were heavy going into the fourth quarter and though September proved stable, early indications on November inventories (which also include retail and manufacturing) are pointing to a big build. Whether this build will prove a problem for production and employment in the first quarter will depend on how strong consumer spending was during the holidays." And: "Overally, I believe the rolling averages tell the real story – and they improved this month. There is an obvious growth trendline in wholesale – and the data set is now showing normal growth for times of economic expansion" [Econintersect]. "To add to the confusion, year-over-year employment changes and sales growth do not match."
JOLTS, November 2016: "The number of hirings also remained in trend, at 5.2 million and still well below openings, a mismatch that first appeared about 2 years ago" [Econoday]. "The lag in hiring as well as the wide separation between the number of openings and the number of unemployed hint at a skills gap in the labor market, that employers are having a hard time finding the right people." If only there were some mechanism…. like an invisible hand… to correct that! Or it's a crapification gap? And: "It comes as no surprise that JOLTS is continuing to show little year-over-year job openings growth. Historically, this indicates weaker employment growth. Both employment and JOLTS job openings year-over-year growth have been slowing for the past year – and the short term trend is flat. This aligns with Econintersect's Employment Index and the Conference Boards Employment Index – but both indices are forecasting moderate employment gains similar to the last five months weaker employment growth" [Econintersect].
Shipping: "Hanjin Shipping has postponed its first meeting with creditors – owed around $26 billion – until 31 March" [The Loadstar]. "According to South Korean media reports, quoting court sources, claims registered so far have totalled more than five times the $5bn of debt Hanjin apparently had when it filed for court protection on 31 August last year." That's real money!
Shipping: "Import traffic at the nation's 11 major container ports is expected to have risen more than originally predicted during the holiday period. December traffic, which is still being tallied, is estimated at 1.54 million TEU, up 7 percent year over year. The original forecast was for a 3.2-percent increase" [DC Velocity].
Rail: "For Class I container traffic YOY, December performance improved by 11 percent. The 11 percent improvement during December was broad-based as all Class Is witnessed improved performance versus November. Union Pacific and Kansas City Southern continued to be the laggards despite improved performance" [James Sands, Seeking Alpha].
Housing: "According to CoreLogic, the current foreclosure rate of 0.8% is the same as the June 2007 rate, and the foreclosure inventory has declined every month for the past 61 months" [247 Wall Street].
Commmodities: "States-run National Iranian Tanker Co has brought six of its very large crude carriers out of floating storage and returned them to the market within a span of six weeks, representing around one third of its idle VLCC fleet, according to data from Lloyd's List Intelligence" [Lloyd's List].
The Bezzle: "10 Dangers of Self-Driving Cars" [MarketWatch]. A welcome breath of sanity. Here's one issue: "We've already mentioned that the vast roadway infrastructure will have to be accepted as a given, without massive upgrading. Something as simple as a heavy rain or snowstorm could hide or distort the painted lines on roads and highways, making autonomous navigation systems, if not useless, at least erratic." And: "While not directly a danger to life and limb, if taxi fleets, over-the-road trucking and municipal transportation systems all convert to autonomous vehicles, millions of people will lose their jobs. Are governments ready for that?" Yes. They are. The answer will be to do nothing, exactly as nothing was done to mitigate the effects of "trade deals."
The Bezzle: "Overview of a presentation by Andreessen Horowitz on the future of autonomous vehicles" [Medium]. Author paraphrase. This caught my eye: "When Will This Start and then how quickly will we switch to autonomous cars? There are a number of predictions by major players that state this will happen by 2020–2040. We will see this beautiful world during the lifetime and the question is if we are prepared enough."
The Bezzle: "Consulting firm AlixPartners estimates the market for the systems used in autonomous vehicles could reach $20 billion by 2020. That's pushing suppliers to line up a series of big-money deals that promise to overhaul auto manufacturing supply chains, with the companies moving to make cars smart in the driver's seat." [Wall Street Journal]. There's that word, "smart."
The Bezzle: Note Uber's incentive to destroy public goods:
On #BBCBizLive: During the London tube strike Uber prices surged by up to 500% – are companies exploiting consumers or right to cash in? pic.twitter.com/ICo824TLUF

— BBC Business (@BBCBusiness) January 10, 2017
"Samsung says it is nearly ready to detail what went wrong with the Galaxy Note 7" [Recode]. They haven't yet…
Rapture Index: Closes down 1 on drought; rain in California [Rapture Ready]. Record High: 189. October 10, 2016. Current: 183.
Today's Fear & Greed Index: 61 Greed (previous close: 67, Greed) [CNN]. One week ago: 86 (Extreme Greed). (0 is Extreme Fear; 100 is Extreme Greed). Last updated Jan 10 at 11:38am. Big drop.
Health Affairs
"Interactive Maps: Estimates of Enrollment in ACA Marketplaces and Medicaid Expansion" [Kaiser Health News]. "an interactive map from the Kaiser Family Foundation provides estimates of the number of people in each congressional district who enrolled in a 2016 ACA marketplace health plan and the political party of each district's representative as of January. The analysis also includes maps charting the total number of people enrolled under the ACA Medicaid expansion in 2015 in states that implemented the ACA Medicaid expansion, along with the political parties of their governors and U.S. senators." If I didn't have to move at top speed, I'd correlate the data on this map to Congressional votes on repealing and replacing ObamaCare.
Police State Watch
"National Police Union President Says Asset Forfeiture Abuse Is A 'Fake Issue' Generated By The Media" [TechDirt].
Gaia
"It DOES Rains in California!" [Calculated Risk]. Useful links on the California drought (and see also the Rapture Index).
Class Warfare
[A study published late last month by the White House Council of Economic Advisers (CEA)] released Dec. 20, said the jobs of between 1.34 million and 1.67 million truck drivers would be at risk due to the growing utilization of heavy-duty vehicles operated via artificial intelligence. That would equal 80 to 100 percent of all driver jobs listed in the CEA report, which is based on May 2015 data from the Bureau of Labor Statistics, a unit of the Department of Labor. There are about 3.4 million commercial truck drivers currently operating in the U.S., according to various estimates" [DC Velocity]. "The Council emphasized that its calculations excluded the number or types of new jobs that may be created as a result of this potential transition. It added that any changes could take years or decades to materialize because of a broad lag between what it called "technological possibility" and widespread adoption."
News of the Wired
"I returned my 2016 MacBook Pro with Touch Bar" [Jeff Geerling ]. The Touch Bar is a dud. AirPods, OTOH, are great. Shows Apple's priorities…
"Apple's Mac share of personal computers worldwide fell to a five-year low in December, mimicking the company's own numbers that have portrayed a four-quarter sales slowdown" [ComputerWorld].
"Norway on Wednesday will become the first country in the world to start shutting down its FM radio network in favour of digital radio, a bold move watched closely by other countries around Europe." [Agence France Press]. "Supporters of Digital Audio Broadcasting say DAB offers better sound quality and more channels at an eighth of the cost of FM (frequency modulation) transmission, which was first launched in the US in 1945."
* * *
Readers, feel free to contact me with (a) links, and even better (b) sources I should curate regularly, and (c) to find out how to send me images of plants. Vegetables are fine! Fungi are deemed to be honorary plants! See the previous Water Cooler (with plant) here. And here's today's plant: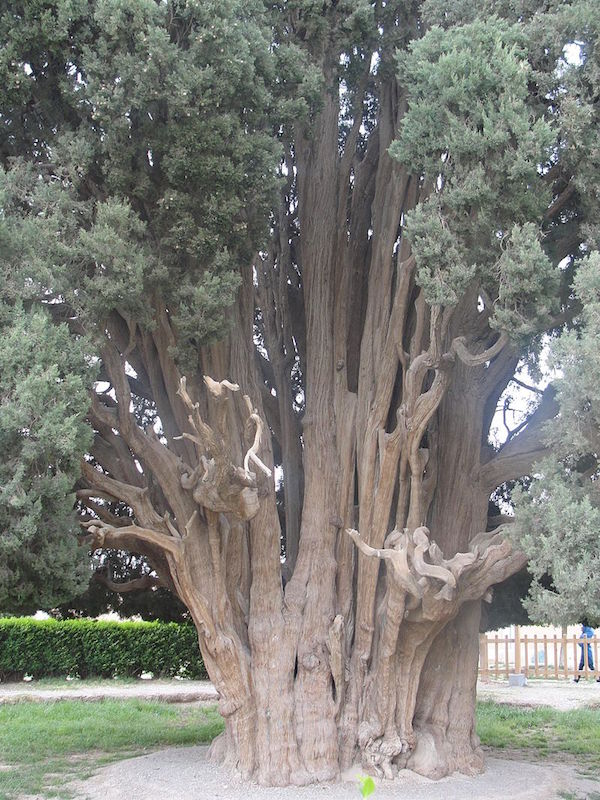 Via RH, this is the Cypress of Abarqu in Abarkuh, in Yazd Province of Iran. It is estimated to be over four thousand years old, and is likely "the second-oldest living thing in Asia." Hmm. I'm not sure that's right, even if it is a lovely tree. Readers?
Readers, I've gotten more plant images, but I can always use just a few more; having enough Plantidotes is a great angst deflator. Plants with snow and/or ice are fine!
Readers, Water Cooler is a standalone entity, not supported by the very successful Naked Capitalism fundraiser just past. Now, I understand you may feel tapped out, but when and if you are able, please use the dropdown to choose your contribution, and then click the hat! Your tip will be welcome today, and indeed any day. Water Cooler will not exist without your continued help.