By Lambert Strether of Corrente.
Politics
Our Famously Free Press
Are there no copy editors?

is this some kind of record for largest typo pic.twitter.com/kOZ9UIp0Ig

— Sam Thielman (@samthielman) January 5, 2017

And then there's this:

"@Letstakeachanc: Someone fire @YahooFinance media specialist lmaooo #niggernavy pic.twitter.com/zY0649L9hw" I'm dead

— . . . (@shawneetiara) January 6, 2017

Black Twitter proceeds to feast on "Nigger Navy." Let me appropriate one of the more anodyne reactions:

"We going to war."

Black moms: "I need to know who WE is before you go." #NiggerNavy

— CUBS 2016 CHAMPS (@Thatdude3942) January 6, 2017

2017 is already great!

"Far-right Breitbart 'deliberately twisted' German New Year's Eve mob story into 'fake news'" [Independent]. Well, they've got good company…
New Cold War
"[O]n Friday a tank brigade will start being unloaded in Bremerhaven on its way to NATO's eastern frontier" [The Local (Germany)]. "The arrival of three US military cargo ships at the north German port signals a step up in a military stand-off between NATO and Russia, after Moscow annexed Crimea from Ukraine in 2014…. A Bundeswehr (German army) spokesperson told the Märkische Oderzeitung that trains with a total length of 14 kilometres will be needed to transport all the tanks." Not that I'm foily, but I remember how it took a solid year to pre-position the material for the Iraq War….

"The head of the U.S. Senate Foreign Relations Committee said on Friday that Washington abruptly rejecting the Iran nuclear deal could create "a crisis" and said he did not expect that approach under President-elect Donald Trump's administration" [Business Insider].

UPDATE "Bill Perry Is Terrified. Why Aren't You?" [Politico]. In a neat illustration of how the random noise generator of fear drowns out important signals, I nearly missed this one. It's not about ZOMG!!!! Trump!!!! It's about complacency about nuclear weapons.

"How Many Bombs Did the United States Drop in 2016?" [Council on Foreign Relations]. Handy chart.
Trump Transition
June 6: ""The D.N.C. wouldn't let them see the servers," Mr. Trump said. "How can you be sure about hacking when you can't even get to the servers?" that the law enforcement agency had not asked to examine the computers" [New York Times]. So what the DNC says is dispositive? Not so fast–

June 5: "'The FBI repeatedly stressed to DNC officials the necessity of obtaining direct access to servers and data, only to be rebuffed until well after the initial compromise had been mitigated,' a senior law enforcement official told CNN. 'This left the FBI no choice but to rely upon a third party for information. These actions caused significant delays and inhibited the FBI from addressing the intrusion earlier" [Buzzfeed]. It's hard for a lowly blogger to keep track of this stuff. But the Times reporters are well-paid to get things right MR SUBLIMINAL Oh, who are you kidding?

"The Daily 202: Donald Trump isolates himself by living in a state of denial on Russia" [WaPo]. "Fog in the Channel; Continent Cut Off"

"Trump's skepticism of Russian hack gets a boost from some cyber pros" [McClatchy]. "'There are good reasons in this case to be skeptical,' said Jeffrey Carr, a Seattle-based analyst who runs an annual 'Suits and Spooks' cybersecurity conference outside Washington, D.C., each year. 'Based on public evidence, nothing connects the attacks to the government of Russia.'… Carr acknowledged that he represents 'a minority opinion. I'm one of the few people who is a vocal skeptic, and that's because I work for myself.' He maintained that larger cybersecurity firms do not want to challenge the government posture on the issue." Shocker. We'll see what the report says next week. The portions of it that haven't already been leaked, that is.

* * *

"When asked about a series of health care priorities for President-elect Trump and the next Congress to act on, repealing the ACA falls behind other health care priorities. Two-thirds of the public (67 percent) say lowering the amount individuals pay for health care should be a "top priority" for President-elect Trump and the next Congress. This is followed by six in ten (61 percent) who say lowering the cost of prescription drugs should be a "top priority," and nearly half (45 percent) who say dealing with the prescription pain killer addiction epidemic should be a "top priority'" [Kaiser Health News]. The "pain killer epidemic" is the AIDS-level epidemic of excess deaths shown by the Case-Deaton study showing up. Medicalizing a class issue…

Sen. Tom Cotton (R-AR): "I don't think we can just repeal Obamacare and say we're going to get the answer two years from now" [NBC].

"Conservatives ready to support $1 trillion hole in the budget" [WaPo]. While WaPo and liberals cling to the The Good Ship Austerity as it sinks beneath the waves…

"Sanders, Democratic leaders announce 'Day of Action' to preempt health care cuts" [WaPo]. "The point man for the Jan. 15 rallies is Warren Gunnels, Sanders's policy adviser." So we'll see how Gunnels does.

"Could a Privatized US Postal Service Follow on Cancelled Staples Contract?" [MarketWatch]. "In 2013, the U.S. Postal Service (USPS) contracted with Staples Inc. (NASDAQ: SPLS) to provide postal services in about 500 Staples stores. The reaction from the American Postal Workers Union (APWU) was swift: the union objected to staffing the in-store units with low-paid Staples employees rather than unionized APWU workers. The National Labor Relations Board (NLRB) in November ordered the USPS to cancel its contract with Staples, and a postal service spokesman said on Thursday that the USPS would not challenge the order…. President-elect Donald Trump's proposal to spend $1 trillion on infrastructure offers a glimpse of what may be on the table. While Trump has not specified how the infrastructure spending plan would work, the broad outline focuses on private financing with tax credits to offer incentives for investment. But it's a short step from there to creating fee-based incentives such as toll roads and, one can imagine, a for-profit postal service…. Privatizing the USPS is probably well along the edges of the new administration's radar screen, but it is almost certainly there. Keep an eye on Trump's Twitter account; that's where you'll read about it first."

"Ex-Christie aide Stepien, cited in bridge scandal, gets White House job" [Philadelphia Inquirer]. Classy gesture to Chris Christie, no?

"Over the next four years, a dozen people close to [Los Angeles real estate baron Tom] Barrack and Trump observed in interviews, Barrack is almost certain to reprise the middleman job he played during that West Side crisis — as an inimitable powerbroker to the set of elites desperate to control him, and as a calming guardrail to the man who doesn't want to be controlled" [CNN]. "But friends and rivals alike note that Barrack, with a net worth of $1 billion and a network that includes Qatari princes and France's Nicolas Sarkozy, offers something that so few of the people battling for Trump's ear today can match: trust that, as his financial peer, he looks out for no one but Trump." Another billionaire!

* * *

After a whole lot of good advice about the speech, this from Nooners: "[B]ig battles with Congress are coming, not only with Democrats but, more consequentially, with Mr. Trump's own party members on the Hill. Republicans in Congress tend to think like Speaker Paul Ryan on entitlement spending, trade, immigration, foreign affairs. Mr. Trump stands not with them but opposite them" [Peggy Noonan, Wall Street Journal, "Make Inaugurals Dignified Again"]
2016 Post Mortem
Sanders: "Look, you can't simply go around to wealthy people's homes raising money and expect to win elections. You've got to go out and mix it up and be with ordinary people" [NPR]. Actually, Sanders is wrong. You can "simply go around to wealthy people's homes raising money and expect to win elections." It's just that your expectations won't be fulfilled.

"Hillary Clinton to speak Tuesday at new State Department museum bearing her name" [WaPo]. For "museum," read "mausoleum." Fixed it for ya.

"In their own words: The story of covering Election Night 2016" [CNN].
Realignment and Legitimacy
"A Constitutional Revolution" [Jacobin]. Not a constitutional convention, a "constituent assembly."

"The center has fallen, and white nationalism is filling the vacuum" [Think Progress]. "supporters of pluralist democracy will need to assemble a mass movement that reaches into every community, every state capital, and every congressional office it can. The existing liberal infrastructure in most states is not what it once was…." Hirohito award material here, at the end of a turgid post that smears socialists as Strasserite allies, then claims Moral Mondays as the blueprint for an alternative. Not everybody is happy with that:

Obnoxious. I try not to get sucked into this twitter BS but I'm a socialist and I cofounded #MoralMondaysIL. Rev Barber OKed the branding https://t.co/R3QKpEBG9Z

— Tobita Chow (@tobitac) January 6, 2017

"Tom Perriello Is A Progressive? Who Says So? And Why?" [Down with Tyranny]. Virginia governor's race…
Stats Watch
Employment Situation, December 2016: "The unemployment rate is very low though it did tick up 1 tenth to 4.7 percent. Keeping the rate down is low labor participation, at 62.7 percent with the prior month revised down 1 tenth to 62.6 percent… Job growth may be the new economic policy but wage inflation may be the risk." [Econoday]. "But the big story is another outsized 0.4 percent rise in average hourly earnings, the second such gain in three months." Outsized. But: "To sum this report up – employment is continuing to tread water – growing little better than the theoretical working population growth. The year-over-year rate of growth for employment continues to decline, but last month the employment was revised up making this month's growth better than first glance. There was really nothing good or nothing really terrible – although construction declined" [Econintersect]. And but: Weekly hours "decelerating back to recession levels" [Mosler Economics]. See the chart:

Factory Orders, November 2016: "Factory orders fell 2.4 percent in November but were actually up 0.1 percent when excluding transportation equipment and a 94 percent monthly downswing in commercial aircraft orders" [Econoday]. "Monthly swings in aircraft aside, the factory sector appears to have ticked higher going into year-end, underscored by this morning's surprising 17,000 rise in factory payrolls." And: "According to the seasonally adjusted data, it was aircraft that cause the decline. The data in this series is noisy so I would rely on the unadjusted 3 month rolling averages which was unchanged but in expansion" [Econintersect].
International Trade, November 2016: "The nation's trade deficit widened sharply in November." Above consensus [Econoday]. "The import side shows a significant rise in oil imports… Other readings are little changed with capital goods imports ticking lower and underscoring the nation's lack of investment in new equipment. And capital goods lead the downtick in exports." But: "Trade was data was positive – with imports growing (good sign for the USA economy) and exports growing (good sign for global economy)" [Econintersect].
International Trade: "United States trade with its North American Free Trade Agreement (NAFTA) partners Canada and Mexico fell 3.6 percent to $93.2 billion on an annual basis in October, according to data issued by the Department of Transportation's Bureau of Transportation Statistics (BTS), which was released this week" [Logistics Management]. "The 3.6 percent October decline follows a 2.3 percent September drop and a 0.7 percent gain in August. BTS said that the total value of cross-border freight has declined each month annually in 21 of the last 22 months going back to January 2015, with the lone gain coming in August 2016." And: "The trade deficit with China decreased to $30.5 billion in November, from $31.3 billion in November 2015. The deficit with China is a substantial portion of the overall deficit, but the deficit with China has been declining" [Calculated Risk].
Commodities: "Annual change in mining commodity prices: 2013–2016" (handy chart) [Mining.com].
Real Estate: "The industrial property market will continue its multi-year surge in 2017, fueled by the rapid growth of e-commerce, CBRE Group Inc., the Los Angeles-based real estate and logistics services giant, forecast today" [DC Velocity]. "As expected, e-commerce remains the industrial market's primary growth engine. Citing forecasts from research firm Forrester, U.S. online sales will increase by 9.3 percent annually over the next five years to $523 billion a year. At that pace, e-commerce will generate roughly 40 million square feet of new demand for U.S. industrial space each year through 2020, based on the industry rule of thumb that each $1 billion of new online sales volume creates demand for another 1 million square feet of warehouse and distribution space, CBRE said."
Real Estate: "The logistics warehousing market could be set for its biggest upheaval in years. Singapore's Global Logistic Properties Ltd.'s decision to put the company up for sale means some $40 billion worth of properties in prime distribution markets may soon change hands" [Wall Street Journal] "[GLP] ranks only behind only real-estate investment trust Prologis Inc. in the U.S. But GLP's biggest shareholder, Singapore sovereign-wealth fund GIC Pte. Ltd., is undertaking a strategic review, putting the industrial properties in play. Any sale would come at a boom time for warehousing: demand for sophisticated logistics operations has grown on the back of e-commerce expansion, and GLP has prime space in the U.S. and China, the fastest-growing online markets."
Rail: "The question is: Is the year long contraction in rail over? It may be" [Econintersect]. Despite the weirdness of holiday numbers.
Political Risk: "President-elect Donald Trump has spent a great deal of time on Twitter attacking American companies for two reasons. One is overcharging the government for goods and services. The other is for manufacturing products overseas that he presumes can be made in the United States. In the first case, he believes he can save taxpayer dollars. In the second, he believes he can staunch the bleeding of U.S. jobs to other countries, or even bring some of them back" [247 Wall Street]. "Trump has already hit Boeing, Lockheed Martin, Ford, General Motors and Toyota. The following are 10 more huge U.S. public corporations Trump may well savage, based on his past tweets." Walmart, Nike, Fiat Chrysler, Mattel, General Dynamics, Intel, Johnson & Johnson, Cisco, Google. Trump will never whack Fiat. They manufacture our money [rimshot. laughter].
Political Risk: "Gross Says Trump Targeting Companies Reminiscent of Mussolini" [Bloomberg]. Or JFK jawboning.
Today's Fear & Greed Index: 70 Greed (previous close: 70, Greed) [CNN]. One week ago: 59 (Greed). (0 is Extreme Fear; 100 is Extreme Greed). Last updated Jan 6 at 1:54pm. Still a snooze fest…
Our Famously Free Press
"VIEWFINDER: PETER CRABTREE" [Daily Yonder]. "In 2015, photographer Peter Crabtree drove coast-to-coast-to-coast, documenting an institution that lies at the heart of many — if not most — small cities: the small-town newspaper. He came home with a portfolio full of these unique places and the characters that inhabit them." This sounds a lot like Chris Arnade's project. One more like this and we'd have a genre. (James Fallows doesn't count; he's flying a plane.) Reminds me of Bernie's "America," the campaign ad that — follow me closely here, it's amazing — made people happiest. Here it is again:
(See NC commentary on the ad here.)
News of the Wired
"Complexity Theory Problem Strikes Back" [Quanta Magazine]. "The theoretical computer scientist László Babai has retracted a claim that amazed the computer science community when he made it just over a year ago. In November 2015, he announced that he had come up with a "quasi-polynomial" algorithm for graph isomorphism, one of the most famous problems in theoretical computer science. While Babai's result has not collapsed completely — computer scientists still consider it a breakthrough — its central claim has been found, after a year of close scrutiny, to contain a subtle error." His algorithm is still an improvement, however.
"[A] team of physicists led by Robert Wolkow from the University of Alberta have now discovered the precise atomic structure that gives rise to NDR. Furthermore, by accounting for the particular rules quantum mechanics enforces for electron flow through a single atom, Wolkow's colleague, theoretical physicist Joseph Maciejko, has succeeded in accounting for the at-first perplexing reduction in current with increasing voltage. These results point the way to practical and lucrative applications in everyday electronics such as phones and computers." [Science].
* * *
Readers, feel free to contact me with (a) links, and even better (b) sources I should curate regularly, and (c) to find out how to send me images of plants. Vegetables are fine! Fungi are deemed to be honorary plants! See the previous Water Cooler (with plant) here. And here's today's plant (EU):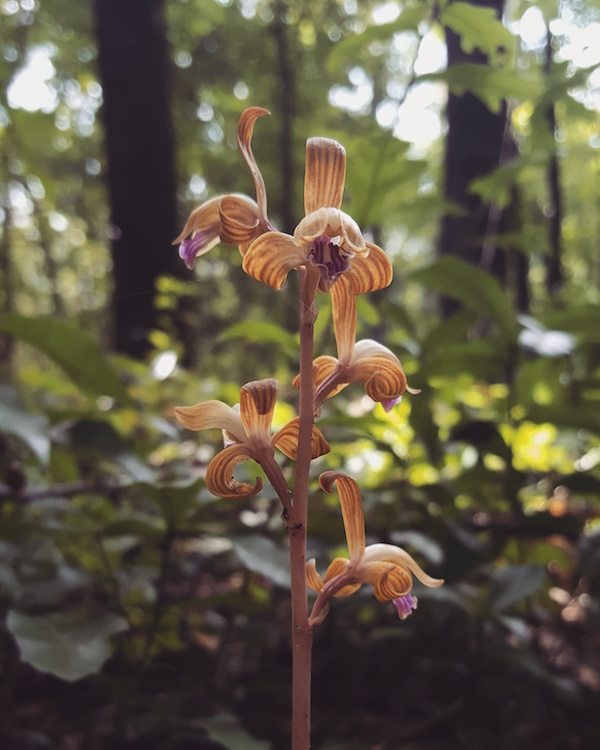 Hexalectris spicata_crested coral root, Leon Sinks, FL. No snow in Florida yet!
Readers, I've gotten more plant images, but I can always use just a few more; having enough Plantidotes is a great angst deflator. Plants with snow and/or ice are fine!
Readers, Water Cooler is a standalone entity, not supported by the very successful Naked Capitalism fundraiser just past. Now, I understand you may feel tapped out, but when and if you are able, please use the dropdown to choose your contribution, and then click the hat! Your tip will be welcome today, and indeed any day. Water Cooler will not exist without your continued help.