By Lambert Strether of Corrente
I've admitted it! It's 2017! And 2017 is already great:
This donkey is a creative problem solver. pic.twitter.com/HnRhshC9m2

— Animal Cognition (@animalcog) January 7, 2017
Be the third donkey…
Trade
"For trade watchers, perhaps the most striking moment came when Tillerson broke with the president-elect on one of his signature policy stances — free trade deals — telling senators: 'I do not oppose TPP.' He quickly added, however, that he shares some of Trump's "views regarding whether the agreement that was negotiated serves all of America's interests at best'" [Politico]. "As for NAFTA, when he was asked whether he agreed with Trump that the agreement was a 'big mistake,' Tillerson said it has gotten outdated and 'needs a re-look.'"
Politics
Trump Transition
"Thomas J. Donohue, the ever-energetic 78-year-old president and CEO of the U.S. Chamber of Commerce –emphasizing he is 'not here to offer a retirement speech' — urged the new Washington to forge ahead on a new path of sustainable, higher economic growth" [Logistics Management]. "And in bucking from Republicans anti-tax dogma, Donohue is again calling for a 'modest' increase in the federal tax on motor fuels to help pay for what Trump has promised will be up to $1 trillion in infrastructure spending over 10 years." A trillion over a decade isn't much, especially when you compare it to what the banks shook the country down for, and what we got out of it. Still, Donohue violating anti-tax dogma is an interesting straw in the wind.

Trump presser: "The dollar lost ground on disappointment over a lack of significant comments on fiscal policy" [Economic Calendar]. Yes, we're not hearing much about that, are we?

"Sen. Mark Warner had just brought up Russian hacking and the 2016 election during a high-profile Senate Select Intelligence Committee hearing when the lights went out" [Roll Call]. "'Due to Pepco conducting electrical work in the surrounding neighborhood, the Hart and Dirksen Senate Office Buildings has experienced a partial electrical disruption on multiple floors,' Senate Superintendent Takis Tzamaras wrote in an email to Senate staff around 10:45 a.m." Sure, sure. That's what they say.

"Trump's pick for CIA leader [Mike Pompeo] said he would refuse to restart enhanced interrogation techniques" [WaPo]. Good for him, though note that WaPo is still using the mealy-mouthed "enhanced interrogation tecnniques" instead of "torture."

"Trump aide Monica Crowley plagiarized thousands of words in Ph.D. dissertation" [CNN]. At Columbia?! How the heck did that happen? Who was her advisor? I don't know if Trump's voters care about this, but Trump ought to heave her over the side on general principle.
Realignment and Legitimacy
"Reeling from their inability to stop his election, envious of his power to make people believe his most ridiculous statements, and rinsed by a needy mood for self-soothing, the media and other American institutions are greeting the era of Trump by lowering their ethical and professional standards and indulging in attention-seeking hysteria. However cathartic it may be, the effect is suicidal for the media and dangerous for the nation" [The Week]. "[O]ur institutions can't temporarily suspend the very standards that grant them credibility and expect to survive." And it's always possible to make things worse…

"[B]oth parties are built upon unstable coalitions. For Democrats, it is a coalition driven by demographics. The Democratic mantra for the last eight years has been built around the idea that an increasingly diverse and urbanizing electorate was going to build them a permanent Electoral College majority. But, as we saw in 2016 and every midterm election since 2008, the only Democrat who was able to mobilize the "Obama coalition" was Barack Obama himself" [Cook Political]. A coalition held together by one man isn't a coalition at all, as I pointed out in early in 2016. As for the Republicans: "Speaker Ryan and Majority Leader McConnell have had their policies and priorities teed up for years. They've just been waiting for a GOP president to help implement them. Trump, meanwhile, has shown an incredible, um, flexibility on issues, policies and priorities. Without an ideological core to drive him and with no experience in the give and take of the legislative process, there's no telling what, or how, he will govern."

"The [Democrat] party is approaching the confirmation process as one of the first steps in its rebuilding effort following painful November losses" [RealClearPolitics]. "That effort includes getting opposition research and outside messaging groups into high gear, fundraising off of certain confirmation hearing highlights or controversies regarding some nominees, and coming up with a way to paint the administration they will run against in four years in an unflattering light." Hysteria is good for fundraising, so expect it to continue.

So Booker signals he's going to run in 2020 by the noise he made at the Sessions hearing. Then he took care to build up his campaign warchest:

@NomikiKonst Bernie's Amendment to reduce drug prices failed 52-46. Cory Booker voted against. Can't wait for Booker 2020 to be thrown at us

— Alex Sheltman (@AlexSheltman) January 12, 2017

"In 2020, the Democrats could run Streep, Leonardo DiCaprio, Beyonce, Matt Damon, or Rosie O'Donnell. Some might guffaw at this idea. After all, wouldn't running a celebrity candidate further associate Democrats with coastal elitism?" [The New Republic]. "But Democrats' main problem last year wasn't in appealing to anti-elitist voters; it was in getting out the party's base. A magnetic, attractive movie star would have a far better chance of accomplishing that than just another accomplished, dowdy politician."

"Bernie Sanders can win in 2020, but he has to make a critical choice right now" [CNBC]. I wish Sanders were four years younger….

"Is Bernie's Revolution Taking Over The California Democratic Party?" [Down with Tyranny]. Yes, according this story in Links this morning. Note the role played by the (badass) National Nurses United. Organizing infrastructure really, really helps and where else to you find it?
Stats Watch
Jobless Claims, week of January 7, 2017: "Jobless claims remain very low" [Econoday]. "This time of year, given short holiday weeks, is always difficult to adjust for, yet the data continue to point to stable and healthy conditions in the labor market." And but: "The general trend of the 4 week rolling average is a slowing rate of improvement year-over-year which historically suggests a slowing economy" [Econintersect].
Import and Export Prices, December 2016: "Cross-border inflation rates continue to show improvement, up 0.4 percent for import prices in December and up 0.3 percent for export prices" [Econoday]. "Finally emerging from a 2-1/2 year slump that was triggered by the 2014 collapse in oil prices, year-on-year growth in import prices is nearly at the 1.7 percent rate for consumer prices. Increases in import prices, though possibly centered in petroleum, are nevertheless looking to become a positive factor that could help lift overall inflation." And: "Import and export prices are now inflating year-over-year after years of deflation" [Econintersect].
Commodities: "In 2017, across natural resources 250 funds are look to raise just under $120 billion. Of those only 13 are primarily focused on metals and mining and are hoping to raise $10bn (although some of $2.9bn for diversified funds could go into mining). The biggest mining-focused fund is China's Power Capital which is seeking $3bn to invest in Asia. Diversified US-based Energy and Minerals Group is looking for $4 billion" [Mining.com].
Retail: "The company said it would 100,000 full-time jobs in the United States in the next 18 months" [247 Wall Street]. "A great deal of the coverage of the announcement focused on the decision as part of the Trump add-jobs-in-America-or-suffer-the-consequences movement, which appears to have captured all the Big Three car companies. Lost in that analysis the that the e-commerce company must have had a holiday season of explosive growth as it continued to suck the life out of brick-and-mortar retailers."
Shipping: "The dry bulk fleet is expected to grow at a slower pace than in previous years, thanks in part to higher demand growth and limited ordering of new vessels amid the worst market in history.Deutsche Bank expects average fleet growth of about 1% per year for the next three years" [Lloyd's List].
The Bezzle: "The U.S. Environmental Protection Agency on Thursday accused Fiat Chrysler Automobiles NV of illegally using hidden software that allowed significant excess diesel emissions, the result of a probe that stemmed from regulators' investigation of rival Volkswagen AG" [Reuters].
The Bezzle: "Google parent company Alphabet confirmed that it is opting for balloons instead of drones in its quest to deliver internet service from the sky" [France24]. Maybe they can put the money they're saving into customer service.
The Bezzle: "The U.S. Department of Transportation said Wednesday it is setting up an advisory committee that will include leaders of major automotive and technology companies, including General Motors Co. Chief Executive Mary Barra as co-chairman and executives at Amazon.com Inc., Uber Technologies Inc., Alphabet Inc. and FedEx Corp. among the 25 members" [Wall Street Journal, "U.S. Sets Up an Advisory Panel on Self-Driving Cars"]. "The DOT named as co-chairmen Los Angeles Mayor Eric Garcetti, a Democrat who sharply criticized Mr. Trump at last year's Democratic National Convention, and it included on the panel Robert Reich, a former secretary of Labor under President Bill Clinton who has strongly attacked GOP labor and economic policies."
Today's Fear & Greed Index: 54 Neutral (previous close: 61, Greed) [CNN]. One week ago: 70 (Greed). (0 is Extreme Fear; 100 is Extreme Greed). Last updated Jan 12 at 12:11pm. I wonder if this is a result of the deafening silence on infrastructure?
Water
"California rainfall ebbs but flooding continues" [Reuters (EM)].
Health Care
"Texas' Other Death Penalty" [Texas Monthly]. The health care system.
"How about people with pre-existing conditions? Just 135,000 people enrolled in the ACA's temporary Pre-existing Condition Insurance Plan. Another 226,000 people were previously covered by 35 state "high-risk pools." States can resume responsibility for this group of high-cost individuals. For example, Alaska just established a high-risk pool for 500 chronically ill residents to prevent 23,000 Alaskans from facing 40 percent premium increases in the individual market" [Twila Braze, Daily Caller]. I hate to link to the Daily Called, but in my experience Braze, though on the right, doesn't make stuff up. Frankly, that people with pre-existing conditions should be covered is so obvious to me as a matter of justice that it never occurred to me to count them. Readers?
Black Injustice Tipping Point
How bourgeois:
.@Deray and @TraceeEllisRoss exude strength in the January Issue of @Vogue: https://t.co/zR60URklXY pic.twitter.com/jqgSq5NNVg

— SAINT HERON (@SaintHeron) December 27, 2016
Decapitation works fast:
Is the KGB replacing the FBI/CIA? https://t.co/MvDBEXrcwF

— deray mckesson (@deray) January 4, 2017
Class Warfare
"Hierarchies aren't natural phenomena within the human race. Outside of parenting, human beings aren't born with the inclination to be ruled, controlled, 'managed,' and 'supervised' by other human beings" [The Hampton Institute]. Hierarchies are artificial constructs designed to serve a purpose. They are a necessity within any society that boasts high degrees of wealth and power inequities. They are a necessity for maintaining these inequities and ensuring they are not challenged from below."
"In a report from Bankrate.com, the firm found that almost six in 10 Americans don't have enough savings to pay for a $500 car repair or a $1,000 emergency room bill" [247 Wall Street]. "While Millennials may be looked down on by older demographics, they are the most equipped generation to pay for an unexpected expense using their savings. It was found that 47% of those within the ages of 18 to 29 responded that they would use their savings to cover such a burden, up from 33% in 2014." I'd argue that's not virtue, but a rational response to the neoliberal destruction of universal benefits and government services generally.
"[A] good deal of [Wallace] Stevens's poetic output conveyed a feeling of sehnsucht ("inconsolable longing"). For example, in 'Sad Strains of a Gay Waltz,' Stevens writes of American southerners (although the words just as easily apply to their author) as 'voices crying without knowing for what, / Except to be happy, without knowing how.' The object of Stevens's inconsolable longing changed over time. In his early professional days, when he first moved to New York City, it was his hometown of Reading, Pa. Writing to his future wife, Elsie, Stevens lamented that he 'lost a world' when he left there" [The American Conservative].
News of the Wired
"AT&T's Sponsored Data program may violate net neutrality, the FCC says" [WaPo]. "The warning comes as part of a white paper published by the Federal Communications Commission, which finds that AT&T's Sponsored Data plan and Verizon's FreeBee Data program could choke off the rise of online video companies that are not owned by or affiliated with the telecom giants."
"Wide Impact: Highly Effective Gmail Phishing Technique Being Exploited" [WordFence]. I have images turned off in my email so I can't click on them….
* * *
Readers, feel free to contact me with (a) links, and even better (b) sources I should curate regularly, and (c) to find out how to send me images of plants. Vegetables are fine! Fungi are deemed to be honorary plants! See the previous Water Cooler (with plant) here. And here's today's plant (Mrs. Mop):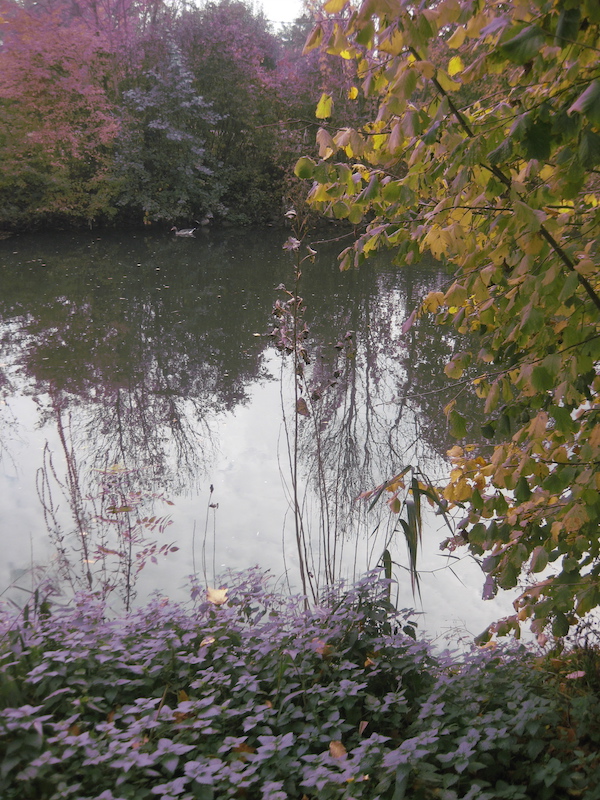 Readers, I've gotten more plant images, but I can always use just a few more; having enough Plantidotes is a great angst deflator. Plants with snow and/or ice are fine!
Readers, Water Cooler is a standalone entity, not supported by the very successful Naked Capitalism fundraiser just past. Now, I understand you may feel tapped out, but when and if you are able, please use the dropdown to choose your contribution, and then click the hat! Your tip will be welcome today, and indeed any day. Water Cooler will not exist without your continued help.