By Lambert Strether of Corrente
Politics
Readers, I have had a correspondent characterize my views as realistic cynical. Let me briefly explain them. I believe in universal programs that provide concrete material benefits, especially to the working class. Medicare for All is the prime example, but tuition-free college and a Post Office Bank also fall under this heading. So do a Jobs Guarantee and a Debt Jubilee. Clearly, neither liberal Democrats nor conservative Republicans can deliver on such programs, because the two are different flavors of neoliberalism ("Because markets"). I don't much care about the "ism" that delivers the benefits, although whichever one does have to put common humanity first, as opposed to markets. Could be a second FDR saving capitalism, democratic socialism leashing and collaring it, or communism razing it. I don't much care, as long as the benefits are delivered.
To me, the key issue — and this is why Medicare for All is always first with me — is the tens of thousands of excess "deaths from despair," as described by the Case-Deaton study, and other recent studies. That enormous body count makes Medicare for All, at the very least, a moral and strategic imperative. And that level of suffering and organic damage makes the concerns of identity politics — even the worthy fight to help the refugees Bush, Obama, and Clinton's wars created — bright shiny objects by comparison. Hence my frustration with the news flow — currently in my view the swirling intersection of two, separate Shock Doctrine campaigns, one by the Administration, and the other by out-of-power liberals and their allies in the State and in the press — a news flow that constantly forces me to focus on matters that I regard as of secondary importance to the excess deaths. What kind of political economy is it that halts or even reverses the increases in life expectancy that civilized societies have achieved? I am also very hopeful that the continuing destruction of both party establishments will open the space for voices supporting programs similar to those I have listed; let's call such voices "the left." Volatility creates opportunity, especially if the Democrat establishment, which puts markets first and opposes all such programs, isn't allowed to get back into the saddle. Eyes on the prize! I love the tactical level, and secretly love even the horse race, since I've been blogging about it daily for fourteen years, but everything I write has this perspective at the back of it.
Trump Transition
"Top GOP senators fear Trump order could become a 'self-inflicted wound in the fight against terrorism'" [WaPo]. Sad!

"Chaos over Trump immigration order may be just what he wanted" [McClatchy]. To me, the headline suggests Shock Doctrine, but the headline is sexed up by an editor, and not supported by the reporting, which includes good detail.

"In the electoral strongholds for Trump, residents seemed nonplussed about the uproar flashing across their television screens. They shrugged off concerns about botched execution, damage to foreign relations and legal challenges across the country" [Reuters]. There is some irony to the fact that the protests taking place at airports aren't resonating in flyover country (though see below for Birmingham).

"Trump doesn't need a deportation machine. Obama's already built it" [McClatchy].

"WHILE TRUMP IS CERTAINLY A SINGULAR FIGURE, we've seen people like him before in Washington. Rich business owners get elected or appointed to positions of power all the time and, in their quest to shake things up in a confining political environment, screw things up instead. Running a private company, where you're accountable to only yourself, is different than running a country, where you're accountable to 324 million people and 535 lawmakers, who won election just like the president" [Politico]. Trump never did own a peanut warehouse, but the point is the same. Yes, Carter was a governor, but his experience simply did not scale to the Beltway, and his team was too small.
Our Famously Free Press
"Social Media and Fake News in the 2016 Election" (PDF) [Hunt Allcott and Matthew Gentzkow]. "For fake news to have changed the outcome of the election, a single fake article would need to have had the same persuasive effect as 36 television campaign ads." The air war retains strategic primary.
Realignment and Legitimacy
A tweetstorm on organizing the current round of protests from The Nation's Sarah Jaffe. Neat stuff:

So I'm seeing a lot of coverage that implies protests came "out of nowhere." No. Organizers had been planning for this for a while.

— Sarah Jaffe (@sarahljaffe) January 29, 2017

Note that the immigration community already has organizers, and especially lawyers, teed up, as it were. Will that scale? We'll find out. It does strike me, however, that these protests demonstrate the extreme fragility and tight coupling of our infrastructure; the protests are, in essence, the same as an enormous blizzard bringing the entire air transport system to a halt. Now, if UPS, the truckers, and the longshoreman monkey-wrenched our equally tightly coupled and fragile supply chain, they could have a serious impact. They might, however, have broader and deeper concerns than refugees; say, wages and working conditions? Medicare for All?

This from Birmingham, AL (with a good round-up of history and activities here):

Birmingham, Alabama. I'd call this 3,000 now. pic.twitter.com/Qenz18BBMF

— Blake Ells (@blakeells) January 29, 2017

Things to watch for about protest pictures that I've noticed: (1) Not a pink pussy hat that I've seen, at JFK, SFO, SEA, or anywhere else. (2) Heavily cropped photos combined with high and unsourced crowd estimates. Yves, who was actually at the airport three times on the day of the protests, comments: "You can't get 3,000 or even 1,000 people into that baggage claim area. It has all of three, maybe four carousels." IMNSHO, once reason the brilliant victory on TPP was achieved was a rigorous focus on accuracy by activists.

Booker 2020:

In an impassioned speech to protesters on Saturday night, Sen. Cory Booker described President Trump's travel ban as "a crime and a sin" pic.twitter.com/p7CN1umzSb

— CNN International (@cnni) January 30, 2017

Schumer wept:

Trump mocks Sen. Schumer for crying during speech protesting the president's immigration ban https://t.co/xOrcWA5LpW pic.twitter.com/K4wG3kirK5

— Yahoo News (@YahooNews) January 30, 2017

* * *

#Resistance, from a Joy Ann Reid guest:

Folks, here's #TheResistence in all its glory pic.twitter.com/qr9xEvfJhW

— Gerard Di Trolio (@GerardDiTrolio) January 28, 2017

"Read David Frum." Help me.

* * *

"Trump's Rollback of the Neoliberal Market State" [John Robb, Global Guerillas]. "A market state, in contrast to the nation-state's focus on broad economic prosperity and cultural integration, focuses on providing opportunity to the individual. … Finally, and most importantly to me, Trump isn't dismantling neoliberalism to return to the old nation-state. He's building, with the help of social networking, a new model of governance for the US. One that operates more like Russia and China does (a reactive authoritarianism)." See from 2013 "Some Approaches to the Market State: Part I" (an ambitious agenda that sadly I was unable to complete).

"The theory that Americans will blame Trump for his failures in governance ultimately assumes a faith in government procedures and institutions that no longer exists" [Carl Beijer]. Meaning liberal whinging about "democratic norms, " which means their norms, is useless. "To defeat him, the opposition needs to abandon the submerged state and present a vision of government that powerfully and directly intervenes in society and gives people nice things:

Give people nice things, and make it easy. Provide things that it is generally understood that government should provide. Education, health care, roads, sidewalks, supertrains. Generous unemployment benefits, easier bankruptcy, affordable childcare that doesn't have some absurd eligibility formula, consumer protection laws. Everything should be universal benefits paid for by taxing rich people more than we do. (Atrios)

Beijer continues: "Use the government to give people what they want, and Trump loses his scapegoat. Hide the government behind the market, and America has nowhere else to turn – it can only get lost in the futile ambitions of messiahs and madmen." Smart post, well worth a read in its entirety. And it supports my priors! Adding: I think that Beijer's "submerged state" (not the fershuggeneh so-called "deep state") is really the same as Robb (and Bobbit's) "market state," and I think the latter terminology is preferable.

"An Open Letter to the Kentucky Democratic Party" [Medium]. This is, in a "Kentucky nice" sort of way, a brutal post on Democrat Party rot at the state level. You wonder why they lost?

"Recent court decisions in three states are putting carefully carved Republican-drawn state legislative districts at risk — and could even threaten the entire process of partisan map drawing" [WaPo]. Wisconsin, Maryland, Alabama.
Stats Watch
Personal Income and Outlays, December 2016: "Personal income rose a moderate 0.3 percent in December with the wages & salaries component posting a slightly better gain at 0.4 percent. The savings rate, however, fell in the month, down 2 tenths to 5.4 percent which helped to fund a strong 0.5 percent gain in consumer spending" [Econoday]. "In sum, income is still moderate and spending is solid though may be getting funded from savings." But: "year-over-year growth of income weakened, whilst consumption was unchanged" [Econintersect]. "Personal consumption has been the major driver of GDP since the end of the Great Recession. Inflation however, is dragging down the nominal numbers – and consumption continues to outpace income growth (this month inflation adjusted consumption grew 3 times faster than income). Remember these are average numbers – not median. One has to wonder how the low end of the households are coping." See the last link in the next stat. And, readers?
Pending Home Sales Index, December 2016: "The pending home sales index rose a very a strong 1.6 percent in December" [Econoday]. But: "The unadjusted data shows the rate of year-over-year growth declined this month – and the rolling averages declined. I see no signs that the residential sales market is improving" [Econintersect]. And: "There were very significant variations across price ranges with sales increasing close to 10% over the year for homes priced over $250,000, while there was an 11.6% decline in sales for homes priced below $100,000. The lack of supply at the lower end of the range was an important factor in curbing sales" [Economic Calendar].
Dallas Fed Manufacturing Survey, December 2016: "The Dallas Fed joins other regional reports pointing to strength for the nation's factory sector" [Econoday]. "This report offers a special look at the oil patch, underscoring that 2-1/2 tough years following the price collapse for oil are finally behind the sector."
Retail: "New research shows that 20% of all grocery sales will be handled online by 2025. That figure equates to $100 billion" [247 Wall Street].
Shipping: "The [below] graph underlines that the [Baltic Dry Index] has been very volatile in recent years, particularly between 2005 and 2009 when it behaved as a bubble. The main driver of this surge was linked to commodity prices, particularly oil. The index then plummeted back to historical levels and has remained weak in spite of a recovery in global trade. A factor is that many ships were ordered during the 'bubble years' and have entered the market, providing capacity growth above demand growth. In recent years the BDI remains low, underlining a situation of excess capacity in the shipping industry."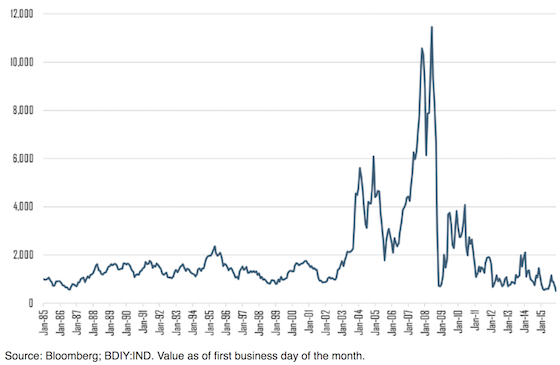 I'm wondering if there's more to it than too much stupid money going into ships. What I'm noticing is that the BDI has now fallen — and it can't get up! And it's where it was at the beginning of the neoliberal dispensation. So I'm wondering whether it's not a matter of Trump slamming the brakes on globalization; it's been slowing for some years, making Trump froth on larger trends (a pleasant picture). Readers? Oh, and this is why all the shippers are moaning, and trying to solve their problems by even more consolidation.
The Fed: "The Fed will take a pass at this week's FOMC meeting. The median policy participant forecasts just three 25bp rate hikes this year and incoming data offers no surprises to force one of those this month. March, however, remains in play" [Tim Duy's Fed Watch].
The Fed: "Until there is a convincing move to the 2.0% target area [of the Personal Consumption Expenditure], the Fed will find it more difficult to justify further monetary tightening. In particular, it will be difficult to convince a majority of FOMC members to tighten at a faster pace and the low reading will also support the position of more dovish members on the FOMC" [Economic Calendar]. Of course, if Trump really is a fascist, J-Yel is morally obligated to rain on his Autobahn by raising rates, dot plot be damned.
Political Risk: "2017 Rate Outlook: Will the pieces fall into place?" (shipping rates, not the Fed) [Logistics Management]. "Up until the recent U.S. presidential election, most global economists believed that Brexit would be the major "game changer," but then came along Donald Trump—the surprise populist winner who pledged to invest in domestic transport infrastructure while renegotiating pending international trade agreements."
Today's Fear & Greed Index: 52 Neutral (previous close: 60, Greed) [CNN]. One week ago: 50 (Neutral). (0 is Extreme Fear; 100 is Extreme Greed). Last updated Jan 30 at 12:29pm. Can't be greedy with Trump doing the "own goal" thing!
Health Care
"Man Dying From Cancer Spends Last Good Day On Phone With Insurance Company" [The Onion].
The 420
"Maine on Monday became the eighth state in the nation to allow adults over the age of 21 to possess and consume marijuana for recreational purposes" [The Hill].
Gaia
"Rapid trait evolution crucial to species growth, study finds" [Phys.org]. "'Recently, researchers have hypothesized that evolution of key traits at a range edge could significantly affect spread rates,' said Christopher Weiss-Lehman, a doctoral researcher in CU Boulder's Department of Ecology and Evolutionary Biology and lead author of the new study. 'This is one of the first experimental studies to rigorously test this idea.'"
Class Warfare
Maybe sleeping under your desk for options you'll never cash in won't be a thing any more:
Tesla workers, does this make you angry? https://t.co/MXYs2f9D4f Let's organize and put a stop to it. Start here: https://t.co/XF2WquzjuI

— TechSolidarity (@TechSolidarity) January 30, 2017
News of the Wired
"How to build a medieval castle" [History Extra]. "Top tip: Identify the places where the topography dominates transport routes: these are natural sites for castles." Especially if you want to become a robber baron! From 2014, but should be useful under neo-feudalism. Winter is coming…
"How Diversity Makes Us Smarter" [Scientific American]. Ah, "smart." "Innovation" in — let me check — paragraph one.
"Lossless Web Navigation with Trails" [Medium]. Tabs and Show History functionality combined…
"Harvard scientists announce they've created metallic hydrogen, which has been just a theory" [Harvard Gazette].
"Twitter Activist Security" [the grugq, Medium]. Very important!
* * *
Readers, feel free to contact me with (a) links, and even better (b) sources I should curate regularly, and (c) to find out how to send me images of plants. Vegetables are fine! Fungi are deemed to be honorary plants! See the previous Water Cooler (with plant) here. And here's today's plant:

Maine-et…
Readers, Water Cooler is a standalone entity, not supported by the very successful Naked Capitalism fundraiser just past. Now, I understand you may feel tapped out, but when and if you are able, please use the dropdown to choose your contribution, and then click the hat! Your tip will be welcome today, and indeed any day. Water Cooler will not exist without your continued help.