By Lambert Strether of Corrente
Trade
"White House spokesman Sean Spicer told reporters on Air Force One the [Mexican border] tax could raise $10 billion a year, enough to "easily pay for the wall just through that mechanism alone" [Politico]. Of course, Federal taxes don't "pay for" Federal spending. It's amusing to see Republicans trapped in their version of the austerity box.
"Trump's pick for EU ambassador: TTIP unlikely: Professor Ted Malloch, the man Trump chose to be the next ambassador to the European Union, told the BBC earlier this week that he didn't see much chance of a U.S.-EU free-trade agreement because the 28-nation bloc appears to be falling apart" [Politico].
Politics
Trump Transition
"Will Donald Trump coopt conservatives on Capitol Hill, or will he be coopted? This tug of war will be one of the most important storylines of 2017, and after a week of caving to the new president, there were glimmers yesterday that at least some in Congress will assert themselves after all" [WaPo]. Presumably the principled conservatives whose constituents didn't vote for Clinton, even after her pivot away from Sanders voters toward suburban Republicans?

"In addition to a loaded slogan–'America First'-and a questionable demeanor, it is now apparent that President Donald J. Trump actually has a governing ideology. His Inaugural Address, the strongest and most coherent speech he's ever delivered, was a clear statement of that philosophy. It may change the shape of domestic politics. It may overturn the international order that has existed for 70 years. It certainly deserves more than the "divisive" dismissal it received from liberals–and more than the puerile crowd-size diversion that its perpetrator stumbled into during the days after he delivered it" [Joe Klein, Time]. "Here's the crucial paragraph: "For many decades, we've enriched foreign industry at the expense of American industry; subsidized the armies of other countries, while allowing for the very sad depletion of our military. We've defended other nations' borders while refusing to defend our own; and spent trillions of dollars overseas while America's infrastructure has fallen into disrepair and decay." Don't you hate it when Trump's right?
Revolt of the Worker Bees
There are plenty of credentialed professionals — pharma salesmen, scrip doctors, bent "financial professionals," the scorps, university administrators — that I have little sympathy for. However, people boring ice cores in the Arctic, or taking care of our national parks are a different matter. So this is interesting:

There are now at least 14 "rogue" Twitter accounts from federal science agencies:https://t.co/WOq4Hc5yd1 pic.twitter.com/BpARmzY0xN

— Eric Holthaus (@EricHolthaus) January 25, 2017

Maybe Wikileaks would be willing to host a scientific data? From my armchair at 30,000 feet, I can't help that an effort to make sure all the public's data stays public would benefit from a co-ordinated, branded effort (not to mention offshore hosting).
Gnashing of Teeth and Rending of Garments
"How did it come to this? To begin with, two things Trump (and many others) have observed are correct. for the middle class and the poor, and especially so for the less-educated working class" [Los Angeles Review of Books]. Not to mention the excess deaths. Those were dispiriting, eh? "We have lost, we are lost. Not an election, but a civilization. Where does that leave us? I think the metaphor is one of (political) resistance." What do you mean, "we"?

"Yes, Tom Brady's Friendship With Donald Trump Matters" [The Nation]. "Trump uses these relationships as a tool of legitimization." I understand that liberals are fomenting a legitimacy crisis, despite the presence of Pence as an insurance policy (or did I miss that Pence is a responsible Republican?). But last I checked, Trump won the electoral vote, fair and square. Was appointed by the Electoral College, fair and square (and after a hilarious backfire where "faithless electors" actually voted against Clinton, not Trump). Took the oath of office. And now Democrat Senators are in the process of approving his Cabinet appointments. Meanwhile, the CIA, who surely knows if anybody does ifTrump is really a traitor (that is, controlled by Putin) or, in the alternative narrative, a fascist, has confined itself to releasing easily debunkable reports and dossiers, instead of (say) sending in a wet team which (see von Stauffenberg) they are morally obligated to do, if Trump is indeed the second coming of Hitler. So in what sense is Trump "illegitimate"? In the immortal words of William Gibson (All Tomorrow's Parties): "Fortunately, it isn't about who's an asshole. If it were, our work would never be done."
Women's March on Washington
"Enter the Pussyhat" [N+1]. A survey of participants. More like this, please!
Our Famously Free Press
"The traditional way of reporting on a president is dead. And Trump's press secretary killed it." [Margaret Sullivan, WaPo]. "White House press briefings are "access journalism," in which official statements — achieved by closeness to the source — are taken at face value and breathlessly reported as news. And that is over. Dead." Like that's bad? "Spicer's statement [on crowd size] should be seen for what it is: Remarks made over the casket at the funeral of access journalism. As Jessica Huseman of ProPublica put it: "Journalists aren't going to get answers from Spicer. We are going to get answers by digging. By getting our hands dirty. So let's all do that." I like Sullivan, but two things: First, I'd have a lot more sympathy for journalists "getting their hands dirty" and seeking facts if both the venues Sullivan worked at — WaPo and the Times — hadn't spent the 2016 suppressing news about Sanders, or smearing him. Second, journalism where access is to the President may be dead, but it seems to have been replaced by journalism where the access is to anonymous CIA officials. So, reports of the death of access journalism are, sadly, greatly exaggerated.
Realignment and Legitimacy
"More important still—the most important moment of the first week—was the meeting with union leaders. Mr. Trump gave them almost an hour and a half. "The president treated us with respect, not only our organization but our members," said Terry O'Sullivan, general president of the Laborers' International Union of North America, by telephone" [Peggy Noonan, Wall Street Journal, "Trump Tries to Build a 'Different Party"]. "The lengthy, public and early meeting with the union leaders was, among other things, first-class, primo political pocket-picking. The Trump White House was showing the Democratic Party that one of its traditional constituent groups is up for grabs and happy to do business with a new friend. It was also telling those Republicans too stupid to twig onto it yet that the GOP is going to be something it's actually been within living memory: the party of working men and women, a friend of those who feel besieged." I don't believe that for a minute, but ya know, when I look at this "resistance manual," or the "Unity Principles" of the Women's March, I don't see concrete material benefits for the working class. I don't see Medicare for All. I don't see free college. I don't see a Post Office Bank. I don't see a $15 an hour minimum wage. And on and on and on. In other words, I don't see "the party of working men and women" in the Democrat Party either. This after a primary in which a seventy-something Socialist pushed all those policies to millions, very successfully. Could there be a reason for that erasure? What is it, really, that's being resisted? After all, the Obama administration successfully resisted passing card check…

(Obama did not, of course, pass "health care." He passed a(n insanely complex) market-based health insurance plan that wasn't a universal benefit.)

"The election of Donald Trump has sent millions of people pouring out onto the streets to protest a man they think is a racist, misogynist, xenophobic bully who will destroy US democracy in his quest to establish himself as supreme fascist ruler of the country" [CounterPunch (Re Silc)]. "Maybe they're right…. But where were these people when Obama was bombing wedding parties in Kandahar, or training jihadist militants to fight in Syria, or abetting NATO's destructive onslaught on Libya, or plunging Ukraine into fratricidal warfare, or collecting the phone records of innocent Americans, or deporting hundreds of thousands of undocumented workers, or force-feeding prisoners at Gitmo, or providing bombs and aircraft to the Saudis to continue their genocidal war against Yemen? Where were they? They were asleep, weren't they? Because liberals always sleep when their man is in office, particularly if their man is a smooth-talking cosmopolitan snake-charmer like Obama…" It strikes me that this is a little bit like the "blaming the voters" thing that establishment Democrats do. I think one can rightly ask where the leaders and organizers were; I don't think it makes sense to ask why millions weren't self-mobilizing. And the real issue, I've urged, is how that "energy" will be exploited; if by the likes of Neera Tanden, "resistance" is really just a synonym for "restoration," a return to the status quo ante.

"For the coun­try to re­gain his­tor­ic­al bal­ance, either the Re­pub­lic­ans will have to start fight­ing among them­selves or the Demo­crats must drift to­ward the cen­ter. It may take both" [Charles Cook, The Cook Political Report]. "My bet is that Re­pub­lic­an elec­ted of­fi­cials are go­ing to be ex­tremely re­luct­ant to pub­licly break with Trump, des­pite his an­em­ic poll num­bers. GOP of­fice­hold­ers and party of­fi­cials will con­tin­ue to fear the wrath of the Trump back­ers at the first sign of cri­ti­cism. With so few Re­pub­lic­ans likely to face strong Demo­crat­ic chal­lenges in 2018, either be­cause few GOP seats are up or be­cause few House in­cum­bents are in com­pet­it­ive dis­tricts, primary chal­lenges are their biggest fear, so they are un­likely to do any­thing to an­ger the Trump faith­ful. On the Demo­crat­ic side, can any­one win the nom­in­a­tion run­ning from the middle?" Gillibrand "ad­vert­ised her left­ward move," and Booker "[struck] a sim­il­ar pose." Help me.

"Today's wild scene on the streets of Philadelphia of several thousand people marching, chanting and protesting Trump's speech at the Loews Hotel to congressional Republicans has already become practically routine" [Will Bunch, Philadelphia Daily News]. "It's the New Normal, and yet – – America has never seen anything quite like this, with so many regular folks so eager to demonstrate their disapproval of a new president by any means they can think up." Ugh. "Folks"? Come on. (Incidentally, "crowd size" is a key part of protest narrative; and the photos I saw of the Philly demo looked pretty thin on the ground, which is the way that "several thousands" looks, in fact. Trump isn't being stupid when he makes crowd size a point of contestation; see Margaret Sullivan above.)
Stats Watch
Durable Goods Orders, December 2016: "Civilian aircraft is the usual culprit behind volatility in the durable goods report but not in December, as defense aircraft makes a second straight appearance. A 64 percent downswing in orders for defense aircraft reversed a similar upswing in November and pulled down total durable goods to a much lower-than-expected 0.4 percent decline in December. But when excluding transportation equipment, orders actually hit the consensus at plus 0.5 percent" [Econoday]. "The strength in the report is centered in capital goods where core orders (nondefense ex-aircraft) posted a strong 0.8 percent gain with November's increase revised 6 tenths higher to 1.5 percent…. A significant negative in the report is a 0.6 percent decline in unfilled orders which continue to shrink. Lack of work to do is a negative for employment." And: "[T]he three month rolling average which declined but remains in expansion. The real issue here is that inflation is starting to grab in this sector making real growth much less than appears at face value. The trends on this series are not indicating any real economic improvement" [Econintersect]. And hold your horses on capital spending: "There will be a high degree of uncertainty over 2017 investment trends, especially with companies expecting significant changes to taxation and trade policies. There is a risk that major investment plans could be delayed until there is greater clarity over tax and trade policies" [Economic Calendar].
GDP, Q4 2016 (advance estimate): "A perhaps unwanted build in inventories drove up fourth-quarter GDP which, however, could only manage 1.9 percent annualized growth. Inventories added 1 percentage point to the quarter in a build that will have to be worked off given weakness in final demand which rose only 0.9 percent and down from 3.0 percent in the third quarter" [Econoday]. "Heavy inventories will work to pull back production and employment in the ongoing quarter. But the wildcard is still the consumer who, benefiting from a strong jobs market and strong confidence, can still give the first quarter a lift." And but: "The consumer spending decline, the trade balance worsened – and GDP should have been worse due to the gaming of inventory hocus-pocus. I am not a fan of quarter-over-quarter exaggerated method of measuring GDP – but my year-over-year preferred method showed moderate improvement from last quarter" [Econintersect]. And: "Still no worries – residential investment will pickup (still very low), and oil and related non-residential will also pickup" [Economist]. On the other hand: "And without the undesired inventory build due to lower sales, it would have only been up .9% for q4, and .25% lower year over year. Personal Consumption (which includes health insurance premiums) has gone from +q2;s 4.3 to q3's +3.0 to q4's +2.5 and we've kicked off the new year with a big drop in vehicle sales and a big drop in housing starts, etc." [Mosler Economics].
Consumer Sentiment, January 2017: "Consumer sentiment remains very strong…. and at the cycle highs where it's been since the November election. Prospects for future income are the highest in a decade, though the sample is split between optimism among Republicans offsetting pessimism among Democrats" [Econoday]. "[A] point to remember is that the post-election spike in confidence, both consumer in confidence and business confidence, did not result in great strength for the fourth-quarter economy." And, quoting the University of Michigan's report: "When the same consumers were re-interviewed from six months ago, the survey recorded extreme swings based on political party affiliation, with Democrats becoming much more pessimistic and Republicans much more optimistic. Such divergences will ultimately converge since consumers hold economic expectations to be useful decision guides, which will require both sides to temper their extreme views" [247 Wall Street]. Hmm… And: "Final January 2017 Michigan Consumer Sentiment Highest in 12 Years" [Econintersect].
Rail: Up 2.6% when you back out coal and grain. "Almost all the data was positive this week. The rolling averages improved. It seems the improving trend continues" [Econintersect]. "Stuff" is moving!
Shipping: "Total 2016 intermodal volumes are down annually" [Logistics Management]. "IANA President and CEO Joni Casey said at the RailTrends Conference, which was held last November in New York by Progressive Railroading magazine and independent railroad analyst Tony Hatch, that decreases in ISO [i.e., international] volumes have hit all North American markets, while most of those same regions continue to see domestic volume growth. She described the current ISO outlook as a 'mystery and a challenge' to industry stakeholders."
Shipping: "Carriers are starting 2017 with fewer trucks than they had at the start of last year, and may look again at their fleet plans if the business doesn't find some balance" [Wall Street Journal].
Fodder for the Bulls: "Both ECRI's and RecessionAlerts indicies are indicating moderate growth six months from today. Both indices are in a growth cycle with both indices improving. Still, they are indicating conditions 6 months from today may be somewhat better than today" [Econintersect].
Honey for the Bears: "The only way to describe Friday's key economic reports would be disappointing. The durable goods reading for December was soft, and the first-quarter look at fourth-quarter gross domestic product (GDP) was significantly softer than you might have hoped for in the wake of the post-election rally" [247 Wall Street]. "While these reports might give some of the economic policy critics more fodder, the reality is that many of the policies that were promised during the election will not actually start showing up until later in the 2017 and into the 2018 readings. And that assumes that they will actually succeed in Congress."
Today's Fear & Greed Index: 59 Greed (previous close: 58, Greed) [CNN]. One week ago: 54 (Neutral). (0 is Extreme Fear; 100 is Extreme Greed). Last updated Jan 27 at 12:08pm. Treading water.
News of the Wired
"A dystopian business simulator" [The Founder].
"Is the Default Mode of the Brain to Suffer?" [New York Magazine]. It's really tempting to regard this article as a consequence of Trump's victory…
"Paralyzed man regains use of arms and hands after experimental stem cell therapy at Keck Hospital of USC" [USC Stem Cell].
"New research into the underlying molecular mechanisms of opioids has made possible the discoveries of new compounds that might just allow for the relief of pain without some of the worst side effects of traditional opioids" [Smithsonian]. Conveniently timed…
* * *
Readers, feel free to contact me with (a) links, and even better (b) sources I should curate regularly, and (c) to find out how to send me images of plants. Vegetables are fine! Fungi are deemed to be honorary plants! See the previous Water Cooler (with plant) here. And here's today's plant (B1whois):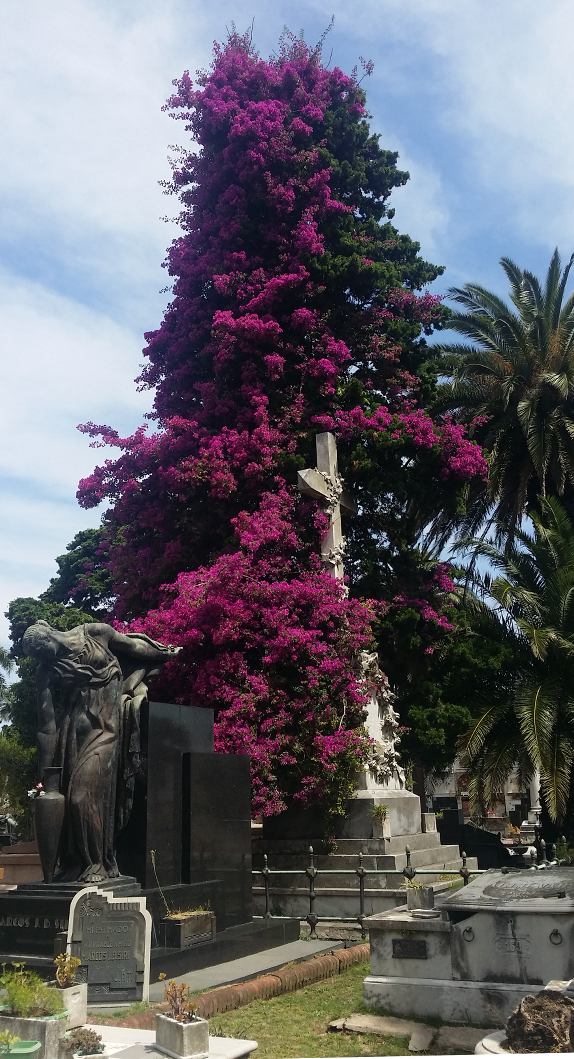 B1whois writes: "I delight in seeing the hubris of man overtaken by inevitability of nature."
Readers, Water Cooler is a standalone entity, not supported by the very successful Naked Capitalism fundraiser just past. Now, I understand you may feel tapped out, but when and if you are able, please use the dropdown to choose your contribution, and then click the hat! Your tip will be welcome today, and indeed any day. Water Cooler will not exist without your continued help.