By Lambert Strether of Corrente
Politics
2016 Post Mortem
"What went wrong? Dem. Party contestants to face tough questions" [USA Today]. "As the party searches for a new chair and vice chair, the DNC has decided to hold four regional forums, moderated by journalists instead of party insiders. It's the first time Democrats have held regional forums for party elections in more than ten years." Guess who the forum chair in Phoenix is? Jon Ralson, the "reporter" who smeared the Sanders campaign with his fake story on chair-throwing at the Nevada caucus. "Journalists instead of party insiders" my sweet Aunt Fanny.

"President Obama and first lady Michelle Obama will host a goodbye party for close friends and major donors Friday, according to a person with knowledge of the marquee affair" [WaPo].
Realignment and Legitimacy
2017 is already great. Be sure to read the image:

This seems unhelpful pic.twitter.com/PXIOVptUte

— Chris Arnade (@Chris_arnade) January 8, 2017

"The End of Progressive Neoliberalism" [Dissent]. "n its U.S. form, progressive neoliberalism is an alliance of mainstream currents of new social movements (feminism, anti-racism, multiculturalism, and LGBTQ rights), on the one side, and high-end "symbolic" and service-based business sectors (Wall Street, Silicon Valley, and Hollywood), on the other. In this alliance, progressive forces are effectively joined with the forces of cognitive capitalism, especially financialization. However unwittingly, the former lend their charisma to the latter. Ideals like diversity and empowerment, which could in principle serve different ends, now gloss policies that have devastated manufacturing and what were once middle-class lives." And not just manufacturing. And what a sloppy formulation "middle class" is, to be sure. Still, the idea of "charisma" is useful.

"The Democratic Shake-Up in Virginia" [National Journal]. "TThe first in­tra­party Demo­crat­ic show­down of the new year will take place in Vir­gin­ia, where former Rep. Tom Per­ri­ello ab­ruptly an­nounced his can­did­acy for gov­ernor Thursday. His de­cision ended Demo­crat­ic hopes of unit­ing be­hind Lt. Gov. Ral­ph Northam be­fore the gen­er­al elec­tion and cre­ates a split between the party's prag­mat­ic and pro­gress­ive wings." I don't know why the faction in charge of the Democrat Party is called "pragmatic" when they've lost control of the legislative and executive branches of the Federal government, and most statehouses. What's pragmatic about that?

"President-elect Donald Trump won an intraparty proxy battle over Ohio Gov. John Kasich Friday, ousting Ohio's state GOP chairman who'd been selected by the governor." [Wall Street Journal].
Stats Watch
I've accumulated too many bezzles without being able to get to them, so here's a bunch. –lambert
Labor Market Conditions Index, December 2016: "The economy may be at full employment but it's not helping the labor market conditions index which remains flat" [Econoday].
Coops: "At long last, Boulder approves new co-op housing ordinance" [Daily Camera (DB)].
The Bezzle: "In conservative India, a startup is helping unmarried couples find a room" [Quartz]. "Enter StayUncle. The New Delhi-based startup has tied up with hotels where unmarried couples can rent rooms for a duration as short as 8-10 hours." What could go wrong?
The Bezzle: "Right now the most expensive house sold in San Francisco in 2016 belongs to Kyle Vogt, a 30-year-old co-founder of Cruise, an autonomous technology startup recently acquired by GM" [HuffPo]. I can't really do justice to this piece.
The Bezzle: "Faraday Future Has A Long Way To Go To Prove It's Not Bullshit" [Jalopnik].
The Bezzle: Sleep startups [New York Times]. "'I'm fascinated by helping people live better,' said Mr. Proud, 25, a British citizen who came to the United States via the Thiel Fellowship, which gives entrepreneurs $100,000 for skipping college. 'And sleep is the foundation of everything. So it's the best place to start.'" So the device wakes you up if you don't pay your monthly fee?
The Bezzle: And then there's this:
thank god someone finally put the internet in a hairbrush https://t.co/2wYMqvwkh3 pic.twitter.com/1axBpGUvhY

— Internet of Shit (@internetofshit) January 5, 2017
The Bezzle: "The Ugly Unethical Underside of Silicon Valley" [Fortune]. "No industry is immune to fraud, and the hotter the business, the more hucksters flock to it. But Silicon Valley has always seen itself as the virtuous outlier, a place where altruistic nerds tolerate capitalism in order to make the world a better place. Suddenly the Valley looks as crooked and greedy as the rest of the business world. And the growing roster of scandal-tainted startups share a theme. Faking it, from marketing exaggerations to outright fraud, feels more prevalent than ever—so much so that it's time to ask whether startup culture itself is becoming a problem." Gosh, I know it's unfair, but I file "startup" under "The Bezzle" automatically.
The Bezzle: "Under securities rules sometimes referred to Regulation A-Plus, which took effect late last year, small companies are allowed to raise up to $50 million each year through stock or debt. Much of it can come from individuals who are not 'qualified' — that is, from people making less than $200,000 per year, or having net assets below $1 million" [New York Times]. "To prevent swindlers from trying to shake down naïve investors, the Securities and Exchange Commission bars certain 'bad actors' from being on a company's management team. That includes those with certain criminal convictions, or those who have engaged in fraudulent activities or are subject to cease-and-desist orders." Well, that's re-assuring. I hope they know how to check for straws.
The Bezzle: "No One Questioned This Hedge Fund's Madoff-Like Returns" [Bloomberg]. "That Platinum was able to avoid scrutiny for so long illustrates flaws in the post-Madoff regulatory regime. While the SEC says it now conducts "risk-based examinations" of funds that have suspiciously smooth returns, the agency didn't do a thorough on-site audit of Platinum until 2015, according to a person with knowledge of the matter. Judy Burns, an SEC spokeswoman, declined to comment."
The Bezzle: "Google Sued by U.S. for Declining to Disclose Compensation Data" [Bloomberg]. "Google was asked in September 2015 to submit information about its equal opportunity program, and to provide supporting documents for a compliance review, the agency said in a statement. Google is required to let the government inspect records for an audit because it's a federal contractor, the department said."
Today's Fear & Greed Index: 68 Greed (previous close: 68, Greed) [CNN]. One week ago: 86 (Greed). (0 is Extreme Fear; 100 is Extreme Greed). Last updated Jan 9 at 1:01pm. Still the doldrums.
Health Affairs
"A surprise medical bill is a bill from an out-of-network provider that was not expected by the patient or that came from an out-of-network provider not chosen by the patient. In 2014, 20 percent of hospital inpatient admissions that originated in the emergency department (ED), 14 percent of outpatient visits to the ED, and 9 percent of elective inpatient admissions likely led to a surprise medical bill" [Health Affairs]. Yikes. That's a lot of balance billing!
Gaia
"The crack in this Antarctic ice shelf just grew by 11 miles. A dramatic break could be imminent" [WaPo (PT)]. "An enormous rift in one of Antarctica's largest ice shelves grew dramatically over the past month, and a chunk nearly the size of Delaware could break away as soon as later this winter, British scientists reported this week." And check out the picture. It's impressive. Here's the original: "Larsen C Ice Shelf poised to calve" [Project Midas]. "Only a final 20 km of ice now connects an iceberg one quarter the size of Wales to its parent ice shelf."
"Climate change may shut down a current that keeps the North Atlantic warm" [The Verge]. The Atlantic Conveyer. Hoo boy. The Brits could have bigger problems than Brexit.
Class Warfare
"Almost all the US jobs created since 2005 are temporary" [Quartz]. ""[Survey research conducted by economists Lawrence Katz of Harvard University and Alan Krueger at Princeton University shows shows] that 94% of net job growth in the past decade was in the alternative work category," said Krueger. "And over 60% was due to the [the rise] of independent contractors, freelancers and contract company workers." In other words, nearly all of the 10 million jobs created between 2005 and 2015 were not traditional nine-to-five employment." I think we've posted Katz and Krueger's study before, but these workers are really going to get screwed by a "continuous coverage" requirement under TrumpCare.
"$15 minimum wage starts in Seattle" [KOMO News].
"Dissecting the Falling Labor Force Participation Rate" [Federal Reserve Bank of St Louis].
"In Tampa, Food Not Bombs activists arrested for feeding the homeless—again" [Creative Loafing].
News of the Wired
"The complete guide to noise-canceling in open offices and other hectic spaces" [Quartz].
"DeepStack: Expert-Level Artificial Intelligence in No-Limit Poker" [Archiv.org].
"Humans Mourn Loss After Google Is Unmasked as China's Go Master" [WSJ].
"From Tape Drives to Memory Orbs, the Data Formats of Star Wars Suck (Spoilers)" [Vice].
"Kodak says it's bringing back Ektachrome film, and photographers everywhere are smiling" [WaPo]. Like vinyl.
"The discovery of medieval Trellech and the plucky amateurs of archaeology" [The Conversation]. "It may seem surprising that an entire medieval town could become lost from the historical record for more than 500 years, but in fact this is more common than you might think. Medieval Britain was characterised by poor documentary records, particularly outside major centres of political or religious power like London, Edinburgh, York or Canterbury."
* * *
Readers, feel free to contact me with (a) links, and even better (b) sources I should curate regularly, and (c) to find out how to send me images of plants. Vegetables are fine! Fungi are deemed to be honorary plants! See the previous Water Cooler (with plant) here. And here's today's plant (CR):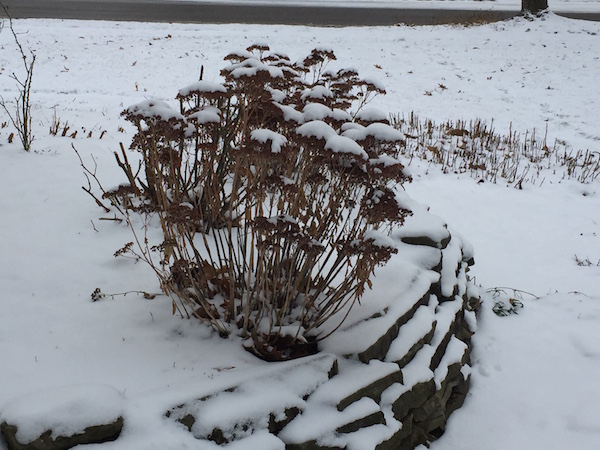 CR: "Zero-degree sedum."
Readers, I've gotten more plant images, but I can always use just a few more; having enough Plantidotes is a great angst deflator. Plants with snow and/or ice are fine!
Readers, Water Cooler is a standalone entity, not supported by the very successful Naked Capitalism fundraiser just past. Now, I understand you may feel tapped out, but when and if you are able, please use the dropdown to choose your contribution, and then click the hat! Your tip will be welcome today, and indeed any day. Water Cooler will not exist without your continued help.