By Lambert Strether of Corrente.
"It took me a long time to discover that the key thing in acting is honesty. Once you know how to fake that, you've got it made." –Actor in Peyton Place, 1970
So the news is like sincerity (and honesty)? Or not? Interestingly, the epigraph comes from the start of the neoliberal dispensation, but let's not go down a rathole of meta. Or rather, let's go down another rathole of meta by quoting defeated Presidential candidate Hillary Clinton, who seems to have been the (self-infected) Patient Zero for the "fake news" moral panic when she spoke these words (C-SPAN) at the unveiling of Harry Reid's portrait, December 8, 2016:
[CLINTON:] Let me just mention briefly one threat in particular that should concern all Americans, Democrats, Republicans and independents alike, especially those who serve in our Congress: the epidemic of . It's now clear that . This isn't about politics or partisanship. Lives are at risk, lives of ordinary people just trying to go about their days, to do their jobs, contribute to their communities.

IIt's a danger that must be addressed and addressed quickly. Bipartisan legislation is making its way through Congress to boost the government's response to , and Silicon Valley is starting to grapple with the challenge and threat of . It's imperative that leaders in both the private sector and the public sector step up to protect our democracy and innocent lives."
(Presumably that "bipartisan" — dread word — legislation was the "Countering Foreign Propaganda and Disinformation Act," discussed at NC in detail here.) Parsing this verbiage, we find it unusually sloppy and dishonest, even for Clinton. What, for example, is the distinction between "malicious fake news" and "so-called fake news"? Is sincerely meant (not "malicious") and/or genuine (not "so-called") fake news not really fake? And how is it that we start with "false propaganda" and end with "foreign propaganda"? Obviously, whatever "danger" is to be "addressed" can't be from "fake news" as such, since conceptually there's no there there. Democrat establishment lapdog Paul Krugman makes Clinton's agenda more clear:
Still, none of this would work without the complicity of the news media. And I'm not talking about "fake news," as big a problem as that is becoming; I'm talking about coverage.
So, "fake news" just doesn't happen in "respectable, mainstream news" outlets (showing Yves was quite right to cite to independent, alternative media, like Naked Capitalism, as being under the blame cannons). But Krugman's vulgar institutionalism gets us no forrader on "fake news" conceptually, does it? Here's the best taxonomy of "fake news" that I've been able to find. From Matthew E. Kahn's blog, Environmental and Urban Economics, "The Economics of Fake News":
There are four cases to consider.

Case #1: Both the supplier and demander know that the story is false. Think of the National Enquirer stories stating that Elvis is on Mars.

Case #2: The supplier knows the story is false but the demander believes the story is true.

Case #3: The supplier believes the story is true and the demander believes the story is true.

Case #4: The supplier believes the story is true and the demander believes the story is false.

"Fake News" has no social consequences in cases #1 or case #4. Case #3 will feature no strategic element. This is just Tiebout sorting[1] in ideological space.
Tellingly, the articles listed at the Snopes "fake news" tag (e.g., "Did a Man Lock His Daughter in a Cage for Overusing a Snapchat Filter?" [FALSE]) fall primarily into Case #1 (that is, no social consequence, since both supplier and demander know the fake news is fake). And the "malicious" "foreign" WikiLeaks, DCLeaks, and Guccifer Democrat email leaks are Case #3: The supplier believes the story is true, and the demander believes the story is true.[2]. Case #4 (the supplier believes the story is true, and the demander believes the story is false) may end up applying to us all, if current trends continue, but again, let's not go down the rathole.
So the interesting case is Case #2: The supplier knows the story is false but the demander believes the story is true. And the nice thing about Kahn's taxonomy is that it abstracts away from institutions, so we don't have to accept Krugman's silly, and self-serving, notion that "mainstream publications" don't produce "fake news." Here's the definition of "fake" from my Oxford English Dictionary:
fake [adjective & noun(2)] /feɪk/ Orig. slang. l18. [ORIGIN: Rel. to fake verb2.] A. adjective. Spurious, counterfeit, sham. l18. Glasgow Herald Fake whisky..the symptoms following consumption are similar to those of gastric poisoning.
I mean, come on. Nobody ever said that alternative, independent, small distilleries are the only institutions that every produced fake whiskey, right?
Before I dig more deeply into Case #2, I'd like to introduce an additional case:
Case #5: The supplier knows the story is true, but the demander knows nothing about it at all
(This introduces a pleasing element of informational asymmetry into Kahn's model, enabling it to conform more closely to the real world. The example I have in mind comes from Operative K's employer, the New York Times. From FAIR:
By any standard, the New York Times' story of December 16 was a blockbuster: Reporters James Risen and Eric Lichtblau revealed that following the September 11 attacks, the Bush administration initiated warrantless wiretaps on hundreds of people within the U.S.–including U.S. citizens–even though a federal law, the Foreign Intelligence Surveillance Act of 1978, expressly forbids the government from doing so. This program was legal only if one accepts the administration's contention that the executive branch has essentially unlimited powers during "wartime" (even though Congress has not declared war).

The Times story would be an outstanding example of how the First Amendment works to protect liberty–were it not for the ninth paragraph:

The White House asked The New York Times not to publish this article, arguing that it could jeopardize continuing investigations and alert would-be terrorists that they might be under scrutiny. After meeting with senior administration officials to hear their concerns, the newspaper delayed publication for a year to conduct additional reporting. Some information that administration officials argued could be useful to terrorists has been omitted.

The reasoning is absurd on its face. As Times executive editor Bill Keller noted in a statement released on December 16 explaining his decision to publish the story, "The fact that the government eavesdrops on those suspected of terrorist connections is well-known." But this was as obvious a year ago as it is today. As for the government's spying being "jeopardized," placing illegal and unconstitutional programs in jeopardy is the whole point of the First Amendment (Extra! Update, 12/05).

But Keller's statement revealed that the Times does not see itself as competent to watch out for illegal government activity. In explaining the delay, Keller stated that the administration had "assured senior editors of the Times that a variety of legal checks had been imposed that satisfied everyone involved that the program raised no legal questions." Keller went on to say that "it is not our place to pass judgment on the legal or civil liberties questions involved in such a program, but it became clear those questions loomed larger within the government than we had previously understood."

In other words, Keller believes it is the Times' "place" to accept officials' own evaluation of the legality of their behavior.
What FAIR delicately omits to mention is that the Times had and then spiked the story before election 2004, and therefore suppressing it until Bush was safely elected might well have affected the (very close) Presidential race, which everybody is so concerned that fake news does, right?
Now, is Case #5 — suppressed news — really news? I would argue that is it is. The replaced pages in the Great Soviet Encyclopedia were surely part of that Encyclopedia, and in less well-regulated polities than our own, censored news is simply printed as blank columns: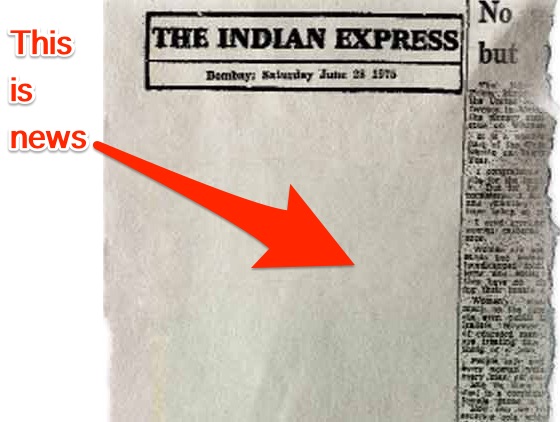 Back to Case #2, which I'd argue should be refined, again through the introduction of information asymmetry. On the supplier side, we need to introduce the possiblity of delusion as opposed to malevolence, and on the demander side, "Cassandras" (a minority) as opposed to believers (the great majority)[3]. The case study I have in mind is Weapons of Mass Destruction (WMDs) in the case of the Iraq War.
I remember the WMD case of fake news — news that is "spurious, counterfeit, sham" as the OED has it — well, because it happened in my very first year of blogging, in 2003. (Cue the "I'm so old, I remember ______" snowclone jokes.) The justifications for Saddam's WMDs came thick and fast: The aluminum tubes, the white powders, the yellowcake uranium, the mobile biological laboratories, the drones, the atropine, the "we don't want the smoking gun to be a mushroom cloud." As soon as one story was debunked — which foul-mouthed bloggers of the left using open sources could do quite easily, within hours — another story would pop up. Only later did we learn that it didn't just feel like playing whack-a-mole; it was playing whack-a-mole; The Bush White House was planting stories in the press (through a process, for those who came in late, very similar to what the Clinton campaign used, as shown in the Wikileaks Podesta email dump).
The long-forgotten Sam Gardiner, Colonel, USAF (Retired)[4], interviewed by Kevin Zeese in Counterpunch, describes the supplier side:
[GARDINER:]As the war unfolded, I became increasingly uneasy about what was being reported out of the White House, Pentagon and Central Command. I was hearing things that just did not make sense with what I knew and what my intuition was telling me. I began tracking some of the stories. It was just a matter of going over what we were told and connecting that with the truth as it emerged later.

There is absolutely no question that the White House and the Pentagon participated in an effort to market the military option. The truth did not make any difference to that campaign. To call it fixing is to miss the more profound point. It was a campaign to influence. It involved creating false stories; it involved exaggerating; it involved manipulating the numbers of stories that were released; it involved a major campaign to attack those who disagreed with the military option. It included all the techniques those who ran the marketing effort had learned in political campaigns.

We [know] the WMD story fairly well. We know the story of the uranium from Niger. We know about the aluminum tubes that were not for uranium enrichment. We know the biological labs Powell showed to the UN did not exist.

[ZEESE:] Is the media being fooled by the Administration or is it complicit in this effort to misinform the public?

[GARDINER:]The media have been fooled. They have been lazy. They have lost sight of the historic calling of journalism. Journalists have been replaced on television by cheerleaders.

[ZEESE:] How much did this campaign of misinformation cost?

[GARDINER:] Tough question, Kevin. I don't think it possible to get a total handle on the effort. I have read one estimate that put the marketing at $200 million. That cost is trivial, however, to the collateral damage that has been done to democracy.
And on the demand side, some may actually have believed their own bullshit. Former White House insider Richard Clarke, interviewed in 2004:
[GUARDIAN]: Do you believe the administration believed the intelligence on Iraqi WMD?

[CLARKE]: Saddam had WMD.
And Bush Secretary of State Condaleeza Rice in 2007:
[RICE:] the intelligence was strong. It wasn't just a problem with intelligence in the United States, it was an intelligence problem worldwide. Services across the world thought that Saddam Hussein had weapons of mass destruction."
So, give Rice and Clarke the benefit of the doubt, and put them in the delusional bucket on the supplier side, as opposed to the malevolent bucket. That said, those in the malevolent bucket were the drivers supporting policy, as we knew (in 2005) from The Downing Street Memo. Quoting it:
SECRET AND STRICTLY PERSONAL – UK EYES ONLY

DAVID MANNING

From: Matthew Rycroft

Date: 23 July 2002

S 195 /02

….C reported on his recent talks in Washington. There was a perceptible shift in attitude. Military action was now seen as inevitable. Bush wanted to remove Saddam, through military action, justified by the conjunction of terrorism and WMD. But . The NSC had no patience with the UN route, and no enthusiasm for publishing material on the Iraqi regime's record. There was little discussion in Washington of the aftermath after military action.
Gardiner's estimate of $200 million would buy rather a lot of "fixed" facts, eh? Even at Beltway rates.
* * *
So that's my walk on memory lane on fake news. The utter effrontery of Clinton, and her lapdog, yammering about fake news from Macedonian teenagers on social media, after fake news from the mainstream press — very much including the Times' own infamous Judy Miller — helped foment the Iraq War just boggles the mind. And all those faraway brown people blown to pink mist make Clinton's "lives are at risk" especially nauseating. I'm gobsmacked by the "fake news" moral panic, hornswoggled, beyond flummoxed. Or I would be, if only Clinton blaming fake news for her loss weren't just another example of Democrats never holding themselves responsible for anything.
Oh, and at some point I should propose some solutions. Obviously, the whole fact-checking paradigm is wrong; I'm so old I remember when we had editors and reporters to do that, so returning to those days would be a start, at least. So, whatever public policy it would take to get more local newspapers going again is something we should think about. We should also think about breaking up ginormous media monopolies; after all, epidemics spread more easily in a monoculture. And then there's Facebook; maybe they shouldn't be in the algorithmic newsfeed business at all; after all, the most reliable parts of a program are the ones that aren't there. And Facebook, too, is an enormous monopoly. Perhaps there should be more power centers in social media, as well. Just some thoughts.[5] Readers?
NOTE
Bud from legal insists that I say this post solely represents the views of "Lambert Strether," and does not represent the views of Naked Capitalism.
NOTES
[1] "Tiebout sorting refers to the sorting of households into neighborhoods and communities according to their willingness and ability to pay for local public goods," via Encyclopedia of Education Economics & Finance. Here is an NBER paper: "Tiebout Sorting and Neighborhood Stratification" (PDF).
[2] The "demanders" in the Clinton campaign would disagree, but the Rice-Davies Rule applies. None of that mail has even debunked, despite false claims by the Clinton campaign. Whether the mail had no strategic consequence, especially at the margin, is another issue entirely.
[3] Leaving aside, again, the dystopia where demanders believe all stories are false.
[4] Gardiner's paper, "Truth from These Podia," suffers from serious link rot. And so we lose our history.
[5] Also, some kind soul should fund deliberative debate in the schools and for adults at the rate of, oh, $10 million a year or so. It would't take much. I guarantee we'd see improvement in discourse in as little as three years, as varsity debaters came up and started to show the critical thinking skills they gained at the podium in public policy discussion. Incidentally, historically black colleges and universities have done very well recently in debate, so do let's make sure all the debate money doesn't go to the already credentialed burbclaves, mkay?