Readers, these links are longer and chattier than usual, but needs must… –lambert
She didn't have a horse, so this New Zealand teen rides her cow instead CBC
Are We Safe Yet? Timothy Geithner, Foreign Affairs. "We" need to read all the way to the end.
Economists Who Advised Presidents From Both Parties Find Common Ground WSJ
Lovin' That Italian Bank Risk Bloomberg
Brexit
Theresa May will have to put country first to make Brexit work Nick Clegg, FT

NHS rejects claims of 'humanitarian crisis' in England's hospitals BBC
China?
China Foreign-Exchange Reserves Continue Drop WSJ

Can Trumpian Triangular Diplomacy Work? The Diplomat
How Trump Can Play Nice With Russia, Without Selling Out America Foreign Policy
Trump Says Only 'Fools' See Good Ties With Russia as Bad Bloomberg. Only The Donald can go to Moscow…
New Cold War
Our Famously Free Press
Commentary: Reading news in the age of Trump? Think like a spy. Reuters

The Hackers Are Coming! Burlington Electric's Crisis That Wasn't Seven Days

BBC political editor Laura Kuenssberg 'breached impartiality' over Jeremy Corbyn report Telegraph
Trump Transition
House Democrats fail to muster support to challenge Trump's Electoral College win Politico. The House Democrats needed just one Senator to challenge, and couldn't get one (reminiscent of Gore gaveling down the Congressional Black Caucus when they wanted to challenge election 2000 as seen in Michael Moore's Fahrenheit 911). So, moving into "Watch what they do, not what they say" mode: (1) Democrat talk of Trump being a "fascist" is just that, talk; (2) Democrat talk of Trump not being "normal" is just that, since they just normalized him; (3) Democrat "resistance" will be carefully circumscribed indeed. From the 30,000 foot view, if I take Democrat talk seriously, the only logical end game is Trump's removal from office via some sort of coup, probably a soft one (impeachment; resignation). That's what the hilariously backfired push for "faithless electors" was all about; that's what painting Trump as treasonous is all about. After all, one doesn't delegitimize an opponent for fun, but to take power. But when push comes to shove, as it did here, the Democrats don't and won't throw a punch (and will offer only the most milquetoast "fight back" rhetoric, which we've heard a thousand times before, because they're always "fighting" and never winning; see "Our First Stand," below). So I can only conclude that I shouldn't take Democrat talk seriously, which would be fine, except millions of well-intentioned voters are doing just that, and experiencing real fear and anxiety (at the physiological level, as in sleep and stomach problems, and (costly) psychiatric sessions). What does the end game look like when you deploy strategic fear management — tensions at the level of a casus belli, or a change in the Constitutional order — so successfullly to millions of voters and yet offer no real relief? I don't know. I mean, I don't know aside from liberal goodthinkers cashing in on the clicks and the book deals. Maybe that's all there is to it.

* * *

'Our First Stand' Rallies Set from Coast to Coast BernieSanders.com (meeps). "'Democrats are united in against Republicans who want to make America sick again by cutting Medicare, Medicaid and repealing the Affordable Care Act. We are going to link arm in arm and stand together as we fight to protect health care for millions of Americans,' Schumer said." However, Democrats are most definitely not going to "link arm in arm" for an "everybody in, nobody out" universal benefit like Medicare for All. Do better, Bernie!

Obama says Sanders' supporters helped undermine Obamacare Reuters. "Arm in arm," eh?

Poll: Most Americans want to replace Obamacare with single-payer — including many Republicans Philip Bump, WaPo. From May 16, but worth repeating.

* * *

Rule of Men, Not Law Ian Welsh (CL).

Senate Confirmation Hearings to Begin Without All Background Checks NYT. What does ethics clearance for an oligarch even mean? They're conflicted by definition.

US ethics office struggled to gain access to Trump Team, emails show CNBC

Trump national security pick Monica Crowley plagiarized multiple sources in 2012 book CNN
Gnashing of Teeth and Rending of Garments
Yes, Donald Trump's voters may be confused and in pain — but no, they don't deserve our empathy Salon
2016 Post-Mortem
The Gathering Storm: Donald Trump and the Hollowed-Out American Heartland The Hampton Insittute. I wrote yesterday: "'In 2015, photographer Peter Crabtree drove coast-to-coast-to-coast, documenting an institution that lies at the heart of many — if not most — small cities: the small-town newspaper. He came home with a portfolio full of these unique places and the characters that inhabit them.' This sounds a lot like Chris Arnade's project. One more like this and we'd have a genre." Here's that one more: Dale Maharidge and Michael Williamson's Homeland:

"On one trip," Maharidge writes, "I drove from Chicago to Johnstown, Pennsylvania. In places like this, the abandoned shells of factories, all broken windows and rust, make this country look like it was bombed in a war. In other places it's as if an economic neutron bomb hit-with trees and houses intact but lives decimated, gone with good jobs."

The kicker? Homeland was published in 2004; many commenters at Naked Capitalism have reported similar results over the years. So the storm warning flags have been flying for a solid decade, at least, had anyone bothered to look. That it took Trump, as opposed to the Democratic nomenklatura, to see those flags says more about Democrats than it says about Trump or the voters, IMNSHO. Oh, and anybody who takes the Acela can see "the abandoned shells of factories, all broken windows and rust," for miles and miles, starting near Newark and ending below Philly (and starting again in Baltimore). If they look out the windows. Whether to the right or to the left. Then again, "theory of comparative advantage," so it's all good.

Where Is America's Heartland? Pick Your Map NYT. See, the nice thing about big data reporting — aside from the lovely graphics, of course — is that you don't actually have to talk to the smelly proles.

Angela Nagle: What the Alt-right is really all about Irish Times

The Clinton Foundation Stories Amy Sterling Casil. A summary and wrap-up, useful if Clinton does, in fact, run for Mayor of New York [head, desk].

Yahoo Finance Drops in From Mars to Explain Big Money Hasn't Bought U.S. Politics The Intercept. From September, but still useful; because the logic applies across the board.
Big Brother Is Watching You Watch
TV anchor says live on-air 'Alexa, order me a dollhouse' – guess what happens next The Register

Hyperface: a fabric that makes computer vision systems see faces everywhere Boing Boing (TK). Like an inversion of William Gibson's "ugly T shirt" in Zero History. The artist, Adam Harvey, has been iterating these ideas for some time.
Could Free College Really Be This Cheap? Bloomberg
Limited stores closing for good Sunday Columbus Dispatch. The Macy's in the Bangor Mall is slated for closure; the Sears looks like a morgue. That leaves JC Penney's and Dick's Sporting Goods. And acres of empty parking lot. So long, anchor tenants!
Class Warfare
Echoes of Jonah Goldberg's "Liberal Fascism" from the Center for American Progress Carl Beijer
Poet: I can't answer questions on Texas standardized tests about my own poems WaPo
The long and painful journey to world disorder Martin Wolf, FT
Antidote du jour (AT):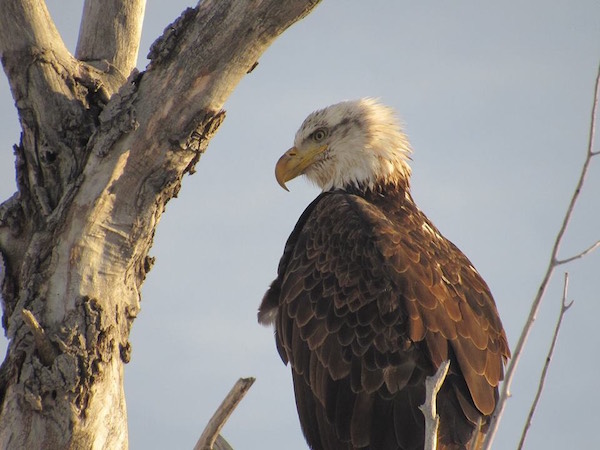 AT writes: "Bald Eagle, Fairfield, MT."
See yesterday's Links and Antidote du Jour here.