By Lambert Strether of Corrente.
The augmentation of the complexity and intensity of the field of intelligent life –Ursula LeGuin, The Left Hand of Darkness
Actually, I'm not (yet) as quietist as the headline suggests; but I need a short break from the cacophony, not so say pandemonium, of the competing narratives produced in overplus by our political economy. The Trump transition is drowning out everything else, and that includes whatever the elites are getting up to when our attention is fixed on it, which can't possibly be good. Nevertheless, I need to step back from it (or set the controls on my armchair from 30,000-feet to, say, 35,000, to get a better perspective.
* * *
The seed catalogs arrive in the dead of winter, and I've always gotten too optimistic and ordered too much; those little packets add up, as the shrewd growers know! (I use two organic suppliers in Maine, Johnny's Seeds and MOFGA — Johnny's is employee-owned and MOFGA is a co-op — and one from Ohio, Ohio Heirloom Seeds.) I won't be ordering too much this year, for reasons I'll get to; but it's a pleasure to sit at the wood stove — or would have been; I finally got rid of my father's romantic though dangerous stove, even though I miss the quality of its radiant heat — and thumb through the catalogs. I understand the more fanatical gardeners make diagrams and actually rotate what they grow, but I've never been that disciplined.
Perhaps gardening, like politics, runs in families. My father's mother had a garden (a grandmother's garden, in fact, like mine), and when I was growing up, we grew tomatoes on the university plot. When I moved to Maine, more than ten years ago now, the house's front yard was a mere front yard, but there were still a few vegetables about, which have survived to this day. Like these chives, which are so pretty even if I never do eat them: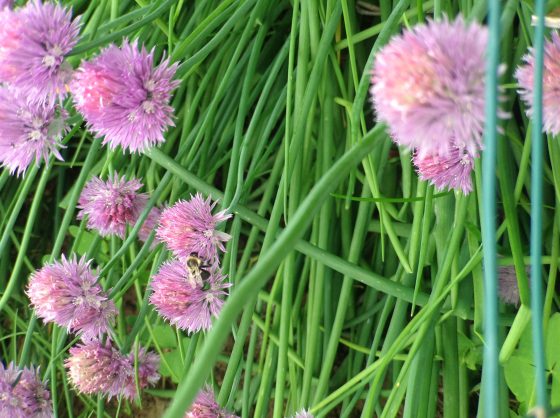 In my second summer, I thought I would grow some tomatoes, and so made a small tomato patch in one of the few spots with really good sun; I didn't know then about sheet mulch, and so I watered them every day. Foolishly, I surrounded the patch with round river stones, not considering that I'd want to expand, or that the stones would sink into the earth; I still encounter those stones today, digging, and I move them to where they'll do some good.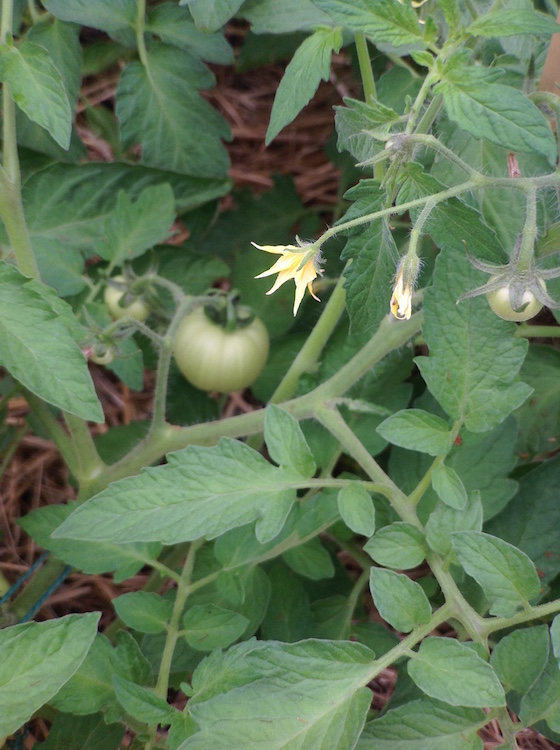 Fast forwarding through a decade, I abolished the yard in favor of the garden, cut down one tree (the evil Norway maple) and cut back another. Out of what I felt to be necessity I grew lots of sheet-mulched vegetables in beds, on the assumption — my situation from the Crash onward for several years was filled with what 10%-ers call "economic anxiety," as if not having any money or work were a feeling — that if things went really sour I would have grown enough food; indeed, a patch my size would yield enough squash to take me through most of a winter. And I do like squash, which would have been a help. Of course, if I'd been thinking ahead, I would have put in some fruit trees immediately, and now they'd be bearing, and I'd also have birds. But vegetables are so seductive! In any case, my affairs improved, and I've ended up for the last several years growing far more tomatoes than I can ever eat — even though there's nothing better than a warm tomato with some fresh mozarella and a little sea salt, still, one can only eat so many — giving away a large number of cukes to a friend, and struggling with squash bugs after I was foolish enough to buy flats from the Farmer's Market (I was in a rush) instead of from seed. And as it turns out, what I really like is flowers: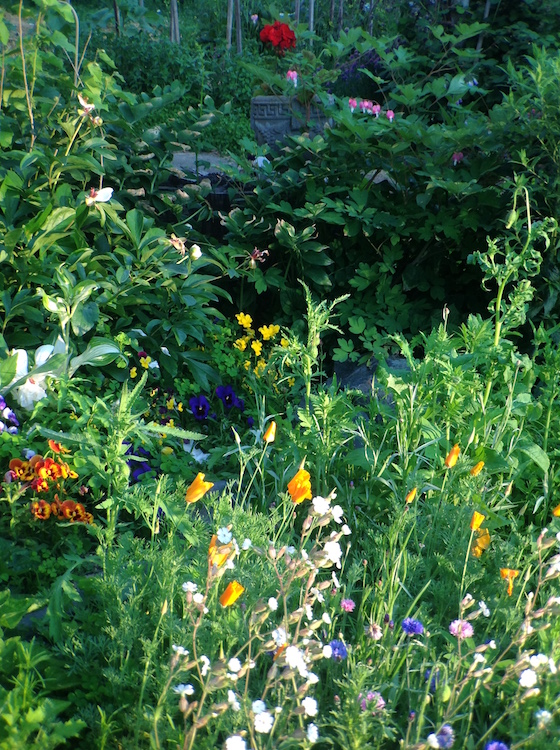 An aesthetic of density, a great blooming, buzzing confusion: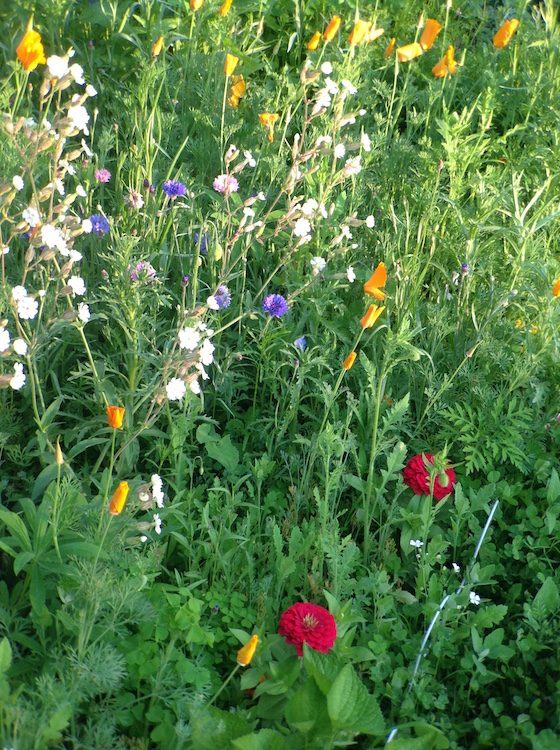 In fact, in one of the best things I ever did for myself in my life, I ran an extension cord (at right, hanging off the compost bin) from my house to a shaded spot, where I set up my desk: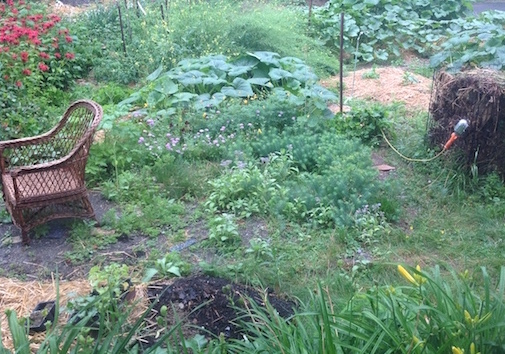 And from my desk I can count… I forget how many, but I think it's over twenty varieties of flowers: Roses, raspberries, bee balm, honeysuckle, lilies, clover, Black-eyed Susans, sunflowers, geraniums, and a whole lot of flowers that I forget the names of (because I buy them and lose the little nametags).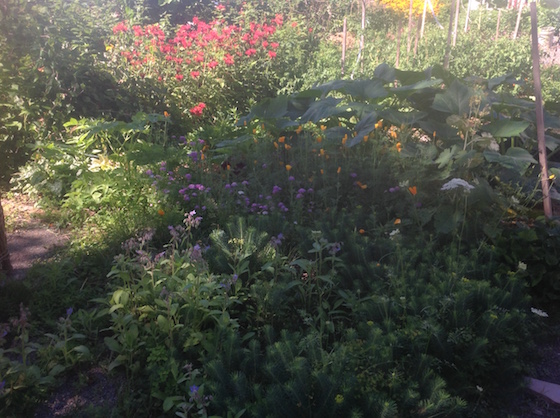 (Sorry for the overexposure.) As it turns out, my garden has many functions, just not the one I though it would originally have: I'm going to de-emphasize growing food. (Of course, if there's another crash….) The periphery will remain the same: Raspberries up front to hide me when I'm at my desk and prevent drunken students from blundering onto the property at night; clover round the garden proper so deer eat that and go no further; and a display piece, an embassy to the town, as it were, along the sidewalk. But in the center, wildflowers instead of tomatos and squash, although there will still be cukes for my friend.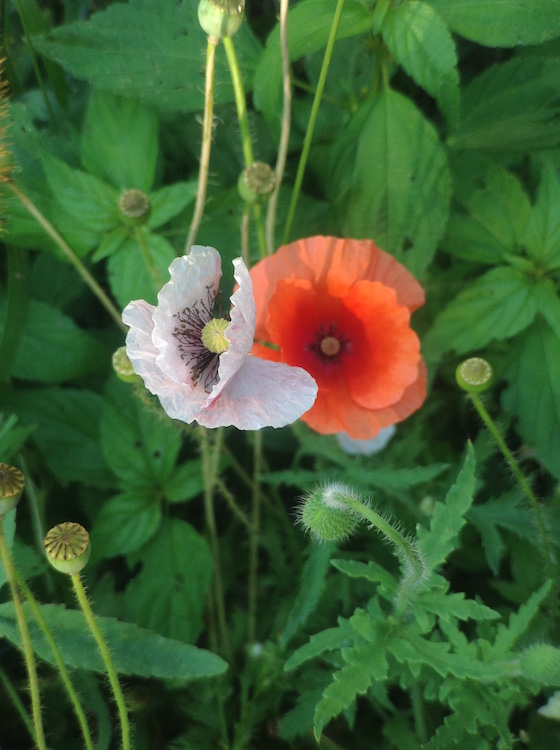 So, sitting at my desk I will be in the midst of even more blooming, buzzing, and confusion. I may even start a photography project: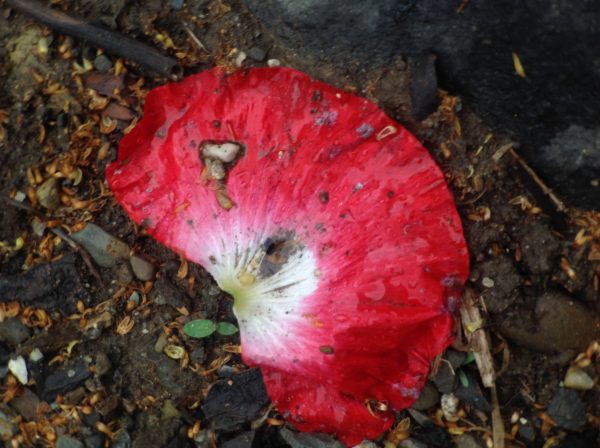 Or a yield of a different color; I'm thinking of picking out one patch and photographing it at more or less the same time, from Memorial Day — when Mainers plant — through the fall; from first growth all the way to rot (which is very photogenic). Of course, the first year would be a dry run, as I figure out what I'm doing, but the second year might be more interesting.
Of course, the plans one makes in the winter have a way of changing when the actual planting begins. So we'll see. And perhaps these plans aren't as quietist as all that, depending on the patch I pick. What are your plans?